Gustav Stickley Furniture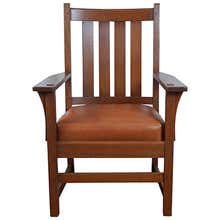 American, 1858-1942
Gustav Stickley was one of the principal figures in the American Arts and Crafts movement and creator of the Craftsman style. As a furniture designer and publisher of the magazine The Craftsman, he adopted many of the ideals of British design reform movement and popularized both its philosophy and its aesthetics in the United States.
Born in Wisconsin, Stickley moved with his family to Pennsylvania when he was a teenager and began working in his uncle's chair factory in the town of Brandt. There, he learned the techniques of the late-19th-century furniture making at a time when the vogue was for Victorian revival furniture, characterized by extensive ornamentation.
In 1883, Stickley established a furniture company with two of his brothers. When that foundered, he partnered five years later, with salesman Elgin Simonds, to form a new firm, which produced traditional furniture that appealed to the burgeoning American middle class. The success of this venture enabled Stickley to travel to Europe, where he discovered the writings of John Ruskin and William Morris, the two preeminent thinkers of the British Arts and Crafts movement. Stickley also traveled to France, where the Art Nouveau movement impressed him with its imaginative designs and skilled craftsmanship.
Stickley parted ways with Simonds at the turn of the 20th century, and decided to focus his creative energies on producing furniture in what became known as the Craftsman style, incorporating some of the elements of the designs and movements he had encountered in Europe.
The pieces Stickley created, which he stamped with the logo of a joiner's compass, were rectilinear, largely free of ornament, made of oak, and built in such a way that the nature of their construction was plainly visible — all reflections of the tenets of the Arts and Crafts movement. His benches and rocking chairs were popular, and his leather-upholstered armchairs combined practicality, comfort and an understated silhouette. He also made side tables, like this unusual example, adorned with an octagonal Grueby Pottery tile in a cool shade of green, whicht makes it an ideal piece for an Art Pottery collector.
In 1901, Stickley launched The Craftsman magazine, which contained articles on all manner of domestic topics, from gardening and cooking to art and design, as well as poetry and fiction. In addition to popularizing Stickely's own designs, the magazine acquainted Americans with the Arts and Crafts style in all its forms through its graphic design and the bungalows, art pottery, and hammered-copper lamps pictured in its pages. It also encouraged readers to practice craft themselves, promoting an early form of the do-it-yourself ethos. In 1904, Stickley founded the Craftsman Home Builders' Club, which allowed subscribers to the magazine to order architectural plans for the Arts and Crafts–style structures that were featured in its pages; eventually this became one of its most popular features.
An ill-timed attempt to set up a New York showroom led to Stickley's filing for bankruptcy in 1915. The outbreak of World War I, waning interest in the Arts and Crafts style, and increased competition all conspired to thwart Stickley's efforts. The Craftsman ceased publication a year later. When he died, in 1942, Arts and Crafts had been replaced by modernism as the favored aesthetic. It enjoyed a resurgence, however, in the 1970s, and Stickley is now regarded as one of the most important American designers in the first half of the 20th century.
Find authentic Gustav Stickley tables, seating and other furniture on 1stDibs.
Previously Available Items
Gustav Stickley furniture for sale on 1stDibs
The Gustav Stickley furniture is available for sale on 1stDibs. These distinctive objects are often made of
wood
and designed with extraordinary care. There are many options in our Gustav Stickley collection of furniture, although
brown
editions of this piece are particularly popular. We stock 19 vintage versions of these items, while there is 0 modern edition to choose from as well. Many original furniture by Gustav Stickley were created in
North America
during the
20th century
in the
Arts and Crafts
style. Many customers also consider furniture by L. J. G. Stickley Inc.,
Stickley Brothers
and
Charles Limbert
if you're looking for additional options. Prices for Gustav Stickley furniture can vary depending on size, time period and other attributes. Price for these items starts at
$600
and tops out at
$38,250
, while pieces like these can sell for
$3,995
.
Creators Similar to Gustav Stickley