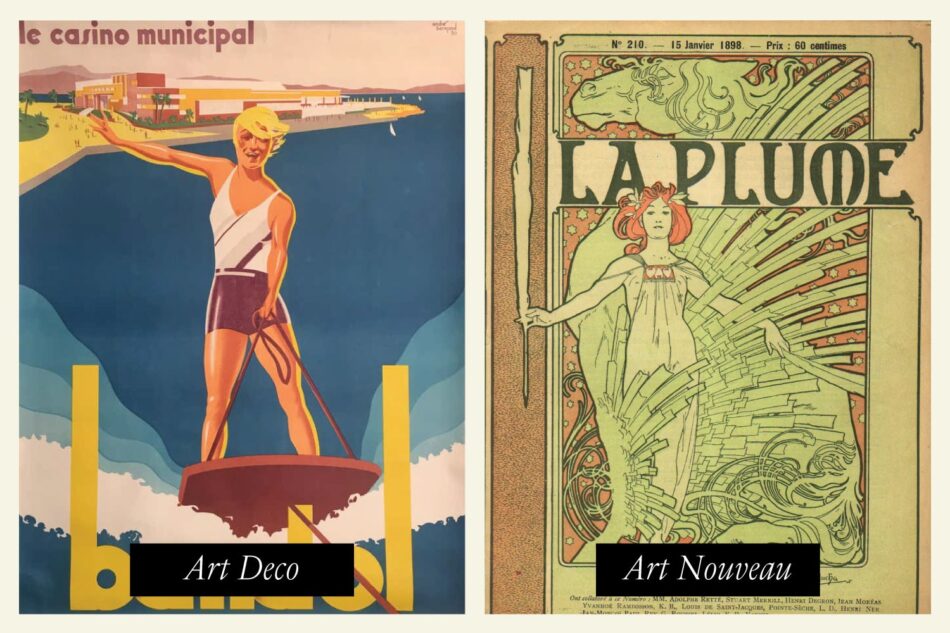 ---
Although Art Deco and Art Nouveau were both in the forefront of turn-of-the-20th-century design, they are very different styles.
Below, we break down the distinctive elements of Art Deco vs. Art Nouveau, providing visual examples of each so you can get a better feel for their characteristics.
---
What Is the Difference between Art Deco and Art Nouveau?
Art Deco is marked by bold, geometric shapes while Art Nouveau incorporates floral, dreamlike motifs.
Nevertheless, these two styles often get confused. That's understandable, since their periods of popularity overlapped and both were shaped by major world events. Art Nouveau was a reaction to the Industrial Revolution transforming the American and European economies, while Art Deco emerged after the global chaos of World War I.
Characteristics of Art Nouveau (1890–1910)
Art Nouveau — generally considered to have begun in the late 1800s and ended with the start of World War I — drew inspiration from natural forms, such as trees, flowers and, of course, the human figure. It is characterized by sweeping curves and a sense of movement, along with the use of modern materials like glass and iron. The style, a reaction to the academic, history-based art of the 19th century, emphasized applied arts like jewelry and architecture as opposed to the traditional fine arts of painting and sculpture.
Design Features:
Floral and other nature-inspired motifs
Curves and parabolas
Fairy-tale or otherworldly feeling
Sensuous and at times scandalous subject matter
Famous Art Nouveau Artists + Examples
The following artists and designers rendered the quintessential themes of Art Nouveau in a variety of mediums and genres.

1. Gustav Klimt (1862–1918)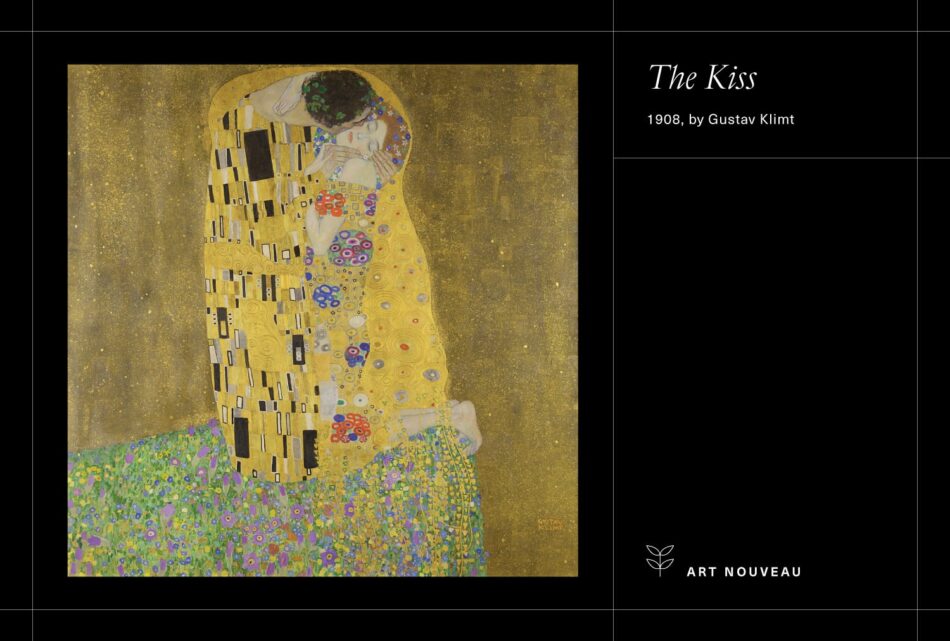 Gustav Klimt's oil-paint and gold-leaf masterpiece The Kiss, 1908, displays many elements characteristic of Art Nouveau, including the use of metal, floral designs on the ground and on the woman's clothing and the romantic subject of a couple intertwined in an embrace.
2. Alphonse Mucha (1860–1939)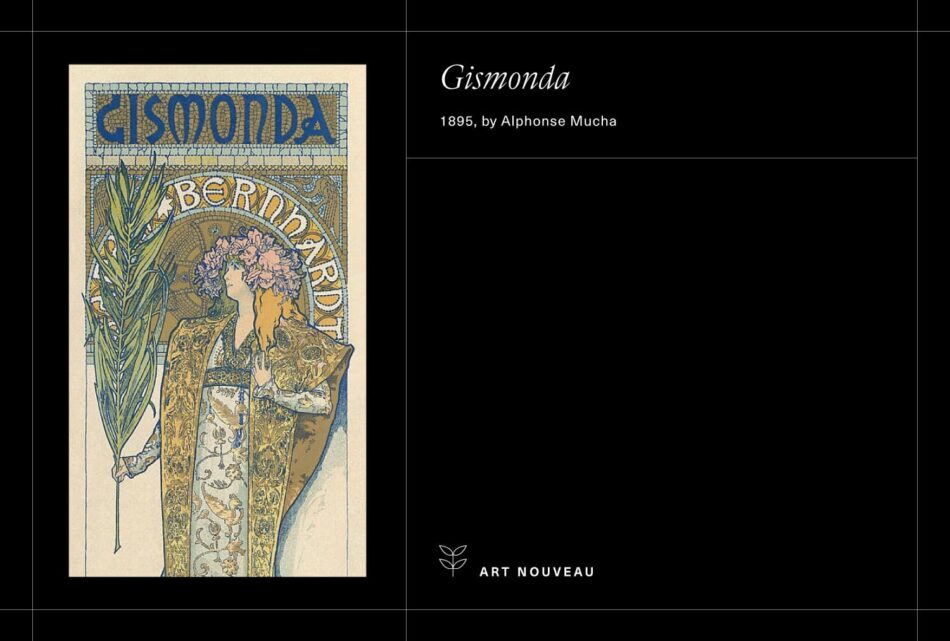 Czech artist Alphonse Mucha helped define the Art Nouveau style with his posters advertising theatrical productions. These often featured the actress Sarah Bernhardt in otherworldly, magical settings with intricate floral designs.
3. Josef Hoffmann (1870–1956)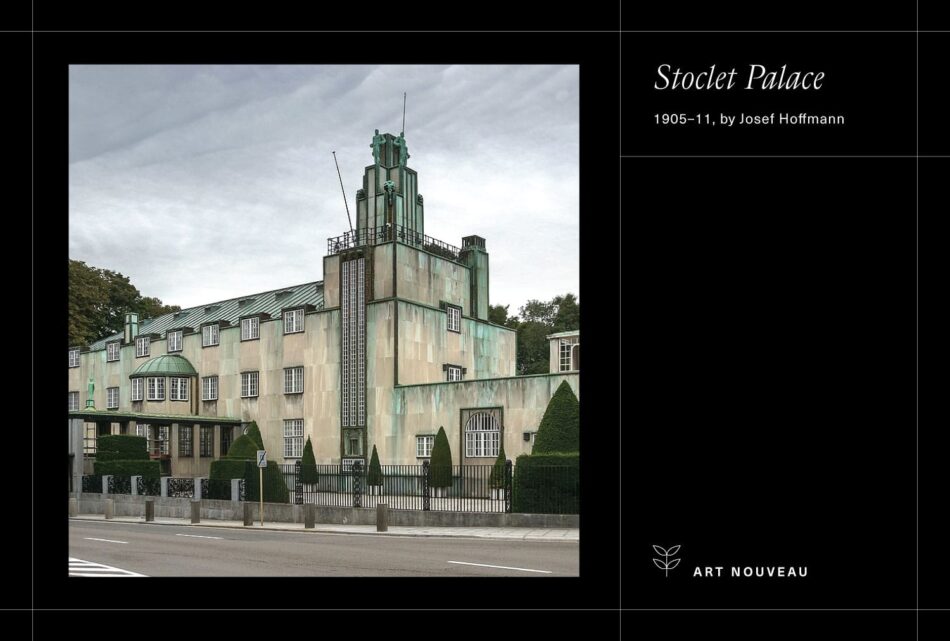 A cofounder of the pioneering Wiener Werkstätte design movement, architect Josef Hoffmann is best known for his work on the Stoclet Palace, in Brussels. The Art Nouveau influence is clearly demonstrated in such architectural elements as the numerous parabolic curves; sumptuous, theatrical interiors; and four nude bronze sculptures by Franz Metzner mounted on the tower.
4. Henri de Toulouse-Lautrec (1864–1901)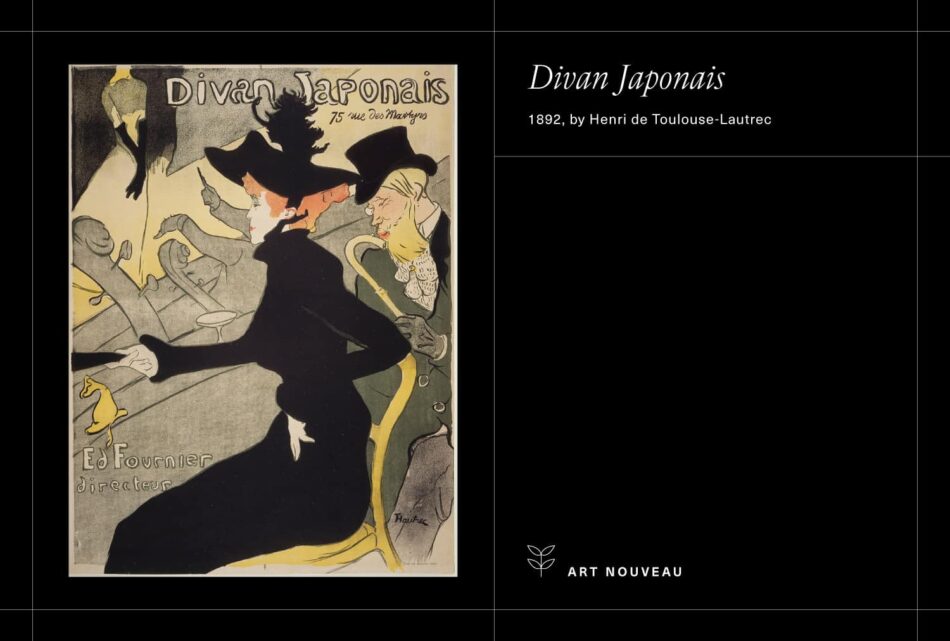 This famous 1892 poster by Henri de Toulouse-Lautrec, promoting the Divan Japonais café in Paris, showcases his distinctive style. Its sweeping curves and sensual depiction of the subjects (from left, singer Yvette Guilbert, dancer Jane Avril and writer Édouard Dujardin) are all emblematic of early Art Nouveau.
5. Louis Comfort Tiffany (1848–1933)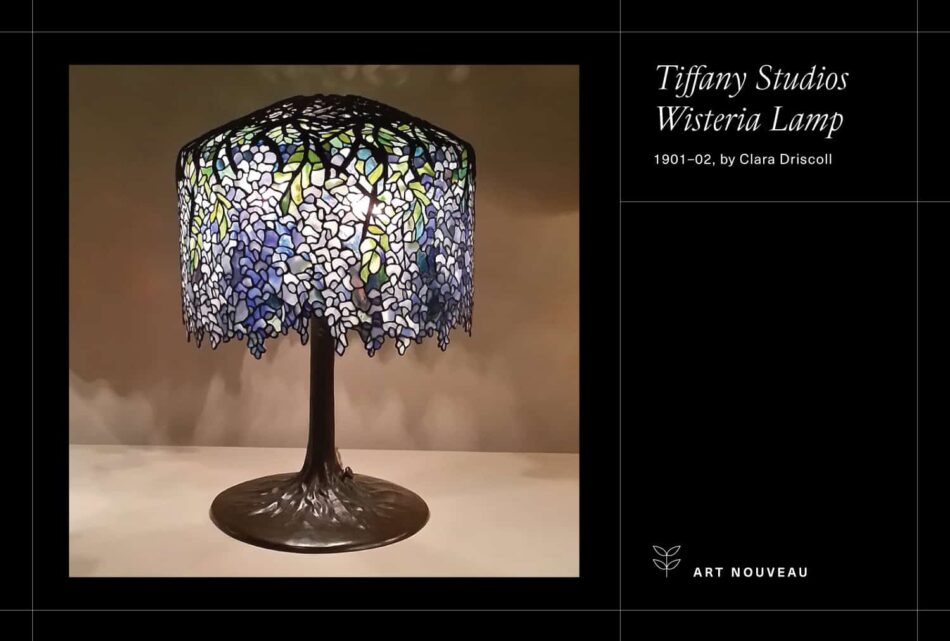 Perhaps the best-known Art Nouveau designer is Louis Comfort Tiffany, of the renowned Tiffany Studios. His studio's iconic stained-glass lampshades are synonymous with turn-of-the-century luxury and the Art Nouveau movement. Most feature nature-inspired elements, such as floral, butterfly, peacock and dragonfly designs.
Characteristics of Art Deco (1910–40)
Art Deco brings to mind New York City skyscrapers, Jay Gatsby's lavish parties and swanky speakeasies. It emerged as a global design style around the start of World War I, during the last years of Art Nouveau's popularity, and remained dominant until the start of World War II. The style celebrates the period's social and technological progress and the world's increasing connectedness. Its hallmarks include the use of expensive materials and geometric designs influenced by Cubism.
Design Features:
Opulence
Bold geometric shapes
Celebration of innovation, technology and wealth
Famous Art Deco Artists + Examples
Take a look at the pieces below to get a feel for Art Deco's lavish, geometric style.
1. René Lalique (1860–1945)
Although René Lalique began his career as an Art Nouveau jewelry designer, he later became known for his glass sculptures in the Art Deco style. The piece above, Spirit of the Wind, 1905, was designed as a car hood ornament and has been re-created many times. The swept-back straight lines of the Spirit's hair suggest the speed made possible by innovations in automobile engineering.
2. Erté (1892–1990)
The work of fashion designer Erté (born Romain de Tirtoff) defined a genre of costume design and movie posters. He worked on many famous films, including Paris, Ben-Hur and The Restless Sex; he also designed for Broadway shows and lifestyle magazines like Cosmopolitan and Harper's Bazaar. Symphony in Black, pictured above, is his most famous work and has been reproduced countless times on posters, dishes, greeting cards, apparel and more. The figure's sleek, worldly lavishness set the tone for Art Deco fashion for years to come. Erté experienced a comeback in the 1980s, yet throughout decades, his style never strayed from its Deco roots.
3. Tamara de Lempicka (1898–1980)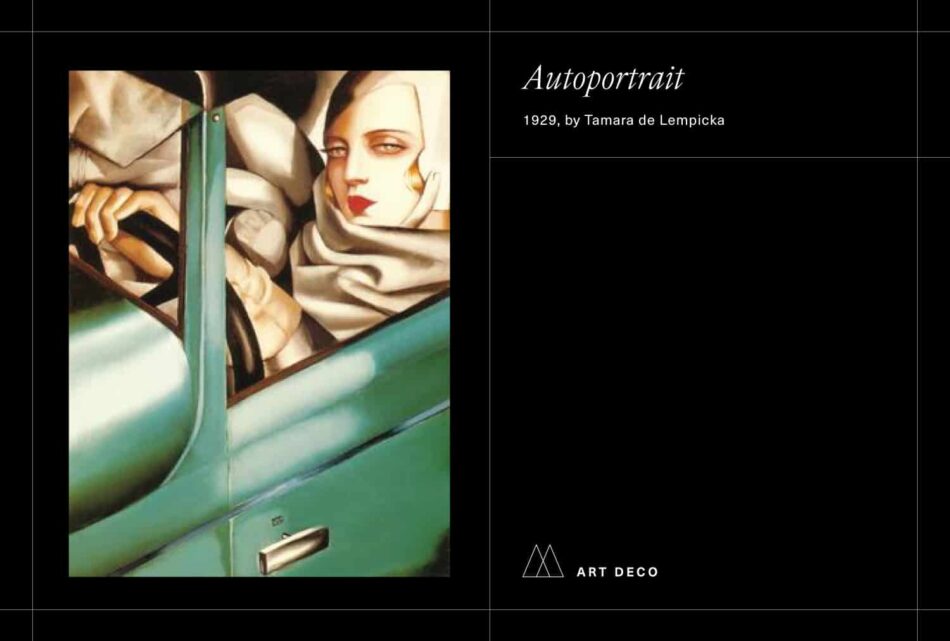 Tamara de Lempicka's paintings incorporate the central Art Deco themes of luxury and high society. She is best known for her striking portraits of aristocratic patrons and her Cubist-inspired nudes. In the 1929 self-portrait above, she depicts herself as the ideal Gatsby-era woman: wealthy, beautiful and caring only about living the high life.
4. Jean Dunand (1877–1942)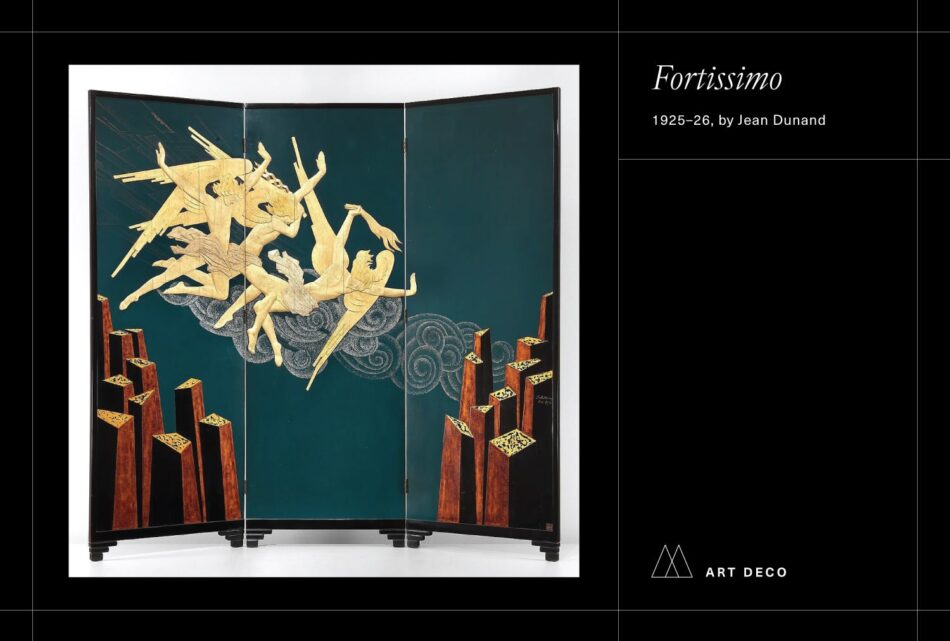 Known primarily for design objects like vases, metal trays and lacquered screens, Jean Dunand also created architectural elements for the sumptuous interiors of luxury apartments and high-end cruise liners, including extravagantly decorated paneling embodying Art Deco themes. His Fortissimo screen, 1925–26, displays the style's characteristic hard edges and geometric patterns.
5. Cassandre (1901–68)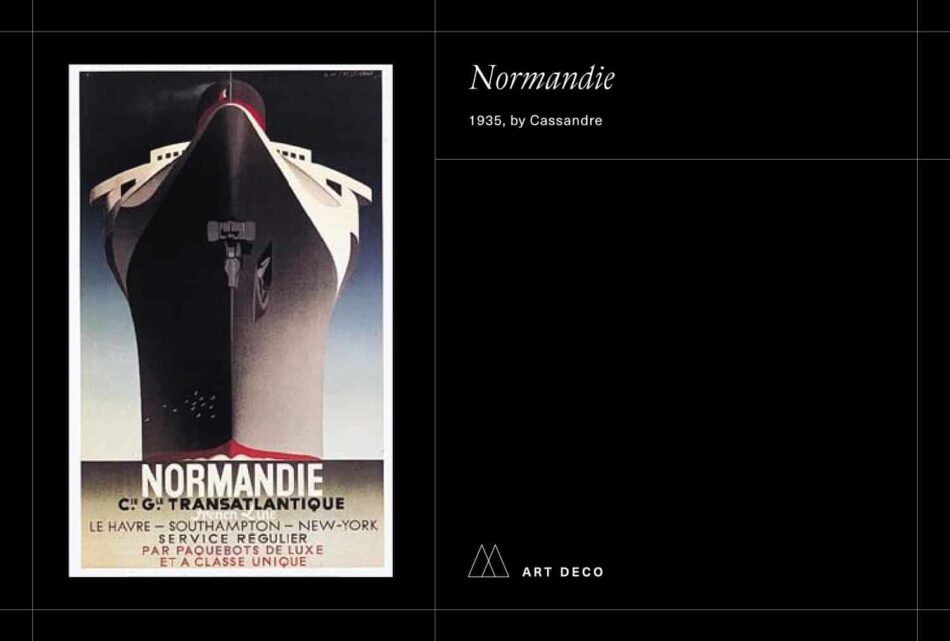 Cassandre (born Adolphe Jean-Marie Mouron) was among the most acclaimed graphic designers of the 1920s and '30s. The era's technological innovations inform his work, from his famous poster advertising the SS Normandie, above, to the billboards he designed to be seen from speeding cars, to the fonts he invented, which are still used today.
Art Nouveau vs. Art Deco FAQs
If you're interested in learning a bit more about these two iconic styles, here are answers to a few of the most frequently asked questions about Art Deco and Art Nouveau.
1. Is Art Deco an Extension of Art Nouveau?
Some art historians consider Art Deco an extension of Art Nouveau because it shares many features with the earlier style, such as "scandalous" subjects, like nudes and expressions of sexuality, and the use of modern materials like metal and glass. Moreover, many artists were associated with both styles, as their work evolved over the decades.
Art Deco was influenced by other movements in addition to Art Nouveau — Cubism, Arts and Crafts and Futurism, for instance — so it's often considered a hybrid.
2. Why Is Art Deco Still Popular Today?
Art Deco has the double appeal of reminding us of our past and expressing faith in the future. The Roaring Twenties are among the most storied modern eras, and Art Deco design recalls the decade's elaborate parties, smoky jazz clubs and fun-loving flappers. At the same time, it conveys the pride people in the 1920s and '30s felt in the period's social and technological accomplishments and their excitement about what lay ahead — both of which can inspire us today.
3. Where Is the Biggest Art Deco–Style Sculpture in the World?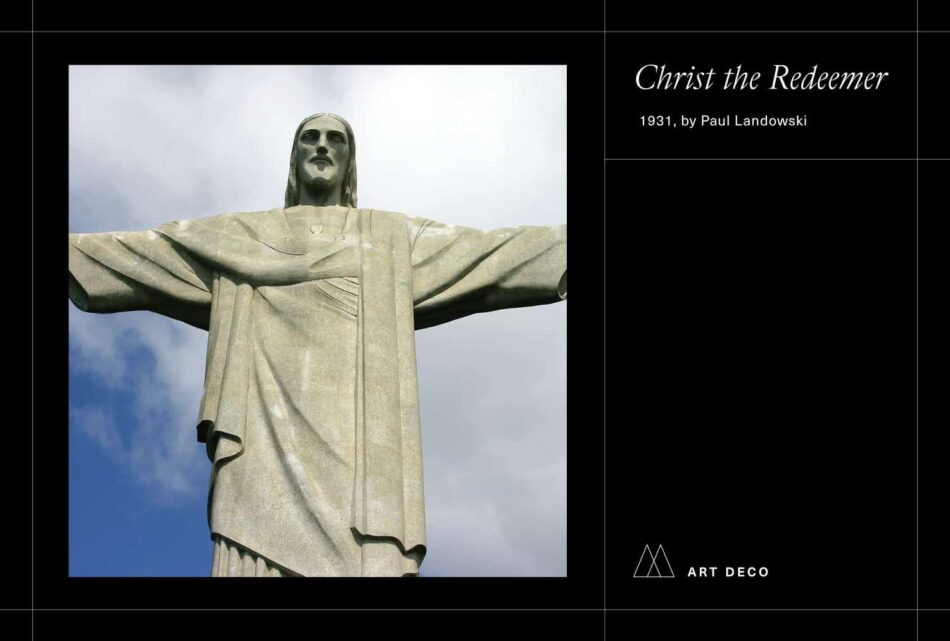 Rio de Janeiro, in Brazil, is home to Christ the Redeemer, the biggest Art Deco–style sculpture. The statue, made of reinforced concrete and standing 98 feet tall, was completed in 1931, after five years of work by a team of designers, artists and engineers, based on a concept by Paul Landowski.
We hope these examples inspire you to embark on your own Art Deco or Art Nouveau revival, enlivening your decor with the themes and passions the two styles so elegantly convey.