Art Deco Period Collection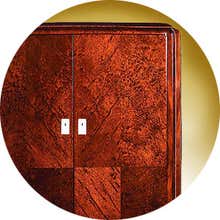 Art Deco Collection (France, ca. 1920–39)
Art Deco design is a modern re-interpretation of classicism: pieces in this style are symmetrical, rectilinear and clean-lined. Art Deco furniture carving and ornament is relatively subdued; the look is pared-down and streamlined; wood is detailed with refined geometric shapes — spheres, trapezoids, chevrons. Works in the Art Deco style mainly achieve visual delight via their rich and exotic materials. These were luxury goods, produced for a new class of wealthy manufacturers who wanted a new look, all their own.
The term Art Deco is derived from the name of the 1925 Paris exhibition that brought the style to worldwide attention: "Exposition Internationale des Arts Décoratifs et Industriels Modernes." The star of that show was decorator Émile-Jacques Ruhlmann, who used finishes such as lacquer and eggshell, and exotic wood veneers like amboyna and palissander. His peers included glass designer René Lalique; the elegant interior designer Jules Leleu; Maurice Dufrène (neoclassical fluted chair and table legs are a keynote of his work); Paul Follot (signature details include gilt- and silver-leafing); the team of Süe et Mare (both were painters, and created sensuous pieces with curving, Rococo-esque elements); and André Groult (who loved voluptuous bombé forms).
"Art Deco" is often used expansively, to describe the work of creators in associated or ancillary styles. This is particularly true of American Art Deco, which is also named "Streamline Moderne" or "Machine Age" design. In America, the sleek, pared-down, speed-suggestive designs of Donald Deskey, Paul Frankl, Gilbert Rohde, Norman Bel Geddes and others was highly influenced by the French, but was more an expression of muscular American forward-thinking. Even so, in the larger sense Art Deco design is all of a piece. As you can see from the works offered on 1stDibs, Art Deco was the style of an assertive modernity: bold, elegant, chic and impossible to ignore.