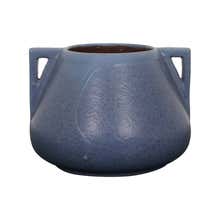 Best known for its stylish Vasekraft line, Fulper Pottery was a major producer of American art pottery, which grew out of the Arts and Crafts movement in the United States. Like the Rookwood, Roseville and Van Briggle Potteries, the Flemington, New Jersey–based Fulper flourished from the 1870s through the 1920s. During that period, U.S. consumers favored the fluid forms and cool color palette of Art Nouveau ceramics, as well as the practicality of the Craftsman style. Unlike studio ceramics, in which each piece is hand thrown on a potter's wheel, most art pottery — including Fulper's creations — was made using molds, yielding identical forms that were glazed in distinctive patterns like the butterscotch and cat's-eye combination displayed in this 1915 example.
The company that became Fulper Pottery was founded in 1841. A manufacturer of utilitarian ceramics ranging from crockery to drain pipes, it was bought in 1960 by Abram Fulper, who changed its name from Samuel Hill Pottery and retooled it to make more refined ceramics using the region's red clay. Incorporated as Fulper Pottery Co. in 1899 under the leadership of Abram's two sons, it produced attractive utilitarian household ware such as its line of Fire-Proof Cookware and its Germ-Proof Filter, a sort of early water cooler used in public places. The firm made its first forays into art pottery with a line of glazed vessels created by its master potter, John Kunsman, pieces from which were shown at the 1904 Louisiana Purchase Exposition and won an honorable mention. At that time, a series of world's fairs and museum shows were fueling a fascination among the public with East Asian art and design. In response, the American Art Pottery community began producing wares with glazes that recalled the brilliant colors and shimmering surfaces of Chinese ceramics. Fulper's entry was its Vasekraft line, which launched in 1909.
Unfortunately, the original glazes employed were not entirely successful and, even more important, were expensive to produce. In the 1910s, Fulper's new ceramic engineer, Martin Stangl, revamped the Vasekraft line withglazes less like the Chinese and more akin to those of Roseville and Rookwood pottery, with more uniform coloration and matte surfaces. His designs ranged from bookends to candle holders, desk accessories, and lamps, all of which remained popular into the 1920s. Following World War I, Fulper introduced new lines, such as Fulper Pottery Artware and Fulper Porcelaines, which were marketed specifically to women and featured delicate items for a fashionable dressing table, as well a solid-color Fulper Fayence. After William Fulper's death, in 1928, Martin Stangl was named president, and in 1935 the Stangl Pottery line became the company's only product. In 1978, it was purchased by Pfaltzgraff.
Previously Available Items
Fulper Pottery furniture for sale on 1stDibs
Fulper Pottery furniture is available for sale on 1stDibs. These distinctive objects are often made of
ceramic
s and are designed with extraordinary care. In our collection of Fulper Pottery furniture there are many options to choose from, although
black
editions of this piece are particularly popular. We stock 12 vintage versions of these items, while there is 0 modern edition to choose from as well. Many original furniture by Fulper Pottery were created in
North America
during the
20th century
in
Art Deco
style. Many customers also consider furniture by
Weller Pottery
,
Heintz Art Metal Shop
and
The Kalo Shop
if you are looking for additional options. The prices for Fulper Pottery furniture can vary depending on size, time period and other attributes. Price for these items starts at
$440
and tops out at
$11,900
, while pieces like these can sell for
$1,400
on average.
Creators Similar to Fulper Pottery