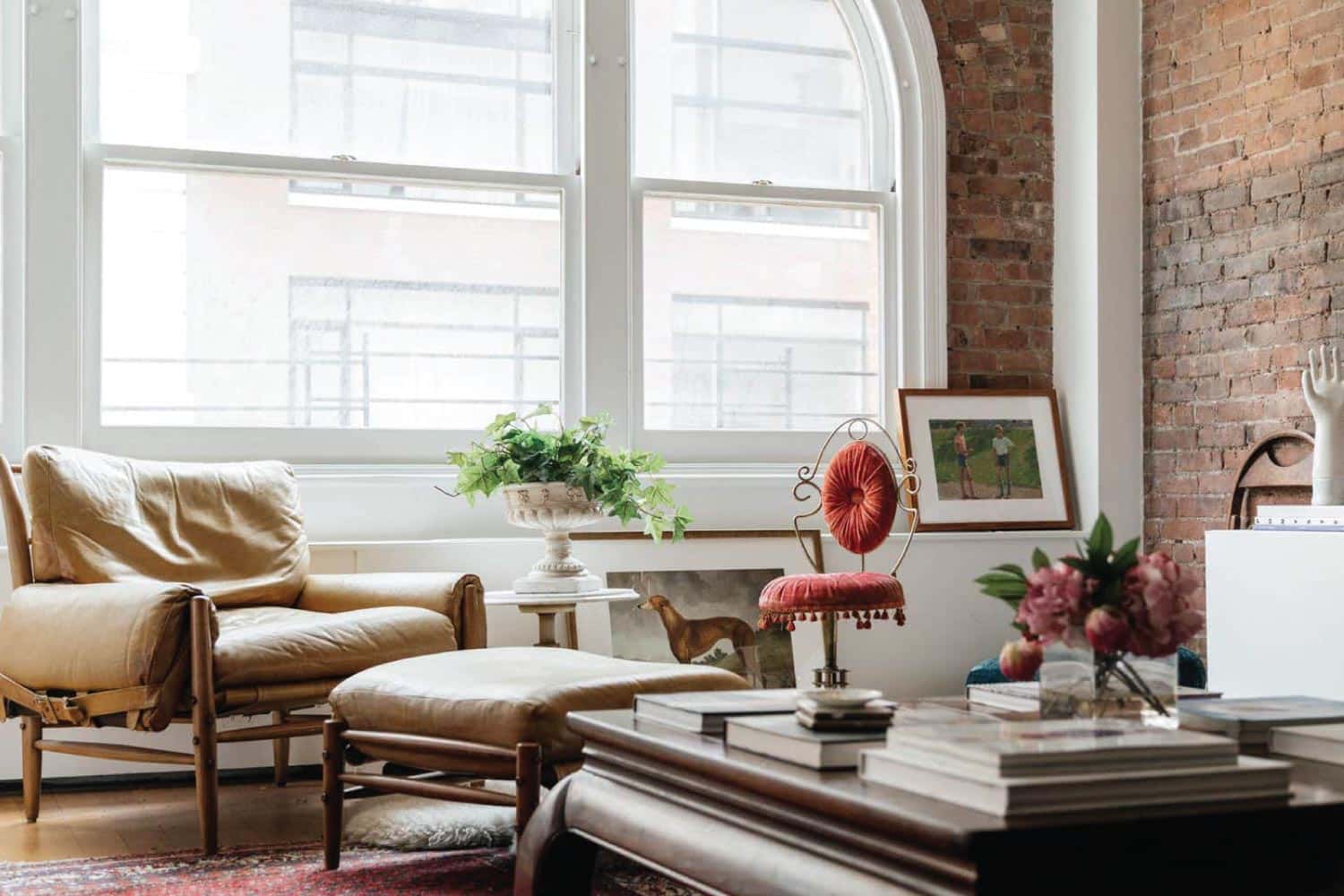 The year 2021 saw the interior design industry shift in major ways to respond to a world impacted by COVID-19. Home offices, virtual design and flexible living spaces became a new focus for the design community. The effects promise to be long-lasting. The home has been recast as a mission-control center for wellness, work, school and play, and that has changed the way we design the spaces we inhabit.
To uncover how the events of the past year will inform the biggest interior design trends of 2022, 1stDibs conducted its annual survey of interior designers and architects. Below are our findings.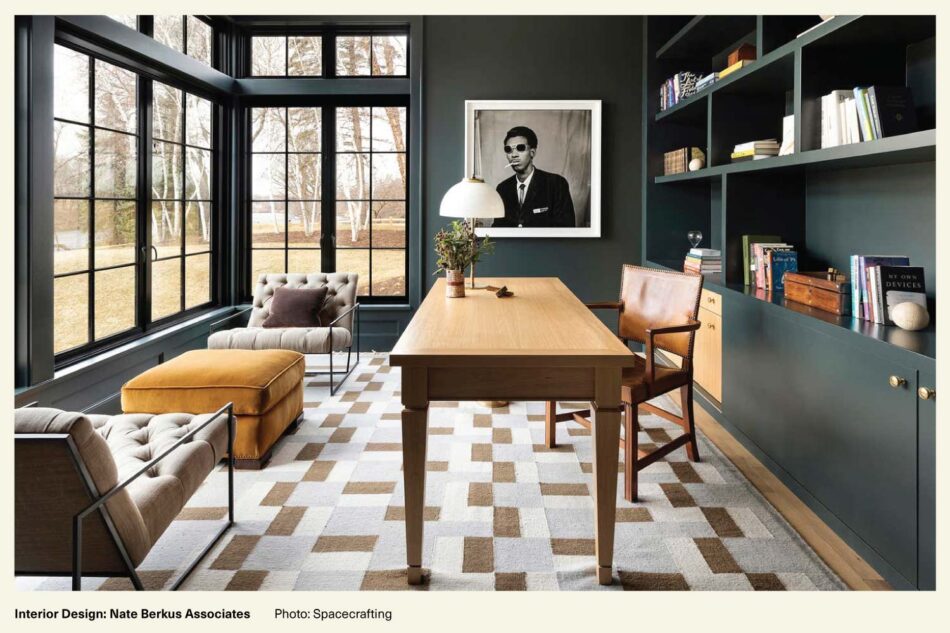 The top 2022 interior design trends to watch for in the new year include harmony with nature, wellness spaces, natural materials and various earthy colors.
Focusing on Outdoor Spaces: Expect increased interest in well-designed patios, porches and backyard gathering spaces.
Another Year of Fitness and Wellness Rooms: The home gym and health craze isn't slowing down anytime soon.
Bring on the Biophilic Motifs: Harmony with nature is in, as is a desire for natural materials.
Sustainability Is a Must: Prioritizing eco-friendly materials and bringing plants indoors will be big next year.
Cobalt Blue and Tan Are Rising: Among the colors expected to be hottest in 2022 are emerald, white, tan and cobalt blue.
---
1. Focusing on Outdoor Spaces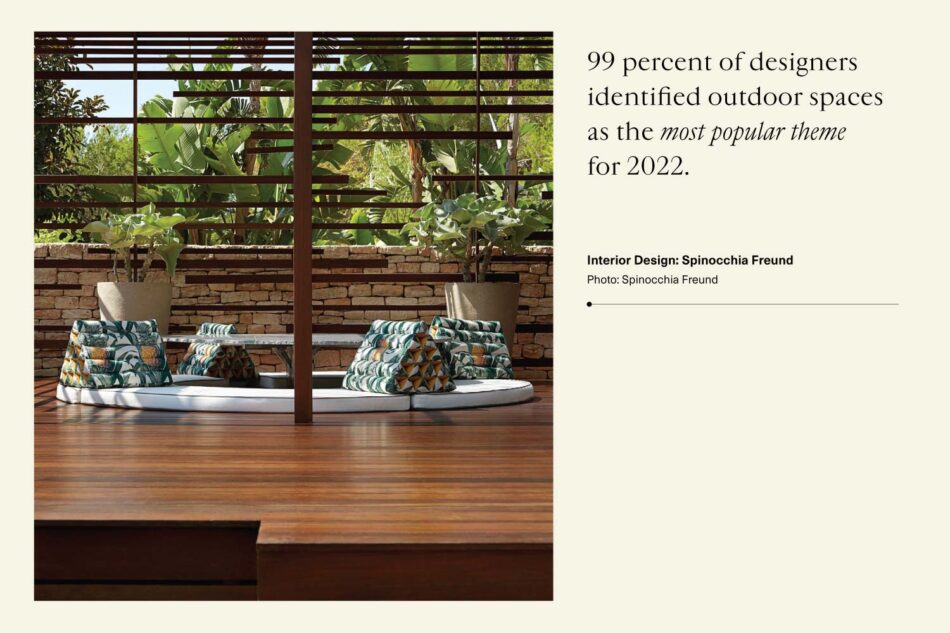 When asked which theme would be most popular in 2022, an overwhelming 99 percent of designers agreed: Outdoor spaces are in focus.
Being cooped up inside for much of the past two years led many of us to crave fresh air. As outdoor gatherings became widespread during the pandemic, patios, porches, balconies and backyards grew in importance. These spaces are no longer bare-bones and overlooked. Going into 2022, they will be increasing in the spotlight as essential places to unwind and get together with friends and family.
According to Brigitta Spinocchia Freund, creative director of Spinocchia Freund design studio, in London, outdoor spaces will be a huge focus for her firm in 2022. "We are currently designing a retractable glass-domed winter garden," as well as a terrace for a summer house, she says.
To add character to such areas, Spinocchia Freund works with artisans on creating unique furnishings for outside. "For example, I have recently specified Aki+Arnaud Cooren handmade chairs for an outdoor space, and I often use pieces by designers in carved marble or Corian for the outdoors," Spinocchia Freund says.
---
2. Another Year of Fitness and Wellness Rooms
The hybrid work schedules necessitated by COVID, along with permanent remote work and more time at home, have led people to prioritize health along with work. Weight rooms, indoor sports courts, spas and meditation sanctuaries have all become important for quiet, privacy and escape.
No wonder gyms and wellness spaces came in third among top themes for 2022, identified by 91 percent of designers as likely to remain popular in the new year.
---
3. Bring on the Biophilic Motifs
Virtually all surveyed designers, 93 percent, recognized the lean toward biophilia, or the love of nature. Many of the predicted trends betoken a strong desire for harmony with the environment.
Biophilic design elements like natural lighting, greenery, organic shapes and natural forms will be big in 2022. This correlates with reimagining the home as a healthier living environment conducive to well-being and productivity.
---
4. Sustainability Is a Must
The rise of biophilic motifs goes hand in hand with the demand for more sustainable and natural materials. When asked which recent design trends will continue to be popular in 2022, 97 percent of designers chose sustainable materials, and 93 percent chose plants. As clients become more eco-conscious, expect to see a greater emphasis on salvaged wood, recycled materials, bamboo and the like.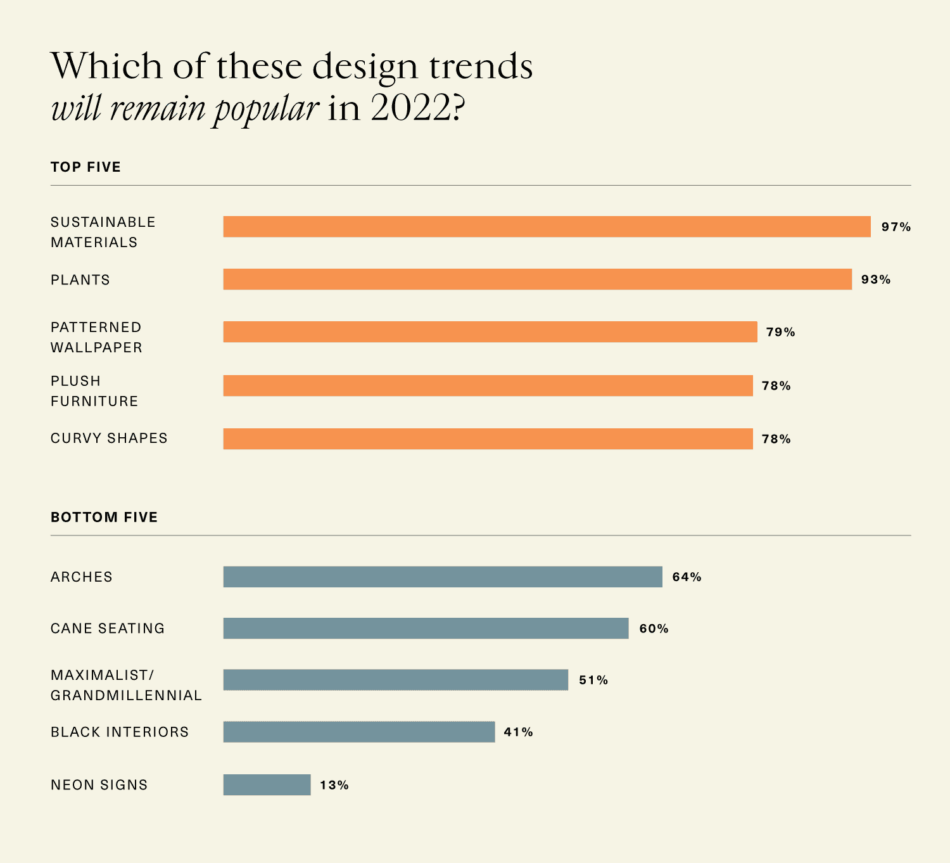 Brigitta Spinocchia Freund points out that a huge part of promoting sustainability is supporting and working with small studios for custom furniture and lighting pieces.
"Over and over again, we find our clients respond to the items we make in small ateliers," she says. "Through the use of these small studios, we are supporting tradition, the training of new makers and keeping handmade techniques current. This really does contribute to the sustainability conversation, as all the items are made to last, with the provenance of materials highly researched."
---
5. Cobalt Blue and Tan Are Rising
The popularity of nature motifs is consistent with the preference for deep greens and blues. When designers were asked which colors they predicted would be hottest in 2022, emerald green and white tied for first place — much as they did in 2020's survey for 2021 trends. Sage green, burnt orange and tan, also among that year's favorites, came next.
Navy's popularity dropped by 43 percent, replaced with a new favorite blue: cobalt. Similar to International Klein Blue (named for the artist Yves Klein, who created and patented the pigment), this ultramarine shade is sure to stir the pot next year in highly saturated designs.
Tan is another color on the rise, cited by 18 percent of designers in 2021 versus 16 percent in 2020 and replacing mustard yellow in the top five.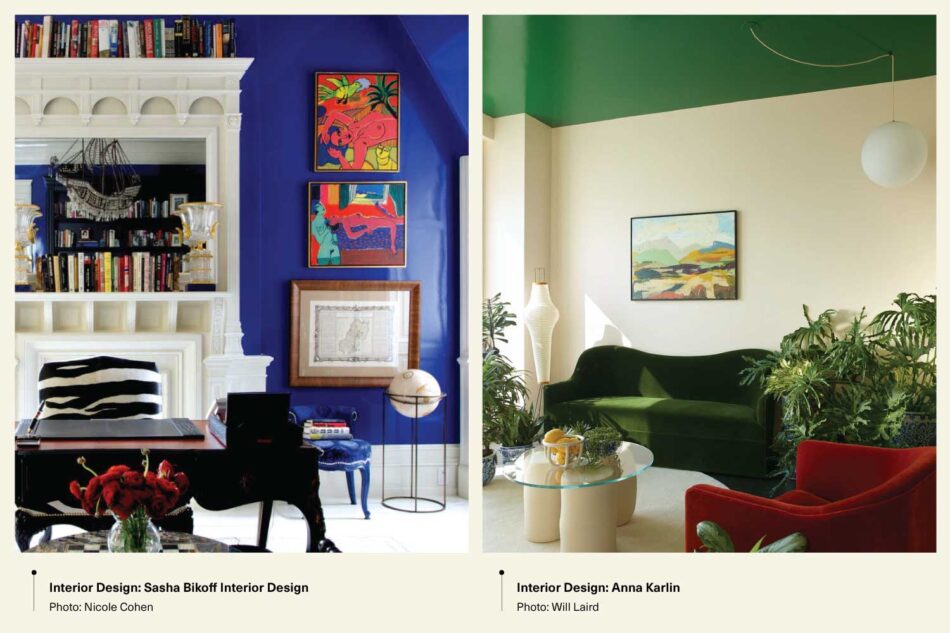 Brigette Romanek, principal of Romanek Design Studio, in Los Angeles, is not surprised by the new eminence of cobalt and tan. "I love that these colors are on the rise," she says. "I've been using blues and creams together for a while. It's a beautifully satisfying color combination. I expect to see more of this combo in rugs, paint, fabric patterns and any other possible surface."
Much like last year, when asked which decade's palette would be hot, 26 percent of designers named the 1970s, with its bright colors and earth tones.
These were top interior design trends. Below, we discuss four other interesting findings from the survey.
---
6. Bold and Large-Scale Patterns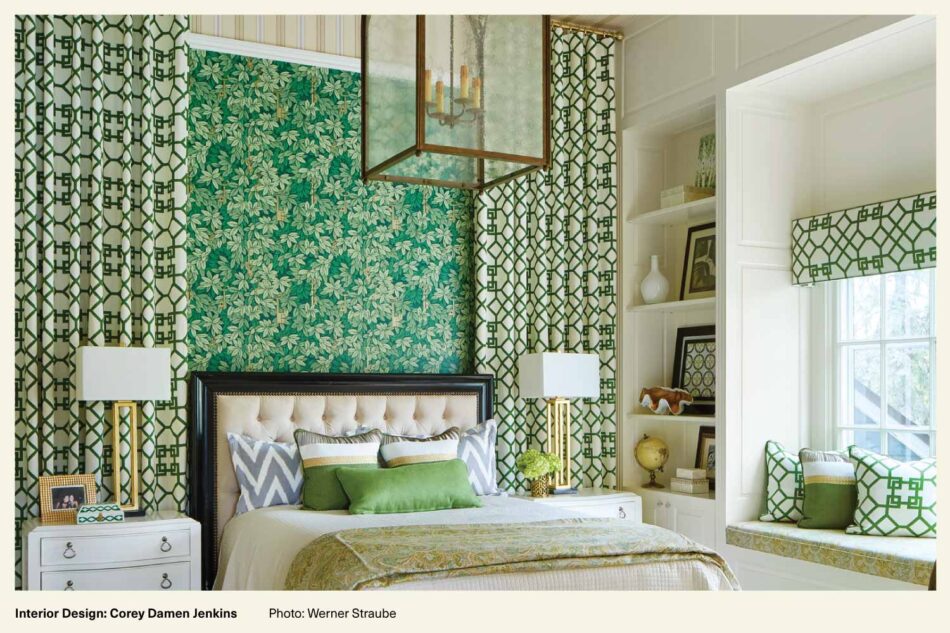 The patterns and motifs expected to be popular in 2022 are organic, cited by 27 percent of designers; and bold/large-scale designs, named by 21 percent; along with floral/plant themes, tagged by 16 percent, down from 25 percent in 2020.
---
7. Wood, Leather and Other Natural Finishes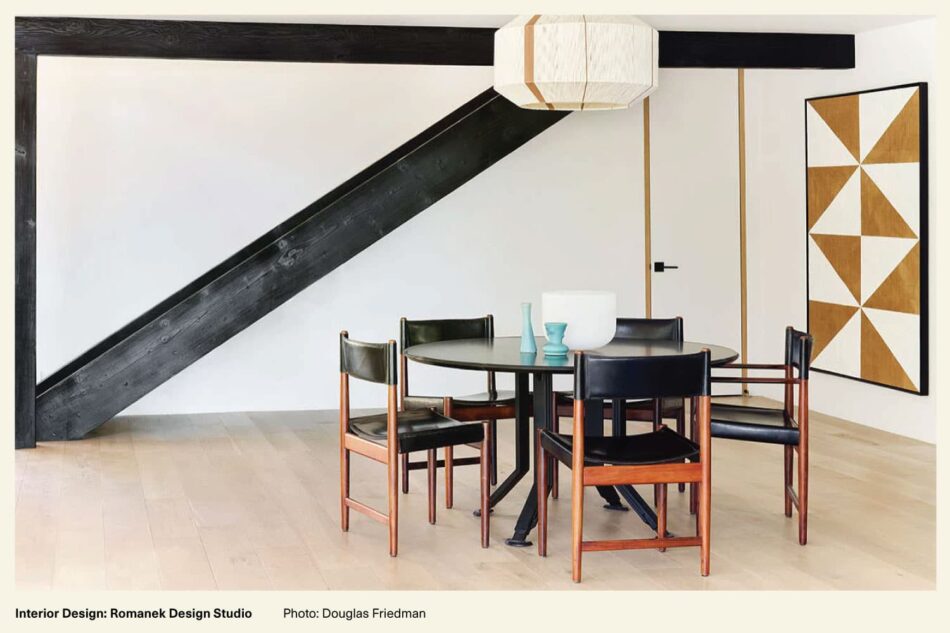 The materials and finishes expected to be favored in 2022 are wood (named by 35 percent), plaster (27 percent), natural substances (26 percent), bronze (25 percent) and leather (24 percent). This ranking mirrors the popularity of tans and light browns, along with that of sustainable and biophilic elements.
"Wood has always been a staple. It's a constant, continuous favorite and always will be," says Romanek. "What I love is the different techniques and fabrications that are being shown, as well as the consciousness practiced when using these materials — that is, sustainability."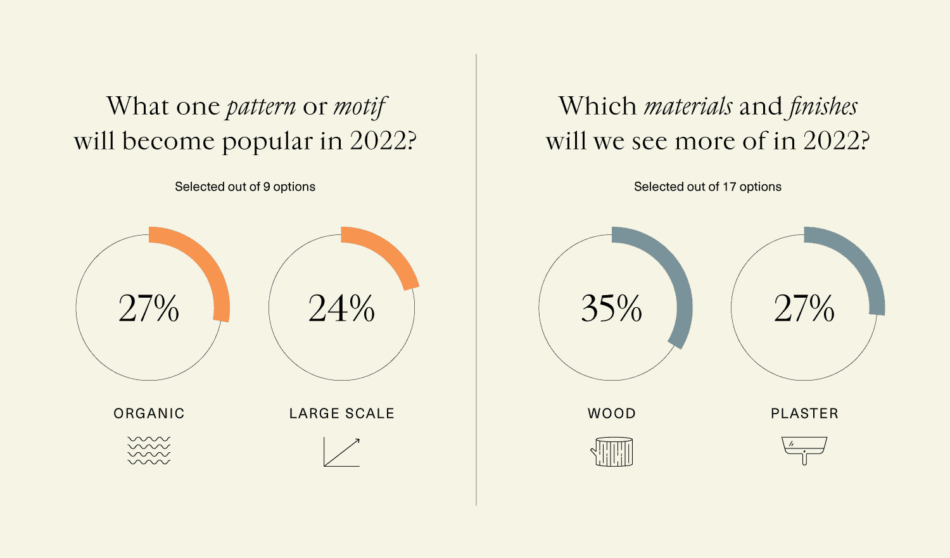 ---
8. Iconic Seating and Lighting
Designers also predicted which furniture and lighting will be hot next year. For seating, 20 percent of designers picked the classic Eames lounge chair, and 18 percent the curved, puffy Mario Bellini Camaleonda sofa.
For lighting, Noguchi light sculptures and Louis Poulsen pendants and chandeliers came out on top, selected by 26 and 19 percent of respondents, respectively. Look for the use of these coveted mid-century modern designs to continue and increase in 2022.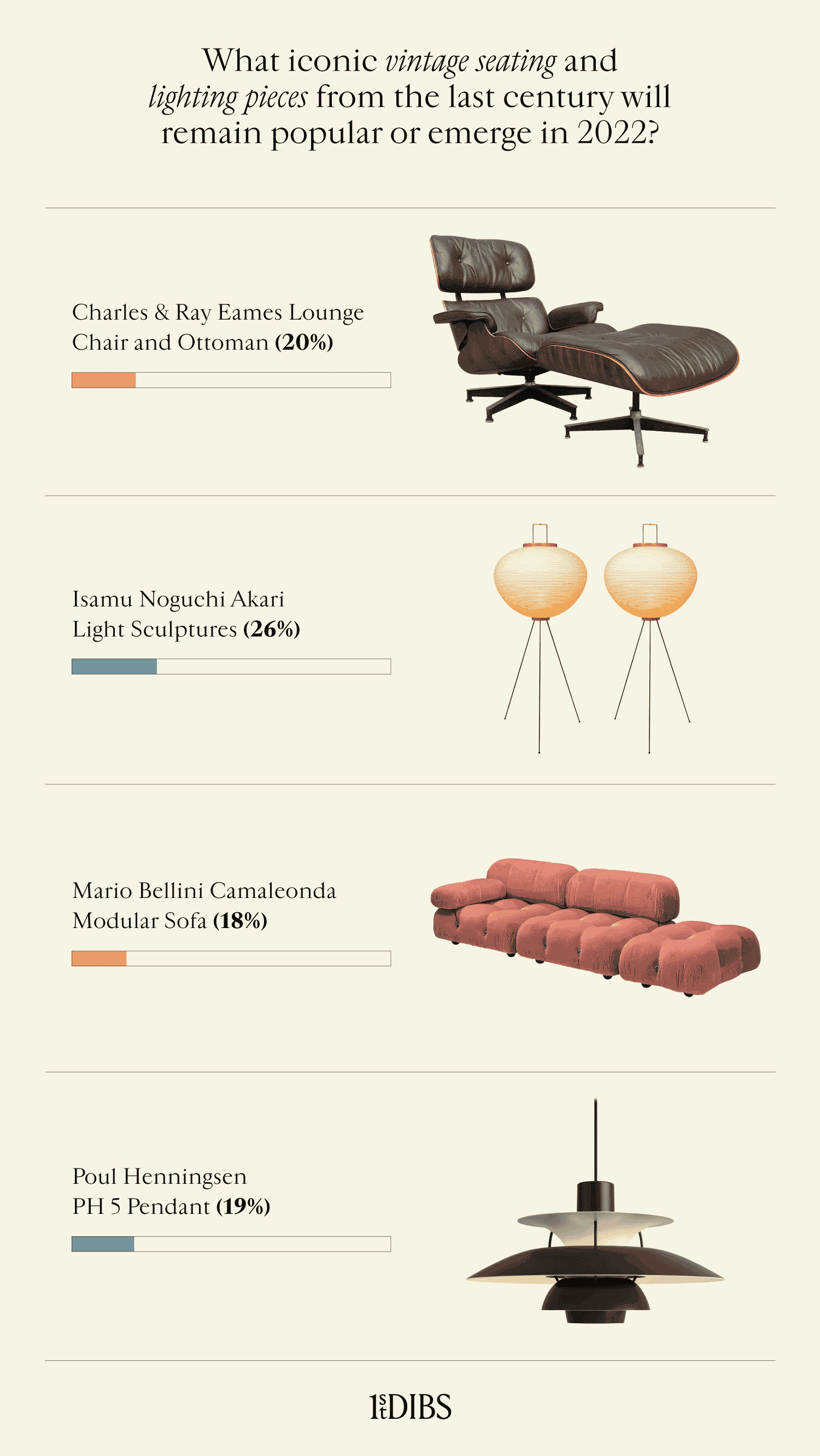 ---
9. Abstract Art
Designers predict that the most popular art styles in 2022 will be abstract, contemporary and modern. The least popular will be "decorator art," old masters and street art.
The favored mediums will be sculpture, painting, drawing and photography. The art categories least likely to appear in decor are ephemera/posters and prints.
---
Designer Outlook for 2022
Designers are optimistic about the year ahead, expecting solid growth. Although the size of interior design firms is declining, the average number of projects each one handles in a year has remained the same, at around six. Sixty-seven percent of respondents said they expect to complete even more projects in 2022.
In 2021, 79 percent of designers focused on residential projects. These were mostly primary homes, but 28 percent reported taking on secondary residences, indicating that many clients are moving (at least temporarily) from urban areas into second homes in rural and suburban communities. As designers work more with clients adjusting to a new work-life balance, they may take on more multiple-room projects.
Here are several more developments foreseen for 2022.
Virtual Design Will Continue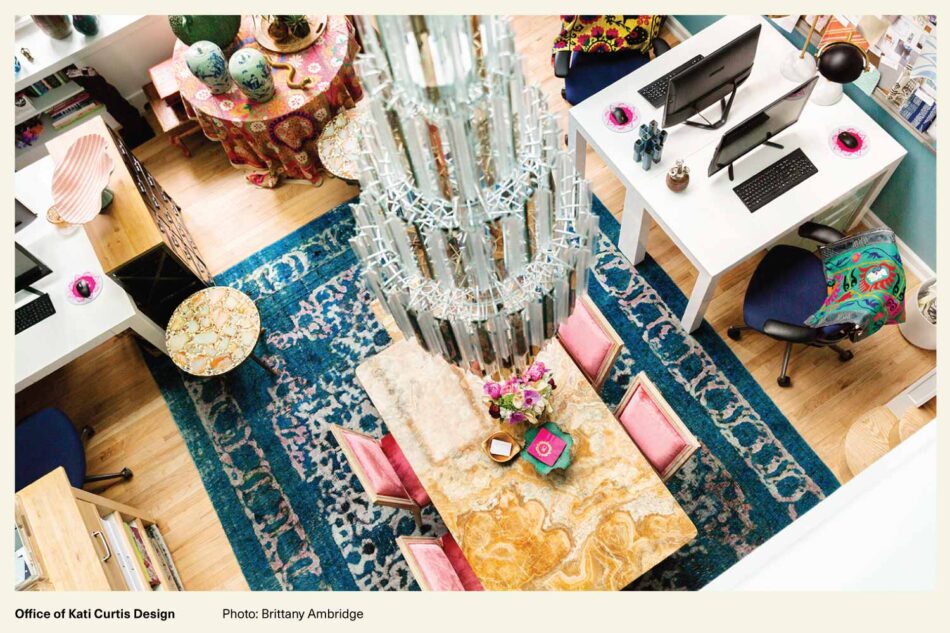 The vast majority of designers believe virtual work will remain the norm in 2022. When asked if they expect to continue working with clients remotely in 2022, 70 percent answered yes, 30 percent no.
Art Sourcing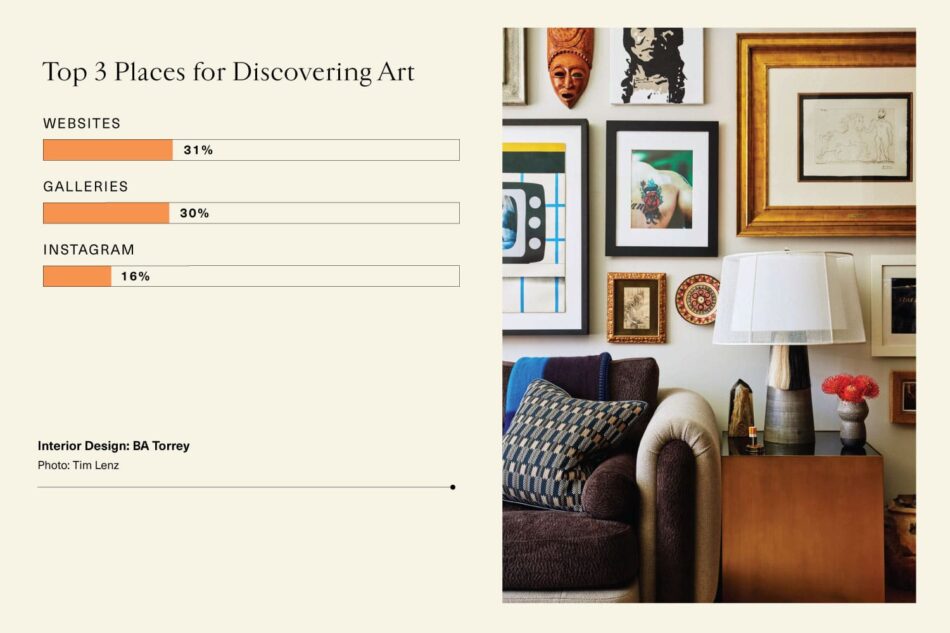 The top sources for discovering new art this year were websites (cited by 31 percent of designers), galleries (30 percent) and Instagram (16 percent).
Designers also discussed the biggest challenges they face in sourcing art for projects. The top three cited are assessing client tastes, working within budget and helping clients start a collection.
When asked their clients' primary consideration in acquiring an artwork, a huge majority — 55 percent — said it was the style. Investment opportunity and price came next. Interestingly, artist and medium were cited by only 9 and 2 percent, respectively.
Survey Methodology
For the past five years, 1stDibs has assessed preferences and emerging trends among interior designers. This latest study continues the program of tracking designers' thinking and seeks to assess the ongoing impact of COVID on the design community. The research was conducted online in September and October 2021 using a sample of interior designers registered with 1stDibs. Respondents who completed the survey were sent a link to a virtual gift certificate for USD $25 (UK respondents received certificates for £25, roughly the equivalent of USD $35).
Results are based on 766 responses, with 82 percent of respondents located in the United States and the remainder primarily in the United Kingdom and Canada. Seventy-seven percent of respondents are business owners, and 16 percent are not principal designers. Seventy-nine percent are primarily residential designers who complete an average of six projects per year.