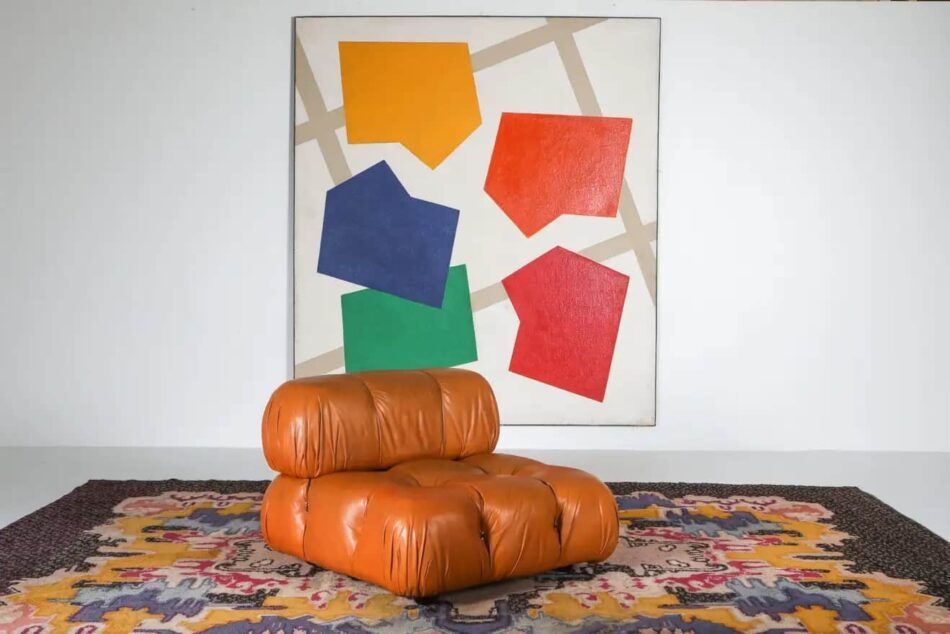 The Camaleonda sofa is the new darling of the design world — and for good reason. With its sumptuous tufted cushions, seductive low profile and endless rearrangement possibilities, the Mario Bellini–designed modular seat can double as sculpture in any interior.
The Milanese architect and designer came up with the concept in 1970 for B&B Italia (then known as C&B Italia), and the piece became a hit after its star turn in the 1972 exhibition "Italy: The New Domestic Landscape" at New York's Museum of Modern Art. B&B brought the design back in 2020 with a few modern upgrades — namely, all recycled materials and interchangeable seat covers.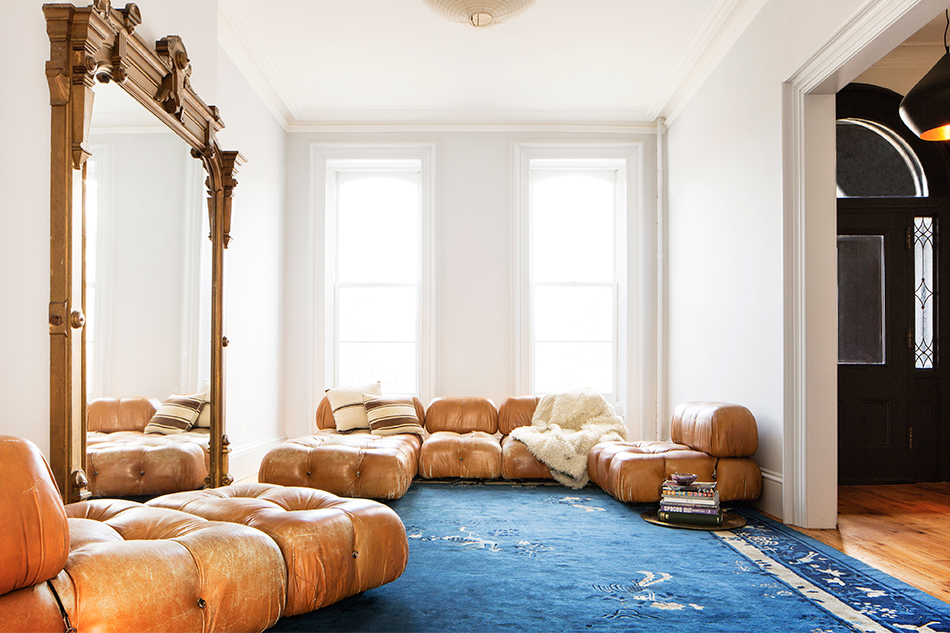 Whether they've been lucky enough to score a vintage piece or are enjoying the design's latest iteration, celebrities, designers and dealers alike are having a moment with the Camaleonda.
Chrissy Teigen's neutral-hued Camaleonda has appeared on the model turned cookbook author's Instagram account on many occasions, and each time, commenters have inundated her with the same burning question: "Where's that sofa from?"
Josh Evan, of Evan Edward Interiors, installed a Camaleonda in a Park Avenue apartment in late 2020. "The Bellini was an Italian eBay buy from years ago," he says. "When it first arrived, with the original threadbare velvet, it felt like a time capsule from the '70s.
"We knew it had to be restored, since it was an early C&B edition of the Camaleonda," he continues. "We looked at a lot of leather and ultimately went to Morentz, because they had the best neutral buttery color we were looking for. Most importantly, the leather feels incredible, and it patinas beautifully.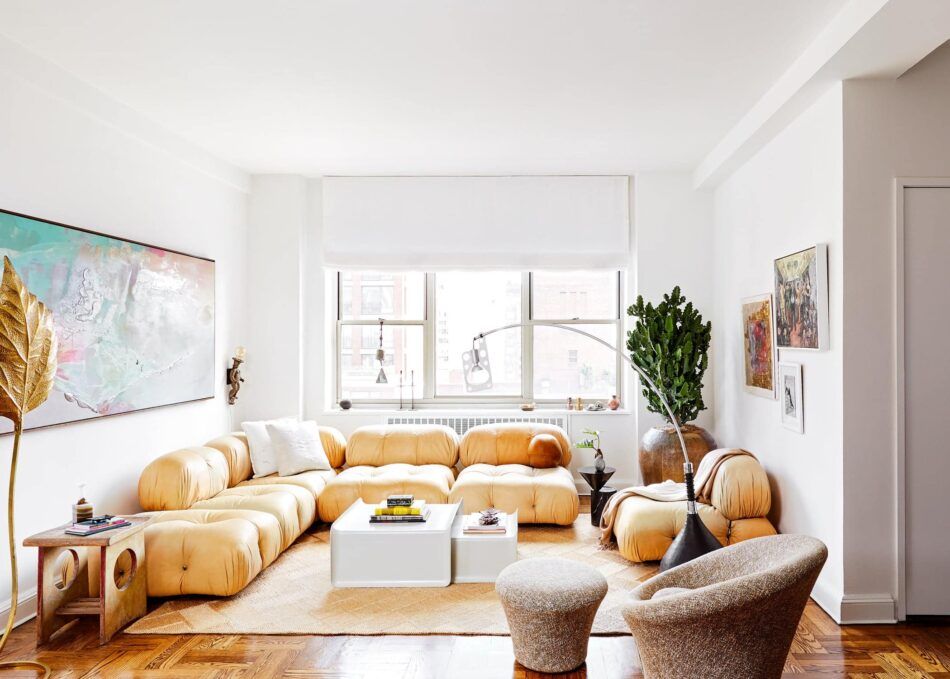 "The Camaleonda is especially ideal for a space that incorporates floor seating or other loungers," Evan enthuses, "because it's so low and fun for entertaining.
"The sofa is a showstopper and very loungey," he adds. "It's for a bold personality who wants something nontraditional. I think the low seat and marshmallow curves make it an inevitable attraction. It can go contemporary or vintage and really grounds a room. Plus, it's modular, which gives a lot of options for planning a space."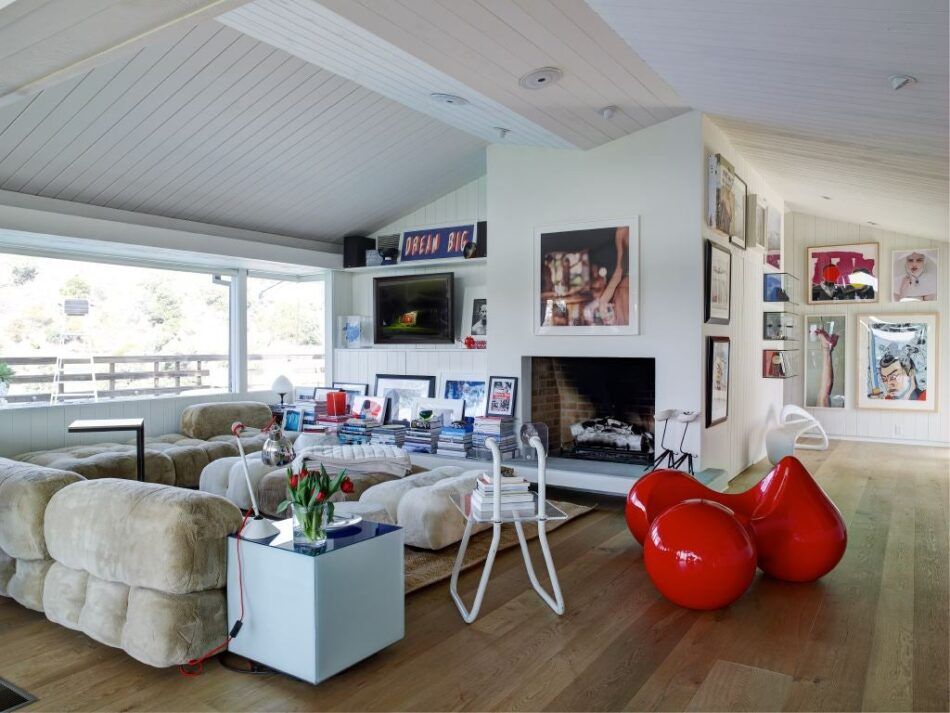 H. Gallery's Jelmar Hufen concurs. "For me, the great beauty of the Camaleonda, besides being an extremely good-looking object, is its flexibility due to the modular design of the sofa," explains the Netherlands-based dealer. "This is also referenced in the name, which is a contraction of the Italian words for chameleon and wave and perfectly shows the intention of Mario Bellini.
"On top of this," he adds, "the Camaleonda has a hint of futurism and functionality without being overly '70s, if it's upholstered in the right fabric. And who doesn't long for the future in these times, when we are all confined to our homes?"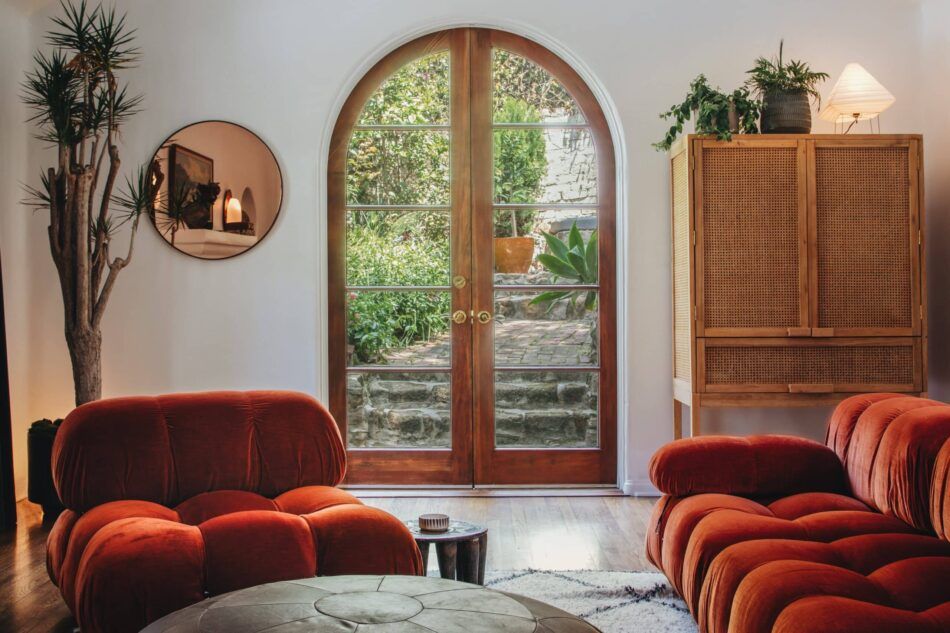 In a bungalow-inspired project in Los Angeles, Night Palm Studio took a different approach to the Bellini sofa, demonstrating that its generous frame fits in a smaller space. The deep-orange velvet plays off the natural hues of the doors and texture of the rattan cabinet, creating a fresh, inviting look.
"I love Italian '70s design, so I've been using this sofa for years," says the firm's founder, Tiffany Howell. "It feels playful but timeless, and compared to traditional sofas, its shape is just so much more interesting."
Howell suggests using the piece in a room meant for entertaining, rather than a movie or media room. "I love how sculptural and sexy it is, but it's pretty firm and upright, with a bit of lounge flair that you achieve from the depth," she says. "It feels more like an art piece. It can stand on its own and make a room come to life."
Furniture dealers like Goldwood Interiors are expert at covering original frames with new materials. This enables clients to customize their Camaleondas to suit their individual needs and styles — a design choice rooted in practicality that also keeps the vintage vibe from overwhelming an otherwise contemporary space.
"If you're reupholstering a vintage version, go for good leather, since it's all about the beautiful supple pleats, which call for a soft, durable material," Evan says.
His best piece of advice for those going with the classic? "Don't be precious with it, and just enjoy an iconic piece of '70s design!"