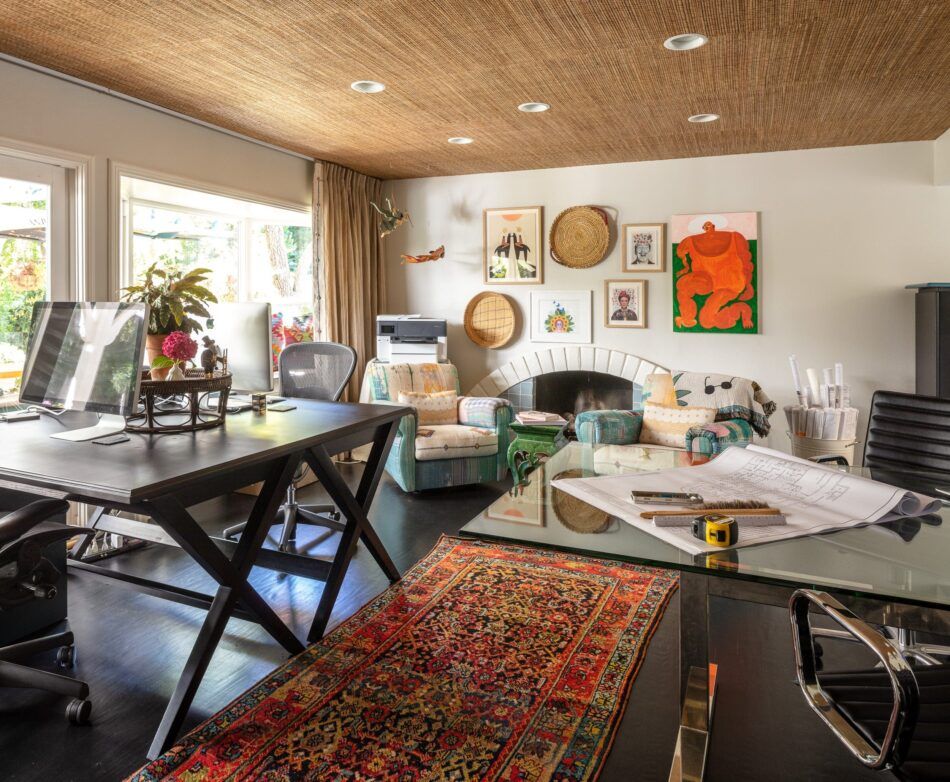 "In addition to functioning as an office, this area occupies what would be the living room in my Calabasas, California, home," says Lisa Queen. "So, we wanted it to be a comfortable secondary space where my husband and I can meditate by the fire or enjoy a glass of wine on the weekends. Hence, the pair of cozy chairs by the fireplace."
The colorful vintage rug forms a bridge between that rest-and-relaxation area and the office, with its all-business Herman Miller Aeron chairs.
---
"My client is a fashionista," says Jennifer Schmidt. "So, I wanted her Washington, D.C., home office to reflect her passion and personality." From the Chanel shopping bags to the Kate Moss and Twiggy prints, Schmidt definitely found a happy medium between fashion and design.
---
In the master bedroom of an open and airy Sag Harbor, New York, home, David Kleinberg riffed on the Egyptian Revival style of the architecture. The funky desk and chair, which the clients commissioned from an English furniture maker, has a European Arts and Crafts feel, while the rest of the furnishings, including the BBDW standing lamp and Horst P. Horst photograph, are classic American.
"The design of the entire house reflected a collected approach to the furnishings," says Kleinberg, "a more assembled-over-time approach."
---
AO Atelier's Armann Ortega centered the home office of a private residence in New York's Public Hotel on a terrazzo desk. The custom piece pairs perfectly with both the Mies van der Rohe chair and vintage Chinese Art Deco rug.
Ortega's overall scheme for the home was cinematic, expressed here in pair of vintage Tommaso Barbi brass ginkgo-leaf sconces that, he explains, "helped reinforce our Scarface inspiration for the space." Another dramatic touch: the framed Madonna Interview magazine cover, which the clients already owned and fit his plan perfectly.
---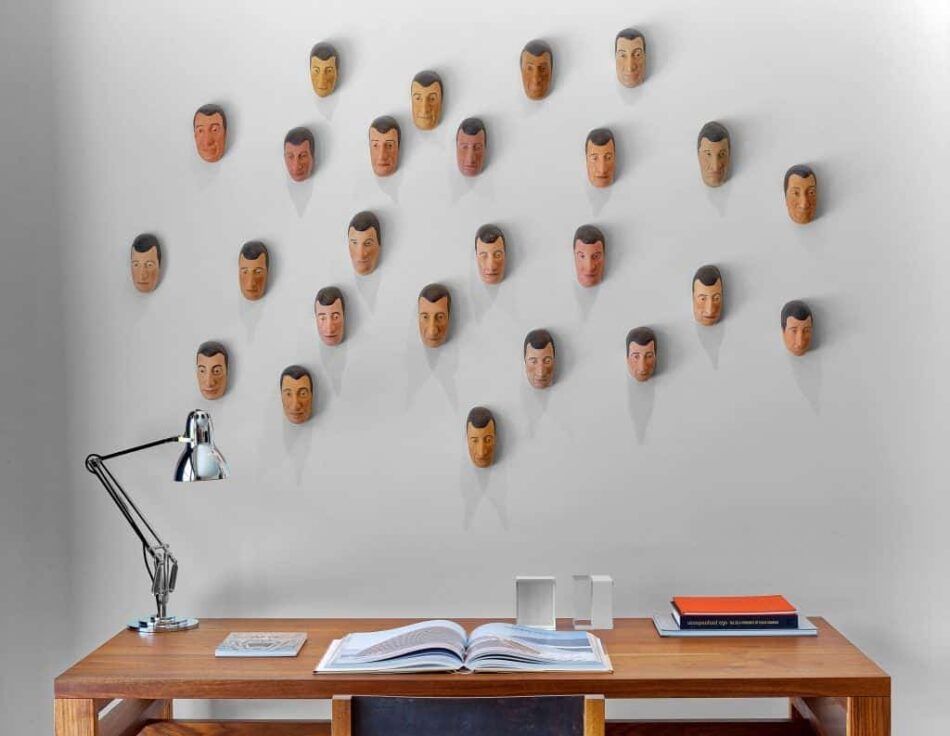 "The concept for this Aspen home's study was to use simple, clean pieces of furniture to allow the expressive art collection to have space to exist and be appreciated," says David Fox. Certainly, the BDDW chair and desk are simplicity itself, giving the floating silicone self-portrait heads by Maurizio Cattelan room to breathe and letting the vintage task lamp, from Lost City Arts, shine.
---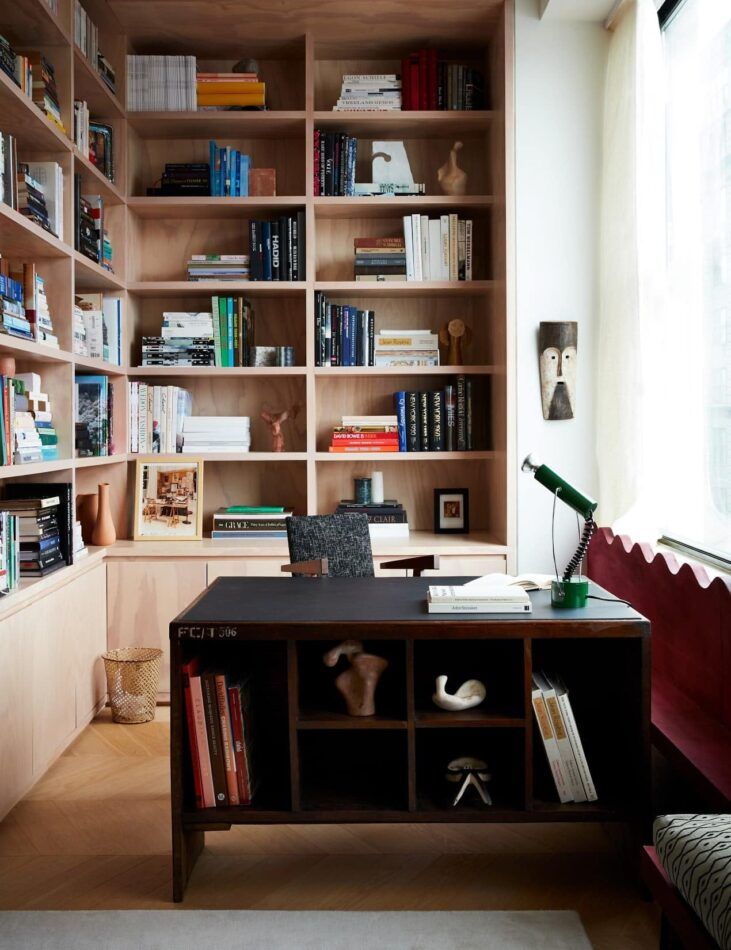 Giancarlo Valle made the Pierre Jeanneret desk the focal point of this compact home office in a New York loft, surrounding it with similarly standout pieces. These include an André Sornay desk chair and a 1950s Italian lamp — even the wastebasket, by Mathieu Matégot, is a stunner.
---
For his assigned room in the 2019 Holiday House, Bennett Leifer drew his ideas from history. "The concept came from a trip to Neues Palais, in Potsdam, and was abstractly derived from how dramatically spaces evolve over time," he explains. Here, that evolution is evidenced in juxtapositions like the antique portraits from Newel gallery conversing comfortably with the modernist desk, chair and swivel lounges from Todd Merrill.
"As the penultimate play on the concept of a drawing room," adds Leifer, "we collaborated with artists from Tats Cru to decorate the walls with one of the most modern forms of drawing: graffiti messages about breast cancer," a reference to the event's funding beneficiary, the Breast Cancer Research Fund.
---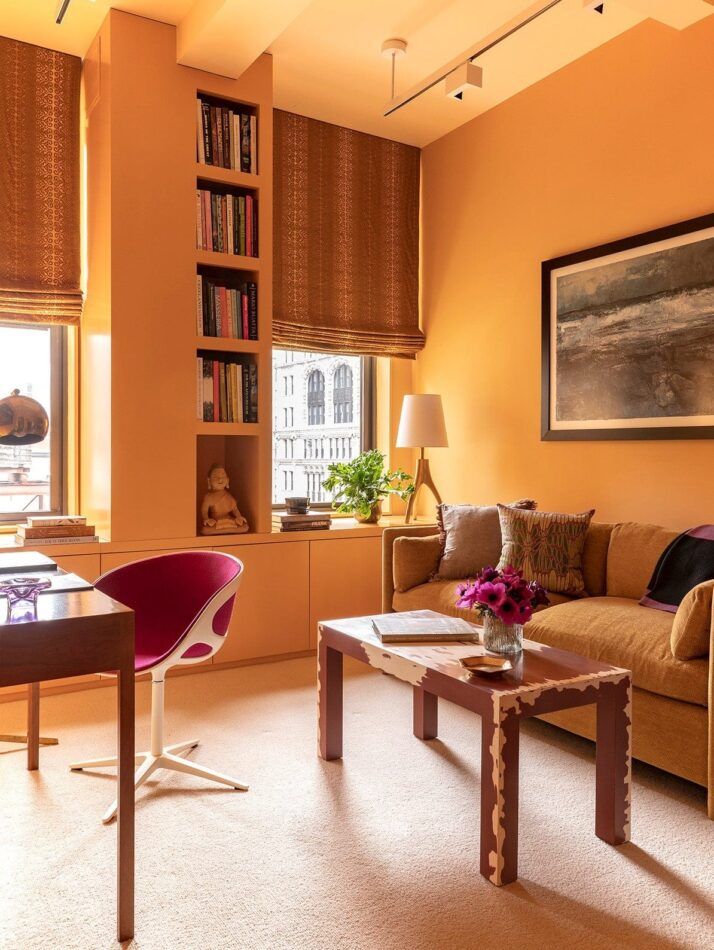 For a loft in New York's Flatiron district, the duo behind Brockschmidt & Coleman coupled traditional design with brilliant hues. "We used a wallpaper in the entrance hall that is a lighter shade of this curry color and then intensified it in this home office, which doubles as a guest bedroom," Bill Brockschmidt says. A 1970s brass tripod lamp and custom Japanese negoro nuri–style coffee complete the look.
---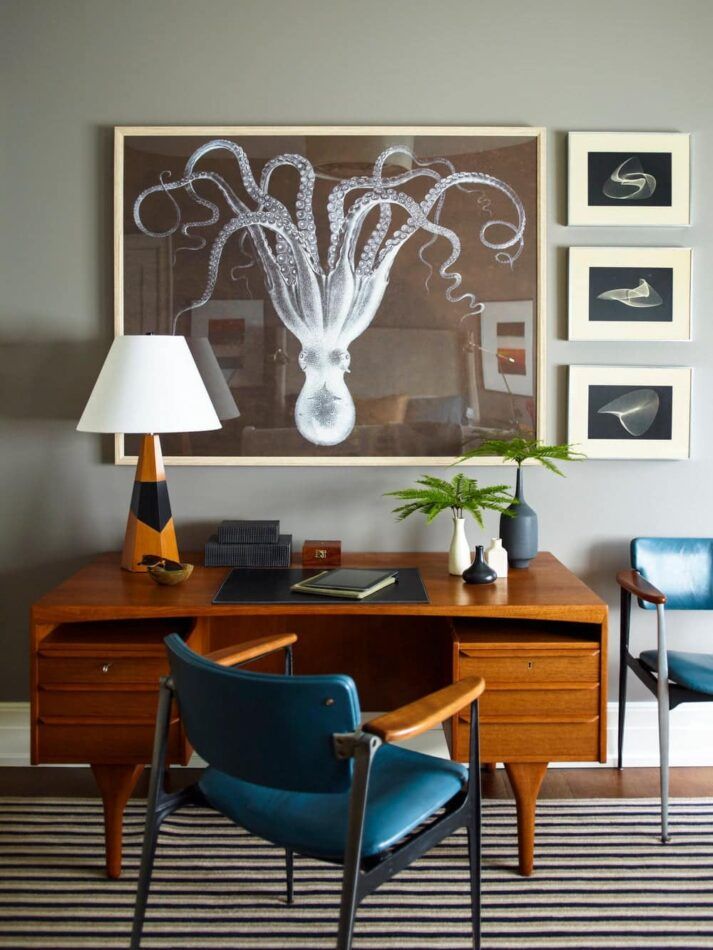 Kevin Dumais gave this Bridgehampton, New York, home office a decidedly sophisticated vibe, deploying a warm, masculine palette and an assortment of vintage pieces — a rarity in the contemporary-leaning beach town — like a set of three unsigned lithographs, leather chairs and a 1960s Danish desk.
A National Curiosities octopus print, which Dumais intentionally hung upside down, adds a playful element.
---
The homeowner, a fantasy novelist, wanted a feminine writing space in her Santa Monica, California, farmhouse. Christine Markatos delivered, adding a bit of character to the client's pale desk and chair with an array vintage furnishings, like a 1950s faux-bamboo end table and 1940s apothecary lamp, plus a Hugo Guinness pen-and-ink drawing in vintage gilded frames.
---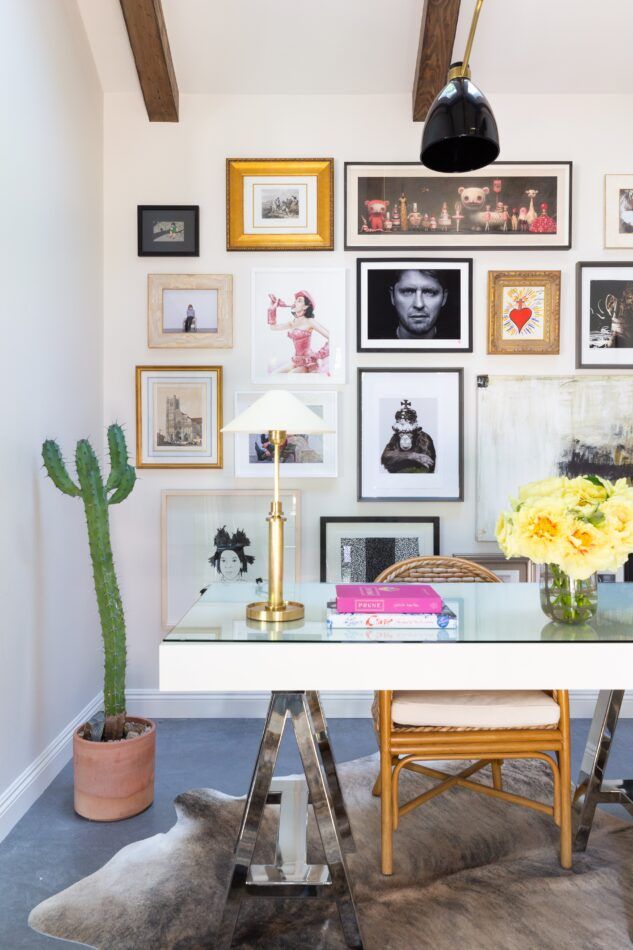 "My clients, celebrity chef Ludo Lefebvre, and his PR genius wife, Krissy Lefebvre, are a powerhouse duo who needed to turn their Studio City, California, back house into a functional workspace," says designer Marie Flanigan.
Although home offices are typically designed around the desk, Flanigan gave precedence to the clients' art collection, creating an eye-catching gallery wall with a mix of fine-art prints and professional photos of the Lefebvres.
To create your own unique home workspace, check out our backyard office ideas.