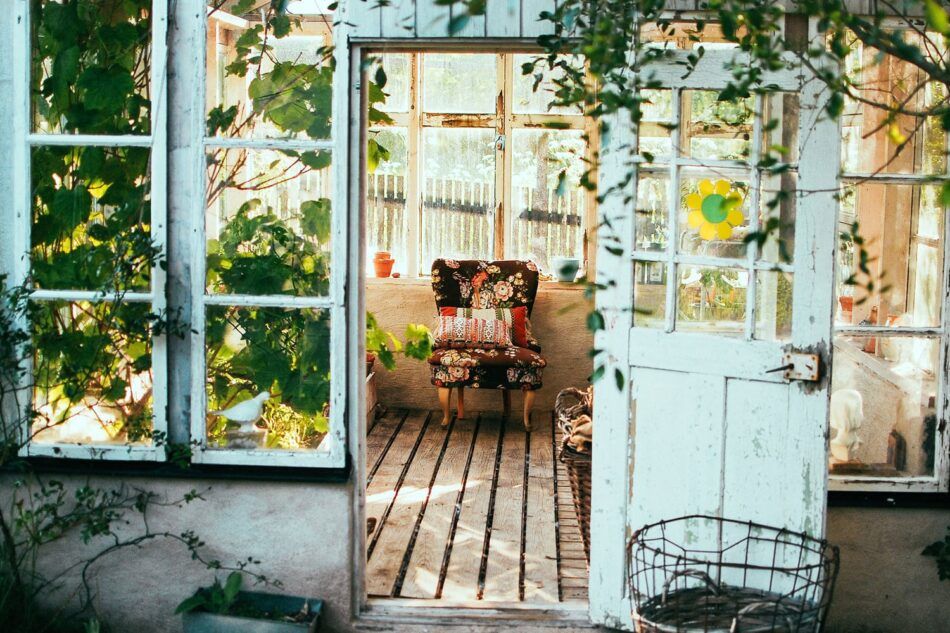 Because of the pandemic, more and more of us are working remotely. And that shift has spurred a desire for better home offices. But dedicating a room in the house to that purpose is not always possible. And it can be difficult to concentrate with family members around, not to mention the distractions presented by the kitchen, living room or bedroom. As a result, the backyard office has seen a surge in popularity.
A backyard office is a separate structure, such as a shed, pod, garage or pool house, repurposed for working from home. Just a short walk's commute from the house, it provides a distraction-free getaway that helps separate work life from home life and promotes focus and productivity.
Below, we walk you through how to design the ultimate backyard office shed for creative and effective work. To help you choose the perfect decor, we also include four mood boards for inspiration.
---
How to Design a Backyard Office
Whether you're converting an old outbuilding, purchasing a prefab she shed or building a structure from scratch, the following design tips will help you craft a comfortable and efficient workspace. With a well-thought-out setup, even the humblest garden shed can become a posh home office.
Consider the Logistics
Before you jump into designing your backyard office, there are some practical factors to look into.
A backyard office can be housed in a shed, patio, garage or cabin. The structure you choose must include enough space to fit everything you want and need to get your work done.
Access to electricity and the Internet is important. So is comfort, regardless of the season. If summers where you live are sweltering hot, will you need to invest in air conditioning, or will a floor fan be enough?
Then there's noise. Spend a little time in your structure before making design decisions or adding furniture. Will neighbors' lawn mowers, leaf blowers or barking dogs prevent you from getting work done? If so, consider installing sound-absorbing panels or soundproof walls. Or you can just get a pair of noise-canceling headphones.
Once you've sorted out these fundamental factors and you're sure the space is right for you, it's time to start designing.
Create a Floor Plan
For any design project, a floor plan is a necessary first step. Measure the space to create a scaled diagram. Think about what you'll use it for. This will help you decide on your furniture layout as well as your lighting and electronics setup.
If you haven't enlisted an interior designer, there are lots of great interior design apps that can help you envision different layouts and items in your backyard office pod.
Pick Your Aesthetic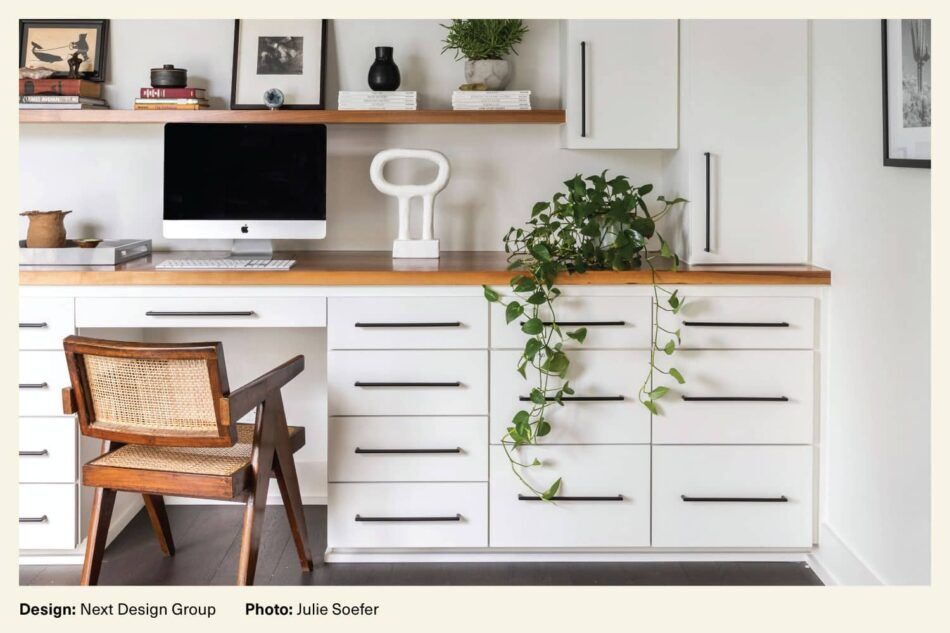 What furniture style do you want for your office? Is your preferred look sleek and minimalist? Or are you leaning more toward cozy and ornamental? Are you drawn to the latest design trends? Or does classic elegance fit your personality best?
A good place to start is to decide whether you favor modern or traditional.
If you like rich colors, patterns and lots of details, a traditional office design may be for you. If your personal working style is more suited to clean lines, open space and muted colors, you may be better off with a modern design.
Bring in the Light
It's important to maximize natural light in your office, since sunshine can boost your mood and decrease headaches and eye strain.
However, you'll also need to add light fixtures, especially if your shed doesn't have windows or you regularly work late. So, what types of light fixtures are best for a backyard office shed?
If you can install fixtures on the ceiling, consider pendant or track lighting for a directional glow. If that's not doable, floor lamps are a perfect choice. Not only will a good floor lamp illuminate the space, but it can also serve as a sleek statement piece.
Finally, add a table lamp or desk lamp to beam light directly on your workstation.
Use Space Effectively
In a small backyard office, it can be difficult to keep things open and orderly.
You'll be limited in what you can fit in a shed, so multifunctional furniture is a must. For example, if you have room for a sofa, find one that has storage space underneath. Bookcases, cubbies, boxes and baskets all provide compact storage.
If you're working with a very small structure, consider hanging a wall mirror and painting the floor white to make it feel bigger.
Select a Suitable Desk and Chair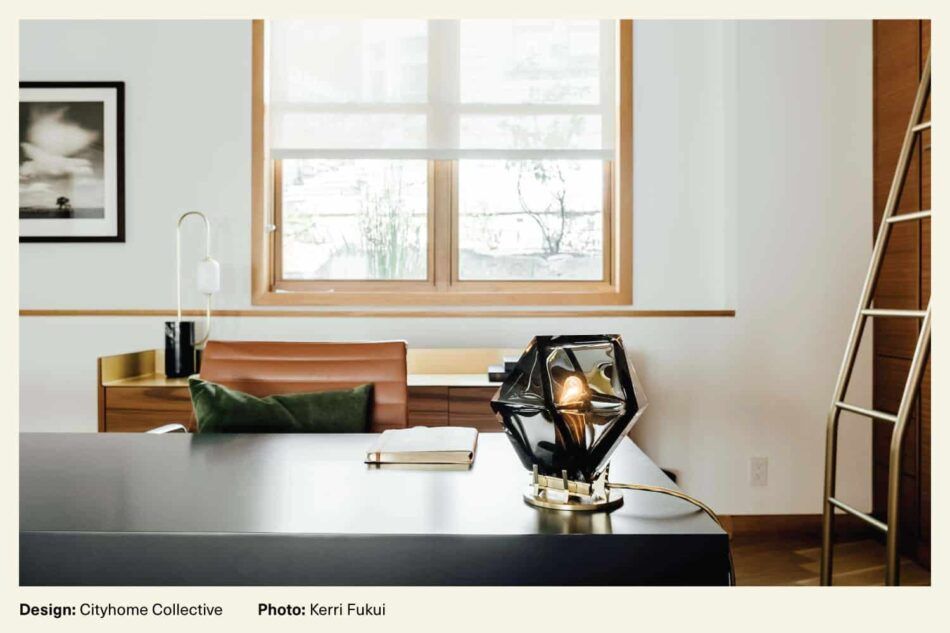 Your workstation is the most important part of your home office, so it's important to pick the right desk and chair.
There are a multitude of desk styles to choose from. For a gracefully minimalist look, consider a Scandinavian or mid-century modern piece. If you prefer a rustic, functional aesthetic, an industrial desk with a worn surface could be the perfect fit. For a more shapely, ornate worktable, think about a Victorian or Louis XV writing desk.
Your desk chair should certainly match your desk, but make sure that it also provides the back support and comfort you need. For a complete list of seating options, read our guide to types of chairs.
Add Personality
A backyard office shouldn't feel like a cubicle. Personalize yours with artwork, family photos and memorabilia, as well as fun desk accessories to make it a place where you love to work.
Decorative pillows with pop of colors on your desk chair or other seating will make your office more lively and homey. Calming paint colors, like blue or green, add charm and provide a pleasing background during virtual meetings.
---
Ideas for the Ultimate Backyard Office
Now that we've covered design considerations, the following themes may help you envision your own backyard office project.
1. Create an Artist's Studio
Turn a garage or cabin into the ultimate creative getaway. With a studio-style backyard office, you'll have a private, inspirational space. Here are our ideas for designing a backyard art studio:
Prioritize getting a healthy amount of natural light to work in.
Craft a colorful gallery wall in your creative cabin, using art that motivates and moves you. For additional pointers, read our art placement guide.
Include intriguing furniture pieces, such as floor lamps and tables with sculptural and organic shapes.
Leave plenty of space for large artworks and art essentials like a painting easel, a potter's wheel or a still-life setup.

---
2. Design a Scholarly Study
With the right decor, you can elevate a dull storage space into a refined backyard study. Here are some pointers for a stylishly serious look:
Pick an antique desk, and decorate it with objects like paperweights, letter openers and a desk lamp.
Incorporate rich colors and patterns with decorative pillows and a Persian rug to imbue your office with old-world elegance.
With the right-size bookcases, a shed instantly becomes an attractive library.

---
3. Organize a Minimalist Escape
Leave all the bustle behind by creating your own productive pod. What should you include in an office designed around focus and functionality?
Embrace a "less is more" philosophy by using a good storage piece, such as a cabinet or bookcase, to organize clutter and keep the space tidy.
To maintain an uninterrupted workflow, pack a mini-fridge with healthy snacks and water so you won't need to walk to the house as frequently.
Slender, minimalist furniture will keep things open and create a simple, serene environment that encourages your best work.

---
4. Plan a Nature-Inspired Office
Fresh air and greenery have calming, stress-reducing and productivity-boosting effects, so with the outdoors mere steps away from your desk, why not take inspiration from nature in your decor. Here are ways to incorporate the natural world into your office design:
Place lawn seating near your shed to encourage outdoor breaks for clearing your head and organizing your thoughts.
Introduce natural textures like rustic tabletops and faux-fur pillows.
Hang indoor plants for a pleasing touch that will positively impact your mood at work.

---
Even if your backyard shed doesn't look like much at first, you can transform it into the perfect work retreat with these pointers and ideas. In virtual meetings, you might even make coworkers envious of your optimal home office setup.