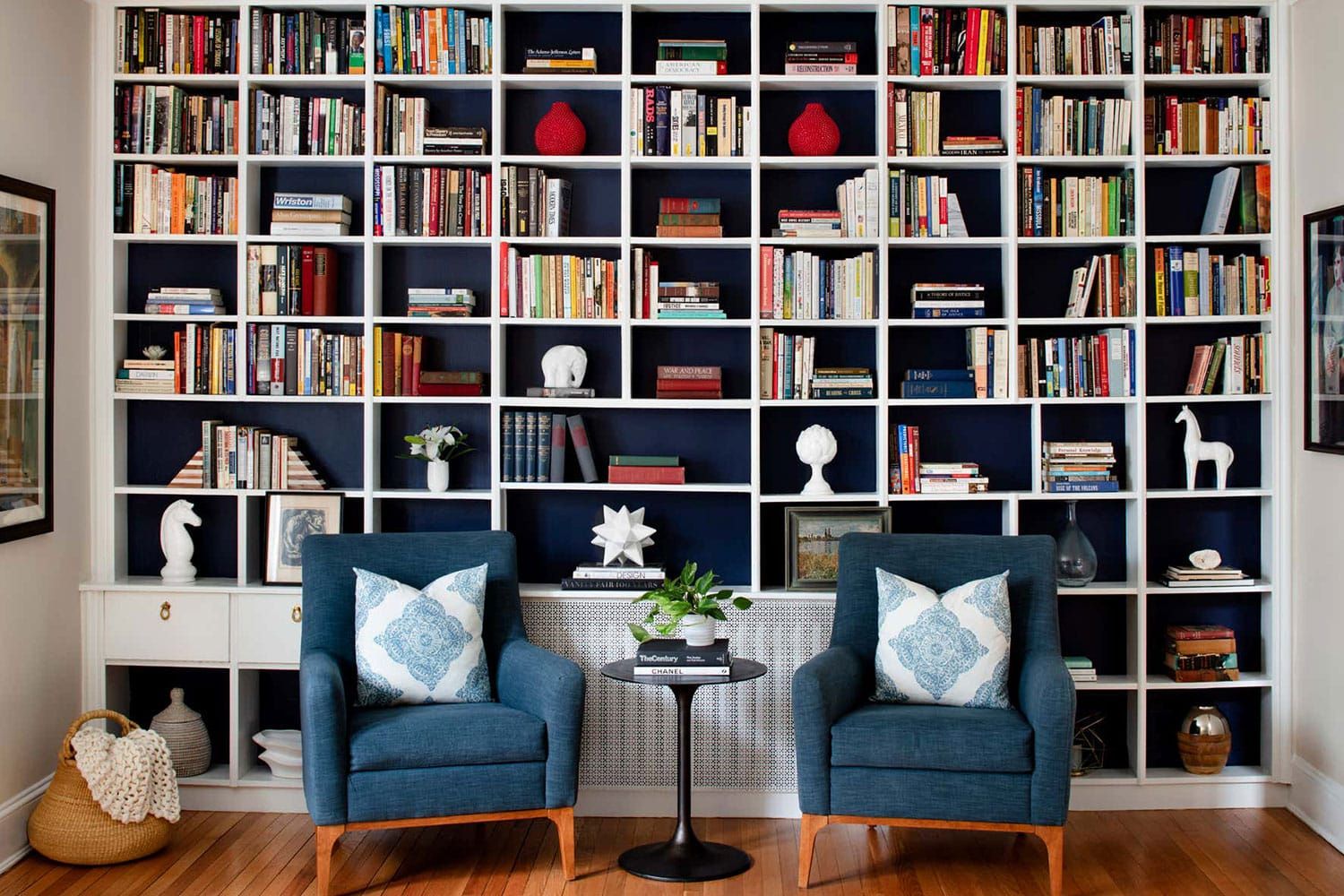 Bibliophiles and literary collectors will agree that decorating with books is one of the most meaningful ways to style your home. However, as your collection expands, you may want to find more creative presentations for your nonfiction, memoir, mystery, romance and serious fiction treasures. There are plenty of ways to arrange your books beside simply lining them up on a shelf.
Books are valued for their contents, but they can also act as art pieces. Decorating with them can enhance a space while giving your interior design extra polish.
"Our books are displayed in a natural way because we are continually buying them and they stack up everywhere," says Frances Merrill, founder of Reath Design. "I love a house that belongs to readers and has books and bookshelves everywhere chronicling the inhabitants' interests through the years."
Whether you're an avid reader or appreciate books as collectors' items, these tips will help you transform any room with beautiful works of literature. We've compiled ideas and advice from designers about choosing shelves, arranging with style, expanding book decor beyond the shelves and handling timeworn tomes. Read through all our pointers, or jump to specific sections using the links below.
How to Decorate with Thoughtful Arrangements
How to Decorate without Shelves
How to Decorate with Old Books
---
Choose Shelving with Purpose
Literature elevates a space and gives a room an inviting, cultured feel. One of the simplest ways to integrate books into an interior design is with the right shelves or bookcase.
"We love to include shelves," says Chloe Redmond Warner, founder of Redmond Aldrich Design. "Books are such an easy way to add personality and a sense that real people actually live in a space, and I love using a client's real books as opposed to populating shelves with coffee-table books only."
With so many bookshelf styles to choose from, where do you start? Here are some pointers for selecting a suitable home for your prized volumes.
Put up floating shelves for a modern look. Floating shelves have a clean simplicity that fits well with contemporary decor. They also draw the eye to high displays of books interspersed with art prints and other objects.
Build a statement wall with floor-to-ceiling shelving. Making bookcases part of the architecture creates a towering, impressive home library. For a final touch, include comfortable reading chairs and task lighting sources nearby for easier reading.
Use cube shelves to organize your collection. For a structured, symmetrical look, arrange your cube shelves so that each section features a different genre or color of books — or an artwork.
Go outside the box with geometric shelving. Unconventional shelves can be artworks in themselves, in addition to serving as showcases for your graceful volumes.
Create a relaxed look with leaning shelves. Also called ladder shelves, leaning shelves are popular among those seeking a modern slant. The style is ideal for displaying decorative objects, such as vases, along with your books.
Store classics in a display cabinet. A display cabinet makes for sophisticated book storage, showing off the spines of older editions and other cherished hardcovers.
Introduce flexibility with a barrister bookcase. A barrister bookcase is composed of moveable units that stack to form a cabinet. Originally used for law books, it is both elegant and functional.
Add panache with an antique bookcase. Antique bookcases are classic fixtures in a traditional sitting room. Whether rustic or ornate, they add a historical and refined resonance to the room.
Consider a corner bookcase for small rooms. Where space is limited, such as an apartment or backyard office, a bookcase that fits into a corner is a practical choice.

---
Arrange Thoughtfully
Just as important as the shelves themselves is how you arrange your prizes on them. When styling a bookcase, it's a good idea to incorporate other decorative elements with the volumes. Step back every once in a while to get the balance and feel just right.
"I like to arrange books by height, taller to shorter," says Michele Lorenz, senior designer and creative director at Mark Ashby Design. "It's more pleasing to the eye and looks clean and quiet. Placing a few on their sides with a decorative or sentimental object on top is a personal touch."
Here are some approaches to consider in arranging your books.
Coordinate by color. Grouping together books with similar hues produces an artful effect. No need to create a rainbow; you can go with all cool tones in one section and warm tones in another.
Match the room's accent colors. When selecting books for a room's decor, consult its color scheme. What hues are added by accent pieces of furniture or art? If there are pops of pink, for instance, place a large pink book or two facing forward on your shelf.
Curate a rotating book gallery. Spotlight a selection of your volumes with beautiful covers in a forward-facing book gallery. Every once in a while, replace these with others to keep your space fresh and interesting.
Organize by genre or author's name. If you're tired of hunting for specific works, arrange your books by easily searchable categories, classic library-style. This will make it easy to pinpoint that one desired title.
Group by size. It's best to place the largest books on the bottom shelves. You can sort by height on higher tiers, too, to make your shelves more level.
Turn books backward. Slightly controversial within the literary community, turning the spines to the back will display the pages while hiding the titles. This can add textural variety to your bookshelf, although you might want to do it with volumes you don't need to locate frequently.
Intersperse artwork, plants and pottery. Break up the monotony of a book-filled shelf with other display pieces. Vases, bookends, framed photos, small sculptures and plants are all great options. Just make sure not to make things too cluttered; leave a little open space here and there.
Change up the orientation. Place some books on their sides to create a more balanced design. "It's such an art," says Chloe Redmond Warner. "A very ham-handed way to think of it is four books up, four books down, something airy, something wild, repeat."

---
Decorate sans Shelving
With tables, corners and other spaces available, books shouldn't be limited to the shelves. By laying them in various places for people to discover, you'll demonstrate that you're a lover of literature.
How can you display books in a natural way throughout the home? "Coffee-table books that represent your hobbies or interests, in varying sizes, are always nice on a cocktail table, console or bookshelves," says Michele Lorenz.
Here are some more of our favorite ways to incorporate books into your interior design.
Create a book pedestal for decorative objects. Place an artwork, lamp or plant on top of a several stacked books. Chloe Redmond Warner is a big fan of this arrangement. "I find an absurd amount of joy from using a stack of books as a plinth for an arrangement of flowers," she says. "It's fun to find a good match between vase and book cover and — bam! — instant tableau."
Display books on a cocktail table. A console or cocktail table is another opportunity for a small book display. This is a perfect place for a small stack or book pedestal.
Build a book tower. There are so many fun things to do with stacks of books. Book towers can sit under tables, populate corners and add height to any surface. A stack of colorful books will impart quirk and show that you're clearly a reading enthusiast.
Decorate the mantel. Guide the eye toward beautiful books on unusual topics by placing them high up on the mantelpiece alongside candles and a clock.
Entertain guests with a coffee-table display. There are many ways to style a coffee table, but you can't go wrong with an array of large tomes, usually image-centric, for guests to browse. Luxury coffee-table books exist on a variety of intriguing topics, from photography to travel to fashion. Choose ones that illustrate your interests or hobbies.
Adorn end tables and nightstands. The coffee table isn't the only surface that will benefit from books. Set them near seating areas and on nightstands as invitations to curl up with a good read.
Arrange a book basket. Place a handful of matching books inside a wire basket for a little moveable collection. You can carry your book basket anywhere in your home.
---
Breathe New Life into Old Books
Antique and vintage books are precious parts of your home library. Old books imbue a book display with intrigue, history and a worldly atmosphere. Sometimes, though, you may need to refresh or modernize old tomes.
What are the best ways to incorporate venerable volumes into your decor? Michele Lorenz advises, "Antique books always look great [on] bookshelves. If you're going to mix them in with other books, try to use only hardcover books. If you have a run, they always look great displayed across the top shelves."
Here are more ideas for decorating with old books.
Pair old books with antique shelves. Gilded or dark-wood bookcases will lend your assemblage of antique volumes the air of an Edwardian library.
Bind a set of books together. Tie your Shakespeare series or old Penguin Classics, loosely, with twine. You'll instantly have a rustic-style design piece to set on a shelf or table.
Remove the dust jackets. If the dust jackets on your books look outdated, take them off and store them in a box. Bare hardcovers produce a more timeless look.
Create craft-paper or fabric covers. Wrap fabric around old books you're not going to read again and want to use as purely decorative items. For a rustic look, use burlap or another neutral textile.
Tell a story with a vignette. Group together old books with the same author or belonging to similar periods or genres, and surround them with objects like a magnifying glass, globe, candle or pocket watch. Your vintage arrangement will create a little window into an older era.
Combine with sentimental objects. For a more personal vignette, pair old books with family collectibles, heirlooms and photographs.

Incorporating books in your interior design is one of the best ways to show off your personality and pique the interest of your guests. They can be great fun to coordinate with your decor. Hopefully, these tips will inspire you in your own book-decorating endeavor.