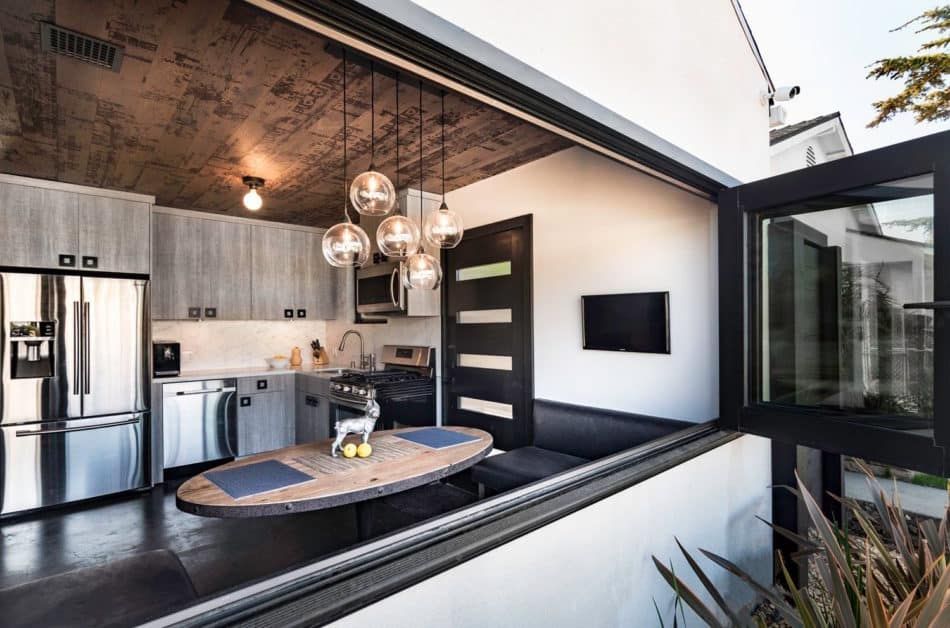 "Using less space and downsizing is great for Mother Earth and can be very modern and stylish. Who needs space when nature is your backyard?" says Kari Whitman. "Go green!"
In her own Culver City, California, tiny house, the recycled wine-barrel wood ceiling is from Geneva, Switzerland, and the custom windows were made in Los Angeles. On the wood table by Canada's Forge North Services, the vintage dog sculpture is a gift to Whitman from actress Melanie Griffith. The Orb lights are by Tom Dixon.
---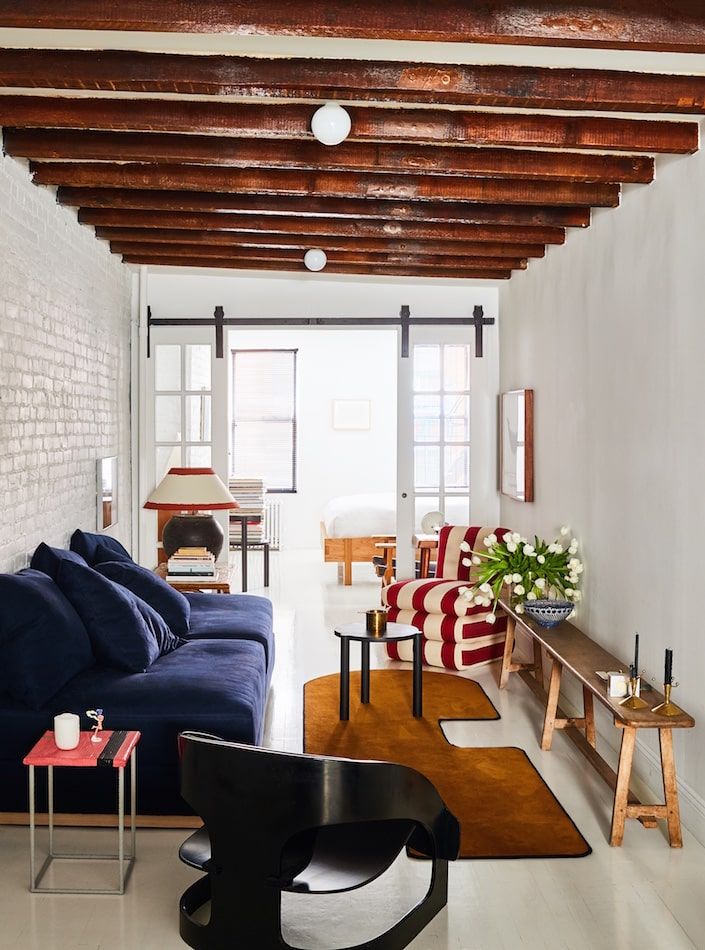 "I painted the floors white to give the illusion of more space by not creating a competing horizontal plane with the ceiling," ASH NYC's Will Cooper says of his New York apartment. "Using multifunctional pieces was key for me. I had the sofa made to also be convertible to a twin bed so that a guest can sleep on it if necessary. I keep the space super free of clutter with only a few important personal effects around, that way it doesn't get claustrophobic."
Cooper furnished this living room with a 1964 Joe Colombo 4801 black armchair, an early 19th-century Hepplewhite bench in walnut and an ancient Chinese vessel turned into lamp. The space also includes ASH's WC4 table, WC7 bed and WC4 chair. The sofa, rug and red-and-white-striped chair were custom-made.
---
"It's nice to construct a shelf where — if the room feels a bit tight — you can create a composition of art or objects instead of hanging items on the wall," says Steffani Aarons of DHD Architecture and Design. "Less is always more, so go for something that has a great shape, like an interesting stool instead of a big bench."
In this loft located in the heart of Manhattan's Noho neighborhood, the wood and silk carpet is by Tai Ping and the 1950s Louis Sognot benches are from Pascal Boyer Gallery.
---
"I designed a custom kitchen island with storage below and locking casters," says Jay Jeffers of his San Francisco home. "It can be moved and used as a bar top or buffet serving space when entertaining guests. And when it's not in use for meal prep or hosting, I use it as a workspace. The large size is ideal for reviewing architectural drawings and sketching new concepts."
The living room features a side table he designed for Arteriors, a 1950s teal chair upholstered in Holland & Sherry fabric, a 1960s center table by Grosfeld House, a coffee table by Paul Kingma and a 1950s sofa by Milo Baughman.
---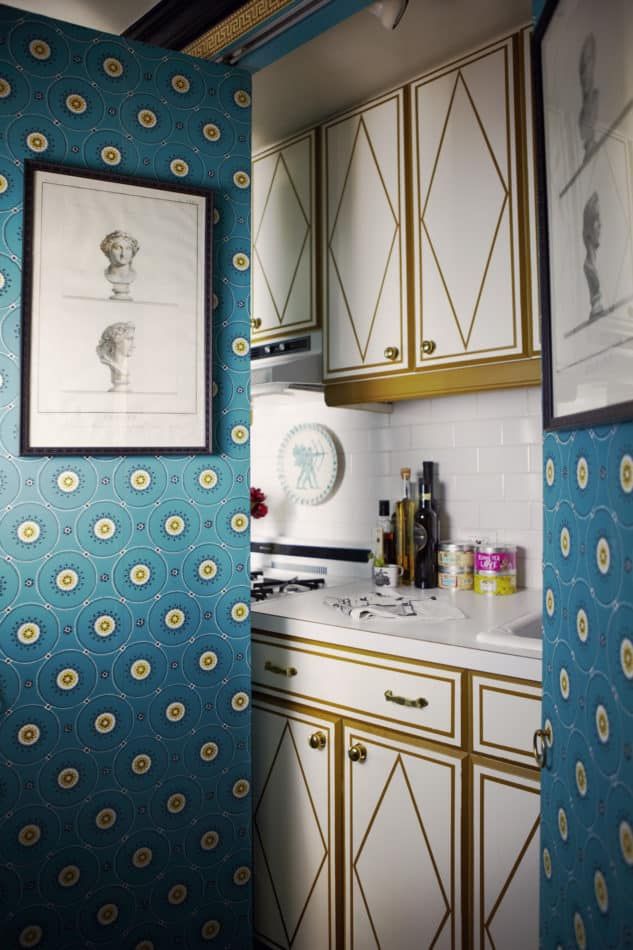 "In small spaces, one needs to edit the object that are exposed. Creating attractive containers for the rest of life's necessary objects is important whether they are boxes, baskets or doors," says Bill Brockschmidt, cofounder of Brockschmidt & Coleman.
"In my own New York apartment, sliding wallpapered doors conceal the kitchen, which is also the entrance gallery. When the kitchen cabinets are revealed, they also are decorated — simple white cabinets with a custom Directoire paint detail. It's also nice to wallpaper closet interiors, including the shelves, since storage in small spaces is accessed so frequently."
Brockschmidt commissioned Dalibor Kardum of DK Interiors to paint a decorative design on his cabinets. The Adena Pin Ring wallpaper is by Adelphi Paper Hangings. Affixed to the door are antique engravings of Roman antiquities and the plate above the stove is 1930s Swedish.
---
"Utilizing your vessels as functional storage is essential," say Mat Sanders and Brandon Quattrone, cofounders of Consort. "Ceramic pots with lids, chic vases and decorative trays and boxes serve as nice catchalls for keeping things out of sight. This solution works great in living rooms where the footprint is small and you're lacking storage."
In this Brooklyn townhouse designed for a young family, the armchairs are upholstered in a Zak+Fox fabric, the vase is by Matthew Ward and the Marcel sofa is by Consort.
---
"When it comes to small spaces, don't be afraid of color." says Eche Martinez, founder of the firm ECHE, "I like having the same color covering every single surface: walls, trim, crown, ceilings, every square inch! That way, not only you give the illusion of space, but you can also add a lot interest to a tiny room."
Martinez's office in San Francisco — nestled in a 1908 Mediterranean-style building — features a 1970s polished brass floor lamp by Vaughan Designs and vintage molded plastic chairs. He designed the coffee table in Arabescato marble and topped it with a polished steel bowl by Alessi. The triptych was inspired by a 19th-century etching of an English arboretum.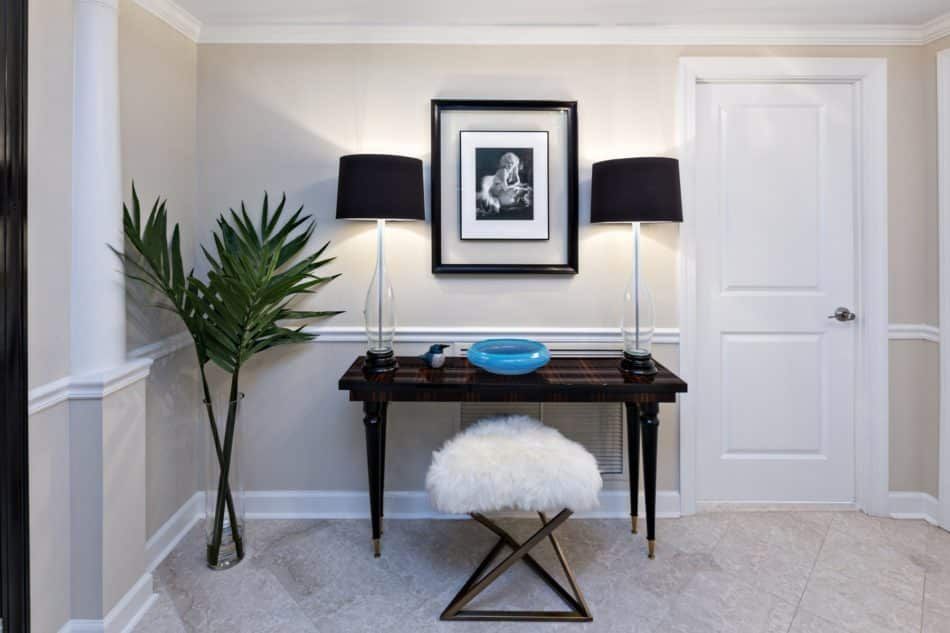 "When I'm working with a small space, I immediately keep the scale of the furniture in mind, not just the dimensions," says Kelsie Hornby of Elegant Designs. "Visually lighter pieces are my go-to: chairs with open arms, tables on legs and sofas with smaller arms. As for art and accessories, I trend towards fewer, larger pieces to avoid cluttering."
In this Old Hollywood–inspired home on the Chesapeake Bay, the artworks were curated through 1stdibs and are part of a collection of 10 classic movie stars photographed by George Hurrell.
---
"Think big. Small is just a state of mind," says Alessandra Santopietro. "Have fun playing with large scale patterns."
In this Narragansett Bay, Rhode Island, kitchen, the custom cabinetry in white lacquer and limed oak is from Venegas and Company, and the stool was purchased by the owner in Spain.
---
"In all our designs, I like spaces to be uncluttered and spacious," notes Joe McGuire. "To achieve this in a smaller room, it helps to minimize the visual lines and create only one or two visually prominent anchors, whether that's a sofa, a bed or beautiful but minimal cabinetry. The space wants to be treated like a boat, with discreet storage built in wherever possible. Finally, a few touches of color and perhaps something charming, can inspire the heart and the senses."
This bedroom in an artist's family home features a Niels Bendtsen Nest storage bed from Design Within Reach, globe sconces by Allied Maker and artwork is by Betty Woodman.
---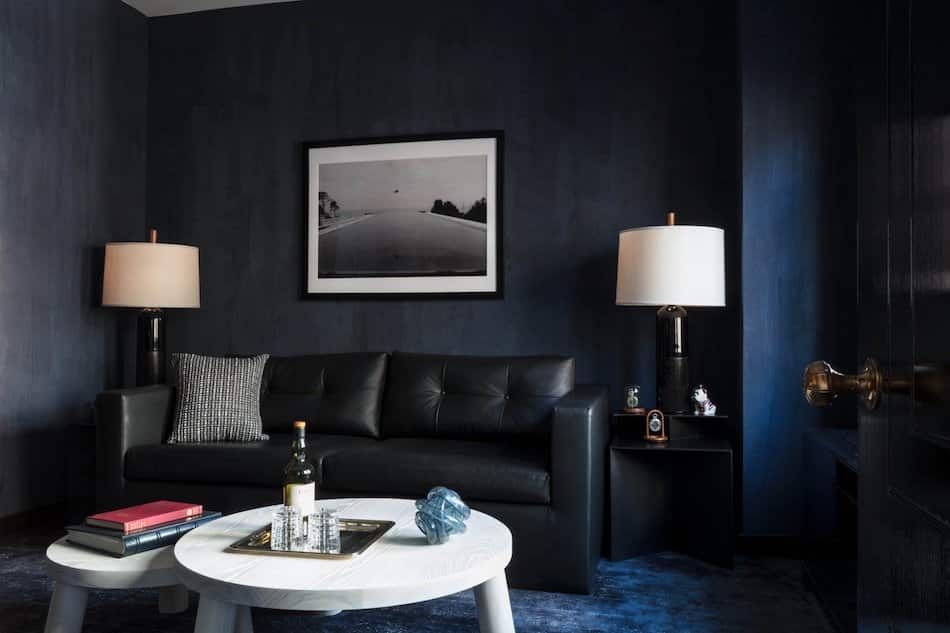 "Make sure the longest view — diagonal — dimension is open, don't be afraid of darker tones, and paint the ceiling the same color as the walls," says David Howell of DHD Architecture and Design.
The Christian Woo Trifecta coffee tables from the Future Perfect are paired with a black leather sofa. The room also features Uhuru's Tack End Table A and artwork by Gregg Berman.
---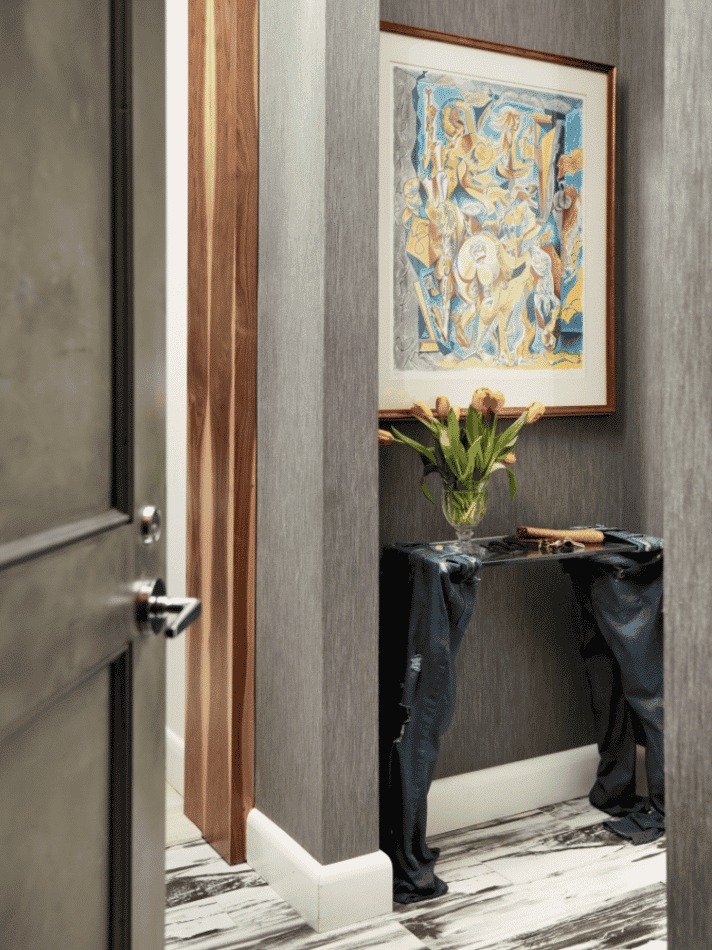 "In a small space, it's important to remember that each piece of furniture, each accessory, each piece of art, and even your toaster becomes special and has the chance to be a statement piece," says Jenny Dina Kirschner of JDK Interiors.
"I say embrace that small space by having fun with it and choosing specific items you truly love, and perhaps take it as an opportunity to use a daring, fabulous wall covering to instantly transform the aesthetic of the space."
In the entryway of Kirschner's Brooklyn home, artwork by André Masson hangs above the Thislexik Worn console table. The wallcovering is by Innovations.
---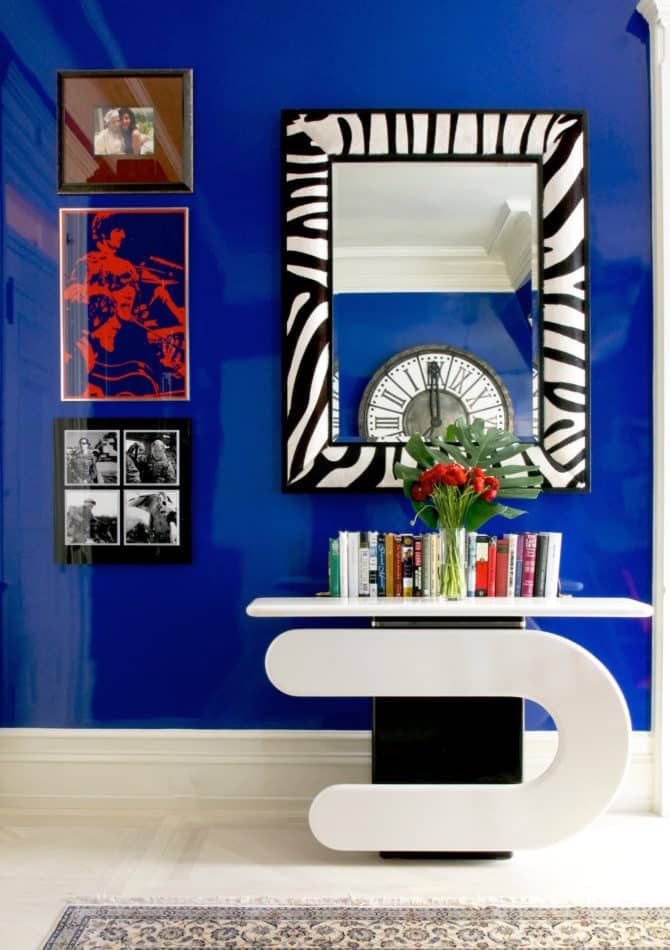 "In small spaces, the ceilings tend to be a bit low, which can make the room feel even smaller. Painting the floors white brightens a room and makes it feel more open and bigger than it is," says Sasha Bikoff.
In this Manhattan study, the table is a vintage bar by Pierre Cardin and the zebra mirror is vintage. Walls are lacquered in an Yves Klein blue.