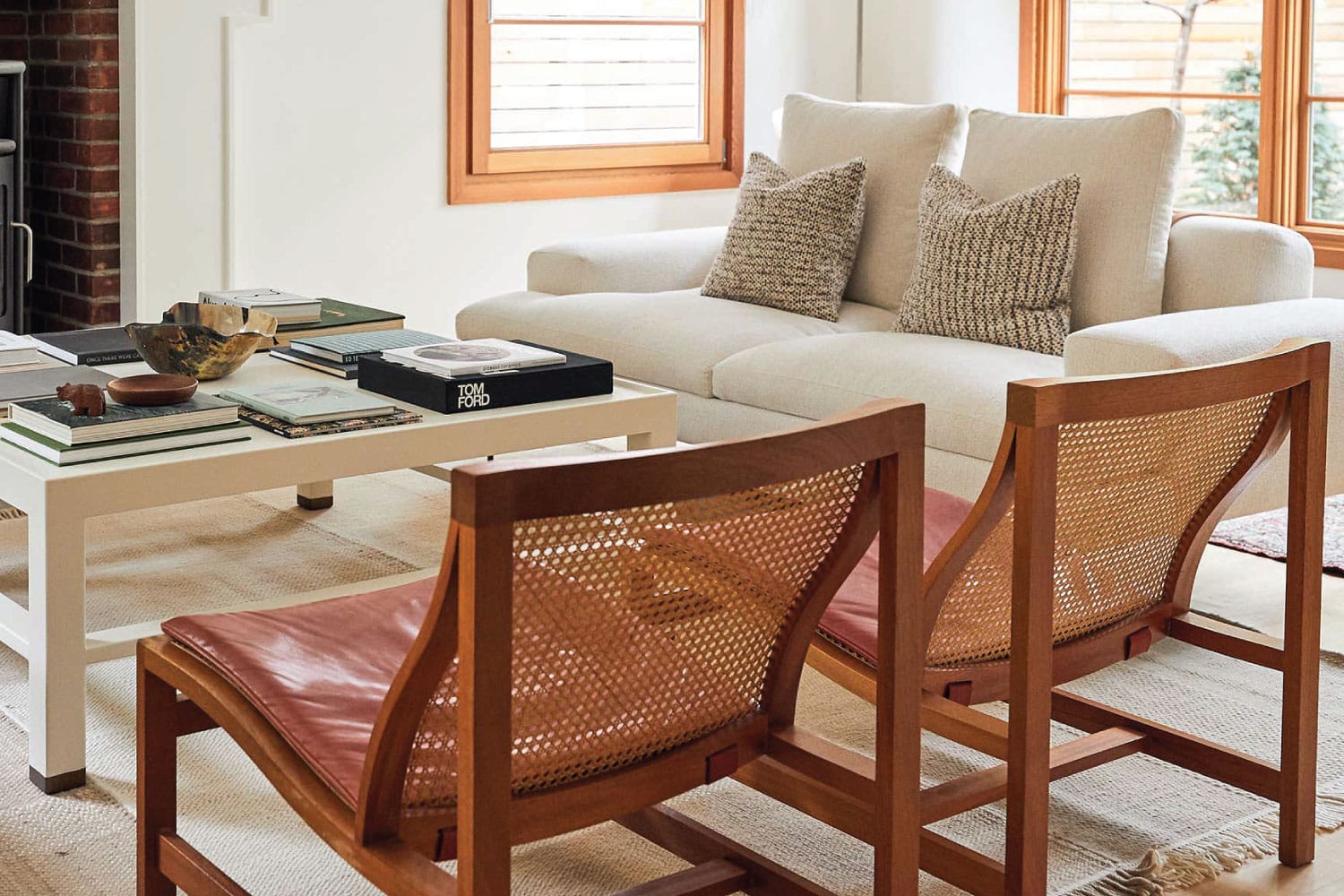 No room is complete without a good chair. Inviting and practical, chairs provide necessary comfort, leisure and utility for everyday life. However, if you've been on the hunt for the right chair for your interior, you've likely come to realize that there are hundreds of kinds of seating to choose from. Differentiating between them all and choosing the best for your interior decor style can be overwhelming.
To help you decide on the best seating for your needs, we define 52 important types of chairs below and provide examples. We cover chairs by room, discuss several popular vintage and antique chairs and then dive into influential chair designs from famous designers you should know.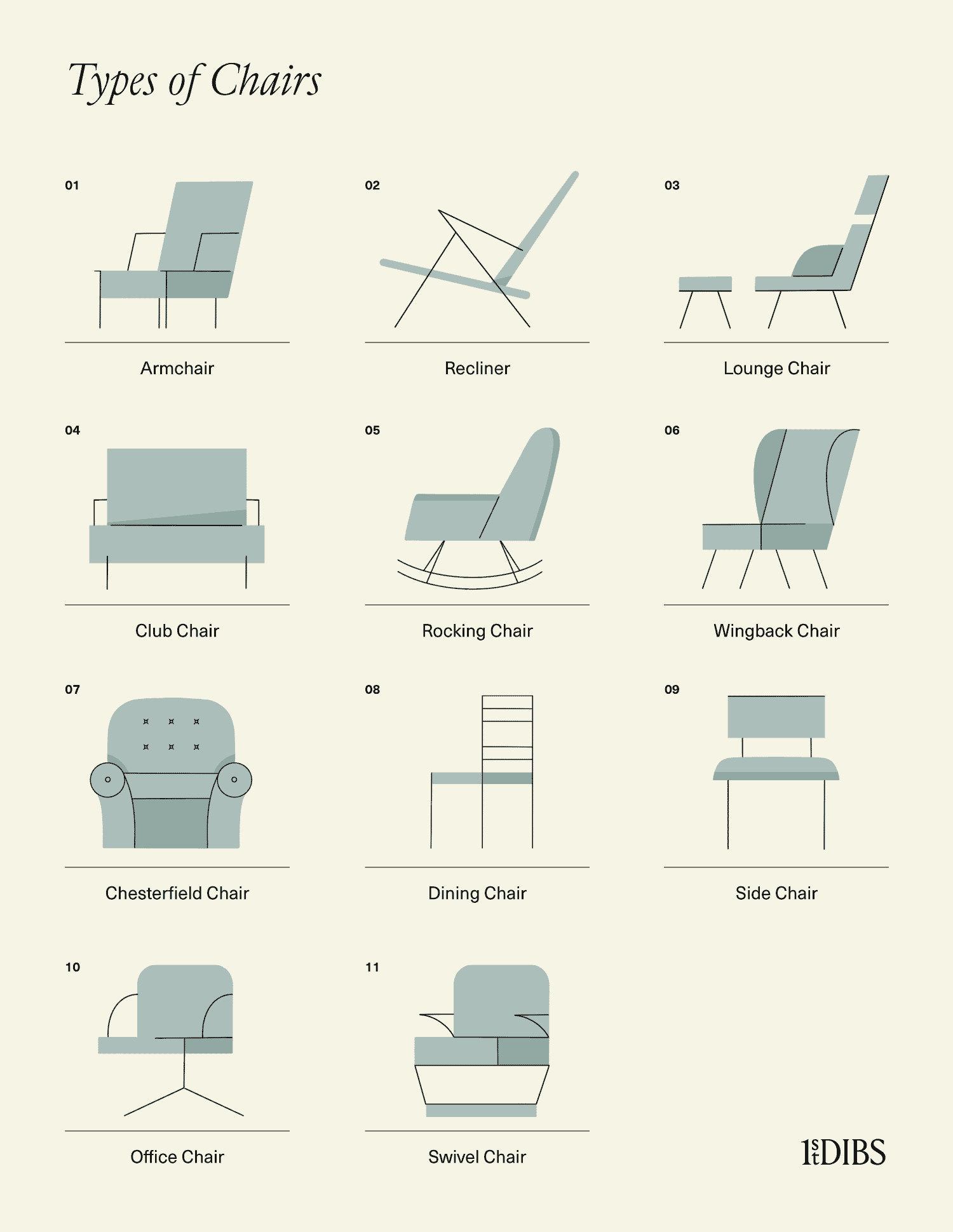 Read the full guide or jump to each section below:
---
Types of Living-Room Chairs
1. Armchair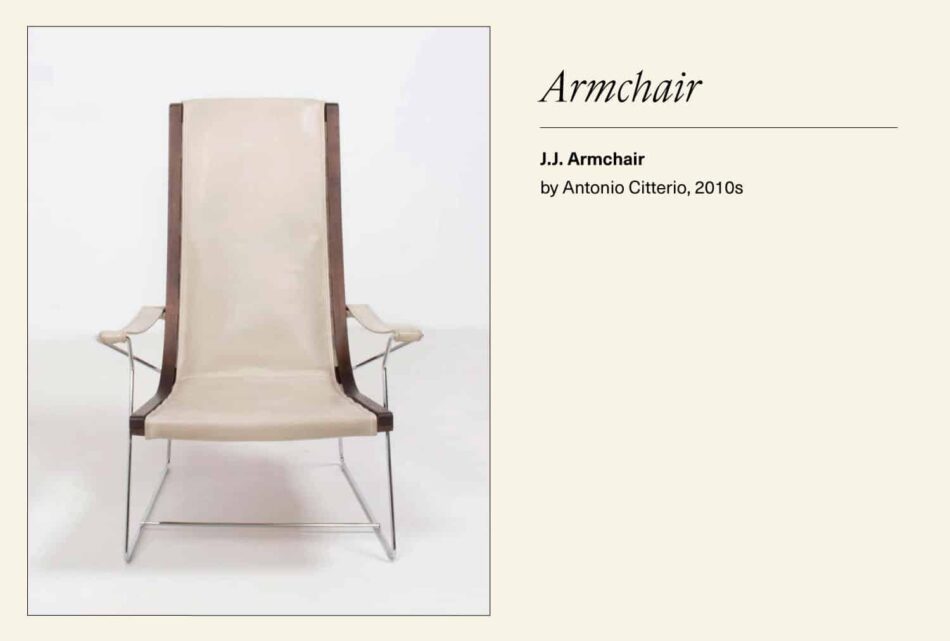 Most living rooms include at least one armchair. Typically upholstered and including comfortable armrests, armchairs vary by size, style and color, allowing you to use them to make a statement, focus on comfort or show off your personality. Because they come in so many different styles, many of the chairs covered below are variations on the classic armchair.
2. Recliner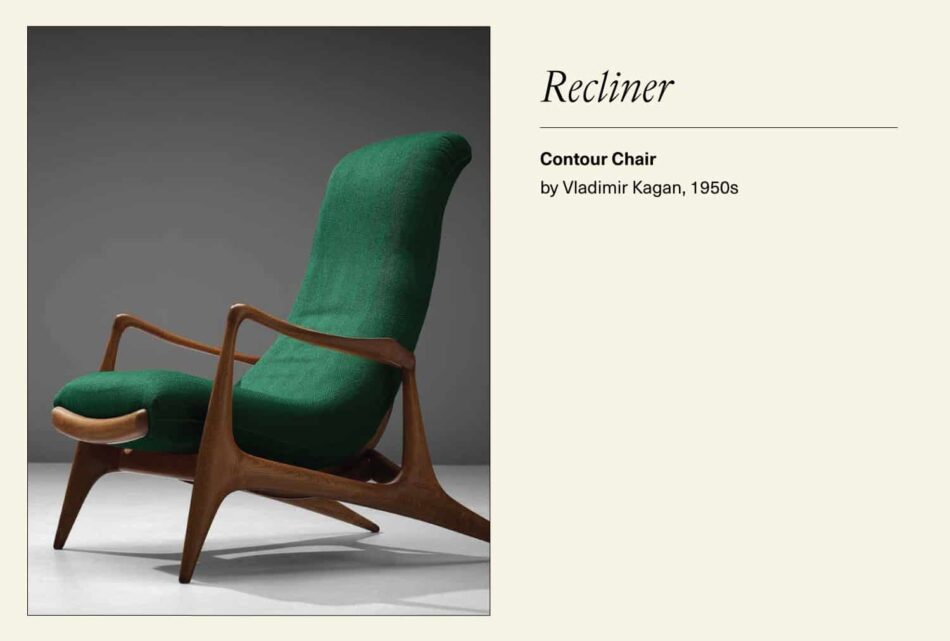 A recliner is an upholstered, comfortable armchair that allows the person sitting in it to lower the back and lift up a footrest. This mechanism is typically activated either by pulling a lever on the side of the chair or pushing back into the chair while sitting in it.
3. Lounge Chair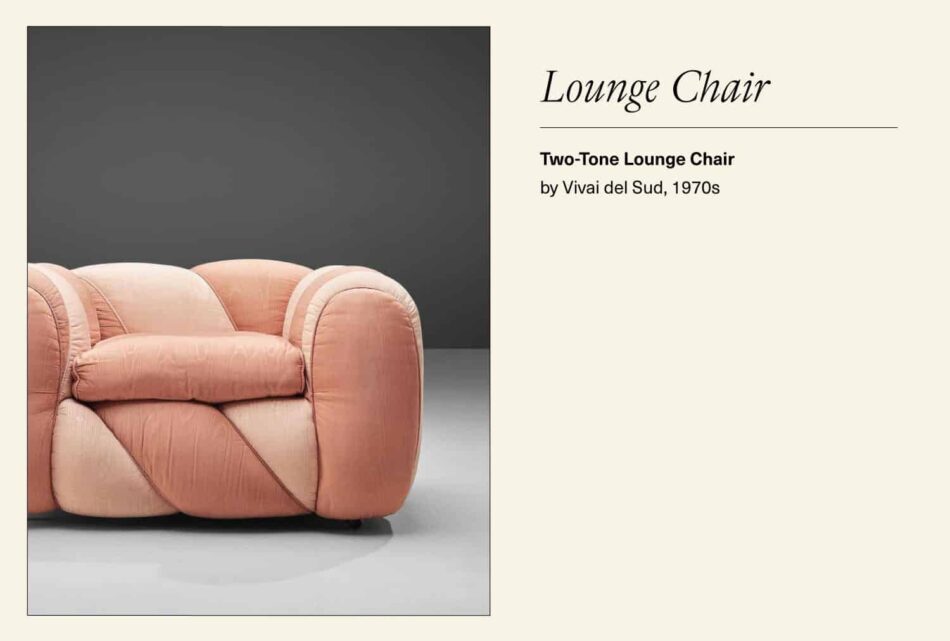 Designed with comfort in mind, a lounge chair is a type of recliner that is often accompanied by an ottoman as a footrest. Similar to recliners, there are many styles of lounge chairs.
4. Club Chair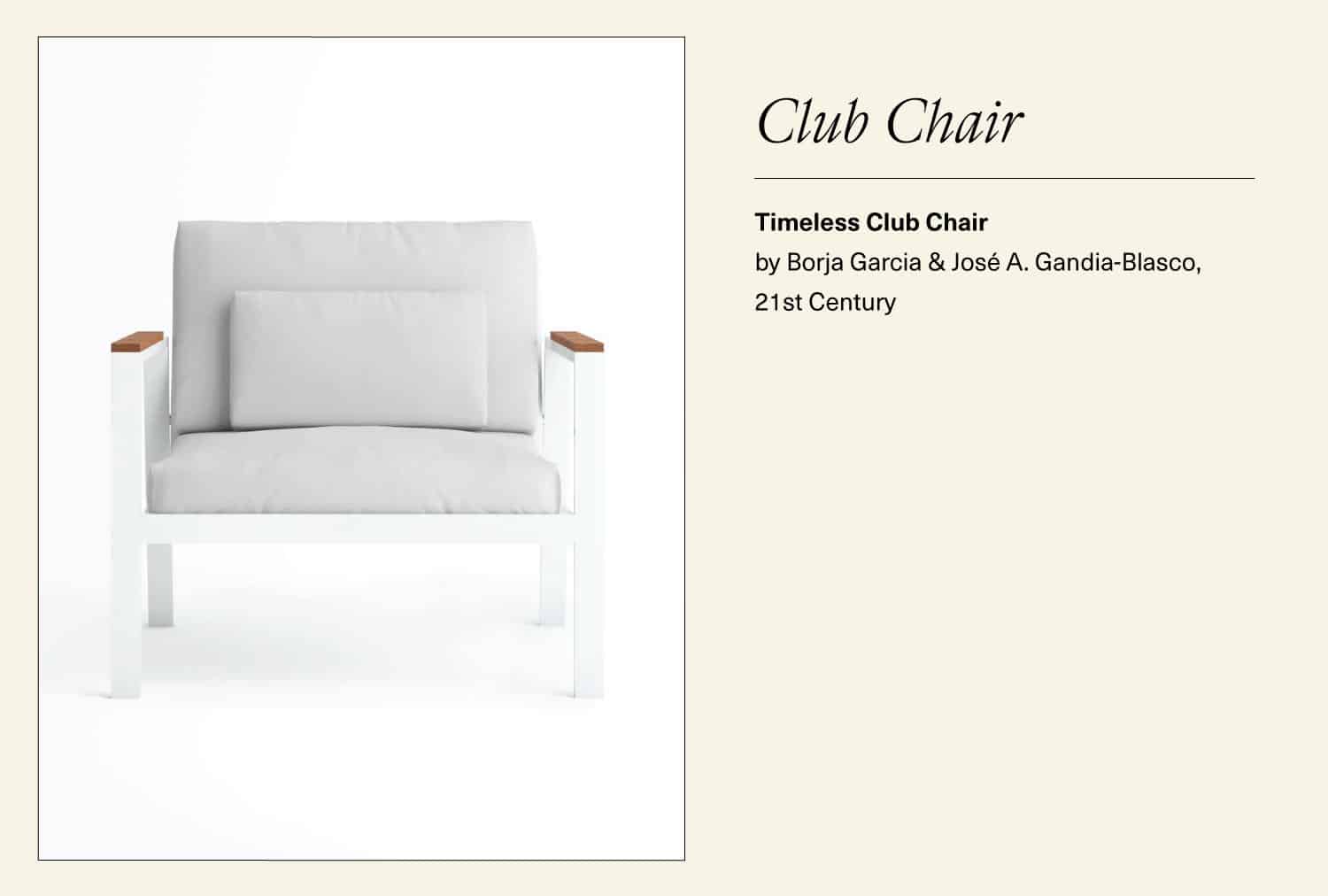 Derived from those used in English gentlemen's clubs, the modern club chair usually has a low back and armrests. Traditionally, they are thickly padded and covered with leather upholstery. Club chairs make for relaxing reading chairs or simply comfortable additions to a living room.
5. Rocking Chair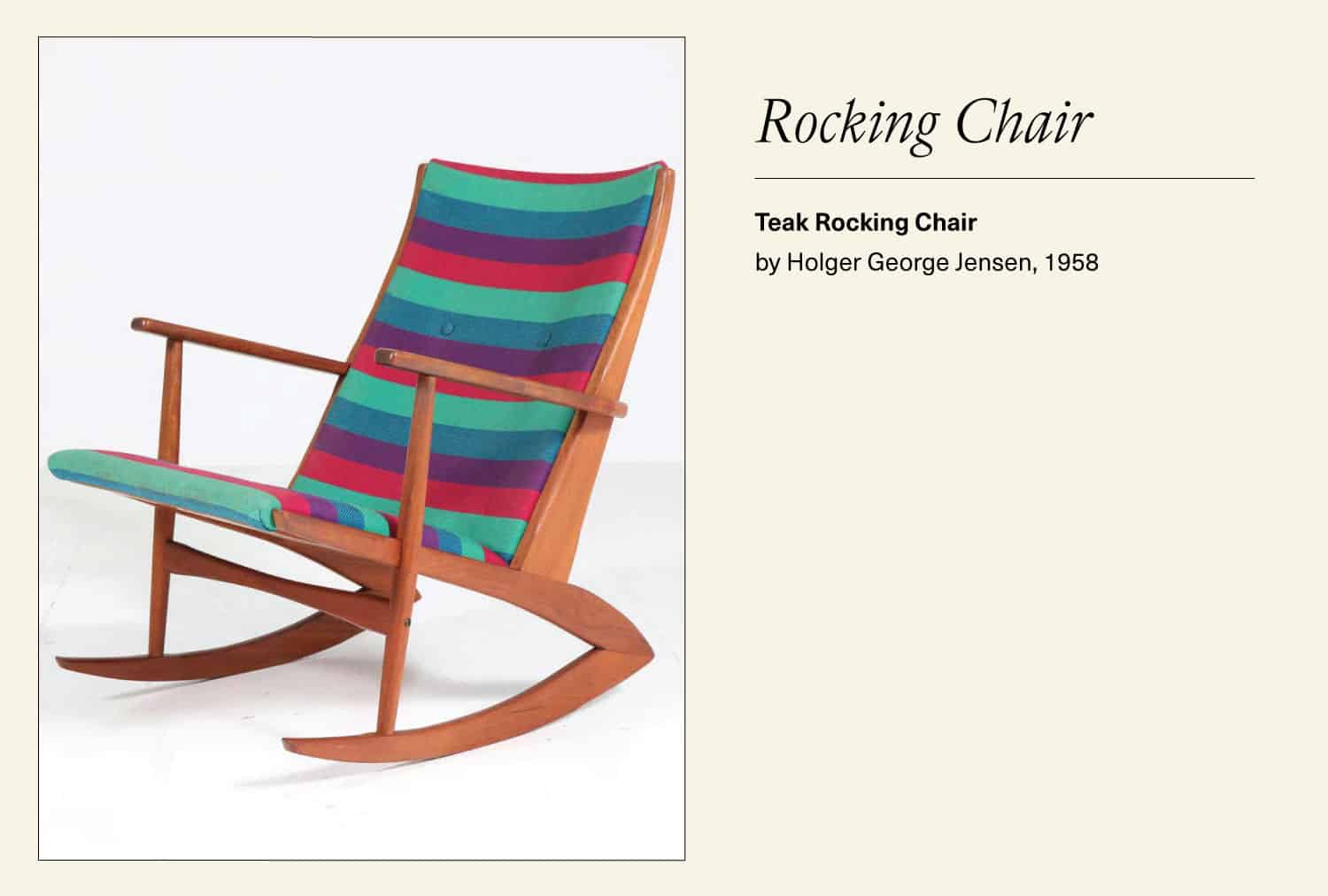 A 300-year-old American invention, the rocking chair is a well-known and simple staple. It was originally designed for mothers rocking their babies. Though it has modern iterations, the classic rocking chair is wooden, not upholstered and allows the sitter to rock back and forth.
6. Wingback Chair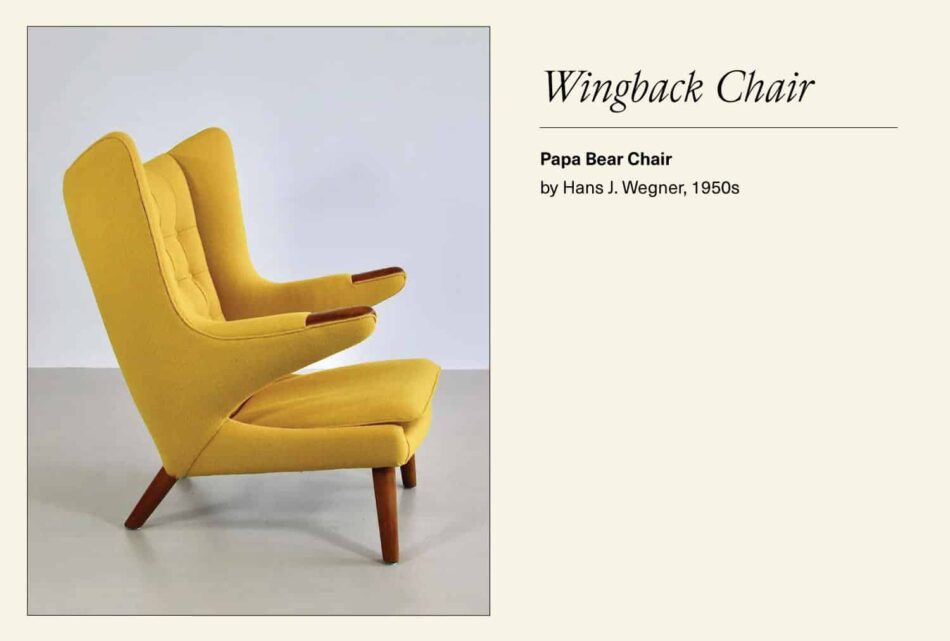 The wingback is an upholstered chair with a high back and "winged" sides around the top. When it was created in England in the 1600s, the wings were designed to shield the sitter from drafts and the heat emanating from the fireplace. That's why today they are typically considered cozy sitting-room chairs, though they can make great pieces for other rooms as well.
7. Chesterfield Chair
Similar to the popular chesterfield sofa, a chesterfield chair is typically upholstered in leather with deep buttoning and a low back the same height as the arms. Reminiscent of English gentlemen's clubs, the chesterfield chair is a modern living-room favorite.
---
Types of Dining-Room Chairs
8. Dining Chair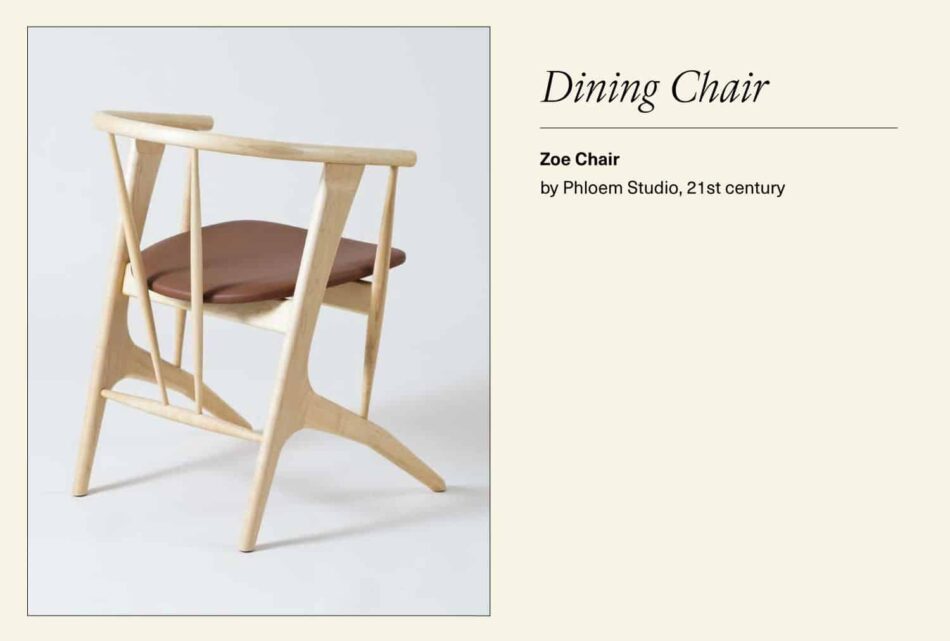 Dining chairs come in many different styles, but they are meant to provide seating for gatherings and meals around a dining-room table.
9. Side Chair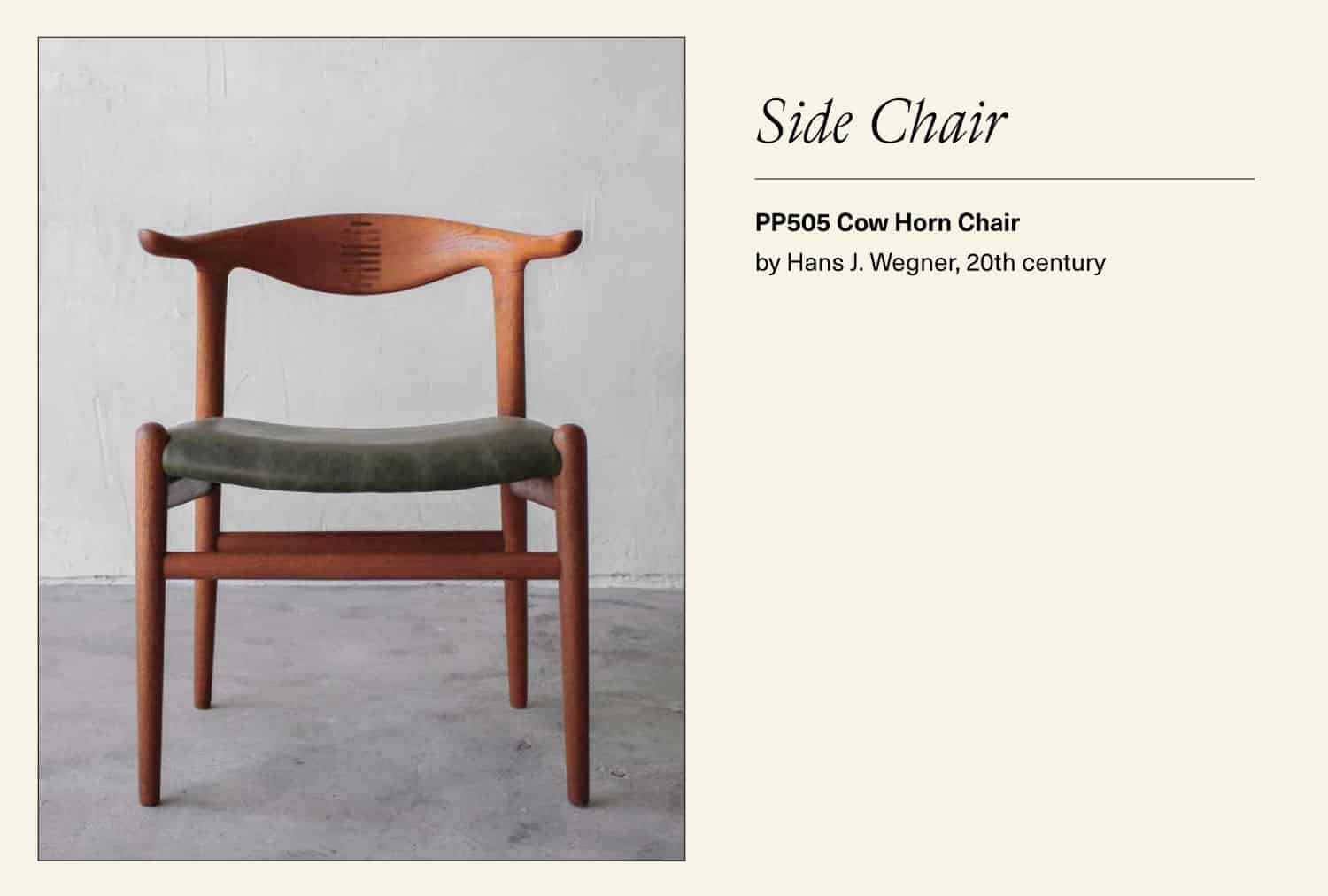 Typically lacking armrests, a side chair is a very commonly used dining chair. The style of a side chair may vary, but the constant is the lack of armrests to keep hands free for eating and to save space at the table.
---
Types of Office Chairs
10. Desk Chair/Office Chair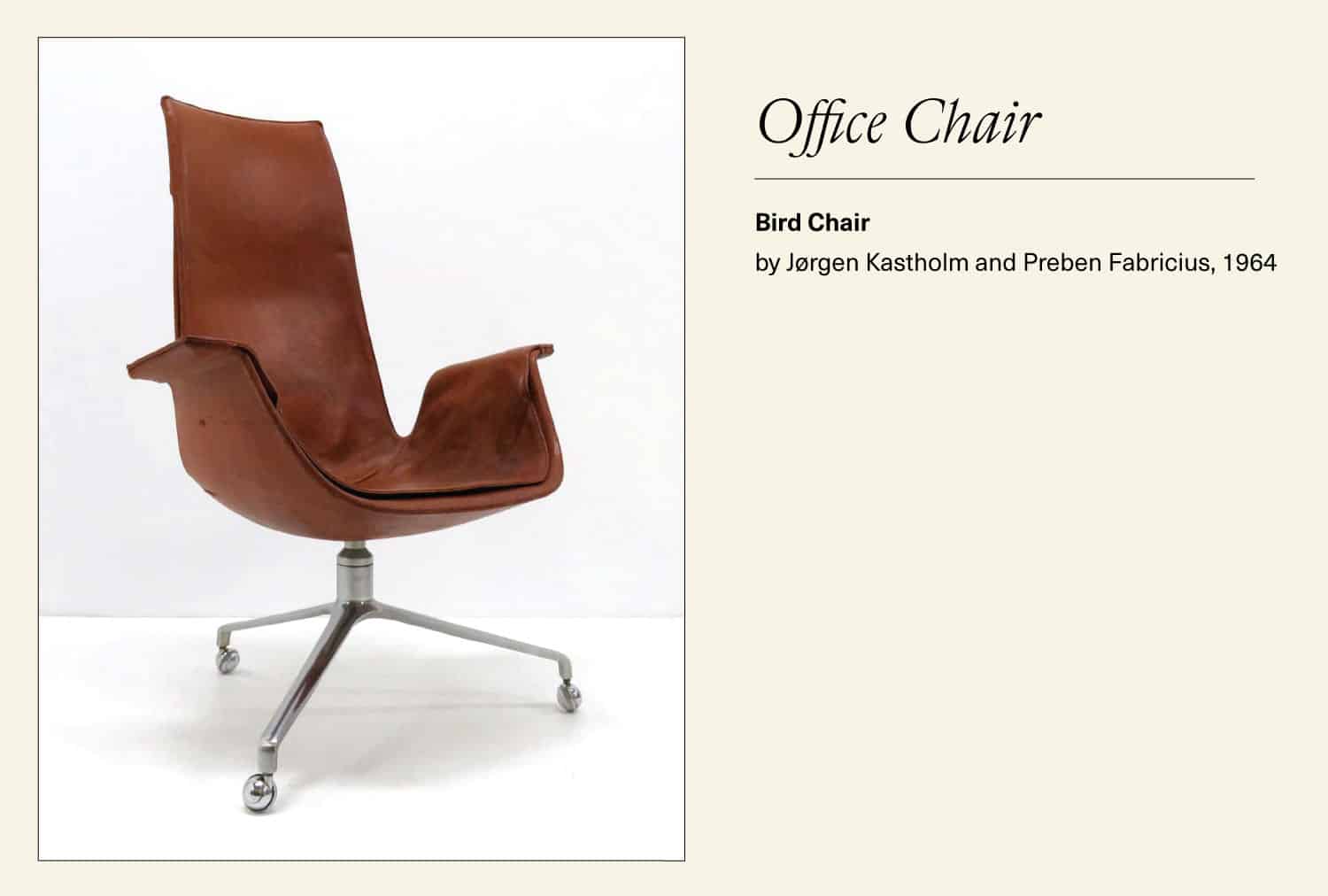 A desk chair, placed in an office or other workspace, supports one while working. Often, desk chairs are ergonomically designed, with height-adjustable seats and good back support.
11. Swivel Chair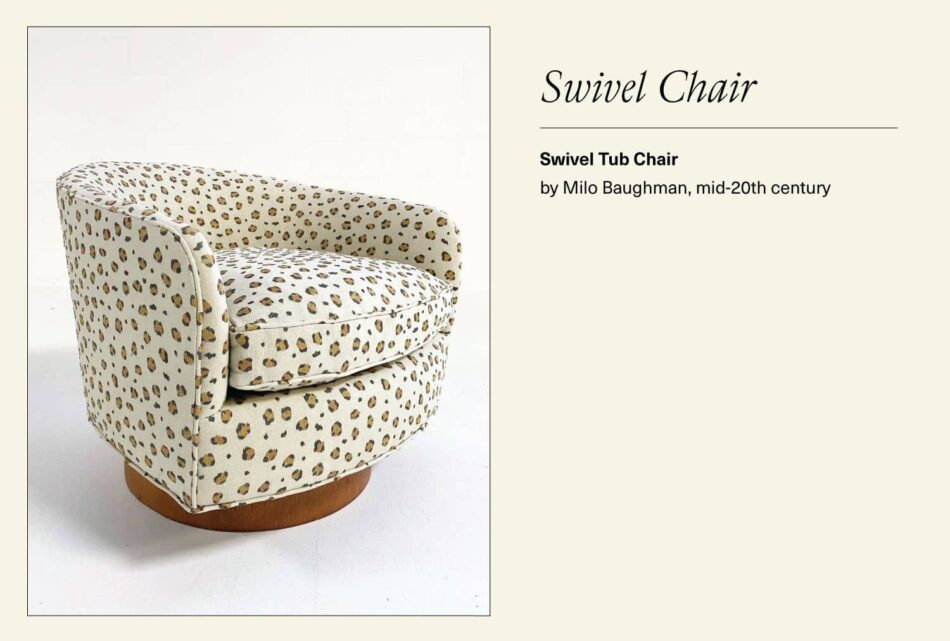 Commonly placed in offices, swivel chairs turn on an axis so that the sitter can face any direction.
---
Types of Antique Chairs
12. Chaise Longue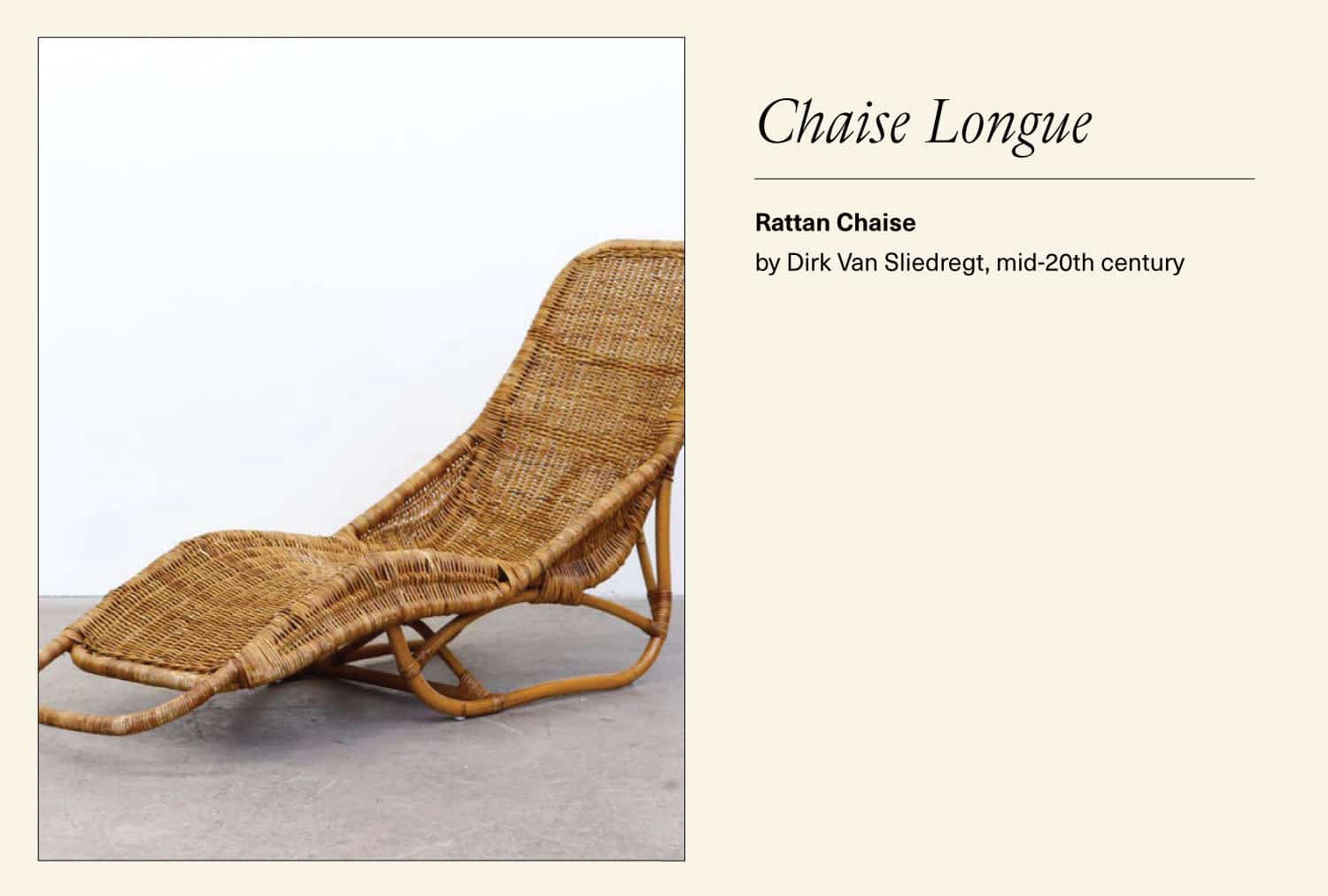 French for "long chair," a chaise longue is exactly that — a chair long enough for the sitter to rest their legs on it. They sometimes include armrests or just a left or right armrest.
13. Bergère Chair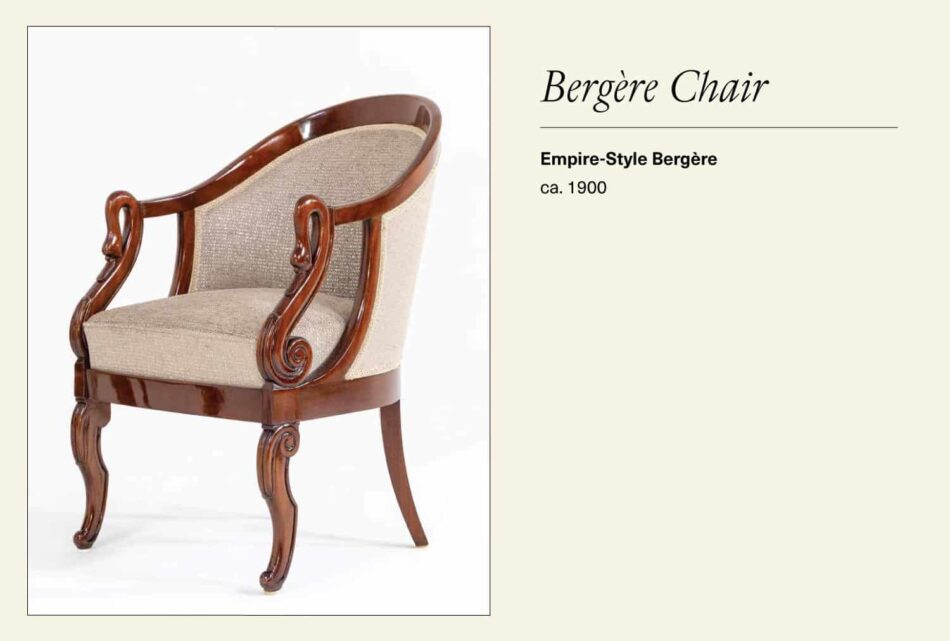 The bergère chair originated in 17th-century France, during the reign of Louis XIV. Also known as fauteuil (French for armchair), the bergère has an upholstered seat, back and armrest, and the frame is exposed. There are different styles, some with high backs and some with low, but they all have deep, wide seats and thick upholstery.
14. Windsor Chair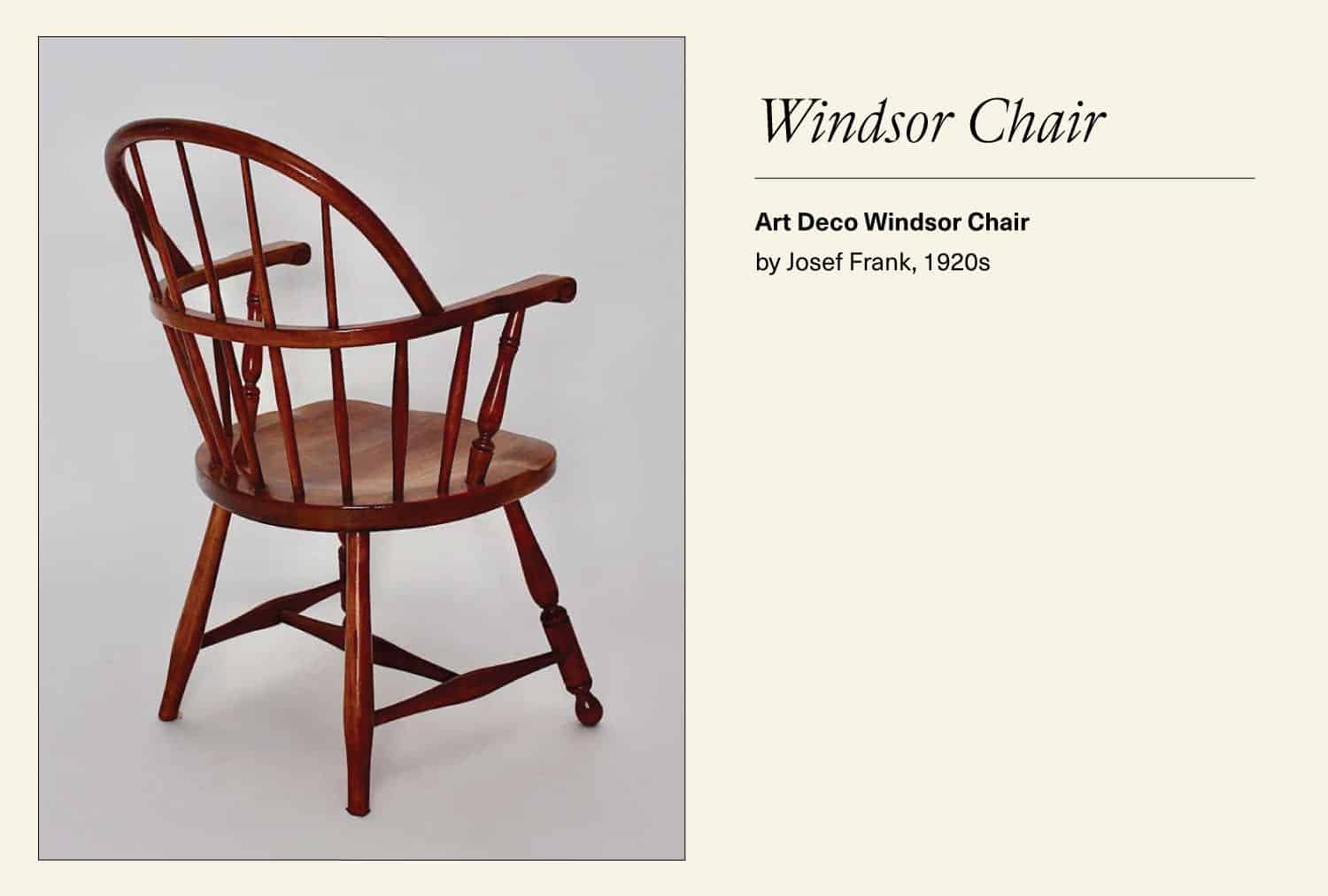 A Windsor chair is a wooden chair that consists of a saddle seat and spindled back, with the chair back and legs round-tenoned (pushed into drilled holes) in the seat. They are named after Windsor, England, where they were invented in the early 1700s. According to legend, the chair gained popularity after King George III took shelter in a cottage and was invited to sit on one. He was so charmed by the humble design that he had copies made for Windsor Castle.
15. Klismos Chair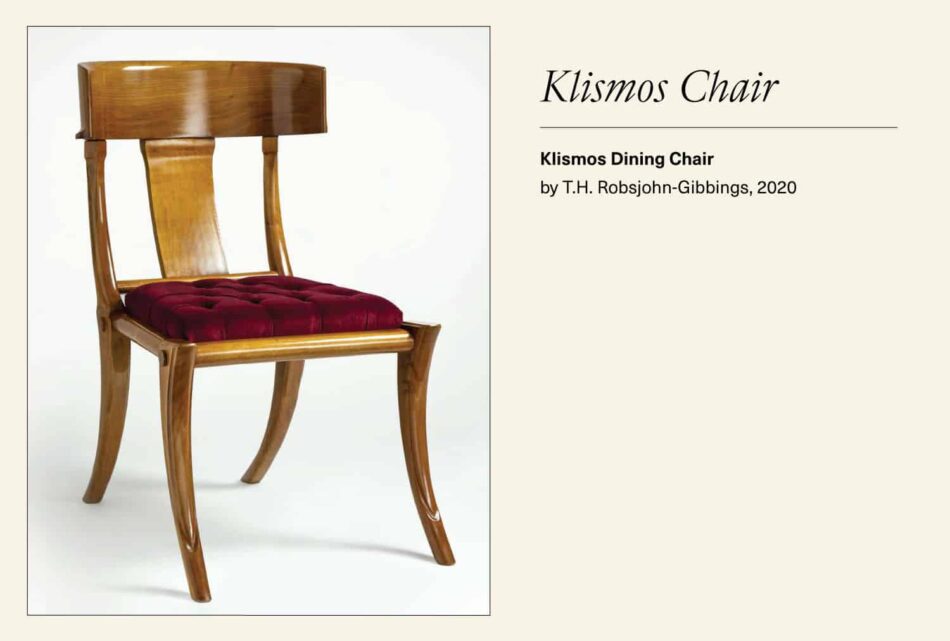 Originally an ancient Greek seat, the klismos chair has been updated for modern-day interiors. It includes a curved back and outturned legs.
16. Queen Anne Chair
Queen Anne chairs, like the other furniture during Anne's reign from 1702–14, are more functional, lighter designs than earlier styles. They include elegant, late Baroque influences, dark woods and curved legs and put more emphasis on comfort.
17. Chippendale Chair
The 16th-century American Chippendale furniture style is named for Thomas Chippendale, a well-known London cabinetmaker. This style is influenced by Queen Anne designs, but Chippendale chairs are uniquely marked by their cabriole legs and ball-and-claw feet.
---
Other Types of Chairs
18. Hanging Chair
There are many varieties of hanging and swing chairs, but they are usually leisurely lounge pieces meant for outdoor spaces like porches. Descending from the ceiling or a support structure, hanging chairs are suspended off the ground and allow you to swing back and forth.
19. Bistro Chair
Modern bistro chairs are fun design pieces inspired by those used for French bistros. They are usually made of wood and have woven, patterned backs.
20. High Chair
A high chair is meant to seat a baby or toddler and is designed with long legs and a tray for food.
21. Director's Chair
A director's chair has a foldable wooden frame, and the seat and back are made of canvas. Typically for film directors working on set, the director's chair can also be a fun accent chair.
22. Slipper Chair
An upholstered chair with a tall back, short legs and no arms, the slipper chair was originally used in women's bedrooms for assistance with putting on slippers.
23. Corner Chair
Also called a roundabout chair, the corner chair has a back that wraps around a corner of its seat, so that it fits nicely in the corner of a room.
24. Barstool
A barstool is a tall chair perfect for high tables. Depending on the style, it may or may not have a back and a place to rest your feet.
25. Tête-à-Tête
Originating in the formal parlors of the Victorian elite, the tête-à-tête is actually two chairs with connected backs in an S formation, so that the sitters are facing different directions but easily able to converse.
26. Barrel Chair
A barrel chair is a large, upholstered chair with a high back and a rounded, barrel shape.
27. Folding Chair
Folding chairs are great for casual, outdoor get-togethers because they fold up for easy storage and transportation. They are commonly made of plastic but can also be metal or wood.
28. Adirondack Chair
A chair in the Adirondack style is a highly recognizable, wooden outdoor lounge chair that includes a sloped seat and a tall, tilted back.
---
Iconic Chair Designs
Now that we've covered popular types of chairs, we will go through influential designs that have made a significant mark on the world of furniture.
29. Egg Chair
This Scandinavian chair is loved for its organic shape and modern feel. Designed by Arne Jacobsen for the SAS Royal Hotel in Copenhagen in 1958, the Egg chair is now also associated with stylish corporate offices.
30. Womb Chair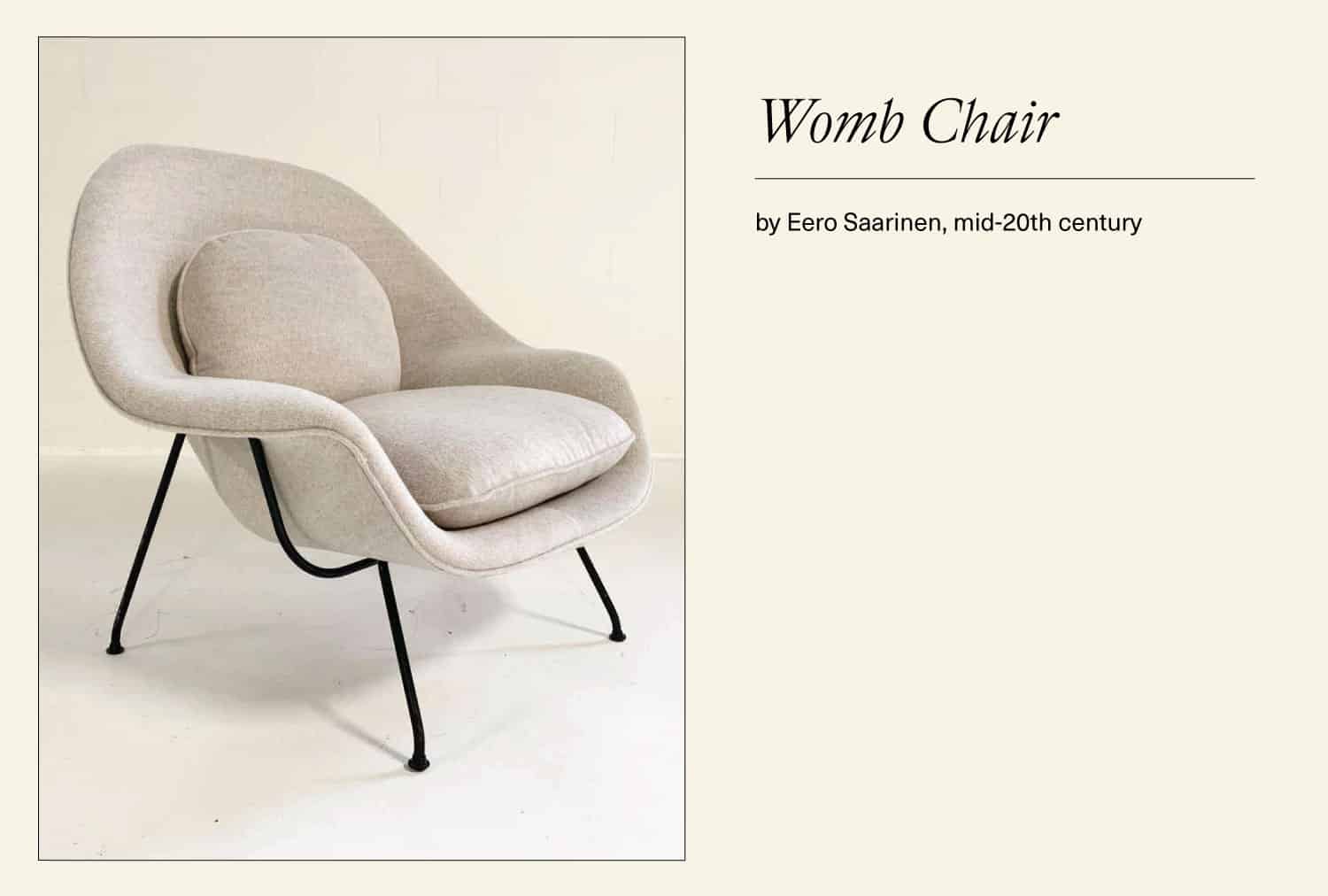 Designed by Eero Saarinen, the Womb chair, released in 1948, ensures comfort with its surprisingly simple, genius design. With steel legs and an enveloping fiberglass bucket wrapped in fabric, it was intended to simulate the comfort of the womb. Appreciated for its sleek design and large frame, the Womb chair was quickly recognized as a modernist masterpiece.
31. Tube Chair
Sculptural, minimal and modular, the 1969 Tube chair was created by Italian avant-garde designer Joe Colombo. The chair is made of different-size PVC tubes covered in foam and connected by metal clasps. The tubes can be taken apart, reconfigured and even tucked inside each other for convenient storage.
32. Ball Chair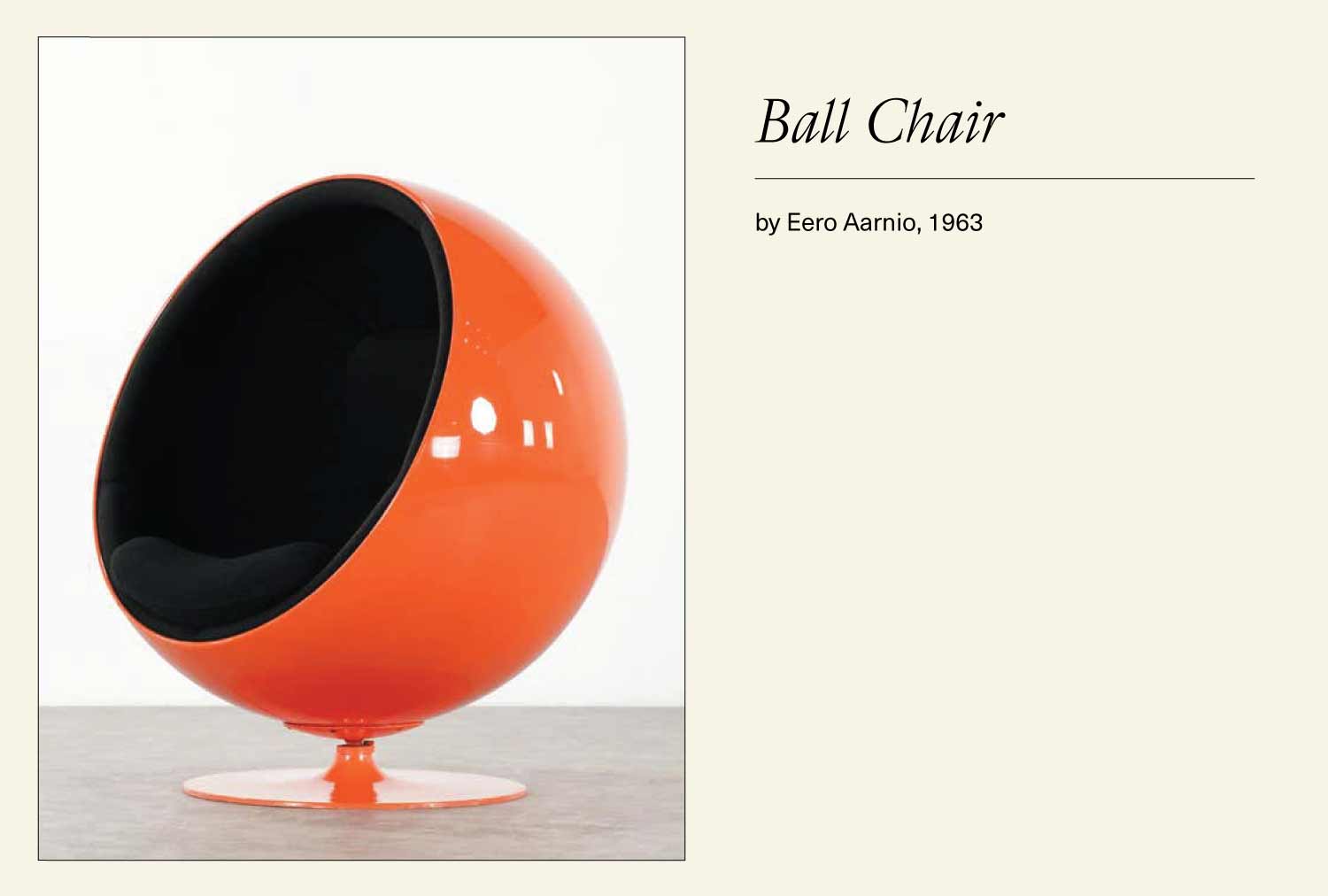 Futuristic and playful, Eero Aarnio's Ball chair is a hollow orb made of molded fiberglass padded with fabric and attached to an aluminum base. It debuted at the 1966 International Furniture Fair to instant commercial success and is still celebrated today for its sculptural and otherworldly design.
33. Wishbone Chair
This mid-century Danish chair, in production since 1950, was inspired by chairs of the Chinese Ming dynasty era. The hallmarks of the Wishbone chair are its intricately crafted woven paper-cord seat and its curved, Y-shaped back. One of the most recognizable iconic chairs, Hans Wegner's Wishbone boasts both comfort and simplicity.
34. Wassily Lounge Chair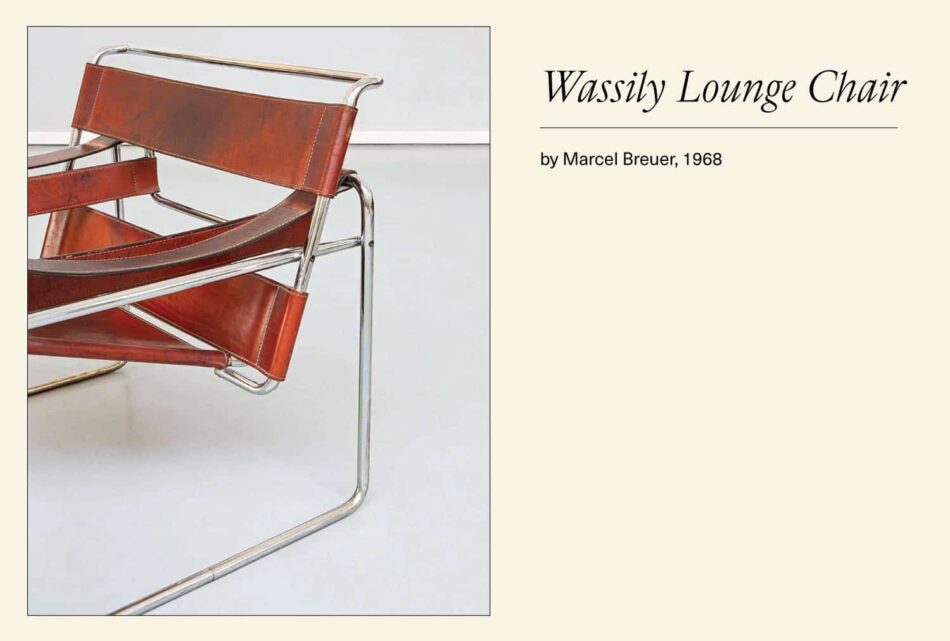 Created in 1925 by Marcel Breuer, a faculty member of the Bauhaus school of design, the Wassily was inspired by bicycle handlebars. It is made of bent tubular steel and durable canvas and is named after the painter Wassily Kandinsky, who expressed admiration for Breuer's revolutionary design.
35. Wiggle Chair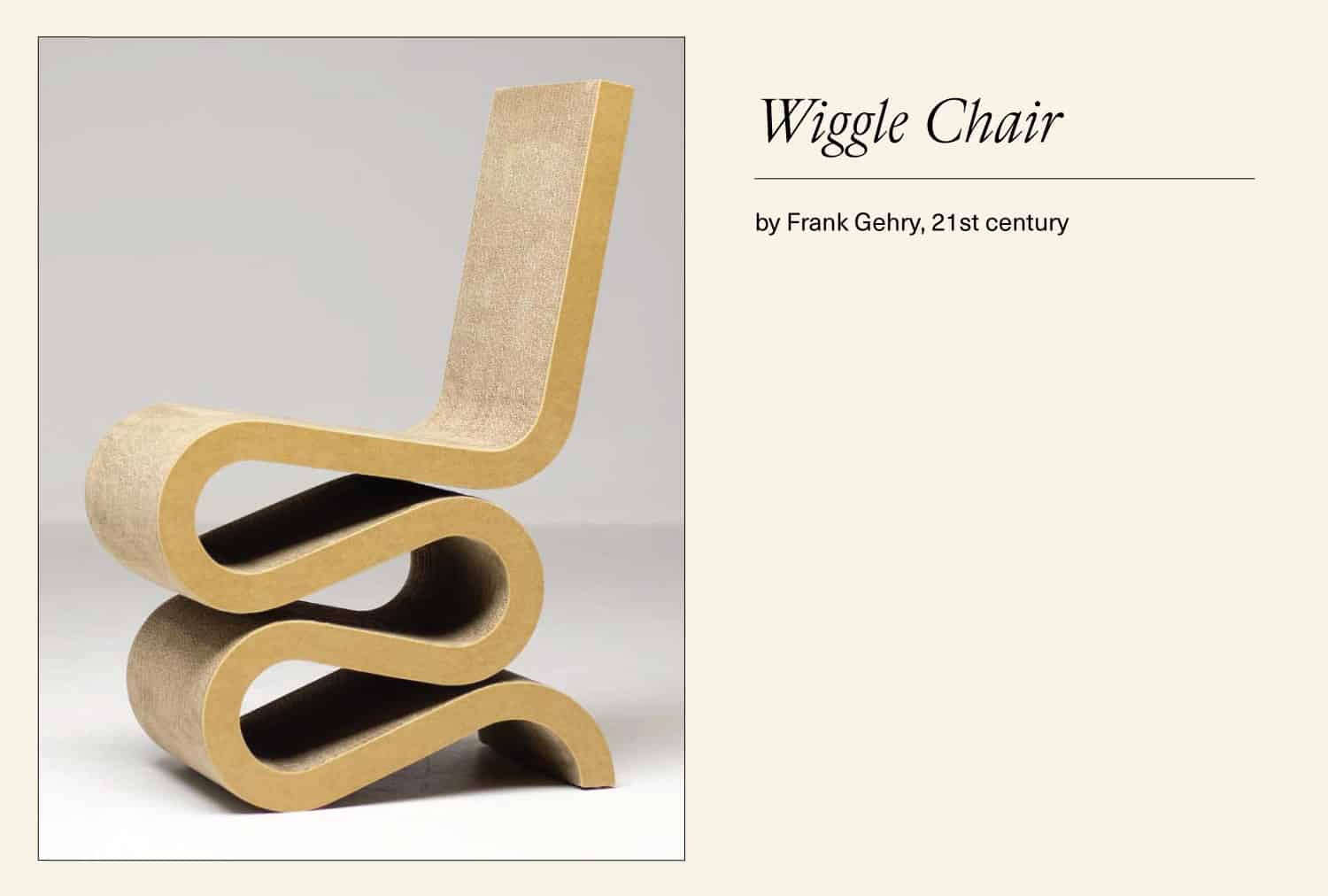 The Wiggle chair was unveiled as part of Canadian-American architect Frank Gehry's "Easy Edges" paper furniture series in 1972. Constructed entirely of cardboard, the Wiggle chair's elegant, ribbon-like design makes for a durable and comfortable chair, as well as a great statement piece in a contemporary interior.
---
More Iconic Chairs
36. Hand Chair
In 1962, Mexican Surrealist artist Pedro Friedeberg created this hand-shaped chair that captures attention in any room.
37. Ghost Chair
An iconic contemporary chair, the Louis Ghost chair was created by designer Philippe Starck in 2002. He transformed the traditionally wooden Louis XVI chair by making it out of clear plastic.
38. Tulip Chair
Another of Eero Saarinen's creations, the 1950s Tulip chair is an elegant and streamlined chair with a sculptural, flower-like top.
39. Cesca Chair
Marcel Breuer's 1928 Cesca chair is a Bauhaus dining chair with a casual yet elegant silhouette.
40. Barcelona Chair
A modernist staple designed by Ludwig Mies van der Rohe and Lilly Reich in 1929, the Barcelona chair contrasts an X-shaped stainless-steel frame with quilted leather cushions, embodying Mies's famous aphorism "Less is more."
41. Series 7 Chair
Designed in 1955 by Arne Jacobsen, creator of the Egg chair, the Series 7 is a lean chair with a seat and back made of a single piece of bent plywood.
42. Cone Chair
Created by visionary Danish interior designer and architect Verner Panton in 1958, the Cone chair boasts a bold form — an inverted cone shape that appears to balance on its point, which is attached to a swivel base.
43. Panton Chair
Also realized by Panton, the Panton chair, developed in 1960, is an impressive single piece of plastic molded into an S shape and is beloved by museums and designers worldwide.
44. Tongue Chair
Pierre Paulin's expressively swooping 1967 chair is shaped like a human tongue. The comfortable and quirky Tongue chair invites the sitter to lounge low to the ground.
45. PK22 Chair
Danish cabinetmaker and furniture designer Poul Kjærholm's 1956 PK22 is a modern chair with steel legs and crossbars that support a square leather seat.
46. Navy Chair
Now a ubiquitous seat that appears in all types of interiors, Emeco's durable Navy chair was originally designed by engineer Wilton C. Dinges in 1944 for use aboard the U.S. Navy's battleships and submarines during World War II.
47. Model A Chair
Designed in 1920s Paris by French metalworker Xavier Pauchard for Tolix, the practical Model A is a stackable metal chair widely used in restaurants and cafés.
48. Fried Egg Chair
Hans Olsen made the 1956 Fried Egg chair, a unique Scandinavian design with a yolk-shaped cushion and asymmetrical armrest.
49. Shell Chair
Made of form-pressed oak or walnut laminates and supported by three legs, Hans Wegner's 1963 Shell chair boasts fluid lines and winglike curves that make it a beautiful statement piece.
50. Mushroom Chair
A striking design that puts comfort front and center, Pierre Paulin's 1960 Mushroom chair envelopes the sitter's body in an alluring organic shell covered in molded foam padding.
51. Eames Lounge Chair
Charles and Ray Eames designed this luxurious lounge chair for Herman Miller in 1956 by transforming the classic club chair. The Eames lounge chair met with immense success and is now seen in any number of upscale interiors.
52. Papa Bear Chair
Conceived by Wegner in 1951, this Scandinavian modern wingback chair includes a distinctive feature: outstretched arms that nearly embrace the person sitting in it. The Papa Bear chair is characterized by a high backrest and long back legs and is available today in a variety of wood and textile finishes.
Though there are so many chairs to choose from, with this list you'll have a better idea of which chairs will be the perfect fit for your interior. For more styles, take a look at our most commonly searched chairs.