It's not surprising that vintage and antique secretary desks have surged in popularity recently, as more and more of us have begun working from home. Handsome and versatile, they're the work stations of choice in many busy households, especially those with spaces pulling double duty as offices by day and living rooms, dining rooms or bedrooms at night.
"Secretaries are perfect complements to your home, as they not only add sophistication but are incredibly functional pieces of furniture," says Jake Baer, of New York antiques gallery Newel. Here we explain what a secretary desk is and explore its history, myriad styles and enduring appeal.
---
What Is a Secretary Desk?
Simply put, a secretary desk is a piece of furniture with a hinged writing surface that folds open or drops down. When the leaf is folded out, small inner storage compartments — pigeonholes, cubbies, recesses or drawers — are revealed.
Traditionally, a secretary is composed of two parts — a chest of drawers on the bottom and a cabinet with shelves on the top.
"A secretary holds the business, and often history, of the individual," says antiques dealer Stanley Weiss, who specializes in 18th- and 19th-century English and American furniture. "It provides a fine writing surface, equipped with pigeonholes and shelving for important business and family documents. The lower drawers, of course, have a similar function."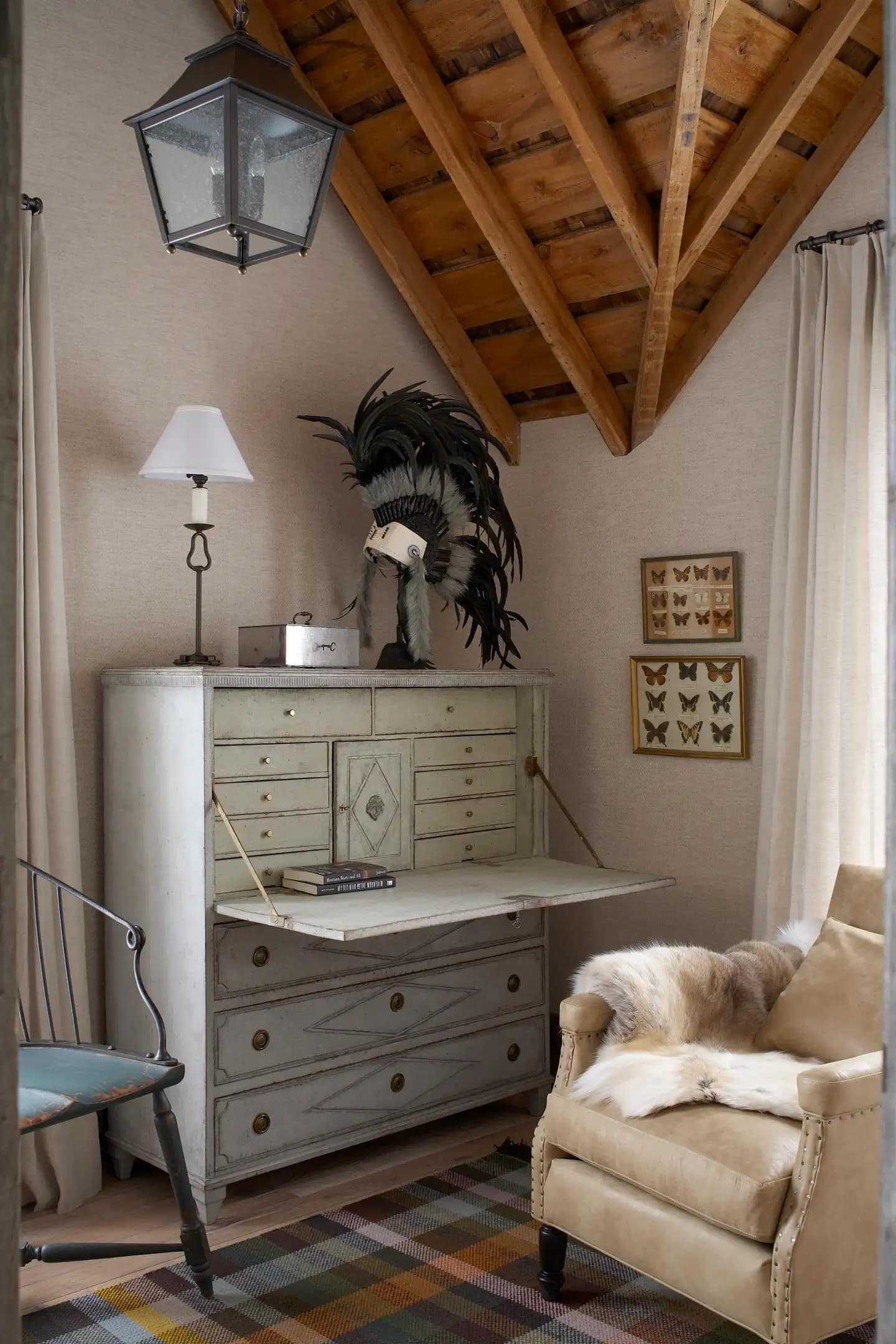 When open, the secretary is a dynamic, multifunctional Wunderkammer. When closed, it's a sophisticated, space-saving piece of furniture.
"If you're hosting a dinner, you can simply close the drop front, and it looks like a beautiful case piece," says Baer. "Then, if you want to turn the space into your office, all you need to do is pull up a chair, drop the leaf and start working. The fact that it can take different forms makes it extremely appealing, above and beyond its beautiful aesthetics."
---
The History of the Secretary Desk
Taking its name from the French word for the piece, secrétaire, the secretary desk dates back to the 18th century, when Paris-based cabinetmaker Jean-François Oeben, known for his exquisite marquetry and clever mechanical desks, is thought to have invented the secrétaire à abbattant, or drop-leaf desk.
While the defining drop-down feature of the secretary desk has remained constant, the materials used, as well as its configuration, size and style have evolved over time.
At first, secretaries were typically made from exotic woods, like rosewood, tulipwood and kingwood; later, hardwoods like cherry, maple, oak and mahogany were more common. The desks also became lighter, with space carved out of the lower half for the writer's feet or with drawers replaced by legs — making them more table-like.
"At the turn of the 18th century, the new style in England was the drop-front, and the slant-top [a relative of the secretary, without a cabinet on top] became passé," says Weiss. "Later into the 19th century, we see flatter pediments and larger drop-front writing surfaces, as in the Philadelphia secrétaires à abattant of the 1830s."
"We also begin to see a transition on the upper case from solid, beautiful raised-panel doors to more elaborate glass doors with varying styles of fenestration," Weiss continues. "Here, the upper case of the secretary is not so much a place to store and file one's documents as a place to showcase one's other possessions — for example, ceramics or silver."
---
Popular Periods and Styles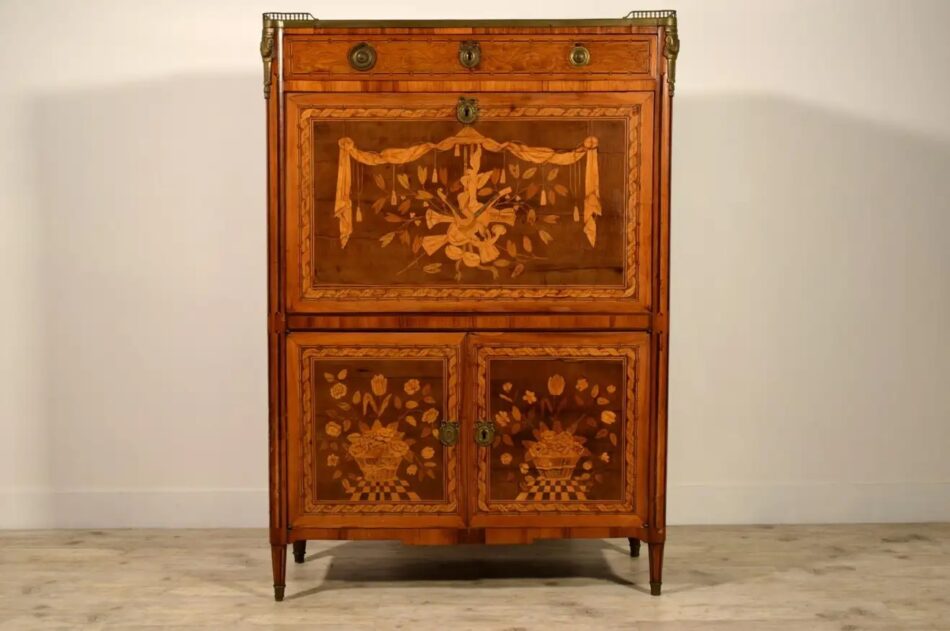 This style, characteristic of 18th-century France, marked a transition from the earlier florid rococo designs to the straight, simple lines and restrained forms of neoclassicism.
---
Originating in the 17th century, this fanciful style interprets Chinese motifs and techniques, including lacquer, through a Western lens. While a secretary is often a statement piece, a chinoiserie desk is a showstopper.
---
Thomas Chippendale, England's most celebrated cabinetmaker, typically produced mahogany secretary desks, often with Queen Anne–style cabriole legs and always with exquisite craftsmanship. These classic pieces often use dark woods or finishes and display rococo influences.
---
Popular in Germany and Central Europe in the first half of the 19th century, this style is exemplified by neoclassical design elements, including columns and scrollwork, as well as richly colored wood veneers.
---
Art Deco secretaries are recognizable by their streamlined silhouettes and simple geometric forms. Many pieces have finishes favored by Deco designers, such as lacquer and parchment.
---
This style's clean lines and elevation of function over form suit the secretary desk's practical nature. Mid-century modern examples are frequently found in teak or rosewood.
---
Light and airy, many postmodern and contemporary secretary desks deconstruct the form, paring it down to its essence as a wonderful work station.
"A fine secretary with a good provenance adds stature and credence to its owner — it is a cornerstone piece," says Weiss. "In this disposable world, fine furniture is always passed on and speaks to who its owner is."
No matter what style or period you choose, and no matter how you decide to use it, the timeless, flexible secretary desk is bound to become an indispensable part of your daily routine.