A secretary desk is a practical piece of furniture with a secret. Traditionally, a secretary is composed of two parts — a chest of drawers on the bottom and a hutch or cupboard with shelves on the top.
At first glance, this tall, bureau-esque specimen looks like any other cabinet. But cleverly built into the design is a hinged panel that folds open or drops down to become a sturdy writing surface.
When the leaf is folded out, a delightful collection of inner storage compartments is revealed. For centuries, secretary owners have used these pigeonholes, cubbies, recesses or drawers to store their office supplies and desk accessories — from quills, ink and sealing wax to Uniball roller pens, paper clips and external drives — as well as small valuables and curiosities.
It's not surprising that new, vintage and antique secretary desks have surged in popularity, with more people than ever now working from home. Handsome and versatile, they're the workstations of choice in many busy households, especially those with spaces pulling double duty as offices by day and living rooms, dining rooms or bedrooms at night.
"Secretaries are perfect complements to your home, as they not only add sophistication but are incredibly functional pieces of furniture," says Jake Baer, of New York antiques gallery Newel. "If you're hosting a dinner, you can simply close the drop front, and it looks like a beautiful case piece. Then, if you want to turn the space into your office, all you need to do is pull up a chair, drop the leaf and start working. The fact that it can take different forms makes it extremely appealing, above and beyond its beautiful aesthetics."
Here, we explain the finer points of the secretary desk and explore its history, myriad styles and enduring appeal.
---
Why Is It Called a Secretary Desk?
The English terms secretary desk and secretaire originate from secrétaire à abattant, the French name for a writing desk (secrétaire) with a drop leaf (abattant).
The first secrétaire à abattant was most likely masterminded by German-born craftsman Jean-François Oeben (1715–63), who arrived in France in the 1740s. In 1751, he joined the workshop of Charles-Joseph Boulle, the son of famed cabinetmaker André-Charles Boulle.
A talented marquetry artist and mechanical genius, Oeben produced extraordinary work that soon caught the eye of Madame de Pompadour, celebrated tastemaker and mistress of King Louis XV. A few years later, the prestigious title of ébéniste du roi, or royal cabinetmaker, was bestowed upon him by the court.
The secrétaire à abattant is an example of Oeben's innovative work. The lower half was typically a cupboard with sliding or hinged doors that enclosed shelving or drawers, although some later designs display the drawers in plain view. The upper half featured a large fold-down panel that became the desktop and revealed the storage compartments.
It's no surprise that over the centuries, Oeben's secrétaire à abbatant gave rise to innumerable variations with countless combinations of features, sizes, colors, styles and adornments.
---
Secretary Desk Features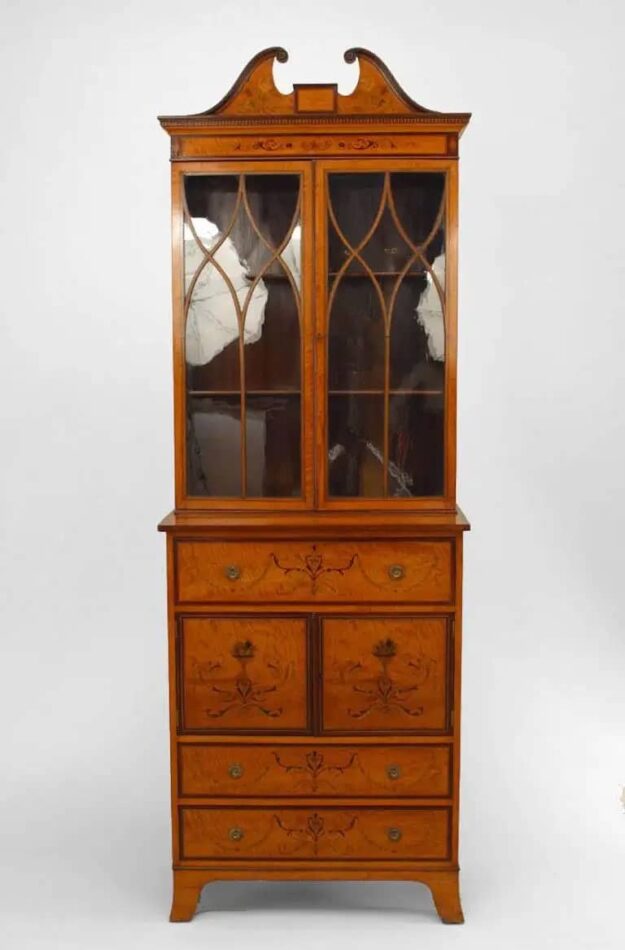 The star attributes of the secretary are its drop leaf and hidden cache of small drawers, shelves, cubbies and other compartments — that's a given. But as the piece gained popularity, furniture designers added elements that increased its usefulness, accentuated its beauty and made it fit for any room in the house.
Here are a few of the many other features and embellishments you might find.
Glass or Mirrored Doors
Glass panes on the doors of the upper half of a secretary make it an elegant display case, while mirrored doors enhance and reflect a well-appointed room.
Locks
A drop leaf outfitted with a lock guards the desk's contents from thieves and snoops. Some secretaries also have one or more locking drawers, cubbies or internal cabinets to safely stow personal letters and diaries, money, keepsakes and important documents.
Kneehole
A cut-out recess in the lower portion of the secretary to accommodate the legs of the user became popular in the late 1700s. Drawers on either side of the kneehole made the piece look somewhat more like a traditional desk.
Legs
Beginning around the early 19th century, the heavy lower portion of the secretary was sometimes replaced with legs, giving the desk a more table-like and less chest-like appearance. On more lavish pieces, they were often carved to resemble animal legs.
Exotic Materials
From the 1700s through the later half of the 19th century, the highest-quality secretary desks were constructed from exotic woods, including rosewood, tulipwood, satinwood and kingwood; later, hardwoods like cherry, maple, oak and mahogany were more common.
Elaborate Ornamentation
Some secretaries are adorned with impressive decorative elements, such as intricate inlays, immaculate marquetry, glossy lacquer, gleaming ormolu, fanciful pediments or hand-painted scenes.
---
Types of Secretary Desks
Traditionally, a secretary is composed of two parts — a chest of drawers on the bottom and a cabinet with shelves on the top.
But for most furniture buyers and purveyors, the term secretary is a catchall for a number of different types of desks with writing surfaces that drop open to reveal storage compartments.
These are some of the variations you'll often find categorized as secretaries.
Bonnet-Top Secretary
Also called a hooded top, a bonnet top was a popular decorative feature on secretary desks in the 17th and 18th centuries in England and America.
The bonnet-top secretary features an ornate pediment with a complete or broken arch, often formed by scroll-like molding. A double-bonnet top has a pediment above each door.
Vargueno
The vargueno originated in Spain in the 16th century. Although similar in form to the secrétaire à abattant, it consists of two separate pieces: a drop-front chest on the top and a chest of drawers — sometimes replaced by a stand — on the bottom.
Slant-Top Desk
Much like a traditional secretary but without the upper half, the slant-top desk, also known as a slant-front or bureau desk, originated in the 18th century.
In the U.S., the piece is sometimes called a Governor Winthrop desk, even though its namesake, the Massachusetts Bay Colony governor who died in 1647, long predated the design.
Butler's Desk
Also known as a butler's chest, the butler's desk is a shorter, more compact version of the secrétaire à abattant that resembles a chest of drawers. However, the top "drawer" (or sometimes the top two or three) is actually a panel that folds down to create the desktop.
Some variations have two doors on the lower part with shelves inside. The model above has a serpentine front, a design element favored by 18th-century cabinetmakers and their patrons.
Campaign Secretary
The campaign secretary is an early forerunner of contemporary knockdown furniture. Campaign furniture was first designed for military use on the battlefield.
Often composed of two pieces, with handles on each side, it's lightweight, portable and designed to be taken apart and reassembled quickly.
Wall Secretary
A wall secretary is ideal for small spaces, since it's not as deep as a standard secretary.
Some are mounted directly to the wall rather than freestanding, saving even more room.
---
Popular Styles
Secretaries come in a range of styles that originated during different historical periods. Here's a small sampling of some that continue to captivate furniture lovers.
Louis XVI
The Louis XVI style, characteristic of 18th-century France, marked a transition from the earlier florid rococo designs to the straight, simple lines and restrained forms of neoclassicism.
Chinoiserie
Originating in the 17th century, this fanciful style interprets a variety of Asian motifs and techniques through a Western lens.
While a secretary is often a statement piece, a chinoiserie desk is a showstopper.
Chippendale
Thomas Chippendale, England's most celebrated cabinetmaker, typically produced mahogany secretary desks, often with Queen Anne cabriole legs and always with exquisite craftsmanship.
Classic pieces in this style often use dark woods or finishes and display rococo influences.
Biedermeier
Popular in Germany and Central Europe in the first half of the 19th century, Biedermeier pieces are characterized by neoclassical design elements, including columns and scrollwork, as well as richly colored wood veneers.
Art Deco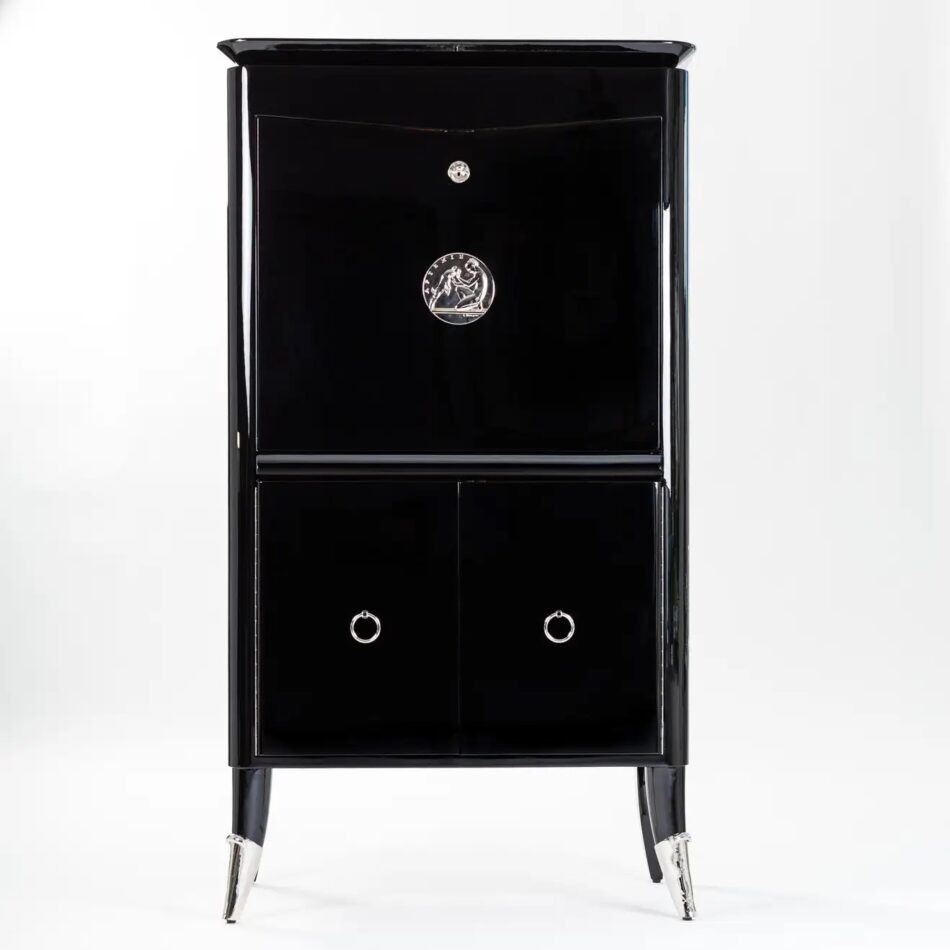 Art Deco secretaries are recognizable by their streamlined silhouettes and simple geometric forms.
Many have finishes that were favored by Deco designers, such as lacquer and parchment.
Mid-Century Modern
This style's clean lines and elevation of function over form suit the secretary desk's practical nature.
Mid-century modern examples are frequently made of teak or rosewood.
Postmodern and Contemporary
Light and airy, many postmodern and contemporary secretary desks deconstruct the form, paring it down to its essence as a wonderful workstation.
---
Chic, Organized and Hardworking
No matter if your home is cozy or palatial, or your design ethos minimalist or maximalist, there's a secretary desk that will fit right in.
And whether you use it as a workstation, a display case, a safe of sorts or all of the above, you'll be hard-pressed to find an object that's more functional — or more charming — than this timeless piece.