When I wrote my history of the chair, Now I Sit Me Down (Farrar, Straus and Giroux), I learned that most of the sitting furniture that we use in our homes originated in either England or France — Windsor chairs, chaises longues, wing chairs, sofas, ottomans. There is a notable exception: rocking chairs. Although there is some slight evidence of early examples in England and Scandinavia, the rocker is essentially a product of the New World. The earliest surviving evidence is a 1742 bill from a cabinetmaker in colonial Philadelphia. The bill is for six shillings — about 40 dollars today — and it lists "one Nurse Chair with rockers." The nurse chair was a low side chair intended for nursing women, so giving it a soothing rocking motion made sense. The puzzle is why it took so long to invent, because rocking cradles had been around since the Middle Ages.
Americans loved the rocking chair. Visiting Europeans were bemused by its widespread popularity. "How this lazy and ungraceful indulgence ever became general, I cannot imagine," observed Harriet Martineau, an English writer who toured America in the 1830s, "but the nation seems wedded to it." For good reason — a rocker provides the advantages of an easy chair without expensive upholstery or complicated construction. It also provides a simple tilt-back mechanism that allows the sitter to alter the body's center of gravity at will, which exercises the muscles and increases sitting comfort. This is true whether the sitter is rocking or not.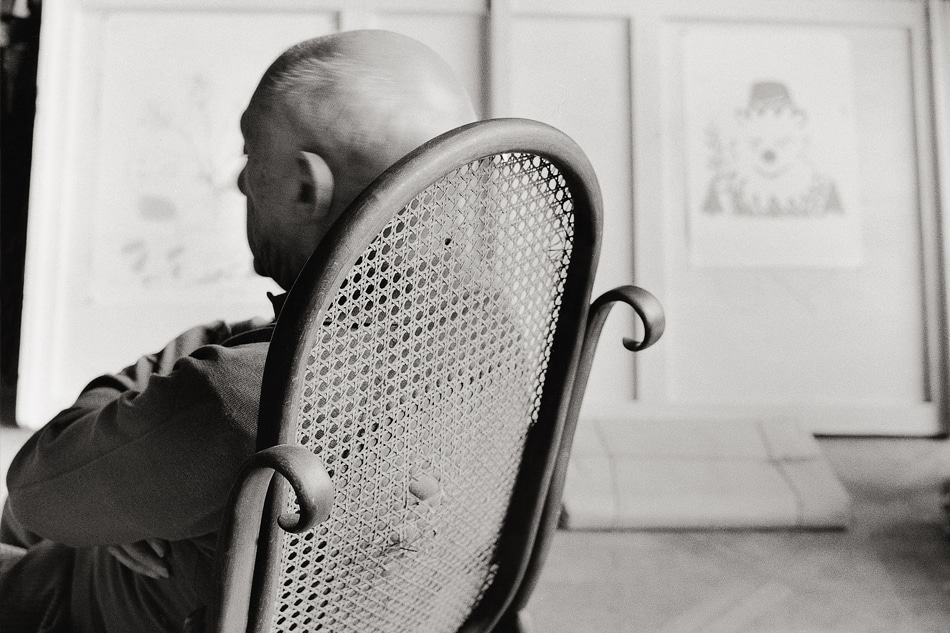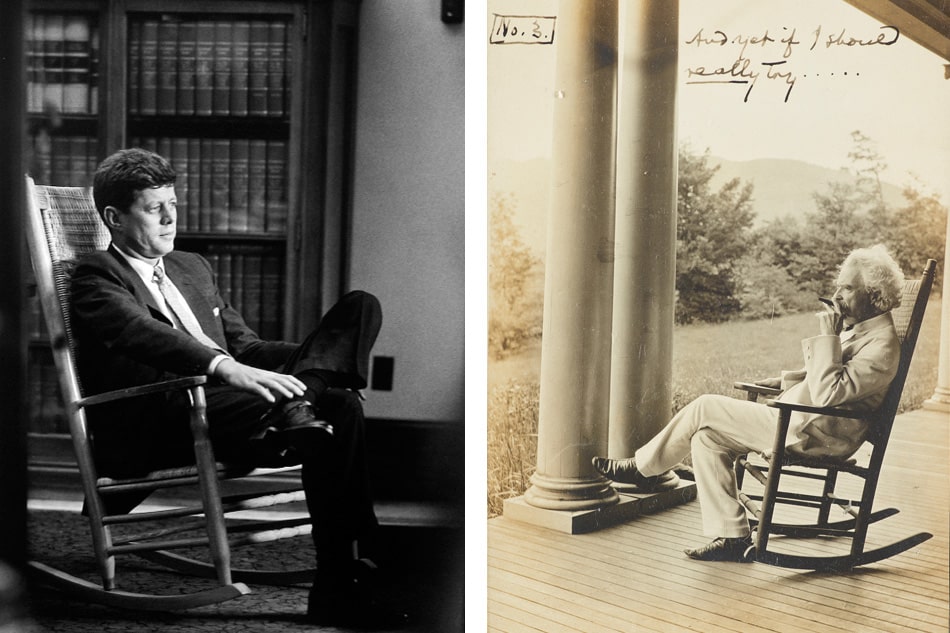 Early rocking chairs were simply conventional chairs with rockers added. Shakers in Mount Lebanon, New York, adapted a ladder-back with a rush-bottom seat; Windsor sack-backs provided more comfort; the so-called Boston rocker had an elaborate curved seat and a tall back with a broad rail that served as a headrest; wicker rockers were a staple of porches and summer cottages. There were also specialized models: baby versions for children, medium-sized rockers for adolescents and rocking settees for courting couples. There was the invalid rocker, with a wooden frame over which a blanket could be draped, which turned the rocker into a sort of draft-free wing chair. There were even combination chair-cradles, wide rocking chairs with a fenced-in space next to the mother for her baby.
---
The rocking chair is essentially a product of the New World
---
The American rocker was an inelegant marriage of convenience as far as design was concerned. It would take the great Viennese chair maker Michael Thonet to turn the rocking chair into a work of art. Thonet manufactured chairs out of steam-bent wood, and starting in the middle of the 19th century, he produced a series of rockers in which the different curved parts were integrated into fluid, sinuous wholes. Thanks to Thonet, the humble rocker acquired something unexpected: style. In 1873, James Tissot painted an introspective young woman in a Thonet No. 1 rocking chair, whose curved beechwood frame resembles the tendrils of a twisting vine; the seat and back are rattan, and the chair is provided with a convenient footrest. Pierre-Auguste Renoir sketched a woman in a Thonet rocking chair; later so did Pablo Picasso, whose home and studio were full of bentwood rockers.
Traditional chairs often reemerge in different aesthetic guises; think of Le Corbusier's leather-and-chrome interpretation of the club chair or Alvar Aalto's birch-and-webbing chaise longue. Several mid-century modern designers were inspired by the rocking chair. Early in his career, the Danish master Hans Wegner designed a rather staid rocker with slender spindles and a cord seat; he followed it with a more adventurous version in which the seat and back were corded netting. Ole Wanscher, another Dane, designed an upholstered rocker with a teak frame that became a classic. In the United States, Charles and Ray Eames added wooden rockers to their famous plastic shell armchair. The California woodworker Sam Maloof crafted sculptural rocking chairs of walnut and cherry wood with S-shaped splats, solid carved seats and long, slender rockers.
Both Jimmy Carter and Ronald Reagan owned Maloof rockers, but the president who did most to bolster the popularity of the rocking chair was John F. Kennedy. Kennedy had a back problem, and his doctor suggested that he use a rocking chair to alleviate the tension in his lower back. The recommended model was a traditional Appalachian design made in North Carolina with an oak frame and woven-cane seat and back. Kennedy used the chairs — he had 14 of them — strictly for their palliative effect, but the image of a folksy chair in the lofty Oval Office resonated with the public, and the traditional rocker gained a new lease on life.
The American rocker is almost three hundred years old and still going strong. Its most recent reincarnation is unexpected. A growing number of airports have installed rocking chairs for the benefit of waiting passengers. Not only does the homely chair provide a comfortable place to sit, but it undermines — and humanizes — the sterile, impersonal atmosphere of the modern airport. Everyone loves a rocker.
Witold Rybczynski is the author of 19 books, among them The Most Beautiful House in the World and How Architecture Works. His most recent book, Now I Sit Me Down, From Klismos to Plastic Chair: A Natural History, is published by Farrar, Straus and Giroux.
---
Iconic Rocking Chairs on 1stdibs