October 9, 2022"I don't envy the pressure placed on interior designers when it comes to decorating their own homes," writes William Norwich in the introduction to Phaidon's juicy new tome Inside: At Home with Great Designers. But while that pressure may not be so enviable, the spaces these aesthetic talents create for themselves most certainly are.
And so it's an absolute treat to page through the book, peering inside the residences of some 60 interior designers and decorators — from rising stars to the well-known — and to discover how these arbiters of domestic style live.
Observing these displays of good taste offers plenty of voyeuristic satisfaction and not a small number of surprises. (WillIAM Sofield's opium pipe, say, or DARRYL CARTER's DUCHESS BRISÉE CHAIR upholstered in peach leather.)
What each of the designers included in the book have chosen to surround themselves with — from antique light fixtures and historical fireplace mantels to mid-century dining chairs and contemporary abstract PaIntINGS — feels highly personal.
Here, we celebrate six extraordinary homes by members of the 1stDibs 50 class of 2022 that are featured in the book, along with their accompanying excerpted texts by Joan Barzilay Freund and Stephanie Sporn, which detail some of what's most eye-catching behind these usually closed doors.
---
Ariel Ashe's Greenwich Village Apartment
One month before giving birth in 2019, Ariel Ashe fell in love with a quaint apartment in Manhattan's Greenwich Village that would provide the refuge she would need as a new parent. Constructed in 1926, the building featured Spanish details that spoke to Ashe's southwestern roots. "I've always been drawn to materials like terracotta and plaster," says Ashe, who founded Ashe Leandro in 2008 with architect Reinaldo Leandro.
Retaining the original oak floors and layout, Ashe reversed modern interventions, such as crown molding that was later added. With its Venetian plastered walls, the living room conveys a hybrid European sensibility. The fireplace bricks are covered in plaster German slurry, while two hollowed-out arches flank the hearth. The rounded shape, which has become one of Ashe Leandro's hallmarks, is echoed in a modern mirror, as well as in the entrance to the kitchen and living room.
The living room demonstrates Ashe Leandro's predilection for letting textures rather than overbearing patterns or wallpapers do the talking. Staying true to the firm's aesthetic, Ashe opted for furnishing made of raw materials, such as hemp (couch), leather and straw (rug), and pine (cabinet with little to no finish).
The home's previous tenant, the late artist Stella Chasteen, left behind furnishings, which Ashe paired with chairs from her furniture line, Ruemmler, in the living room. Ashe also discovered a closet full of the artist's paintings — a designer's dream — and one is now displayed in her daughter's room, along with an ArtEK side table from Chasteen. — Stephanie Sporn
---
Reinaldo Leandro's East Hampton Cottage
Conjuring cool spaces for modern living is somewhat of a calling for Caracas, Venezuela–born architect Reinaldo Leandro, the other half of Ashe Leandro. The duo has worked around the globe for such clients as Coldplay's Jonny Buckland, artist Rashid Johnson, and late-night television host Seth Meyers.
In 2016, Leandro and his boyfriend, interior designer Patrick McGrath, bought and subsequently renovated a modest weekend place in East Hampton. With its classic shingled facade framed by towering Eastern red cedars, low boxwood bushes, and leafy viburnum, the two-story cottage has an old-world vibe.
Leandro added wider windows with fewer panes, giving the house a cleaner look while opening up views to the surrounding garden, designed by Perry Guillot. In the living room, French doors overlook the slate-rimmed swimming pool. Pickling the cottage's wide-plank pine floors freshened the space, as did painting the living room's red-brick fireplace white.
Both Leandro and McGrath are avid readers, so they installed floor-to-ceiling bookcases. When McGrath decided to update their oak farm table by whitewashing the top and painting the base a high-gloss black, Leandro initially demurred, but he now agrees that the transformed table, surrounded by caned Marcel Breuer Cesca chairs, helps the room skirt the line between workaday library and formal entertaining space.
Says Leandro of this corner of the cottage: "We use it constantly, and it's successful not only as a setting for hosting friends — and we do host a lot — but as a great working spot for both of us." — Joan Barzilay Freund
---
Nate Berkus and Jeremiah Brent's West Village Townhouse
After living in Los Angeles for four years, Nate Berkus and Jeremiah Brent longed to return to New York City, where their relationship first blossomed. In 2019 the designers and TV hosts traded in their 9,000-square-foot Spanish-style dwelling for a 3,400-square-foot 19th-century townhouse in the West Village. The location was the main attraction — they relished in daily "stoop time" with their kids and neighbors.
The house had recently undergone a gut renovation, so Berkus and Brent focused more on reviving the soul that had been stripped out. "As we do for our client projects, we scoured the Internet and all of our international sources to find antique mantels and salvaged materials to bring back the historical integrity," says Berkus.
Their search yielded a range of 19th-century lighting and furnishings, including a French lantern, which they placed in the entryway. The cornerstone of their home was a double-height bookcase, stretching nearly 28 feet, which they installed in the living room, where a caramel-colored grasscloth covered the walls. Among their living room treasures were a Soriana sofa, a 1940s scalloped chair, reupholstered Art Deco footstools, a Diego Giacometti coffee table, and a black leather Mario Bellini Camaleonda chair and 18th-century Italian mantel. The art was decidedly graphic or monochrome, whether an Albert Chubac canvas or a bronze sculpture by their late friend, artist James hd Brown.
Although ultimately Berkus and Brent left the townhouse to move back to their first Manhattan home, which miraculously became available again, they will always feel an emotional connection to this residence. It's what brought them back to New York. — Stephanie Sporn
---
Sheila Bridges's Home in Harlem
Named after the room shape that was prevalent in 18th-century interiors and is described as having a "subtly aged feel," Farrow & Ball's paint color Oval Room Blue is fitting for the living room walls in Sheila Bridges's Harlem home. Since moving into the three-bedroom apartment in the mid-1990s, the interior designer has cultivated her signature style: a refreshing take on classical design.
The landmark Italian Renaissance–style building, known as Graham Court, was constructed by the legendary architecture firm Clinton and Russell for the Astor family in 1901. As a lover of classical architecture, Bridges was enamored with the unit's myriad original details, including the mantels, plaster ceiling medallions, and the lead-glass cases, which house her china.
For Bridges, her home is a laboratory. "I can take risks that I can't take when I'm working on a client's residence," she says. In her office, stripes were painted on the walls with help from the designer's friend at Pintura Studio. The desk chair is upholstered in Bridges's Harlem Toile fabric, which plays on traditional French toile de Jouy narratives of the late 1700s by depicting imagery that "lampoons some of the stereotypes deeply woven into the African American experience," she has said. Her design is in the wallpaper collection of New York's Cooper Hewitt, Smithsonian Design Museum.
In the living room, an 18th-century grandfather clock and a painted French antique desk meet Outsider art and portraits by Black artists, family photographs, and artworks that previously hung in her parents' home. Much like her Harlem Toile pattern, Bridges's home is layered with style and substance — the closer you look, the more stories you'll uncover. — Stephanie Sporn
---
Darryl Carter's Washington, D.C., Manse on Embassy Row
Before Washington, D.C.–based designer Darryl Carter purchased his home, the 1913 Beaux-Arts townhouse on Embassy Row served as the chancellery of Oman. The building had been divided into a warren of small, gray-carpeted rooms, often with acoustic-tile drop ceilings. But Carter quickly saw the possibilities. The five-story manse had once been a gracious single-family home, and Carter was determined to return it to its roots.
All evidence of office life was whisked away. Wherever possible, the original oak floors were coaxed back to beauty. New mantelpieces were installed on some of the home's nine fireplaces, and in the massive kitchen a vintage bureau was capped by a metal étagère in lieu of a traditional kitchen island. And the walls were soon awash in white paint. As Carter sees it, white is a perennially appropriate foil against which objects can be placed so that they can visually breathe and pop.
In the living room, the brushwork of a painting by Ida Kohlmeyer brings out the reeded symmetries in a Napoleonic daybed upholstered in a creamy Loro Piana fabric. The uplift of the bed's tester echoes the tapers used in the bronze candelabra wall sconce that Carter found in a Paris flea market. Nearby, the chalky arched curves of a duchess brisée chair upholstered in peach leather contrast with the glossy, straight surfaces of a custom coffee table.
The visual banter continues in the home's former library, where a mixed-media piece by Carter is hung beside a Chippendale chair purchased from the estate of Karl Lagerfeld. Says Carter: "Once in a blue moon I have the urge to paint, make, sculpt." — Joan Barzilay Freund
---
William Sofield's Soho Loft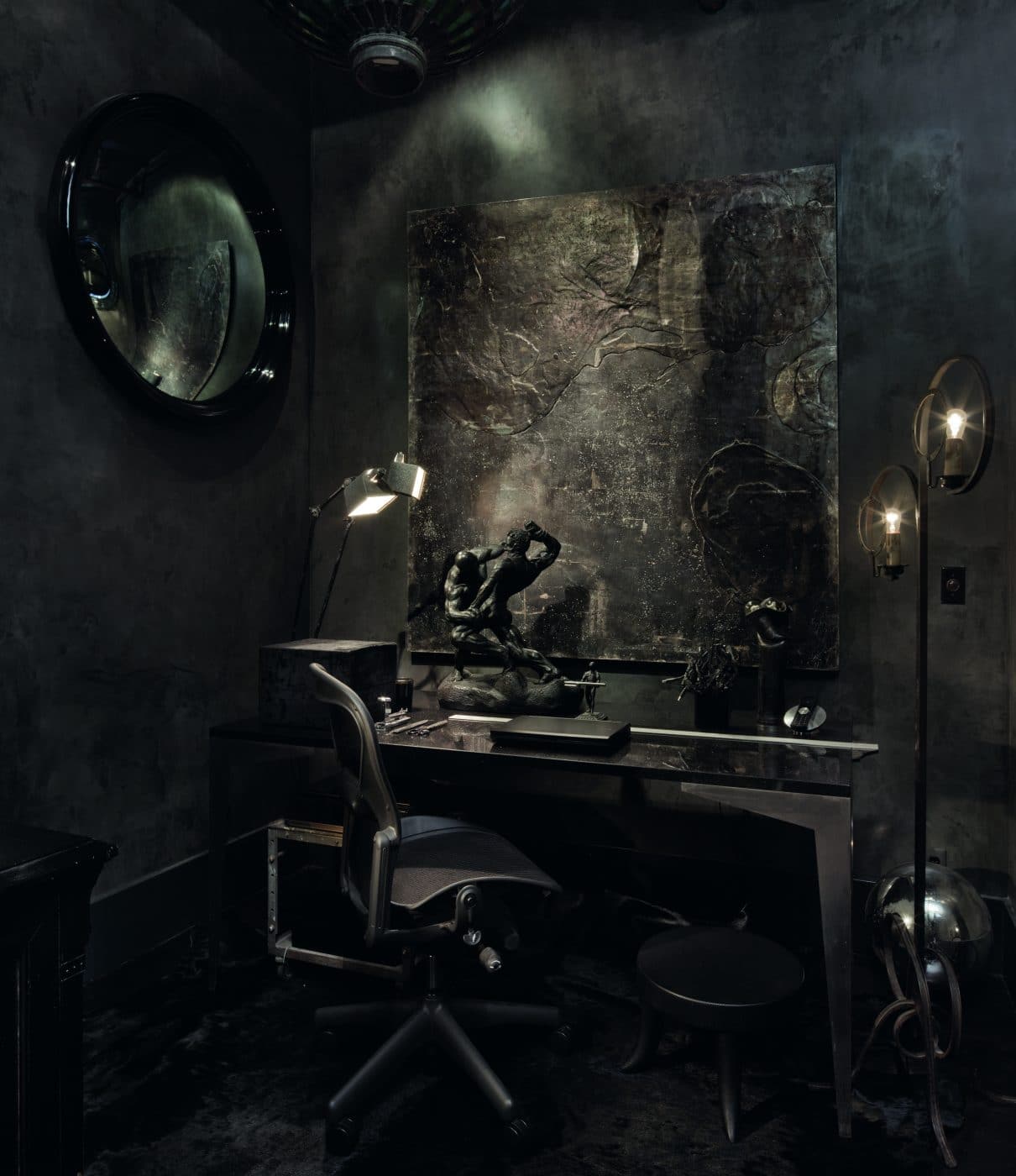 New York architect and designer William Sofield has collaborated intensively with clients and artists to ensure that he never repeats himself or establishes a signature look. "We've done a really good job if no one can tell that we've been there," he says of the private homes, luxury condominiums and retail boutiques — Tom Ford, Gucci, Bottega Veneta and Yves Saint Laurent, for instance — that his firm, Studio Sofield, has worked on.
But Sofield's own abode, located in an 1889 former toy factory in SoHo, has his fingerprints all over it. Though modest in size and not meant for entertaining — he keeps only four table settings of Christofle silver — the apartment is filled with his most cherished things, like a come-to-life version of his Herter Brothers Aesthetic Movement curio cabinet. In the office of his loft, he keeps a bronze Tiffany Studios candlestick bought when he was eight years old at an antiques shop in his hometown of Metuchen, New Jersey; a small portrait by James Abbott McNeill Whistler; a cast owl by Pablo Picasso (a flea market find); and a 19th-century opium pipe. A curlicue standing lamp by the Bauhaus great Koloman Moser lights the surface of a drafting table over which hangs a luminous work on wood by frequent Sofield collaborator Nancy Lorenz.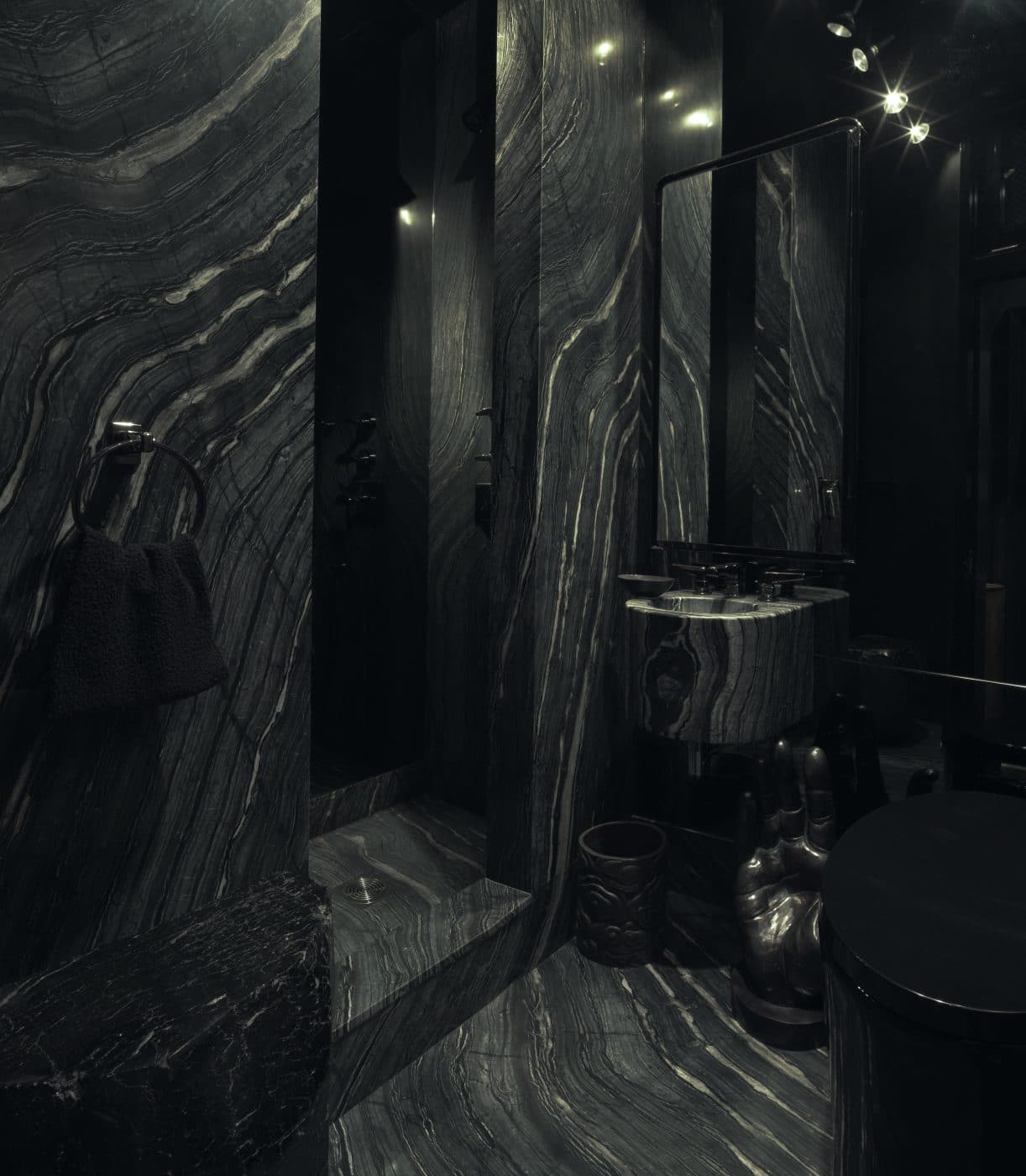 Sofield believes that objects have a spiritual essence and the stories surrounding them should be as celebrated as the pieces themselves — be they of craft, past ownership or historic context. It is why he's devoted to collaborating with artists. These partnerships add a personalizing touch. But he also believes it is essential to nurture today's talent for the design lovers of tomorrow. — Joan Barzilay Freund