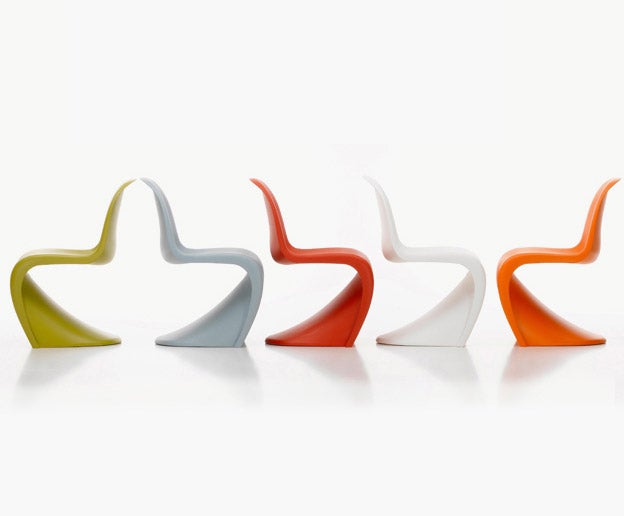 Iconic Designs
Panton Chair
About the Design
Appearing as if it were a three-dimensional brushstroke of paint, the S-shaped Panton chair is just one curved piece of plastic that cantilevers over itself to form a seat. Prior to its development by experimental Danish designer Verner Panton (1926–98), no chair had ever been crafted from a single piece of molded plastic. 
"I want to design furniture that grows up out of the floor," Panton said of his work. "To turn the furniture into something organic, which never has four legs." The designer, who studied at the Royal Danish Academy of Fine Arts in Copenhagen before working for Arne Jacobsen's architecture firm, started experimenting with the concept of single-piece plastic chairs in the late 1950s, drafting sketches of what eventually became his signature eponymous work before creating a full-scale polystyrene model. But he ran into production trouble — no manufacturer would tackle the chair's challenging engineering problems. Plastic was still a relatively new invention at the time, having been introduced to mass markets in the postwar era when most furniture makers still preferred to work in wood.
Enter Swiss furniture company Vitra, which agreed to take on the project in 1963. It took four years — and ten prototypes — but Vitra and Panton were ultimately successful, creating a Panton chair made from fiberglass-reinforced polyester. It debuted in Danish design magazine Mobilia in 1967 and then at the 1968 Cologne Furniture Fair. The chair embodied a seductive combination of the era's popular Space Age and Pop Art aesthetics through its undulating form, futuristic material and punchy colors, resulting in mass demand for the relatively affordable piece of furniture. While it was discontinued in 1979 due to durability issues, the chair was reintroduced years later and Vitra has continued to manufacture it, experimenting with materials ranging from polyurethane foam to polypropylene in conjunction with Panton throughout the course of his lifetime. For the chair's 50th anniversary, Vitra produced limited-edition chrome and glow-in-the-dark models.
The chair has become a celebrity in itself: It was featured on the cover of British Vogue in 1995 — with a nude Kate Moss atop it — and in 2006, it was inducted into the Danish Culture Canon. Numerous design museums hold the chair in their collections, including the Museum of Modern Art in New York, the Design Museum in London and more. As far as chairs go, particularly those designed during the 1960s and 1970s, there are few better known and more beloved than the Panton.
More Verner Panton Designs