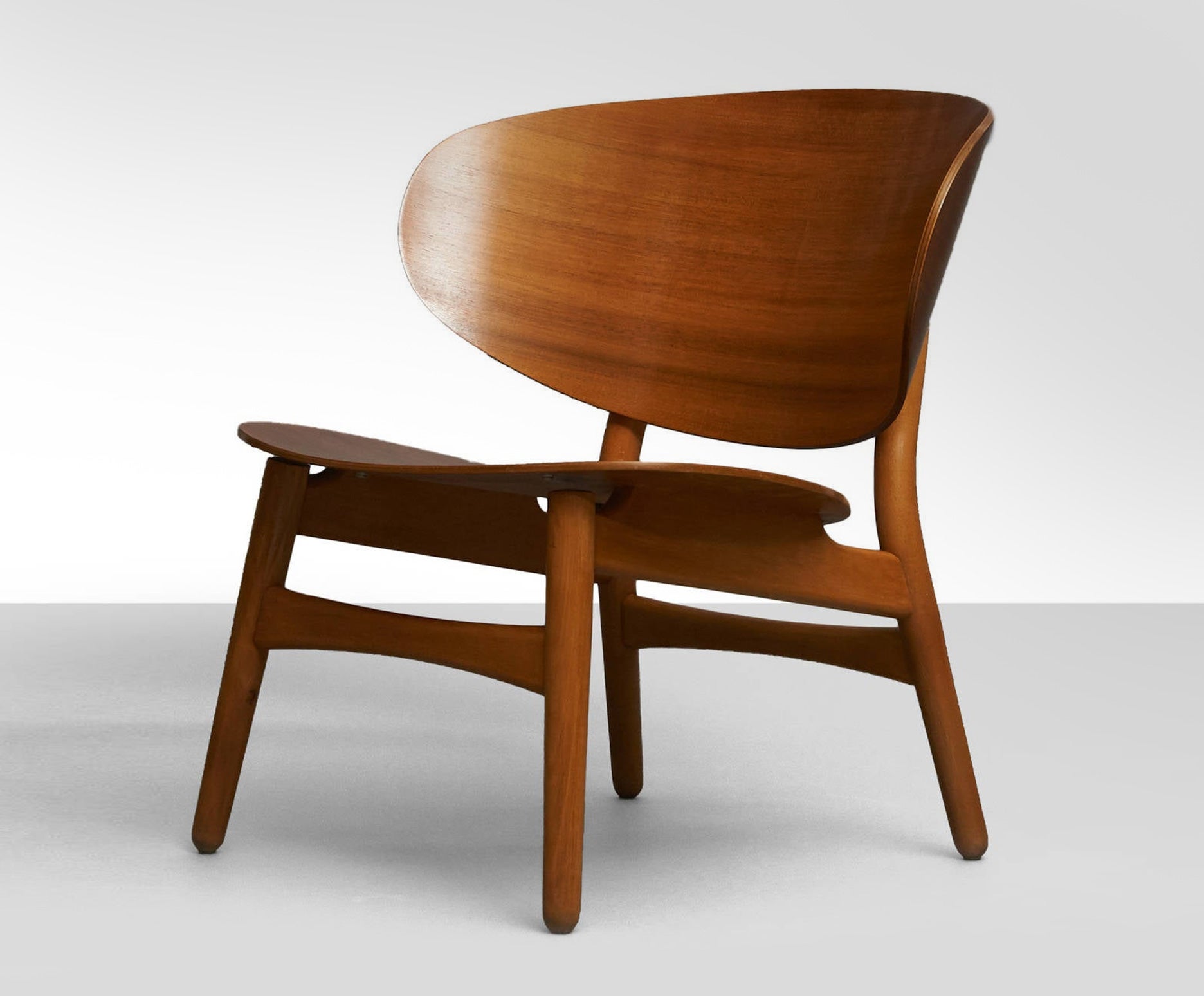 Iconic Designs
Shell Chair
About the Design
Also known as the "smiling chair," the Three-Legged Shell chair — now merely called the Shell — is an example of Hans J. Wegner's rare forays into plywood. The pioneering Danish furniture maker, whose works of Scandinavian modernism are among the most celebrated designs in the world, much preferred solid wood, a material with which he had extensive experience. 
Wegner (1914–2007) was the son of a cobbler and apprenticed to a cabinetmaker for much of his youth. He went on to study at the Royal Danish Academy of Fine Arts (then the Danish School of Arts and Crafts) and then worked as a designer for Erik Møller and Arne Jacobsen in the 1940s before opening his own studio. Chairs became Wegner's specialty, and over the years he designed over 500 of them. More than 100 of his designs, such as the Wishbone chair and the Papa Bear chair, went into production.
In terms of both process and aesthetics, the Shell chair was ahead of its time when it was introduced in 1963. The expressive seat and back are made out of form-pressed oak or walnut laminates and topped with upholstered cushions for maximum comfort. Wegner made scale models to test various leg configurations and eventually landed on the tapered three-leg structure that gives the chair a feeling of lightness. Nevertheless, the structure is very stable, featuring two front legs made of one continuous piece and a separate hind leg that supports the backrest.
Often described as being "wing-like," the chair's radical fluid lines were considered a bit too futuristic when the chair was first introduced during the 1963 Furniture Guild Exhibition in Copenhagen. Initially, mixed reviews from critics as well as the general public along with production difficulties resulted in a very limited early run. Twelve new models were produced for a retrospective exhibition celebrating Wegner's 77th birthday in 1989, and the design began garnering renewed attention — a photograph of the chair was even selected to grace the cover of the exhibition catalog.
In 1998, nearly a decade following the piece's reemergence at the retrospective event, Carl Hansen & Søn reintroduced the Shell chair 35 years after it was first released and it has felt relevant ever since. Sculptural and sleek — and "beautiful from all sides and angles," as Wegner intended for his seating — the Shell chair makes an immediate statement in any interior.
Previously Available Items
More Hans J. Wegner Designs