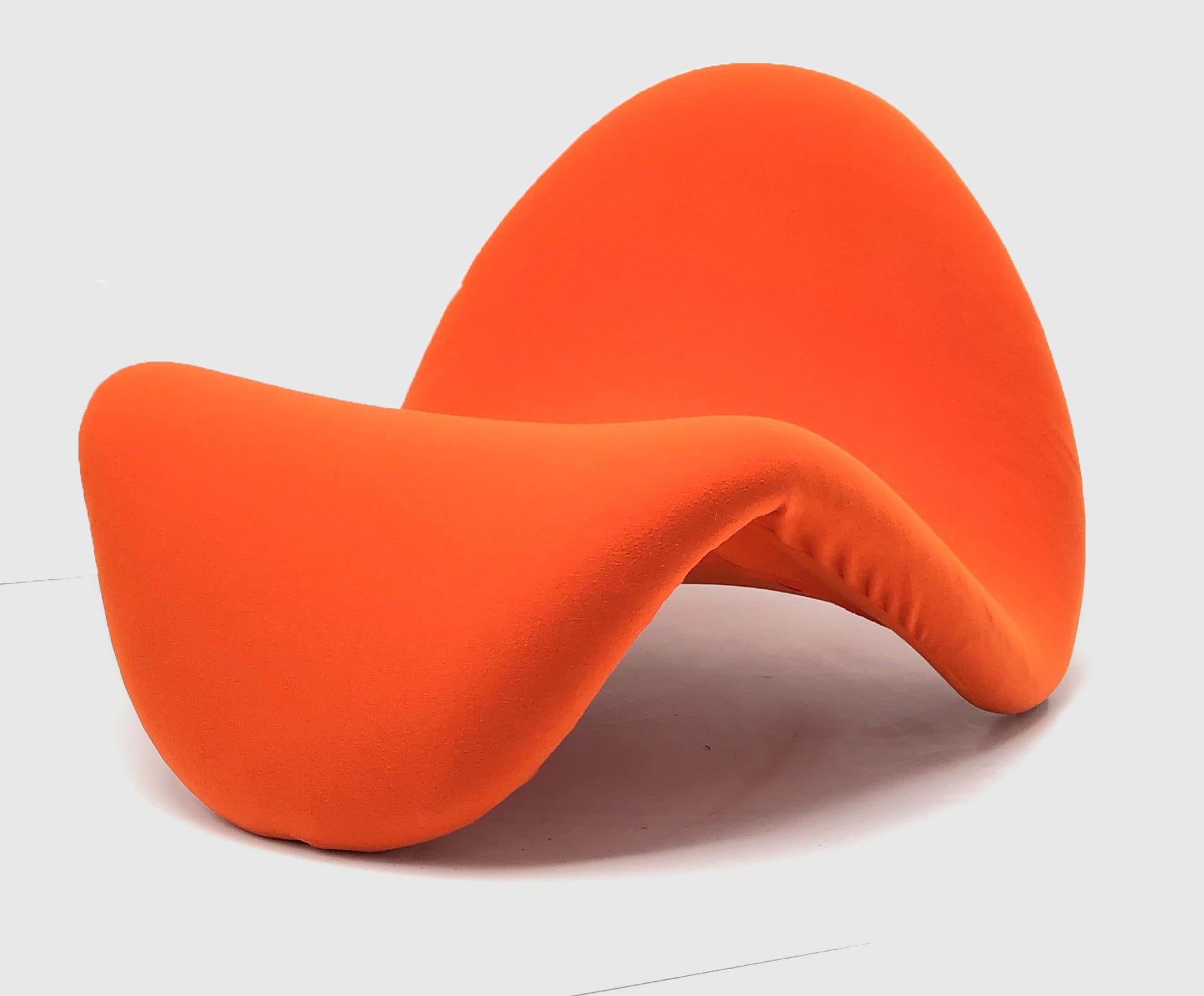 Iconic Designs
Tongue Chair
About the Design
It's true — the colorful, sinuous Tongue chair looks just like its namesake. The Tongue's designer, Pierre Paulin (1927–2009), had a knack for envisioning quirky sculptural chairs, like his Orange Slice chair (1960) and Ribbon chair (1966). Born in Paris, Paulin grew up under the influence of his uncle, automobile designer Georges Paulin, who invented the first mechanical retractable hardtop convertible. Design, it would seem, was in his blood. 
After Paulin failed to meet the French national academic qualifications to attend school at the university level, he pursued ceramics and stone carving but ultimately enrolled in the École Camondo in Paris and then went on to work for the Gascoin Company in Le Havre. His interest in nontraditional chairs became apparent in 1954 while he was working for Thonet — there, he began to experiment with stretching swimwear over chair frames. But his creativity peaked in his collaborations with Dutch manufacturer Artifort. In 1960, he designed his first project for the brand: his signature Mushroom lounge chair, a round armchair blanketed in a single piece of fabric that Paulin stretched over its entire frame.
"I considered the manufacture of chairs to be rather primitive, and I was trying to think up new processes," Paulin recalled in a 2008 interview. "At Artifort, I started using new foam and rubber from Italy and a light metallic frame, combined with 'stretch' material."
The designer wanted to appeal to the antiestablishment, Pop Art–inspired lifestyle of young people, creating chairs with comfortable, low-slung shapes in bold colors. Crafted from a metal frame enshrouded in foam padding and elastic fabric, the 1967 Tongue chair epitomizes that goal with its evocative, legless form that keeps its occupant lounging near the ground, a vast departure from formal chairs that require good posture.
Paulin expanded his repertoire far beyond chairs, designing the Denon Wing of the Louvre and decorating French President Georges Pompidou's apartment in the Élysée Palace, both in Paris. But his legacy with chairs remains strong. Today, Artifort still manufactures Paulin's Tongue chair, and, in fact, it continues to produce a number of the designer's works from the 1960s and 1970s, many of which have been incorporated into the permanent collections of art and design museums around the world.
Pierre Paulin Tongue Chair
Previously Available Items
More Pierre Paulin Designs