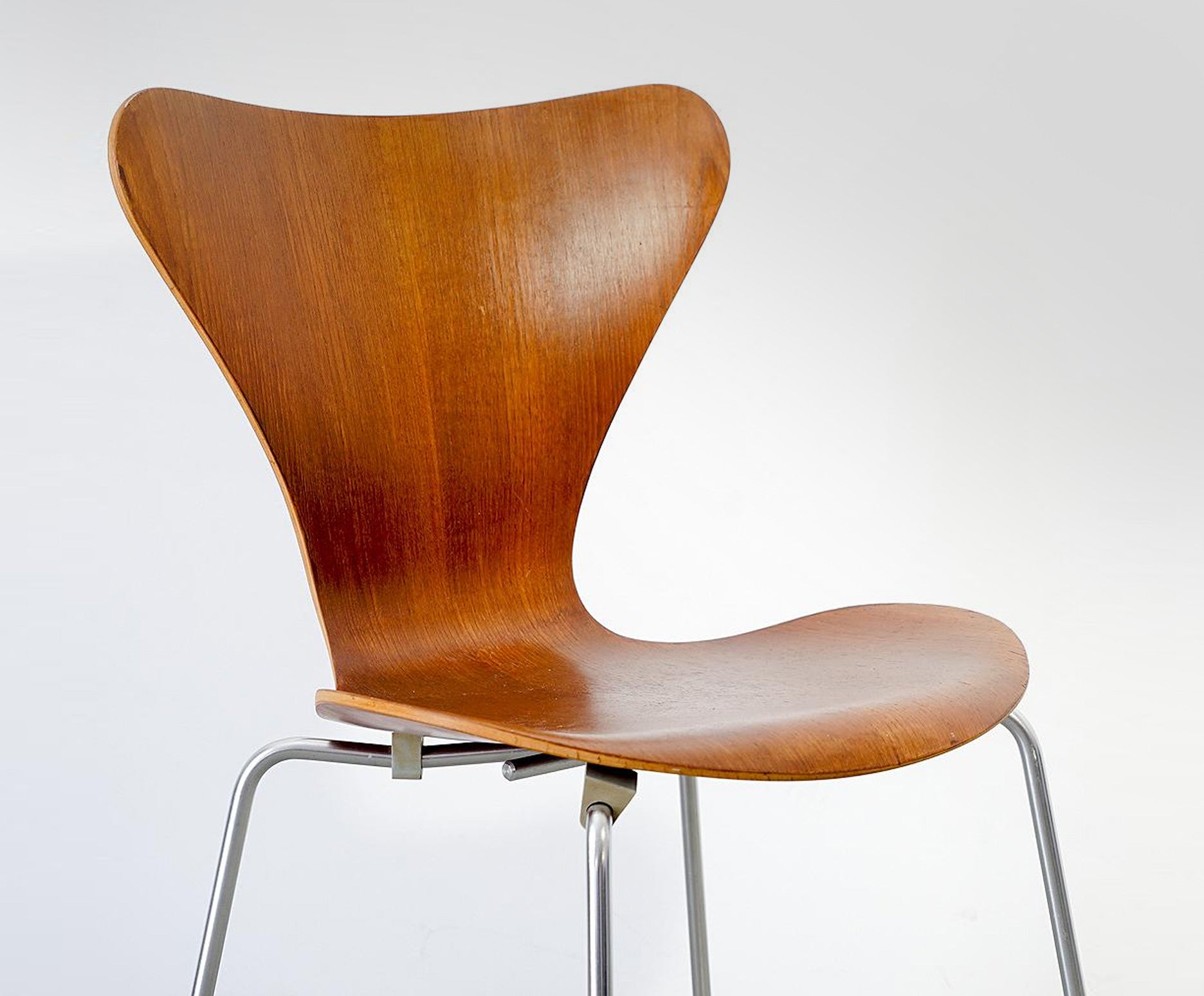 Iconic Designs
Series 7 Chair
About the Design
The celebrated Model 3107, or Series 7, chair showcases Arne Jacobsen's (1902–71) trademark understatement and interplay between form and functionality. Part of a seductive foray into minimalism for the modernist Danish architect and designer, the Series 7's seat and backrest were produced from a single piece of bent plywood in 1955 for manufacturer Fritz Hansen.
The lean, stackable chair updates Jacobsen's simple and spare 1952 Ant chair to a broader base while retaining its revolutionary construction (also a one-piece seat and back) and adding an extra leg. It was a thoroughly modern design inspired in equal parts by the Danish cabinetmaking tradition that preceded Jacobsen as well as the gentle and organic forms that typified Scandinavian modernist furniture. The chair was also a technical advancement of Charles and Ray Eames' innovative plywood molding techniques. 
Trained as a mason and then an architect, Jacobsen assisted in Copenhagen's City Architect's Office after graduating from the Royal Danish Academy of Fine Arts in 1927, where he eventually became a professor. He set up his own design practice in 1930 and produced large-scale projects such as the Bellavista housing estate, a revered work of Bauhaus-style architecture situated north of Copenhagen in Klampenborg. 
In 1960, Jacobsen completed his architectural work on the 22-story SAS Royal Hotel and Air Terminal in Denmark's capital city, but, as he preferred to be involved thoroughly in such commissions, he designed the interiors as well as every other possible detail for the accommodation property, from lighting to textiles to furniture. A diverse designer with a world-famous work ethic, Jacobsen also created modern light fixtures, bathroom fittings, cutlery and metalware — a 1957 set of flatware he designed for A. Michelsen was featured in Stanley Kubrick's 2001: A Space Odyssey.
Jacobsen was one of the most successful and accomplished Danish designers of the 20th century. Along with the Ant and massively successful Series 7, his Swan and Egg chairs, produced in 1958 for the SAS hotel, are definitive exports and exemplify Danish modern's marriage of quality materials, simplicity and thoughtful form.
The Series 7 has remained in production since 1955 at Fritz Hansen, where carpenters carefully select and cut sheets of veneer by hand in order to maintain the chair's classic shape. It remains among Jacobsen's most simple and pared-down chairs, and while each model is made of pressure-molded sliced veneer, the Series 7 is available in varying veneers and finishes. It is the most sold chair in the manufacturer's history.
Arne Jacobsen Series 7 Chair
More Arne Jacobsen Designs