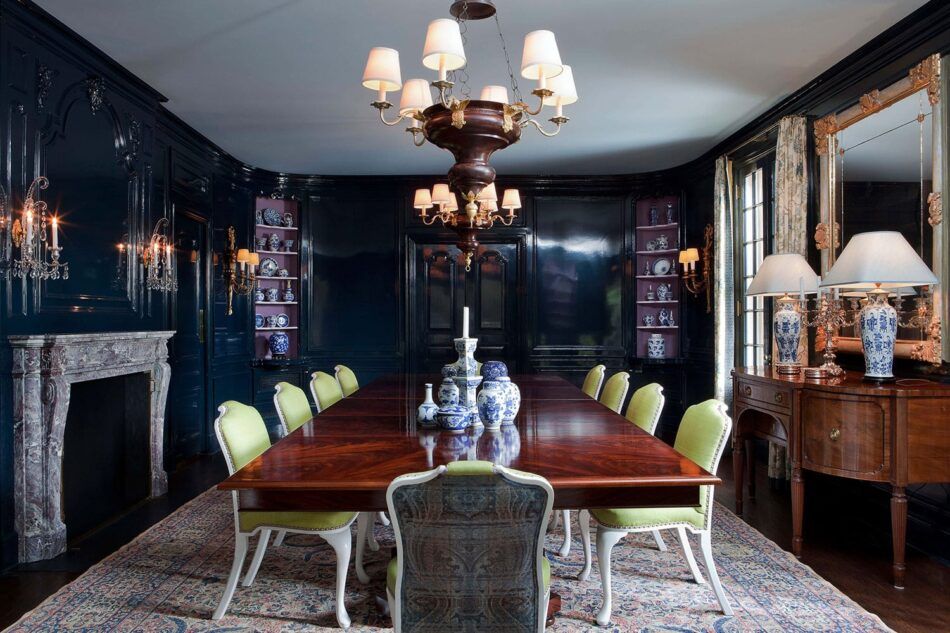 The fascination with Persian rugs dates at least as far back as the 4th century B.C., when historian Xenophon referred to the "soft rugs on which the Persians sit." For centuries, Iran (modern-day Persia) has been known for the craftsmanship, intricate patterns and artistry of its carpets, which have found their way into households and museums around the world.
What is it about Persian rugs that makes them so sought after? In this guide, we'll discuss their key features and highlight how to best style them in your home.
What Is a Persian Rug?
Persian rugs are handmade from the finest materials, including wool and silk. These fibers are colored using natural dyes derived from insects and plants and woven into bold designs that reflect Iran's culture and history. Regarded as works of art, they can take months or years to complete.
---
Types of Persian Rug Patterns and Styles
Iran encompasses different cultures, languages and dialects, and its exquisite rugs reflect this diversity. The different types of Persian rugs are named for the cities, villages and regions where they're made. Each area has its own distinct tribes and traditions, which are reflected in the colors and motifs employed by its weavers.
Persian rugs are classified into three main categories: village, tribal and city.
Village Persian Rugs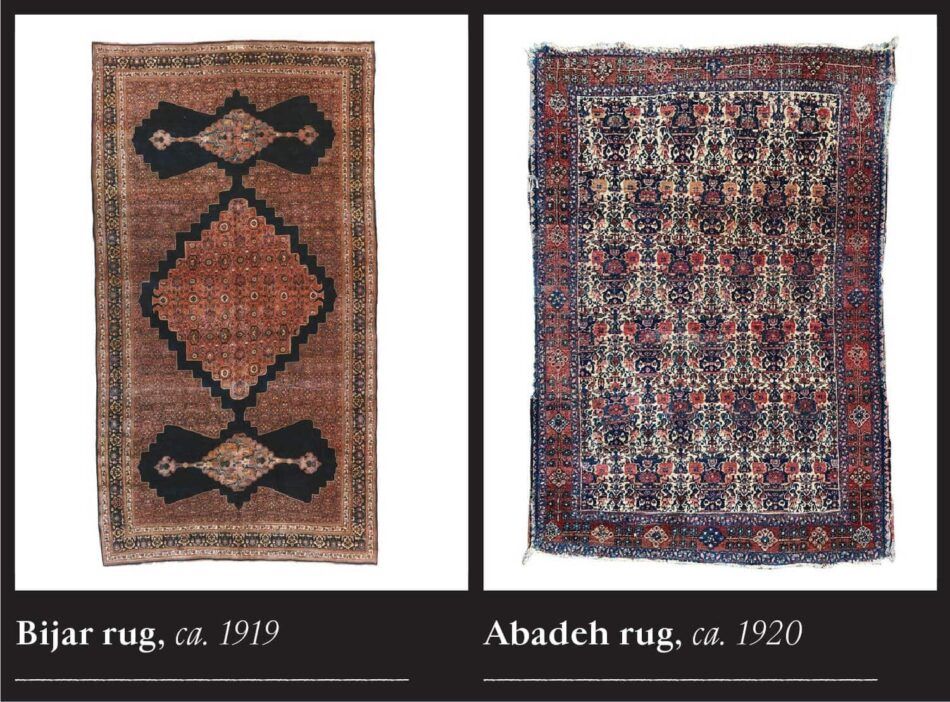 Village Persian rugs are produced by families of weavers settled in a town or other rural location. They are known for their varied palettes and durability.
Bijars are village rugs woven in northwestern Iran. Known as the "iron rugs of Persia," they have a dense weave and a reputation for longevity.
Also densely woven, Abadehs have blue, red and ivory color schemes and employ traditional Persian designs, such as the Heybatlu, in which a large hexagonal medallion appears in the center of the rug, with smaller ones at the corners.
Hamadans and Jozans generally have geometric or floral patterns, often paired with central medallions.
Tribal Persian Rugs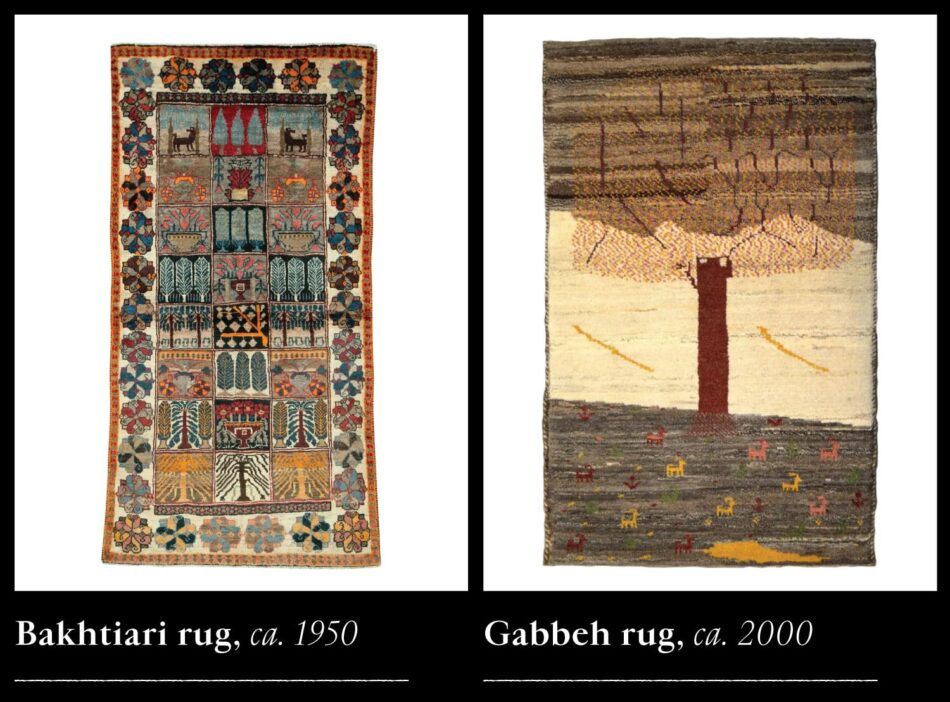 Tribal, or nomadic, Persian rugs feature the traditional designs of the tribes to which the weavers belong. Starting generally with a wool foundation, the makers work from home, conceptualizing the pattern as they go.
Bakhtiari rugs are made by members of the Bakhtiari tribe in Iran's Zagros Mountains. They generally have geometric designs, the most common being the garden design, consisting of square, rectangular or diamond compartments containing nature motifs like cypresses or willow trees.
Gabbehs are thick and coarse, made from hand-spun wool and often irregular in shape. Their designs incorporate geometric and stylized human, animal and plant forms.
Shiraz and Turkoman rugs are characterized by palettes of deep brown and red. Most Shiraz rugs have large borders decorated with palm and pine-leaf designs, flowers and vines. Turkomans are characterized by gul motifs (octagonal medallions) arranged in various patterns.
City Persian Rugs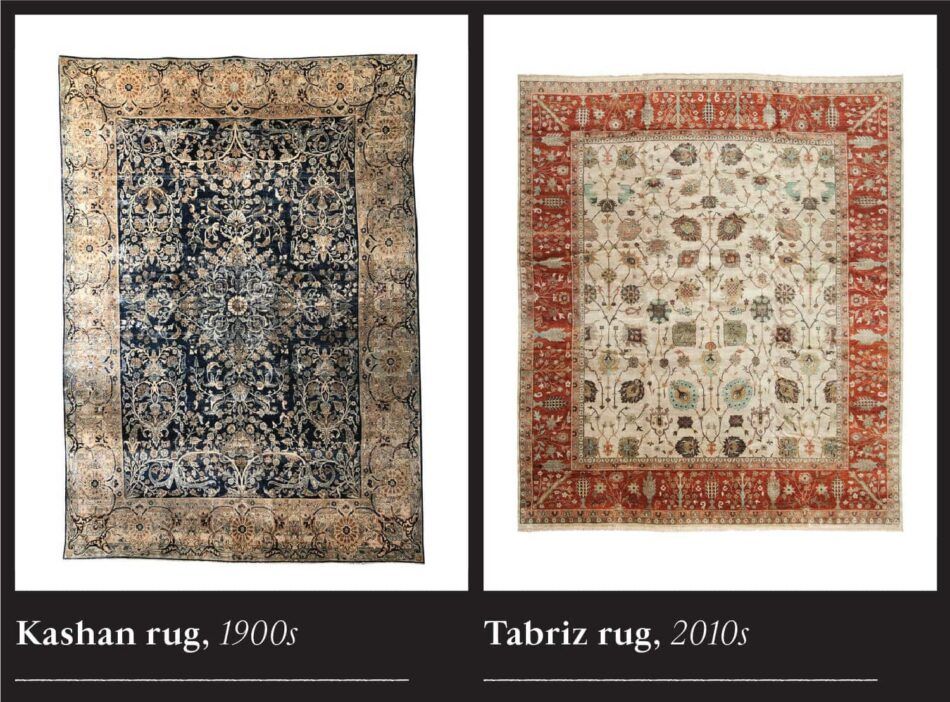 City Persian rugs are generally made commercially, in organized workshops where several weavers work together using a design blueprint. The foundation is usually silk or cotton.
Kashans, woven in the north-central Iranian city of Kashan, are considered among the finest city rugs, distinguished by curvilinear motifs like palmettos, leaves and arabesques.
Nain and Tabriz rugs feature floral motifs woven from silk and wool. Nains have high knot counts, an indication of high quality, and generally employ pink, blue and ivory hues. Tabriz rugs mostly have floral and garden patterns with bold maroon, gold and red palettes.
---
Persian Rug Characteristics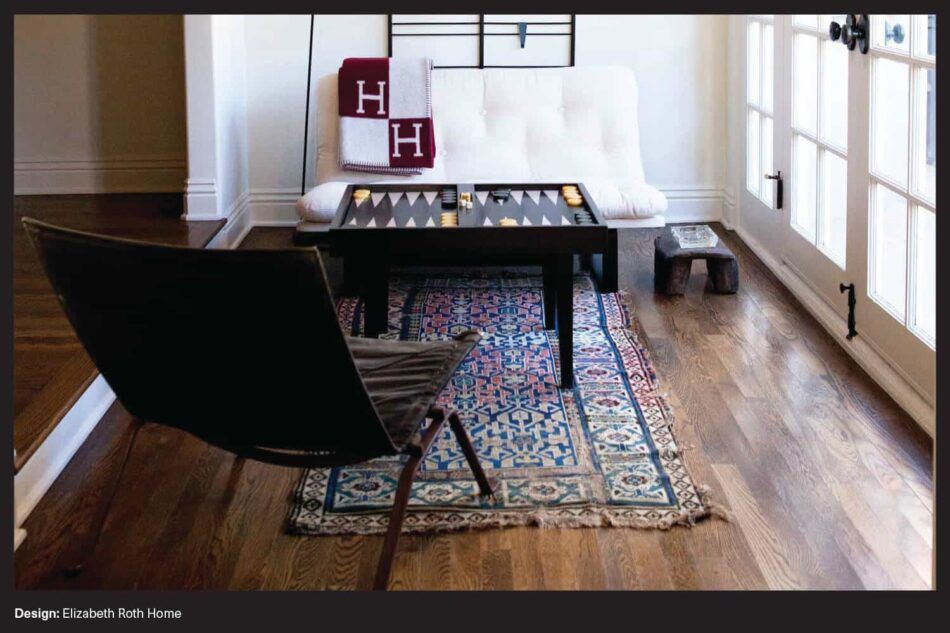 Although they have many imitators, real Persian rugs are made only in Iran and are easily recognized by their vibrant colors and elegant patterns.
Their distinctive defining features make them highly sought-after for interior design. We explore these characteristics in greater depth below.
Traditional vs. Modern Persian Rugs
Traditional, or antique, Persian rugs are what most people identify as "authentic." Hand-made, they are very durable and, if properly cared for, can be passed down from generation to generation. Modern Persians, on the other hand, are often machine-made. Although this production process is much faster and cheaper, the resulting rugs typically do not have the same quality or lifespan as handwoven ones, so traditional options are considered better investments.
To distinguish between the two, look for imperfections. Because traditional Persian rugs are handwoven, you will likely see small flaws on the front and back. With a machine-made imitation, on the other hand, you will probably not find stitching glitches, and the back will have a mesh or plastic covering.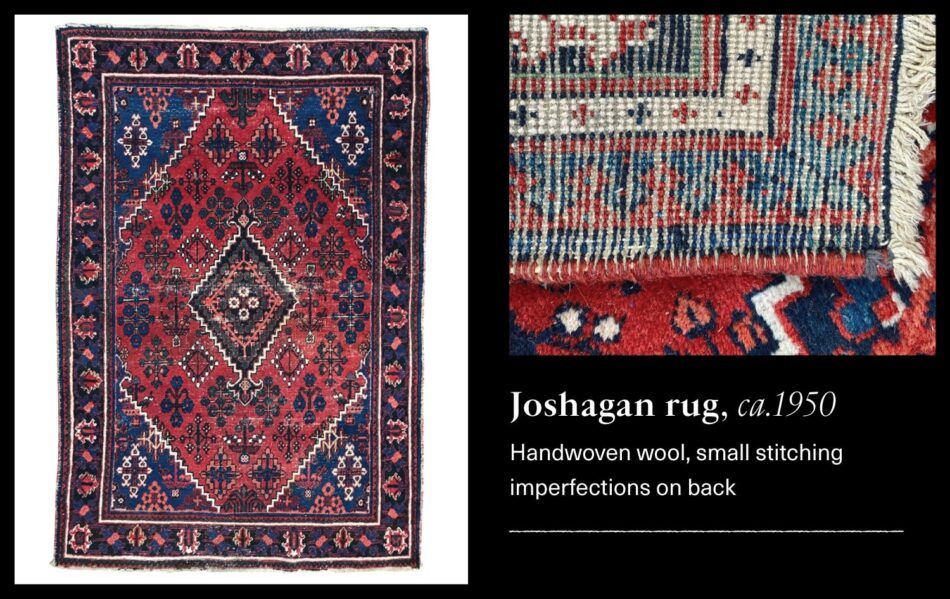 Materials
Antique rugs are made from wool, silk or cotton — never synthetic fibers. Since Persian tribes traditionally raised and herded sheep, wool was the most common material. The fiber has many advantages: It is fire-resistant and dries much more quickly than cotton. Also, because of its natural elasticity, it is more durable than cotton or silk.
Patterns/Motifs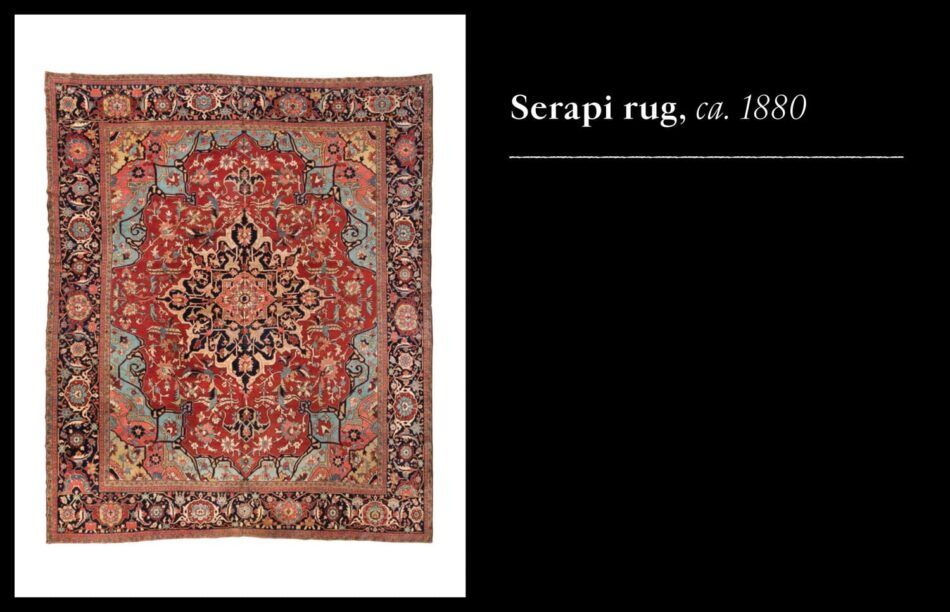 Most Persian rugs use warm, vivid colors, including golden yellow, indigo and red. They generally exhibit one of the following forms of decoration:
Compartmented floral or geometric design. Here, the rug is divided into diamond, square or hexagonal compartments, each containing flower or abstract motifs.
Asymmetrical patterns. In this case, the designs of the two lengthwise halves of the rug do not match.
Centralized medallion. An oval or circular compartment in the center of the rug contains a decorative element, such as an animal motif or tribal symbol.
Full-cover pattern. Repetitive geometric or garden patterns cover the complete area of the rug.
---
How to Style a Persian Rug
Before rearranging any interiors, think about your goals for your home's decor. First, examine your Persian rug to see which colors are bold and dominant within the patterns. Next, pick a room or area with at least one color that easily coordinates with it. Since Persian rugs are also esteemed works of art, consider your rug's character and intricate motifs. Here are some designs tips for integrating these woven creations into your decor:
Color
A pop of color can help break the monotony of the room. With Persian rugs, feel free to experiment with different shades and tones. Colors don't have to match exactly, as long as they are complementary. For example, many Persian rugs have deep shades of burgundy and navy. If these are your rug's first or secondary hues, you could pair them with solid colors in your furniture pieces, such as the sofa. For less formal rooms, choose a rug with bright colors.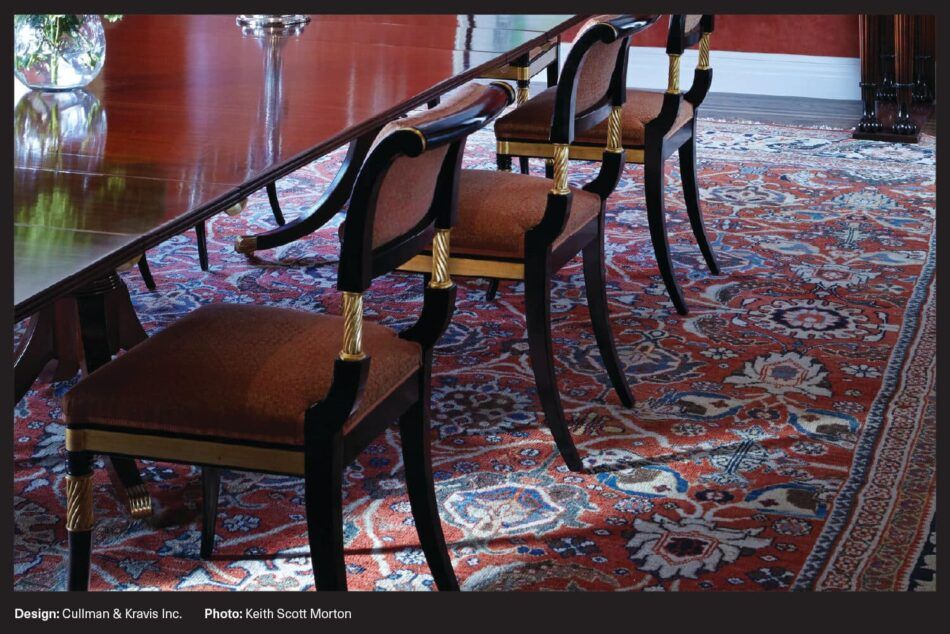 Size
If you're covering most of the floor with a large Persian rug, like one measuring 8-by-10 feet, the right furniture arrangement can be key. In a dining room, you might place the dining table and chairs on top of the rug so that it extends beyond them on every side. With a smaller Persian rug — say, 4 by 6 feet — you might make it the centerpiece of the room by deploying the furniture around it. Smaller rugs also work well in narrow areas, such as hallways.
Patterns
Persian rug patterns can make a bold statement in a living room or bedroom. Think about matching your rug's patterns to the geometric shapes of pieces already in your home, like picture frames and mirrors.
Persian rugs have a rich history and the durability to last generations. Timeless and beautiful, they will complement any interior design and personal style. We hope these tips help you understand how to incorporate a Persian rug into your home. With thousands of antique and modern rugs in our collection, 1stDibs offers a variety of styles and sizes to suit your tastes and fit your requirements.