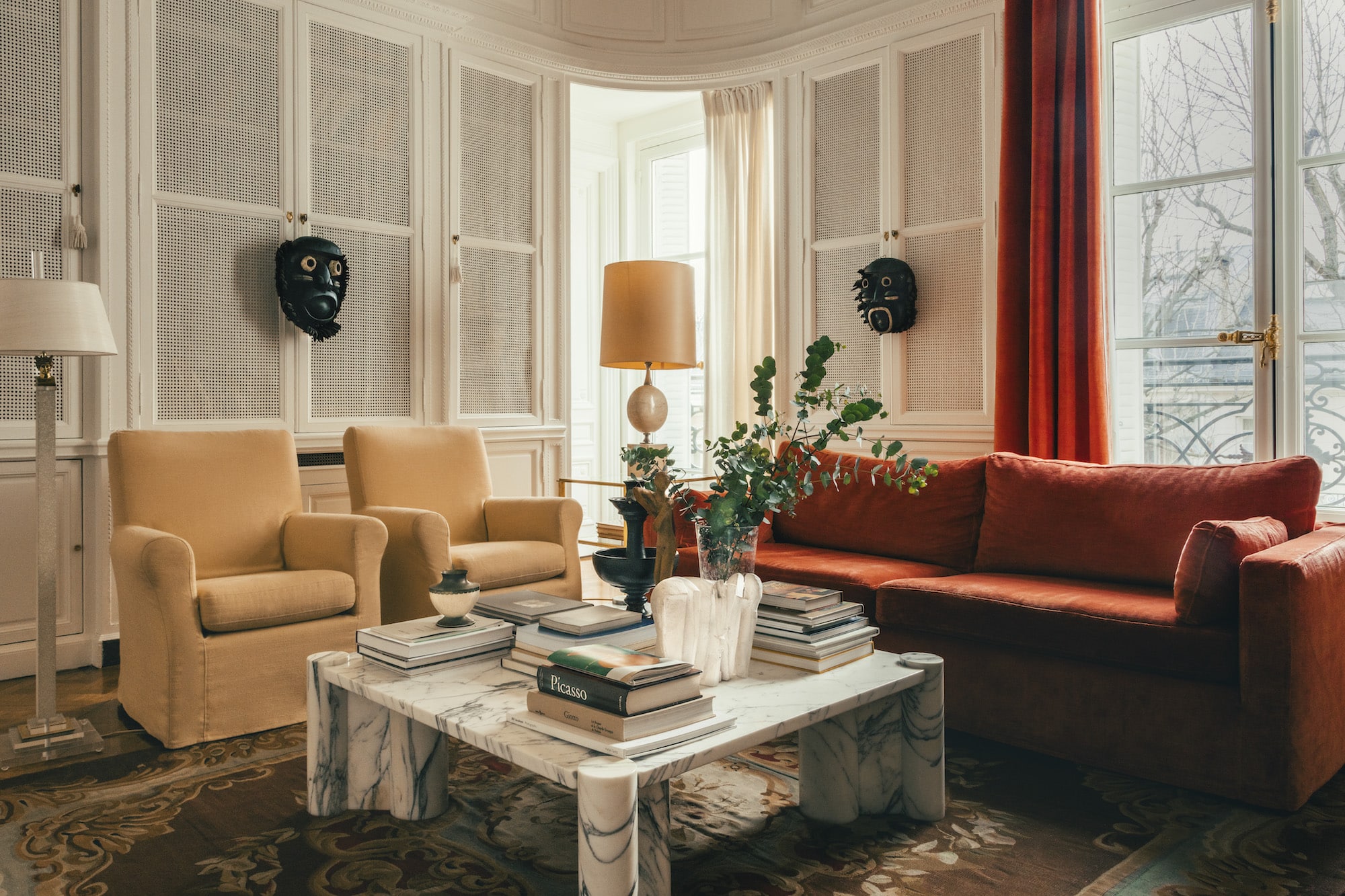 This past year has been transformative for almost every industry, and interior design was no exception. To shed light on the changing ways we're thinking about the rooms we inhabit, 1stDibs conducted its annual survey of interior designers. We've not only gauged how COVID-19 has affected the design community, but we've also uncovered emerging buyer tendencies leading into the new year.
Including a drastic shift toward remote consulting and online buying, skyrocketing demand for home offices and a return to nostalgic colors, below are the 2021 interior design trends you'll want to keep an eye on in the coming months. Click on the links to quickly jump to a section that piques your interest.
Top Findings:
1. 1970s Colors Are Back
Following the popularity of deep blue palettes in 2020, this year's designers expect to see a similar interest in 2021 in robust jewel tones, with 24 percent reporting emerald green as their top color choice and 23 percent choosing dark blue. Burnt orange and mustard yellow have made significant gains, with 22 percent of designers selecting each of them as the top color for 2021. These nostalgia-inducing colors may make you wistful for the era of Star Wars, shag carpeting and dancing to "YMCA."
"The use of color in design is often a sign of the times as much as of the inhabitants. Jewel tones such as cobalt blue and emerald green are gaining favor in 2021 and definitely add luxury and maturity to a palette," says Gil Melott, principal of the firm Studio 6F. "What I find telling is how, as people have spent more time indoors, they desire to embrace the outdoors by using more grounded colors, which evoke a sense of comfort and calm. There seems to be a subtle shift toward the humbler earth tones, and we believe richer hues will redefine how the whole home feels: comforting, safe and inviting. If I had to pick a favorite decade, the 1970s might be it."
"From the fashion, to the earthy color palettes, to the sense of freedom and individuality. I have always found inspiration in this bohemian decade. But it seems to be having a renaissance," adds designer Angie Hranowsky. "Whether it's modern furniture or traditional details like floral and fringe, we can see these now through a more modern lens."
---
2. Flexible Living Spaces Are a Must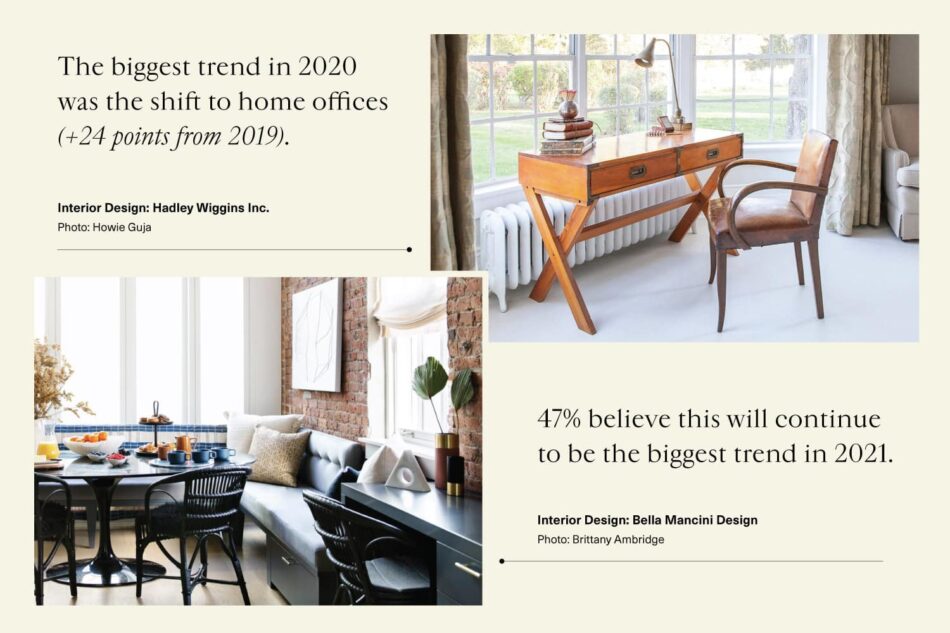 As COVID-19 turned our lives upside-down, the need for flexible, innovative interior design became apparent. After all, most of us now work, exercise, eat and relax within the same four walls every day. And although the global situation will hopefully be improved in 2021, for many, the shift to full-time remote work is likely to be permanent.
For that reason, the biggest reported trend in 2020 was a renewed interest in home offices and flexible workspaces. Sixty-six percent of our designers also reported home offices as the dominant expected project in 2021, up 38 percentage points from last year's report. In addition, we've seen a 16 percentage point increase in projected interest in home gym design for next year as people continue to prioritize at-home wellness.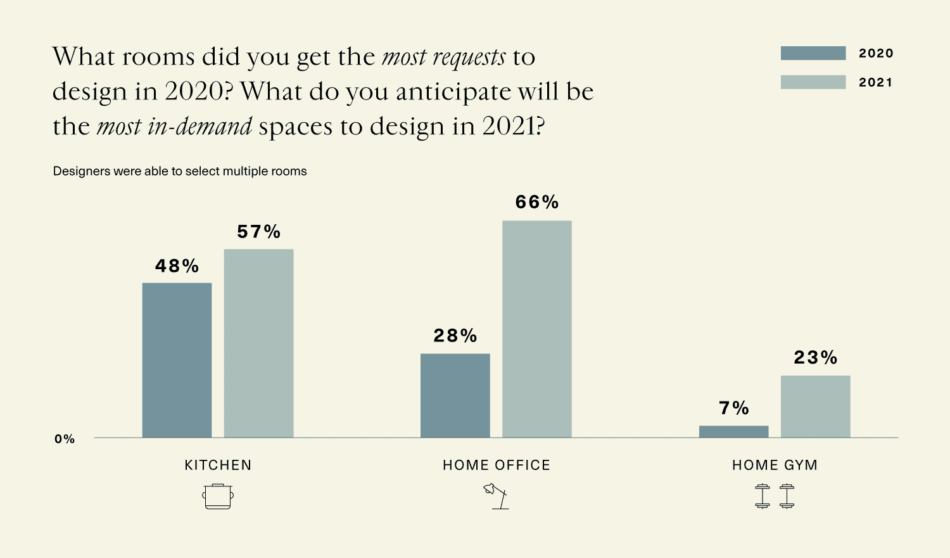 ---
3. Bringing Nature Indoors
As we spend more of our time in one place, designers are reporting a desire to bring natural aesthetics into the home. Especially during the winter, these motifs remind us of the wider world outside our walls and create a peaceful, soothing atmosphere. Wood is the top predicted material for 2021, at 34 percent, and natural, organic and floral patterns are expected to be the most popular motifs.
"We inherently have a connection to outdoor spaces and often find inspiration in nature. Increasingly, we're finding ways to bring that natural beauty indoors with botanical wallpapers and hand-painted nature-inspired murals, as well as potted plants, trees and vertical gardens," designer Laura Hodges tell us.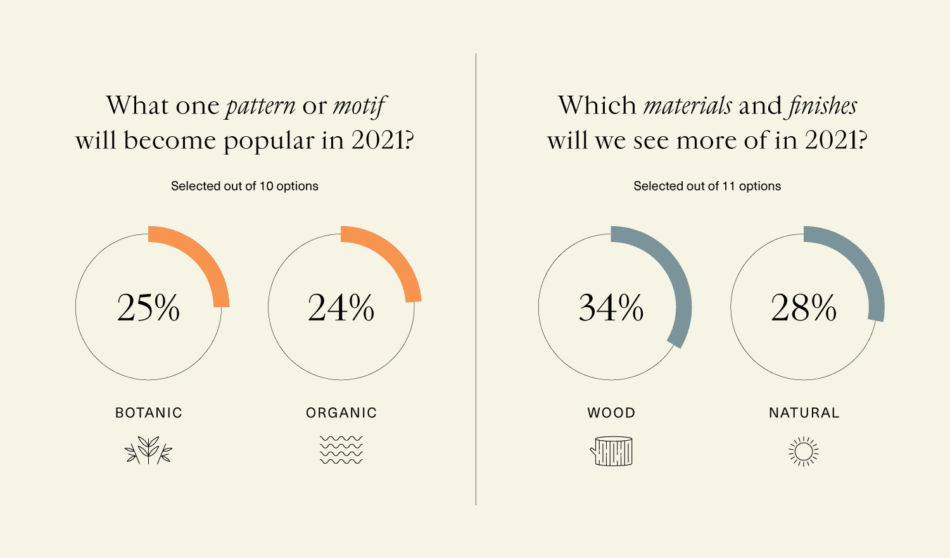 ---
4. Emphasis on Health and Wellness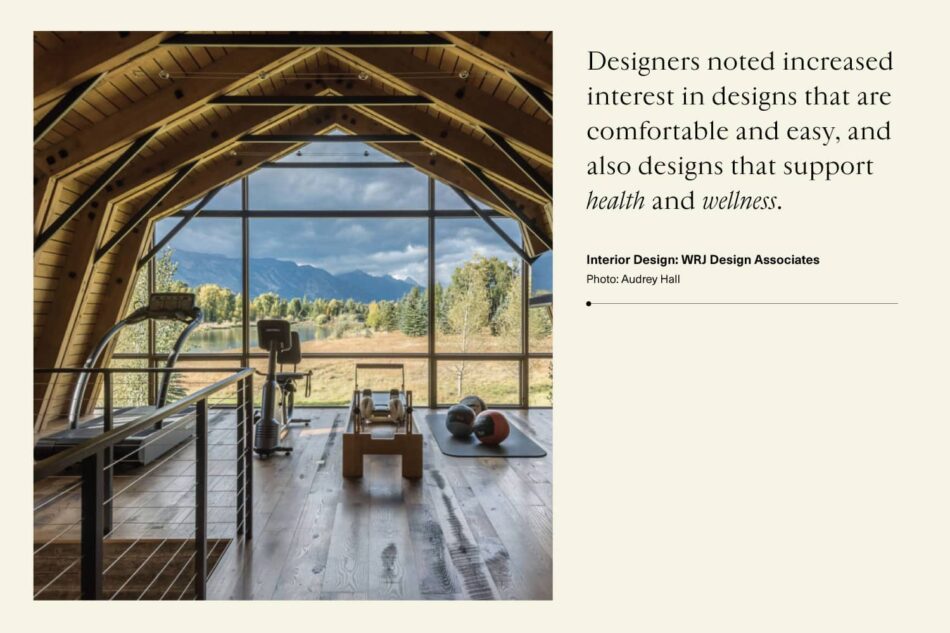 Unsurprisingly, given the climate of this past year, 2021 interior design trends are expected to focus on creating a health- and wellness-conscious environment. For commercial spaces, an overwhelming 47 percent of our designers reported the need for distance-friendly design in the new year.
For the home, results showed a small yet significant increase in interest this year in the design of outdoor spaces. Ten percent of designers also noted that one of the biggest trends in 2020 was the need for easy and comfortable design, up from just 1 percent in the previous year. An unduly stressful year has made relaxing at home even more of a priority.
Along with these top four interior design trends, we've also outlined a number of additional interesting findings from the survey below.
---
5. The Rise of Virtual Design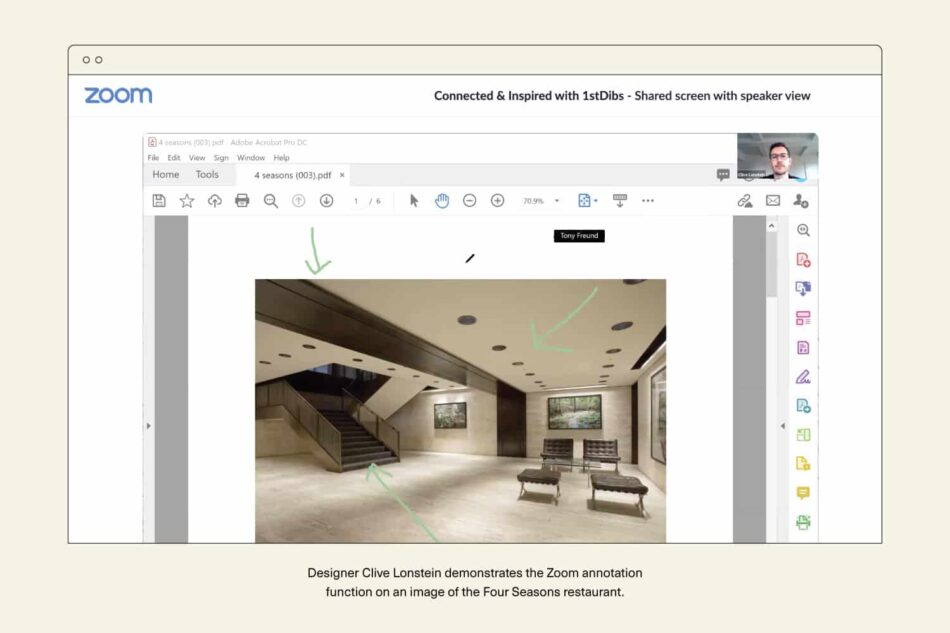 Designing projects remotely or virtually was already a common practice in 2020, with responses showing 41 percent of projects completed this way and 59 percent completed using traditional, in-person methods. When asked about their plans for 2021, a whopping 88 percent of designers reported that they planned to integrate virtual services as part of their offerings. This number was even higher among residential designers, at 91 percent.
These responses clearly show that virtual design services will be with us for the foreseeable future, likely remaining in a post-COVID world.
---
6. New, Contemporary and Custom Work Is In
When asked which design periods they expect to employ most frequently for clients in 2021, there was a clear trend toward contemporary design and custom work. Seventy-eight percent reported custom items as their top category, 75 percent reported new and contemporary pieces, and 67 percent selected the 21st century as their top period for 2021.
---
7. Interest in Antiques Holds Steady
Results indicate that interest in antiques, pieces over 100 years old, will hold steady between this year and next. Forty-nine percent of designers reported that they sourced from this period in 2020, and an equal percentage reported that they plan to source antiques in 2021, demonstrating the everlasting appeal of these "oldies but a goodies."
---
8. Increased Interest in Artisan Work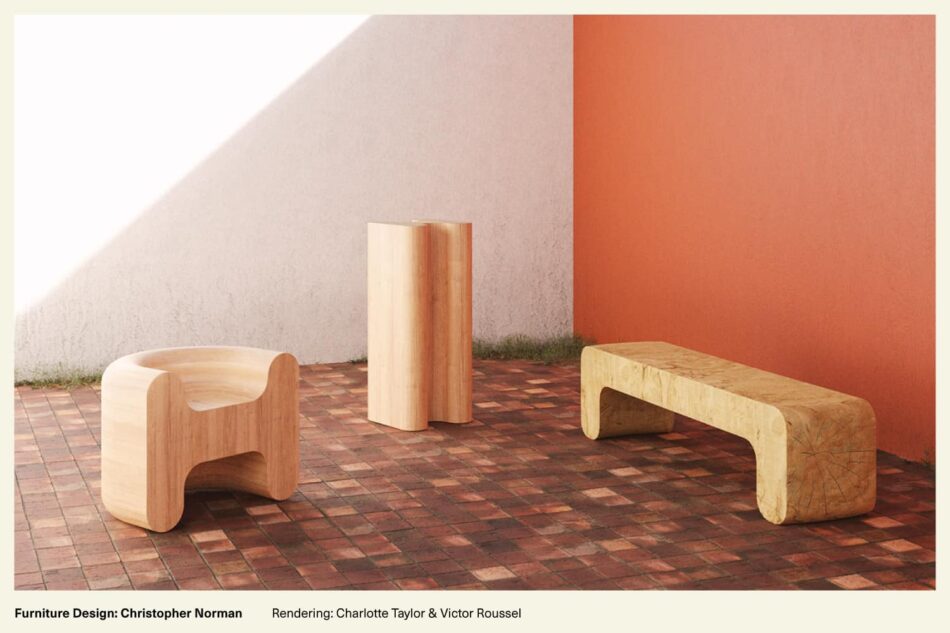 Just as custom work is becoming more attractive, so too are designs from small-scale artisans, as opposed to big brand names. Sixty-one percent of interior designers stated that they plan to purchase more items from artisan makers in 2021, up 6 percentage points from last year.
In addition, to the question about which furniture designers would be most in-demand in 2021, the most frequent response was not a specific name but artisans and local craftsmen as a group. It's interesting to note that no one furniture designer was chosen at any meaningful level, indicating that consumers may be more interested in quality than name recognition.
---
9. Furniture Styles Remain Steady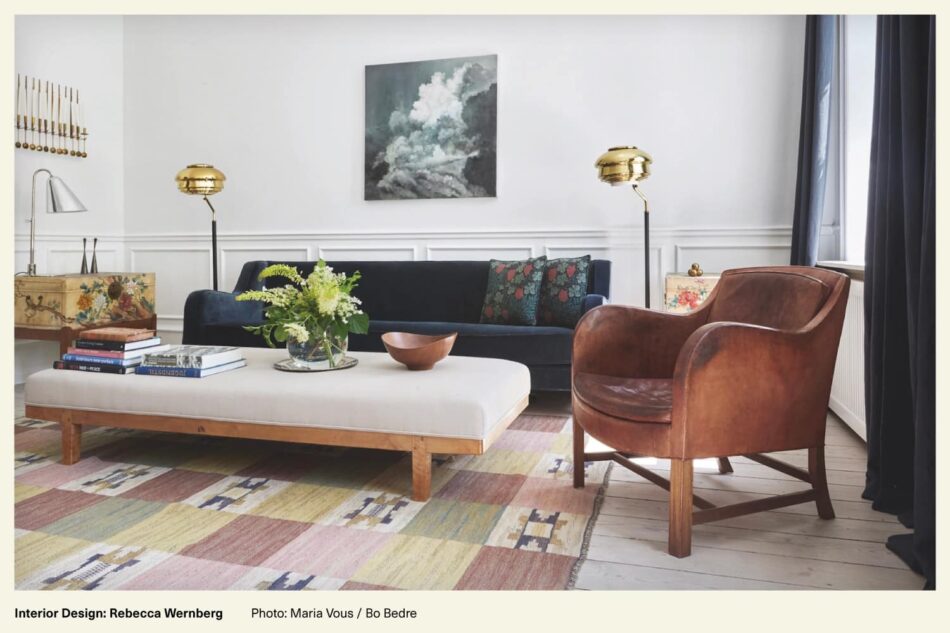 Interest in specific furniture styles has remained steady over the past several years and looks to continue this way into 2021. To the question about which furniture styles they are likely to use in this coming year, the top responses were contemporary (31 percent), mid-century modern (24 percent) and Art Deco (22 percent). Percentages have been similar for these top styles since 2017, demonstrating that the mid-century-modern mega-trend isn't going away any time soon.
---
10. Refined Finishes Are on the Rise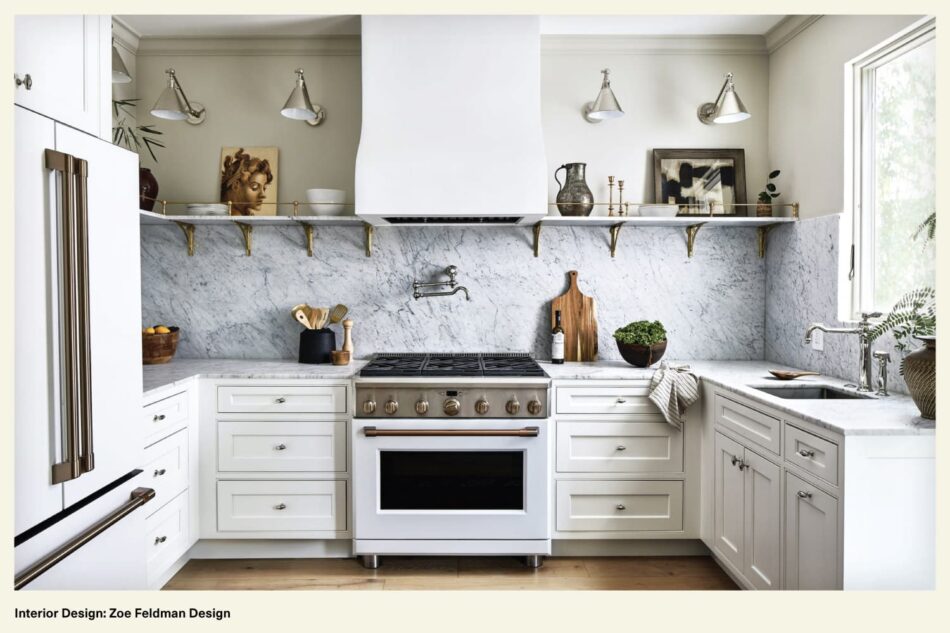 Last but not least, our 10th interior design trend to note from this year's survey is that, in addition to wood and natural materials, refined, colder finishes are also predicted to be on the rise in 2021. When designers were asked which materials and finishes we are likely to see more of next year, top results included stone (16 percent), metal (15 percent) and brass (12 percent).
---
Designer Outlook for 2021
With all the tumult of 2020, it's heartening to note that the majority of designers feel positive about the prospects of the design industry during COVID-19. The ability to design virtually and find quality items online means designers still have access to the resources they need. In fact, 73 percent reported a shift to buying online instead of in stores or galleries in 2020, and 65 percent expect to continue buying online in 2021.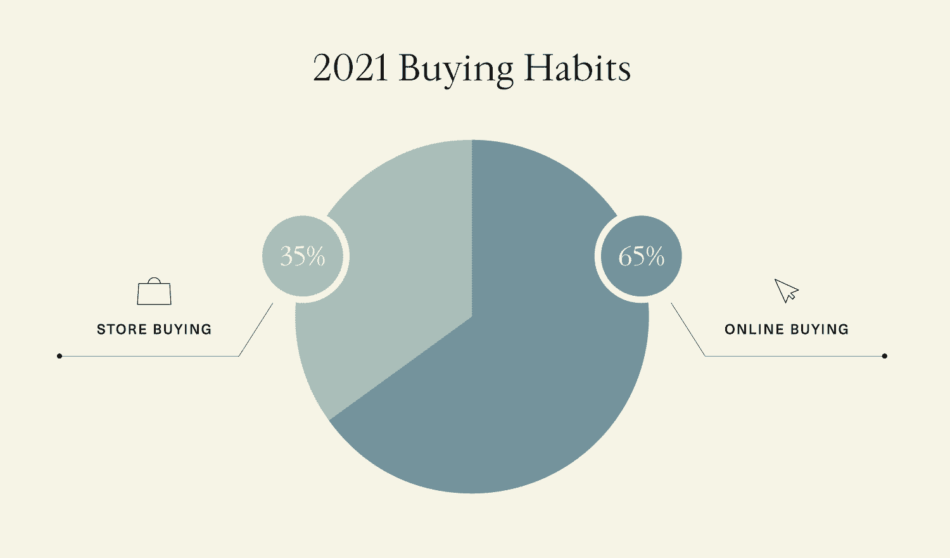 Interior designers and architects certainly faced their fair share of challenges this year, with the top three issues reported being delayed procurement and delivery timelines (76 percent), project delays or cancellations (62 percent) and lack of product availability (57 percent). However, many also noted that the pandemic has made people more aware of the need for good design and that designers have a role to play in solving some of the critical issues concerning the way we live and work — at home, in the office, in public spaces and outdoors.
---
Survey Methodology
For the past four years, 1stDibs has assessed preferences and emerging trends among interior designers. This study was conducted earlier in the year than in prior editions to better understand the impact of COVID-19 on the 1stDibs design community. Online research was conducted in September and October 2020 among a sample of interior designers registered with 1stDibs. Respondents who completed the survey were sent a link to a virtual gift certificate for $25.
Results are based on 600 responses, with 87 percent of respondents located in the United States and the remainder primarily in the United Kingdom and Canada. Of the U.S. sample, 39 percent are in the Northeast. Seventy-two percent of respondents are business owners, and 17 percent are sole proprietors. Seventy-six percent are residential designers who complete an average of six to seven projects per year.