August 23, 2020For as long as interior designer Fabrizio Casiraghi can remember, his family has had a holiday apartment in the picturesque seaside village of Riomaggiore, in Italy's Cinque Terre region, where the multicolored houses appear to be clinging for dear life to the sides of the cliffs. It was there that, at the age of six or seven, the Milan-born Casiraghi found himself in conversation with his father, sitting on the rocks of its tiny bay.
"Due to the sea, the facades tend to decay, and I asked why they weren't promptly restored," recalls Casiraghi. "He explained it would be too costly to repaint them every couple of years, but that really bothered me. Today, my father likes to say, 'I always knew you'd do something linked to architecture, because you couldn't comprehend how a house couldn't be perfect.' "
At just 34, the Paris-based Casiraghi is among the top emerging names of the European design scene. One of his most recent residential commissions — a grand 4,800-square-foot Parisian apartment near the Invalides — was featured in both the American and French editions of Architectural Digest. And last year, he completely renovated one of the city's most storied restaurants, Drouant, close to the Opéra Garnier.
Another indication of his stature is the fact that he is represented by Paris's leading design agent, Julien Desselle, who sources commissions and negotiates contracts for such other clients as Joseph Dirand and Studio KO. "What I like about Fabrizio's work is that he has a great sensitivity for different periods," says Desselle. "He's not afraid of creating interesting mélanges."
After studying architecture and town planning at the renowned Politecnico di Milano, from which he graduated in 2010, Casiraghi worked for other designers. He founded his own firm in 2015, and one of his first projects was Desselle's own Venice pied-à-terre: a 750-square-foot apartment in a small 18th-century palazzo overlooking the gardens of Ca' Rezzonico in the city's Dorsoduro district. Desselle had already amassed a number of very typical Venetian items, including early-19th-century wood-and-marble consoles and Murano glass Barovier & Toso sconces.
Together, Desselle and Casiraghi decided that whatever they added to these pieces would be less traditional. They integrated items by icons of modern Italian design, such as a Luigi Caccia Dominioni sofa and a Gabriella Crespi ashtray. Casiraghi surprised himself by placing three Gaetano Pesce paintings on the staircase walls. "I've never been a great fan of his work," he admits, explaining that the geometric forms of the pieces he selected for Deselle's apartment appealed to him because they're less expressive than the Italian maestro's typical style.
He initially didn't react well to Desselle's request for a splash of animal print, but he honored it nonetheless, with a leopard fabric on an Azucena pouf. "I slightly forced myself to use it, because I understood it was important to Julien," he says. "And I actually adore it. I'm never closed to using anything."
According to artistic director Franck Durand, with whom Casiraghi collaborated on both Drouant and the Invalides apartment, that aesthetic openness is one of the reasons for the designer's success. "Fabrizio is very adaptable and undogmatic," says Durand. "He has no desire to become the interior designer of the moment. He's more interested in creating timeless interiors."
For Casiraghi, essential to achieving that timelessness is the incorporation of elements from far-flung places, which are a mainstay of each of his projects. In the Venice pied-à-terre, for example, he installed African masks, an 18th-century Japanese screen and a Moroccan Berber rug. He traces his attraction to such pieces to childhood vacations in Cuba, Kenya and Egypt.
After finishing his university studies in Milan, Casiraghi moved to Paris for a six-month internship in architect Dominique Perrault's office. It was on his return to his hometown, in 2012, that he had a eureka moment while volunteering as a fundraiser at Piero Portaluppi's modernist masterpiece, the Villa Necchi. "Everything there was designed so impeccably," he recalls. "I loved the quality of the door handles, the baseboards, the radiator covers." Working there, he explains, helped him understand that his taste for fine detail would be put to better use in interiors than architecture.
After two years at the hip Milanese design firm DIMORESTUDIO, he moved back to Paris, primarily for personal reasons. He set up his own firm there in June 2015 and has since worked on boutiques for the likes of Kenzo and jewelry designer Aurélie Bidermann, a dark and moody bar and restaurant in Hong Kong called Cassio and the Ftelia Beach Club in Mykonos.
Casiraghi likes that his aesthetic can be difficult to pin down. "For the French, it's very Italian," he says, "and for the Italians, very French." He himself perceives it as being more Milanese: "There is a certain rigor in my lines, but at the same time, something cozy and welcoming. For me, that's Milan — a sobriety coupled with warmth."
One common denominator in most of his schemes is a love of color. His current favorites include brick and coral. The idea of working simply with grays and beiges is quite unimaginable. "In Italy, that kind of palette doesn't exist, except in hospitals," he quips.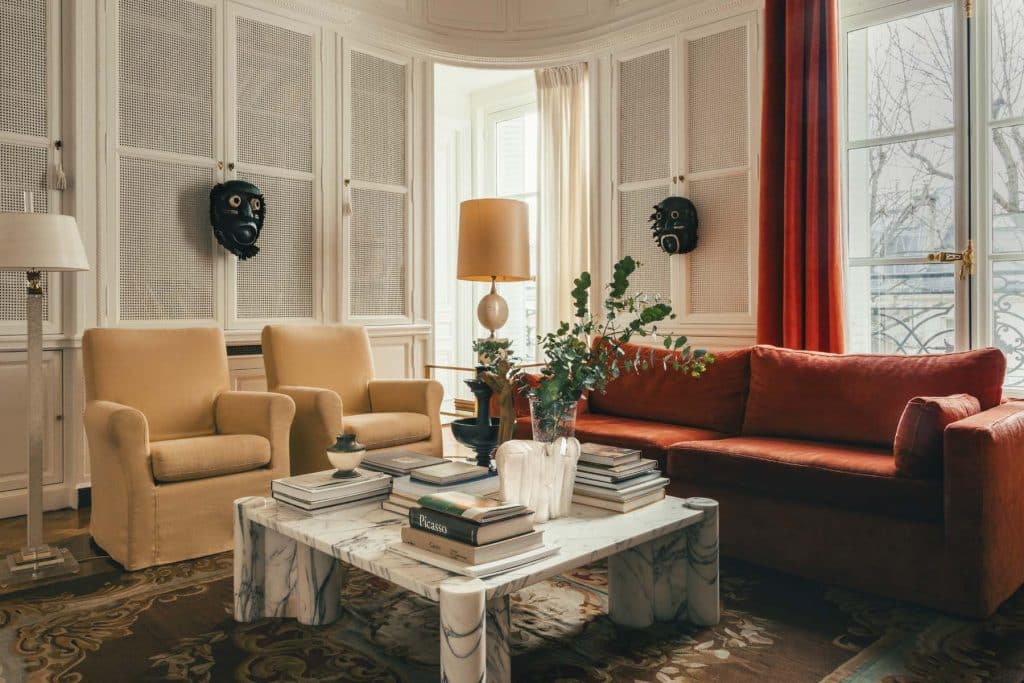 Casiraghi loves the furniture and architecture of Carlo Mollino and Giò Ponti and has an even greater passion for the Vienna Secession. The mix that Desselle so admires is key to his approach. "For me," he explains, "modernity is found in opposing elements that wouldn't normally go together."
The Invalides apartment, which he decorated for a couple with two young children, is a perfect example. At first, he admits, he was rather overawed by the extremely ornate architectural detailing. "Just think about walking into a sitting room with thirteen-foot ceilings and gilded friezes!" he says. "Whatever you add risks weighing it down even more. But I'm not a minimalist. I love adding things."
His solution was to tone down the heavy architectural detailing by painting much of it white and to incorporate more-low-key, pared-down furnishings, such as the finely woven coconut rug and the Malaparte sofas in the living room. For the dining room, he deployed a quintessential Casiraghi mix: Josef Frank chairs, a custom walnut dining table, Viennese Secession sideboards and an Isamu Noguchi paper lantern to which he added a tassel. "Mollino used to do the same thing," he says.
Casiraghi's own apartment — a sixth-floor walk-up in Paris's 9th arrondissement — displays an equally happy eclecticism. He was drawn to the former artist's studio for its ceiling height, two small terraces and fireplace. He enhanced its atelier ambience by painting the walls white and filling it with an accumulation of objects, including a pendant lamp by Josef Hoffmann, a wooden Art Deco bas relief, a chair by contemporary designer Frédéric Pellenq and a series of small geometrical paintings by his father, signed simply "Papa."
While the flat's 540 square feet perfectly suit his needs, his current office space near the Arts et Métiers metro station can barely contain him and his very busy team of seven. At present, Casiraghi is working on two Parisian apartments, a new global boutique concept for traditional candlemaker Cire Trudon, hotels in London and Lisbon and a nearly 7,000-square-foot villa in Miami's South Beach.
Whatever the future brings, Casiraghi intends to maintain a very hands-on approach. "I don't want to just churn out projects," he asserts. "I want to select them, to choose my clients and to spend lots of time with them. For me, that's an essential part of my work."
---
Fabrizio Casiraghi's Quick Picks