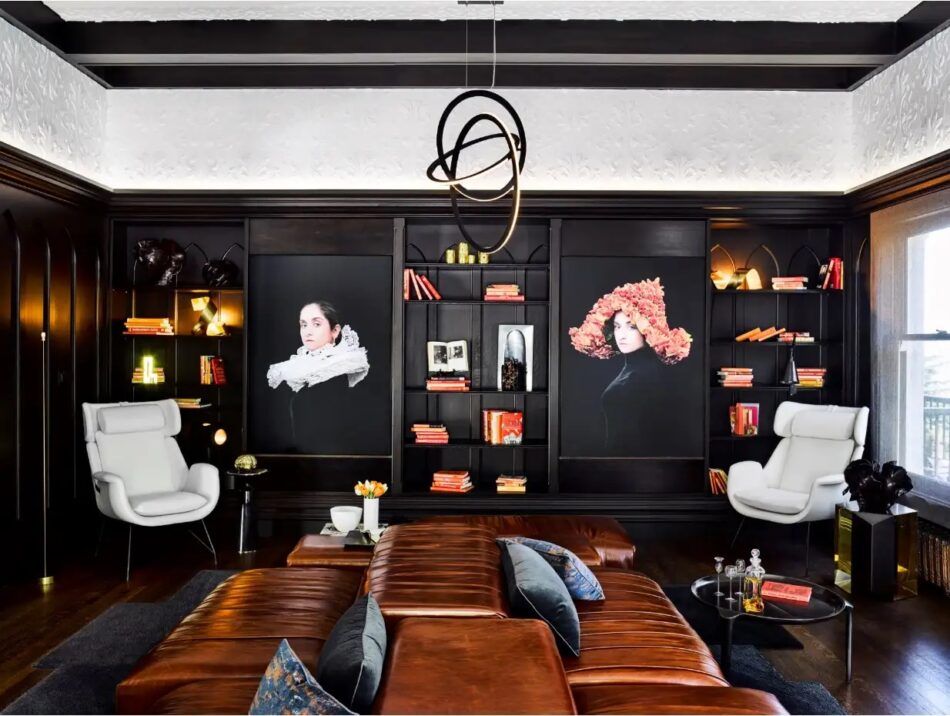 Decorator showhouses are vehicles for designers to present ideas without constraints, to stretch and take risks. One thing Martin Kobus wanted to articulate with this room at the 2017 San Francisco Decorator Showcase, held in a 1904 Classical Revival home, was the power of black.
"We think black is always a win," he says. "With the darkness surrounding the room, it allows the people in the room to stand out. Also, art is magnified by black."
Here, some of the art was inspired by the works of Kobus's fellow Netherlands native Hendrik Kerstens. The decorator riffed on his countryman's contemporary take on Old Master portraits with two large light-box photos of an intern at his firm. White 1950s Augusto Bozzi for Saporiti chairs also pop against the dark walls, while black ceramics from Elan Atelier, on the shelves and on a side table reinforce the color scheme. In the center is a custom leather sectional.
---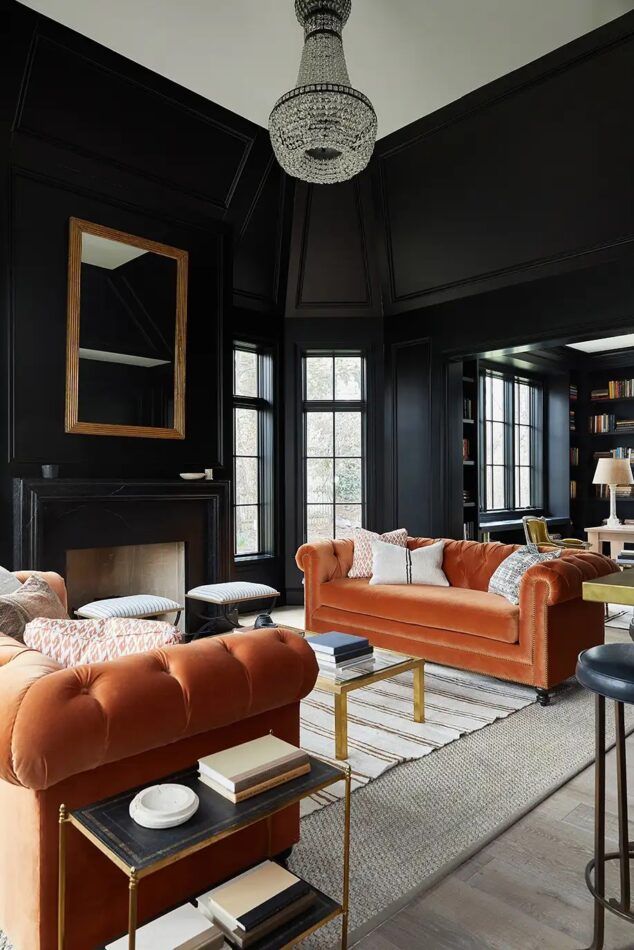 What to do when you relocate to the burbs and lose ready access to the bars and lounges you used to frequent? Having moved to this home on Chicago's North Shore to raise their family, its young owners asked designer Wendy Labrum to extrapolate from their favorite watering holes when updating the living room and contiguous library. So, she plunged both into black.
"The ceilings and tall windows actually allow so much light in during the day that it can feel bright despite the dark tone," says Labrum. She introduced contrasts to the shadowy palette with persimmon chesterfield sofas inspired by Chicago's Soho House, light oak floors and jute and flat-weave rugs. A brass-and-glass mid-century coffee table, Maison Jansen double-shelved end tables, a French gilt mirror and a crystal Empire-style chandelier — all purchased through 1stDibs — ramped up the sense of downtown glamour.
---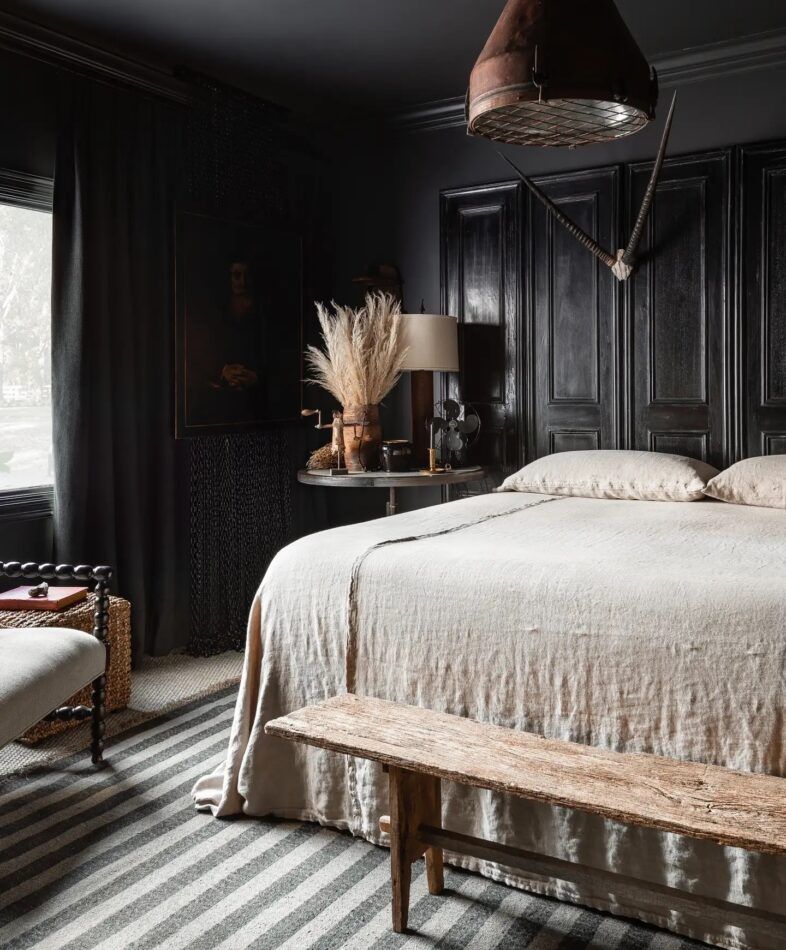 Designers' homes are their laboratories. And so it was for Sean Anderson's house in suburban Memphis, where he experimented with the all-black interior he'd been craving.
In the primary bedroom, the color creates "a cave-like feel," Anderson observes. "There's no better sleep for me. I feel wrapped in warmth. It's so cozy, and it highlights all the textures of the room — the wood tones, the patinated metals, the linens."
A scavenger since his youth on a Mississippi farm, Anderson filled the space with items that pop against the black: a copper pendant from Revival Home, in Chattanooga; an 1800s workbench at the foot of the bed; a 1920s industrial steel table with a zinc top; and a working early-1900s table fan. Black door panels serve as a headboard, and a reproduction Old Master portrait hangs against a curtain of chains he painted black and aged outside. "I'm such a fan of layering," Anderson says. No kidding!
---
Lindsay Gerber's "light remodel" of a Pacific Heights home, in San Francisco, for her thirtysomething friends mirrors their personalities. "They are the epitome of a fancy-free young couple that travels all over the world," she says, "the kind of people whose fridge is only stocked with champagne."
It followed that their guest bath should "feel like a good club's bathroom, with a sexy, provocative mood," Gerber says. Black was an obvious choice, but "I refuse to just paint a wall black. That feels like a murder dorm room."
Instead, she manifested ebon élan with an emphasis on textural elements: a coffee-stained parquet floor, buffed Venetian plaster walls and ceiling, Nobilis linen shades and a sink of Nero Marquina marble. Rubbed-bronze fixtures and Apparatus sconces of antiqued brass offer mellow metallic accents against a suite of blacks that are anything but basic.
---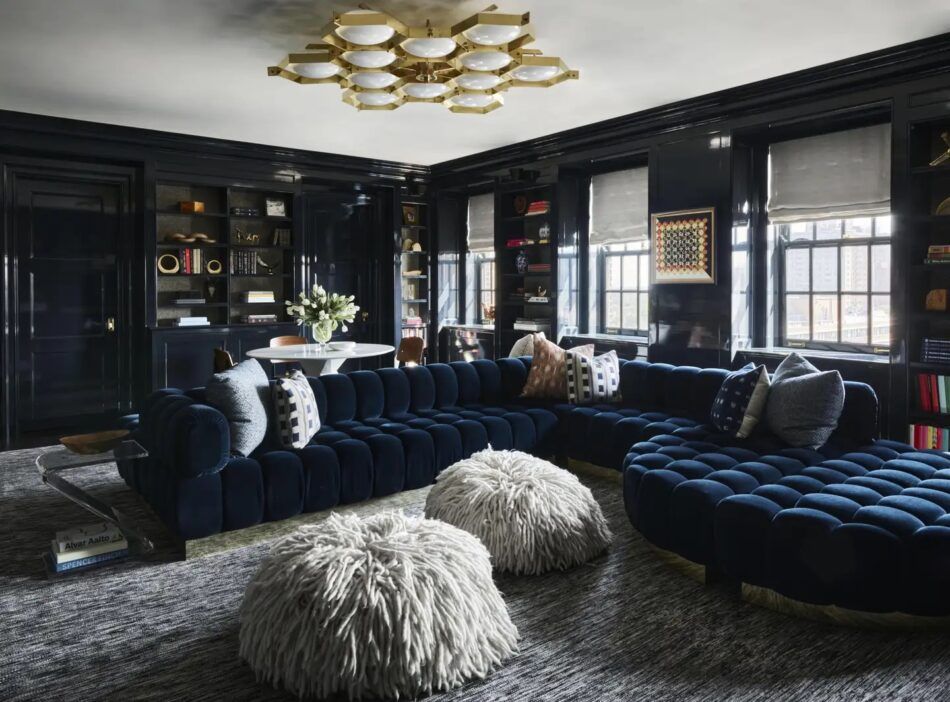 "And now for something completely different." The old Monty Python refrain is appropriate for this family room in a distinguished townhouse in Chicago's Lincoln Park neighborhood: In its previous iteration, executed by Sasha Adler years ago, it was painted ivory, and the new owners asked her back to create something moody yet elevated.
"The black piano lacquer of the millwork has a reflective quality that gives the room a little pizzazz," Adler says. So does the black-and-white grass cloth backing the shelves, which adds texture and layering without distracting from the objects on show.
Adler worked with Todd Merrill to customize his popular tufted sectional, expanding its function to accommodate lounging on one side and seating at a custom table on the other, supplemented by Jean Prouvé Standard chairs. Venetian lighting house Fabio Ltd. crowned the space with its spectacular 1970s-style Hive fixture.
---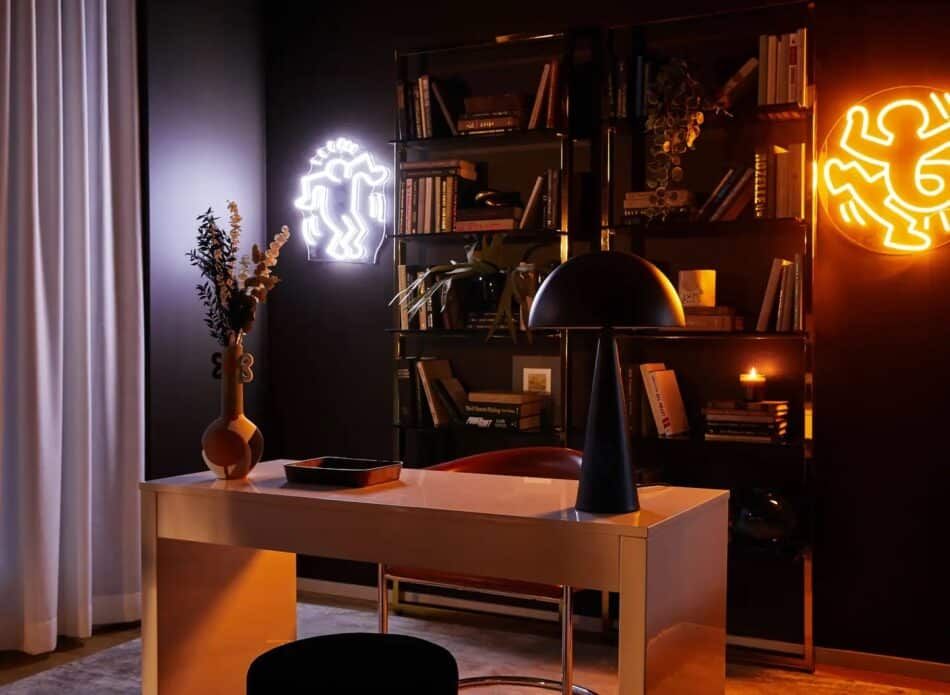 "We don't believe in appealing to the widest audience but to the right audience," says Andrew Bowen, a partner at ASH NYC. Case in point: the model penthouse apartment the firm designed for 75 Kenmare, a 38-unit condominium building in the Nolita neighborhood of Manhattan, and more particularly, the study, which features black walls.
"The residence has great natural light," says Bowen, "and there were plenty of opportunities for lighter spaces elsewhere." Here, he and his team wanted an arresting room that could operate as a foil for bold neon works by Keith Haring. These flank a contemporary lacquer desk paired with a 1970s tubular steel chair. Across the room, a Serge Mouille floor lamp casts light over a custom sofa, and an Isamu Noguchi Akari table lamp brightens a two-tier bar cart. It's a great space both to work in by day and to lounge in with a martini at night, when the dark walls blend into the inky sky twinkling with the lights of the cityscape outside the window.
---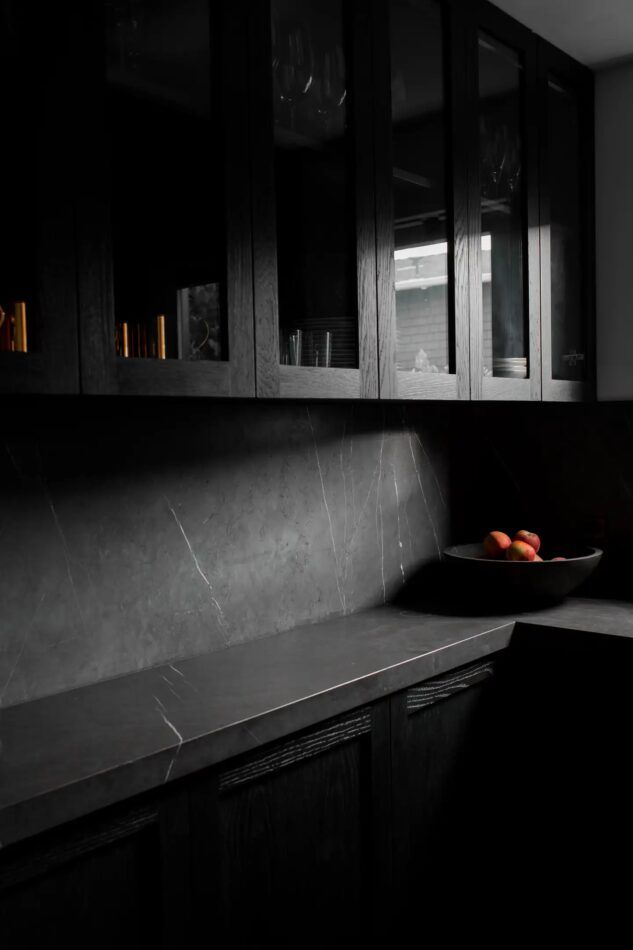 Courtney Applebaum thought about this pantry in a young couple's getaway home in Santa Monica's Rustic Canyon as "a 'moment' between a white kitchen and a light-colored dining room."
Defining that transitionary space in an emphatic way called for something theatrical — but "I still wanted it to feel soft," Appelbaum says. So, she gave the oak cabinets a matte black stain that allowed the grain to come through, then sealed it with wax, giving it the subtlest light-catching sheen. "I chose not to have any hardware on the cabinets," she adds. Why? To keep the attention on the tactile quality of the wood grain, of course.
The success of this space lies in its pristine simplicity. The only other material besides the glass of the cabinets is delicately veined, finely honed Nero Marquina marble, used for the countertop and backsplash.
---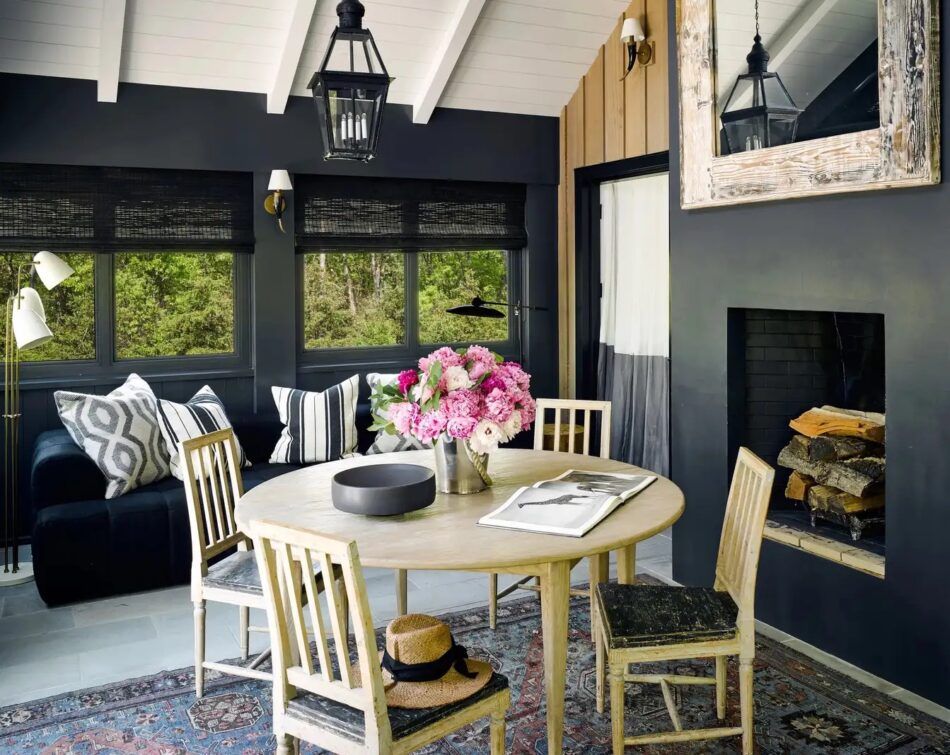 "Everything in the Hamptons is always so white — all white or white with blue or white with green," says Estee Stanley. But her client for this Sag Harbor home, the actress Ellen Pompeo, "is unique and doesn't like to do anything everyone else is doing."
With Pompeo's contrarian tastes in mind, Stanley explored the other end of the spectrum throughout the residence, most surprisingly on the screened porch. The black, she points out, creates a dramatic frame for the lush green landscape around the barn-like structure.
"A screened porch is one of my favorite rooms in a house," she says, "because it allows you to feel outside without actually being outside. This is especially nice at night. The chicness of the black gives it a sexy vibe." Pompeo and her family can lounge with a book on a custom sofa or have dinner by the fireplace on antique furniture sourced through Bloom.
---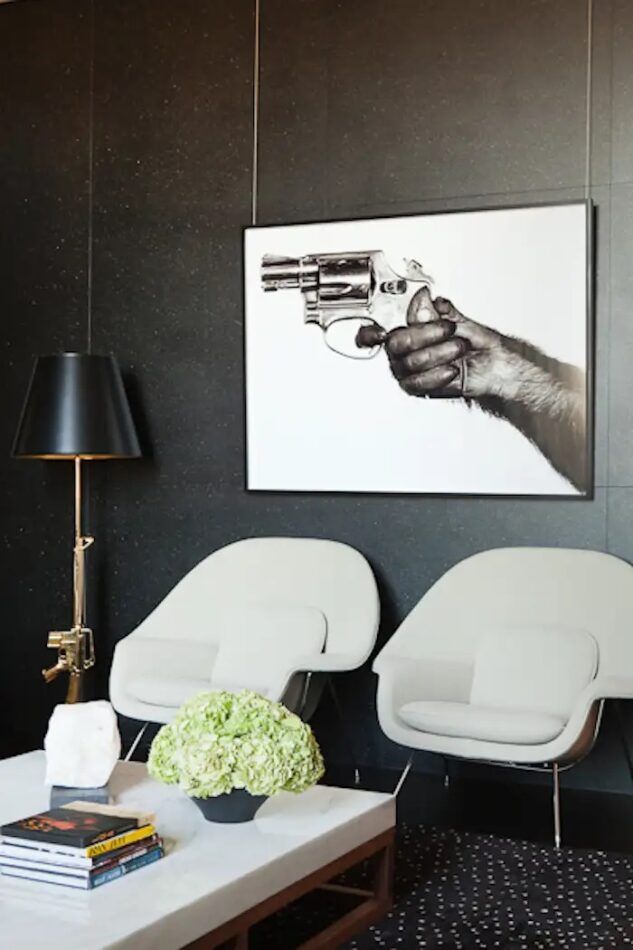 One doesn't hang a gigantic picture of a chimpanzee holding a revolver by renowned photographer Albert Watson in the office of a sports industry executive's Las Vegas home and expect the rest of the room to simply submit to its presence. "He collected very interesting pieces of art," Taylor Borsari says of her client, who also asked her to incorporate another large-scale Watson (a black-and-white image of the back of Mike Tyson's neck and head, glistening with sweat) and a Guido Mocafico photo of a hairy tarantula.
Borsari's response? Walls made of honed Zimbabwean black granite slabs — "super intense and saturated and enormous," because black plaster would have been too milquetoast. "Material play has to be as important as color play," she explains. White Saarinen Womb chairs heighten the visual tension, as does an M16 floor lamp by Philippe Starck for Flos, which sports a brass assault rifle as its base.
---
Kyle O'Donnell, the creative mind behind Gramercy Design, used to live in a late-19th-century building at 95th and Riverside Drive on New York's West Side. Although admitting that black "is a pretty bold choice, especially in a small space like this bathroom," he feels it's right for a Manhattan apartment, since it channels that quintessentially metropolitan style, Art Deco.
Ralph Lauren sconces of ribbed glass with chrome accents, an RH mirror above the sink and more chrome on the bathroom fixtures all have a glamorous polish that emphasizes the reflectivity of the black glazed tiles, making the whole composition pitch-perfect Deco swank.
Still, O'Donnell made sure to build in relief in the form of a white Carrara marble floor and sink and by leaving a band of white above the tiles. He notes, moreover, "I wouldn't have done it if there weren't already a window in the shower to let in some natural light."
---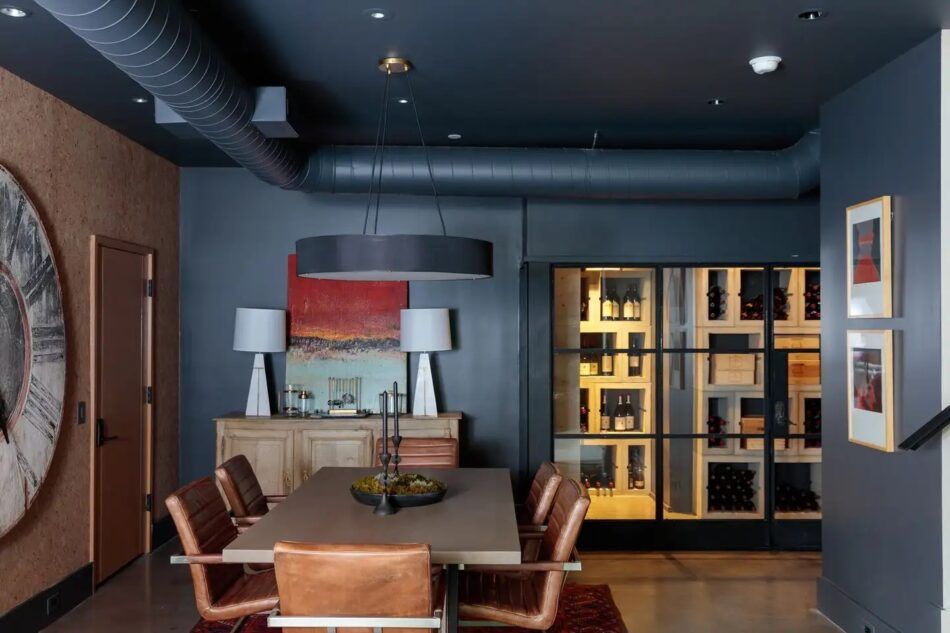 The Relais & Chateaux–designated resort community of Blackberry Farm sits on 4,200 acres in Tennessee's Smoky Mountains. The retreat is known for its emphasis on fresh foods, many grown on the premises. To enhance the culinary experience, Jason Bell, Blackberry Farm's director of design, wanted to make the wine cellar in one of the property's guest houses a noteworthy feature. "We liked how using black allowed the view to the wine cellar to have more depth," he notes. One wall is covered in cork, but everything else, including the hallway, is swathed in Benjamin Moore's Black Beauty, whose richness permitted liberal use without the risk of making the space gloomy.
An Arteriors chandelier hangs over the custom table in the foreground. On the credenza behind them, a colorful canvas by Laura Spring (acquired through 1stDibs) adds a bright focal point.
---
"I love how black gives you a dark core in the center of this light-filled white space," says designer Kimille Taylor, referring to the kitchen of a contemporary high-rise apartment in Manhattan. "We knew we were going to keep the walls in the space white, but we envisioned a dark kitchen."
The burnished finish on the cabinetry gives the wall of black doors a sense of movement and texture. Taylor complemented this with a slab of Cosmic Black granite atop the stainless-steel island. The pitchy composition anchors the open-plan space. From the comfy counter stools guests can take in some of the clients' important works of art: a Mel Bochner word painting, Guy Goodwin's orange and blue Compound for the Knicks and Gary Hume's chartreusey Green Nude.
---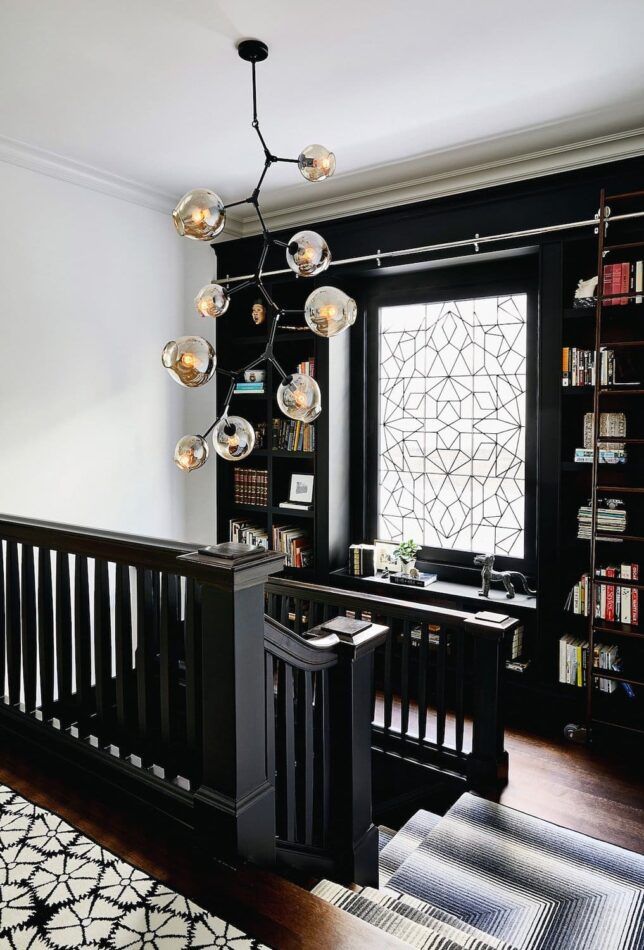 "This was originally an empty staircase landing, and I wanted to breathe new life into this space and create something both beautiful and functional for the homeowners," says Tineke Triggs of this San Francisco home. "We designed this mini library and painted it all black to create an edgy and sophisticated vibe. I added a custom leaded glass window to bring further drama to the space. Its design was inspired by a traditional Scandinavian quilt pattern and is a nod to the homeowners' Swedish roots."
"Decorating with black as a backdrop allows something else to stand out, like a great piece of art. And, just like the technique used in painting, black can create depth and bring a three-dimensional feel to a space."
---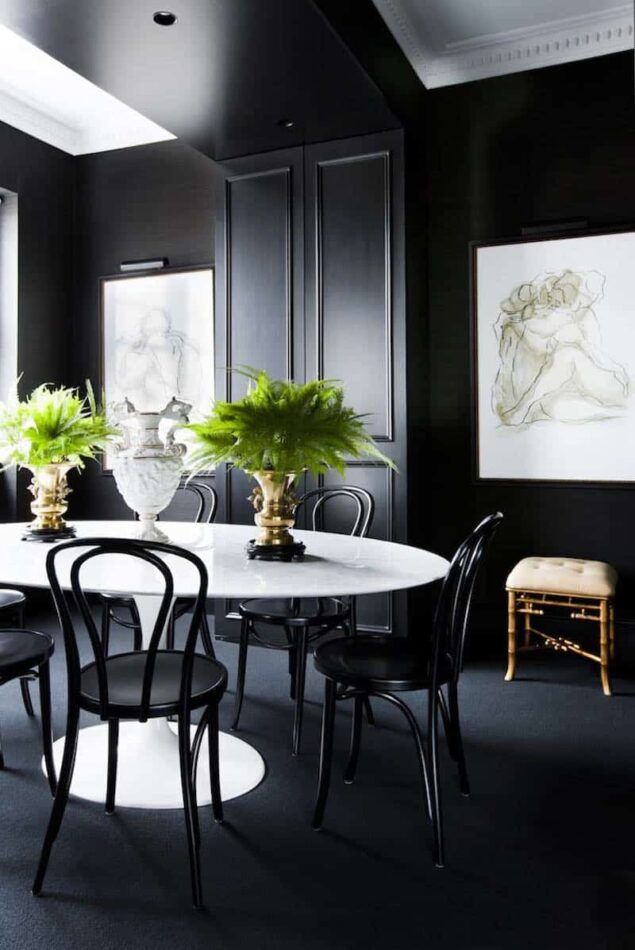 "The use of black was conceived as a dramatic backdrop for the dining room," says Brendan Wong, describing his approach to this space in an apartment in Sydney, Australia. "Ebonized timber panels form the arch over the dining table, flanked by black grasscloth walls creating a textured base on which the artwork now pops. Using black, I wanted to boldly announce the dining space as separate from the rest of the home."
"It's important when decorating with black to have other materials and finishes that bring balance and contrast. Here, I've used a large white marble Eero Saarinen dining table, gold chinoiserie stools and vintage brass urns filled with greenery."
---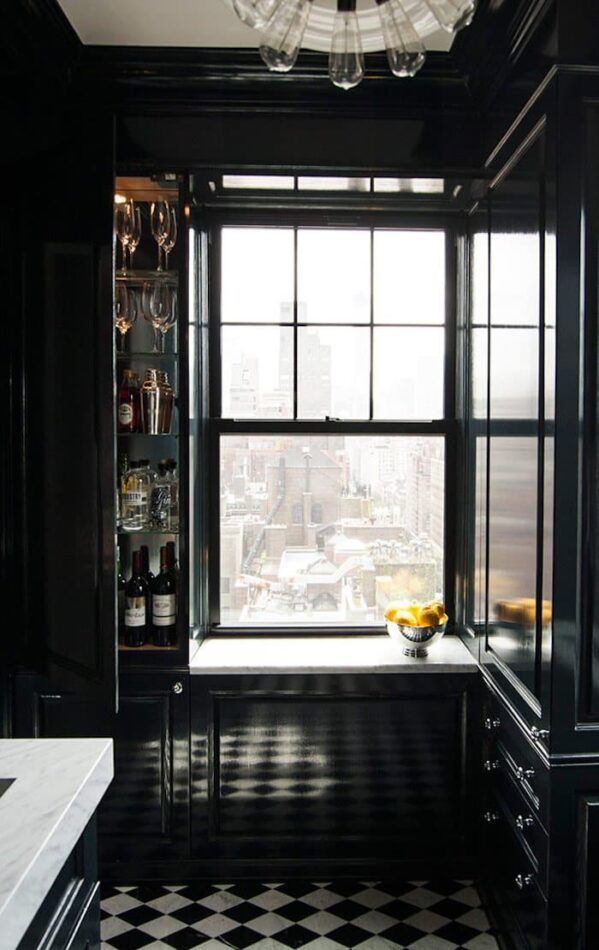 "This kitchen is in a pied-à-terre at the top of one of the towers of a Park Avenue building on the Upper East Side," says Janine Carendi MacMurray of Area Interior Design. "The kitchen is very small, and instead of shying away from a dark color, I chose to use it to my advantage and selected a high-gloss lacquer finish to reflect the light. The inspiration was the Park Avenue building itself with the classic marble black-and-white lobby diamond floors."
"When using black, one of my recommendations is to choose a material to create contrast. To me, the old saying that dark colors make spaces smaller is inaccurate. Small spaces are a perfect place to take risk with color. Be bold and don't go in-between with black when it comes to sheen. Either go super gloss/lacquer or chalk matte. It feels fresh and bold with either."

---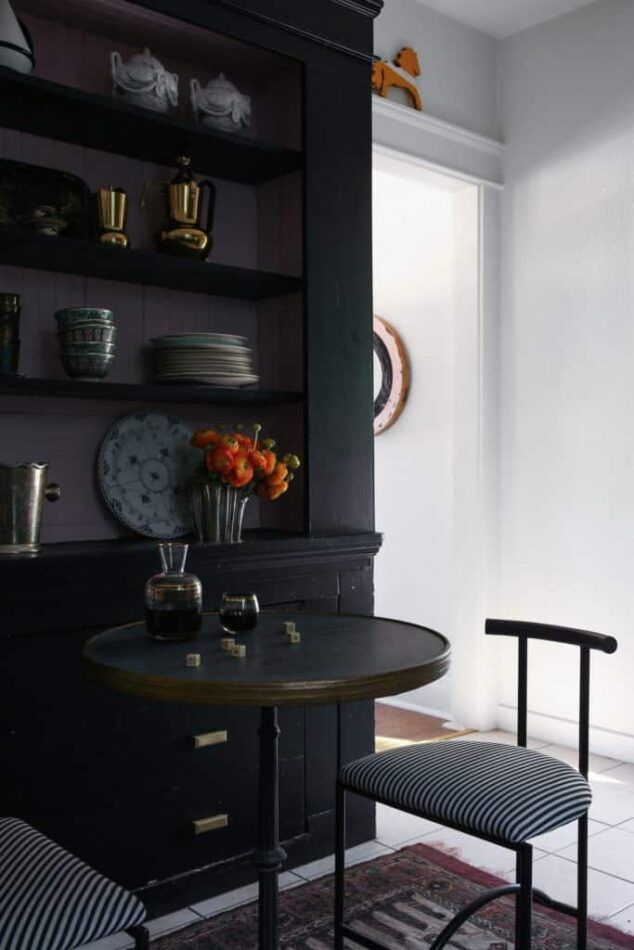 "This view is from my kitchen looking into my living room space," Studio Hus founder Tatum Kendrick says of her Los Angeles home. "The cabinet on the left was a built-in piece that I chose to paint black with a shell pink interior and brass pulls."
"I wanted to create a space that felt collected, eclectic and moody. The black paint for me was a timeless choice. Black is powerful and very fun to incorporate into interiors. It sharpens edges, helping to define and bring attention to certain elements — whether they are doorways, light fixtures or soft furnishings. I like to use it like a punctuation point at the end of a sentence."

---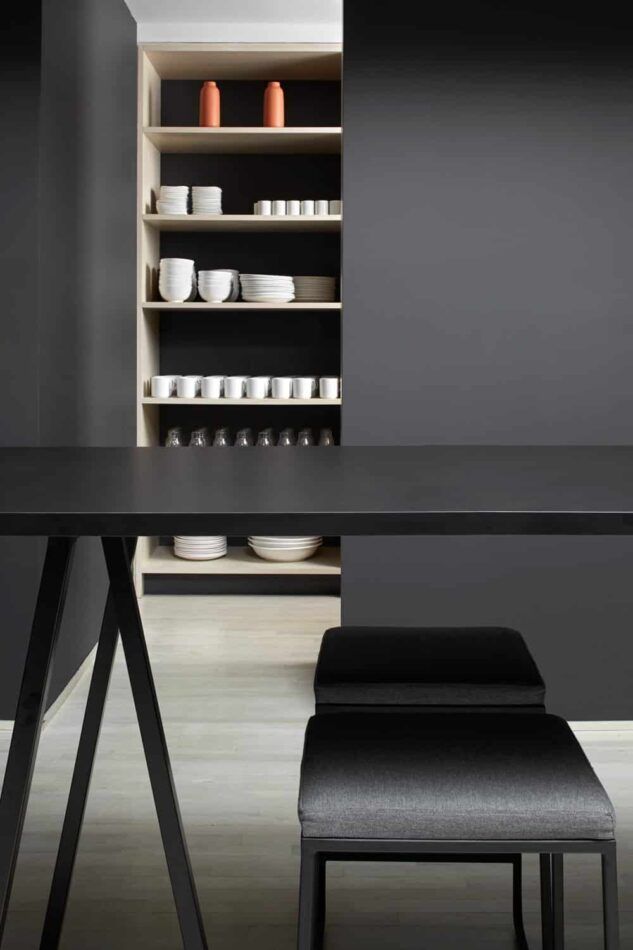 "Square Inc.'s New York office takes up three floors in a landmark building located in the Soho Cast Iron district of Manhattan," says Magdalena Keck. "The objective was to create a space that responds to the ethos and philosophy of the company where teamwork, innovation and the flow of ideas are encouraged."
"In the kitchen, the dark vertical surface is the back of a very large niche; the color provides a sense of even greater depth. In front of the recessed dark backdrop is a black table and dark stools, all tone on tone. This is the front part of the kitchen, a place to gather. The dark elements decisively mark this social heart of the entire space. The light slits in the dark surface create entrances to the back of the kitchen, which is lined with oak cabinetry and white dishes. When using black, add white and neutral; the ratios can vary depending on mood and needs. Play with light and texture, and the space will always feel elegant and peaceful."

---
"This space is the back of a huge home theater for a royal family in Dallas, Texas," says Kari Whitman. "The table is mid-century modern and was featured in the furniture museum in Chicago, while the chairs are by Milo Baughman. Walls are covered in Donghia blue-black Pollack fabric with black mirror inlays, and I designed the ebony cabinet. I wanted a clean and modern yet cozy and eclectic look because this space is for hanging out and eating. People think black makes rooms smaller. I beg to differ. Black gives depth, pops colors and texturizes anything on top of it. I used recycled leather floors and a gunmetal ceiling so the room feels large and cozy."

---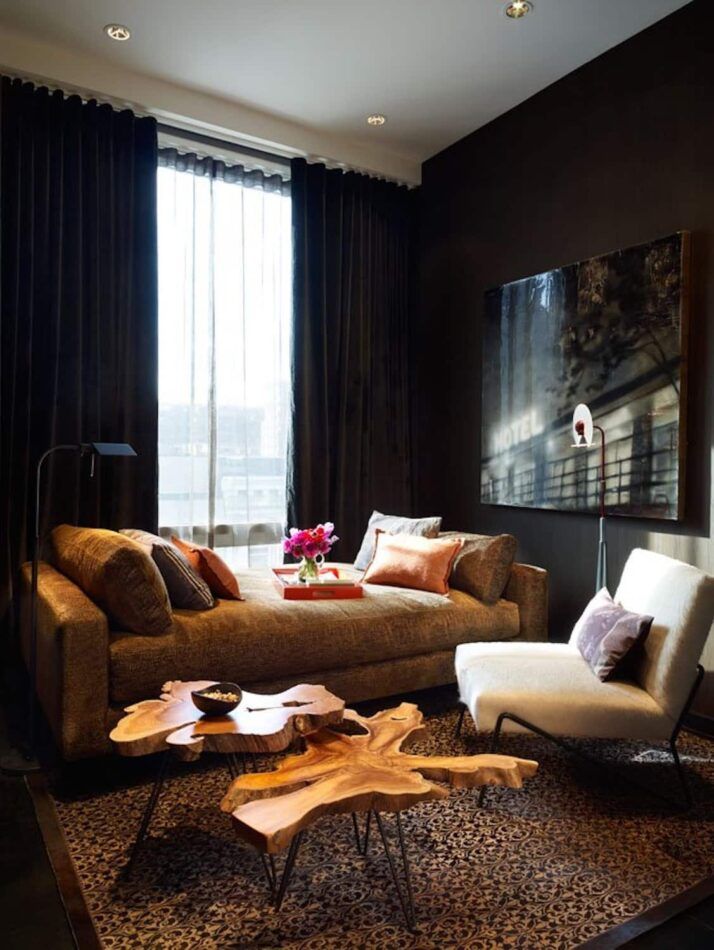 "This living room in New York has pleated black silk walls and ebonized wood floors. The curtains are charcoal mohair, and I made a custom daybed that doubles as a guest bed when needed," says Bradley Bayou. "I found a vintage lounge chair and upholstered it in white hair-on-hide for a bit of contrast."
"I wanted to make the room cozy and a place to escape. I was inspired by Morocco and opium dens. The room was designed to be a refuge from the city. Black is a great color to contrast against — it's a base. It also creates a sense of intimacy."

---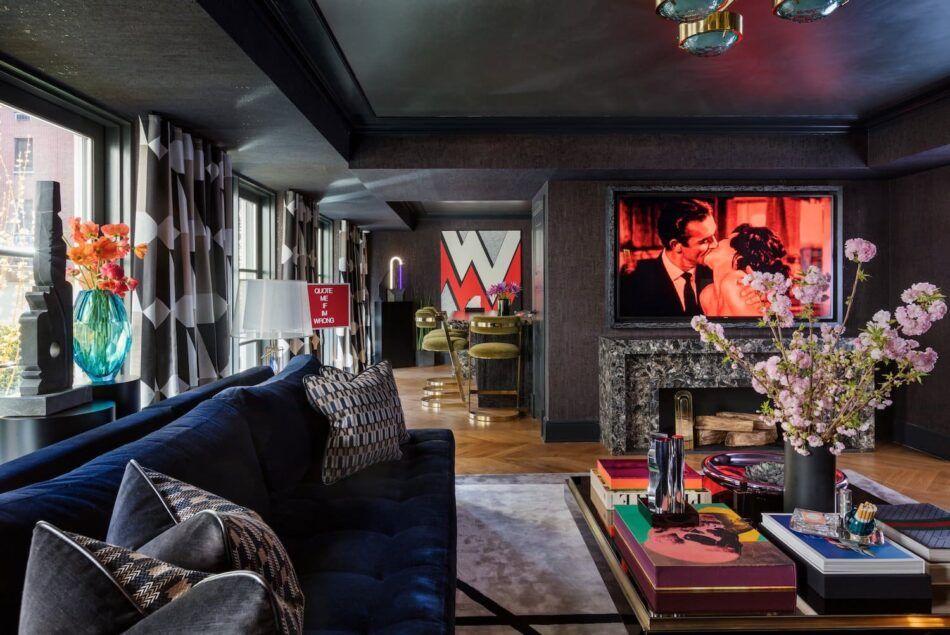 "I created 'the Afterparty' as a design cocktail intended to pique the senses. You don't just look, but you touch and feel in this '70s-inspired homage to playful decadence and indulgence," Andrew Torrey says of the family room he design for the 2018 Kips Bay Decorator Show House.
He adds: "Luxurious textures fill the room, making for a highly tactile environment. The hushed, private feel of this late-night sanctuary is replete with a wraparound bar, smoking terrace, deep sectional seating and fireplace. It's intended for the most discerning night owls. Dark gold-foil cork wall covering absorbs sound and creates a shimmering effect, while the gold-foiled ceiling adds glamour and visual height."
The painting in the background is Volatility VI by Charles Lutz, and the arty video on the television is BONDrian: License to Love, showing romance scenes from various James Bond movies in alternating primary colors à la Piet Mondrian. An erotic photo by Ellen von Unwerth (not shown) hangs nearby, as if to punctuate the sexy mood.
---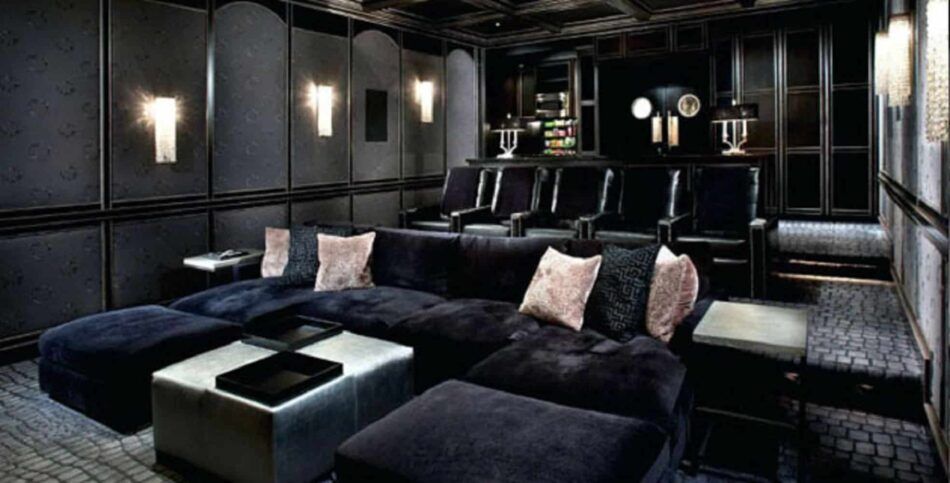 "Black is a color that has many depths and grades to it," says Louise Caplan, executive director of British firm Lexington W Holdings. "If you were to have a really bright room with lots of natural light and then apply a black emulsion paint to the walls, you could end up with a very stylish alternative to the boring dark gray we all want to wave goodbye to."
For this screening room inside a penthouse in London's Mayfair neighborhood, "the client wanted to neutralize the 'green-screen' coming from the TV, and one of the best ways to do this for a cinema room is to paint it noir black," Caplan adds. "Mix this with Ian Sanderson's Rostov velvet in Titanic for a glamorous feel and a soft, thick-pile carpet for a touch of luxury."