Bold, powerful and elegant, black never goes out of style. Top interior designers share some of their favorite noir projects and tips for decorating with black.
---
Hall
"This was originally an empty staircase landing, and I wanted to breathe new life into this space and create something both beautiful and functional for the homeowners," says Tineke Triggs of this San Francisco home. "We designed this mini library and painted it all black to create an edgy and sophisticated vibe. I added a custom leaded glass window to bring further drama to the space. Its design was inspired by a traditional Scandinavian quilt pattern and is a nod to the homeowners' Swedish roots."
"Decorating with black as a backdrop allows something else to stand out, like a great piece of art. And, just like the technique used in painting, black can create depth and bring a three-dimensional feel to a space."
---
Dining Room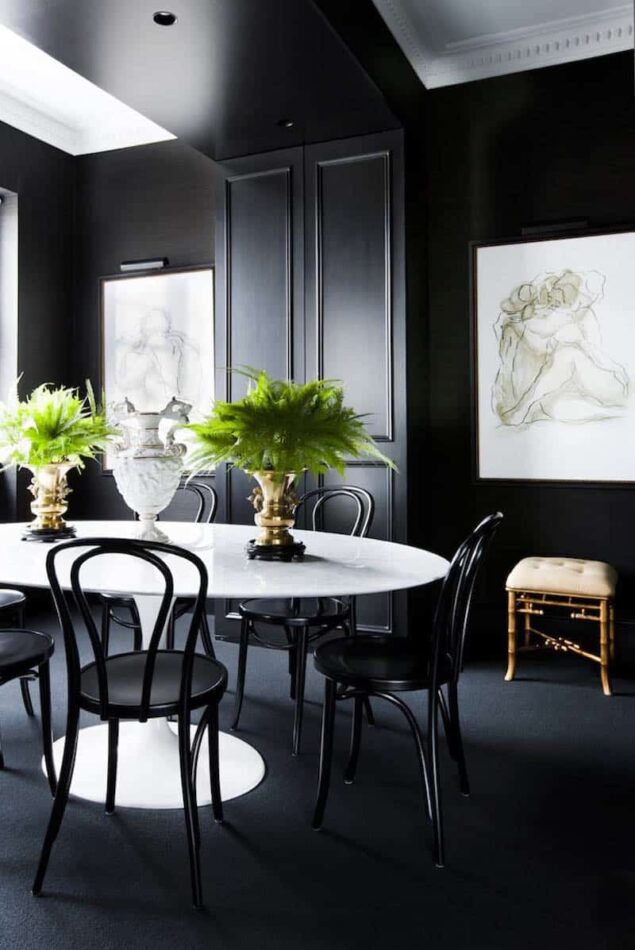 "The use of black was conceived as a dramatic backdrop for the dining room," says Brendan Wong. "Ebonized timber panels form the arch over the dining table, flanked by black grasscloth walls creating a textured base on which the artwork now pops. Using black, I wanted to boldly announce the dining space as separate from the rest of the home."
"It's important when decorating with black to have other materials and finishes that bring balance and contrast. Here, I've used a large white marble Eero Saarinen dining table, gold chinoiserie stools and vintage brass urns filled with greenery."
---
Kitchen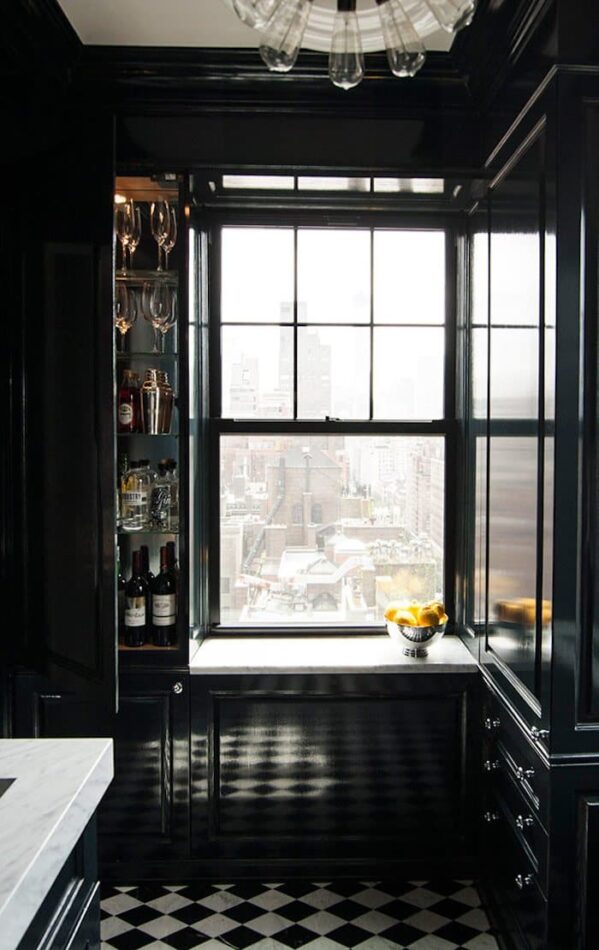 "This kitchen is in a pied-à-terre at the top of one of the towers of a Park Avenue building on the Upper East Side," says Janine Carendi MacMurray of Area Interior Design. "The kitchen is very small, and instead of shying away from a dark color, I chose to use it to my advantage and selected a high-gloss lacquer finish to reflect the light. The inspiration was the Park Avenue building itself with the classic marble black-and-white lobby diamond floors."
"When using black, one of my recommendations is to choose a material to create contrast. To me, the old saying that dark colors make spaces smaller is inaccurate. Small spaces are a perfect place to take risk with color. Be bold and don't go in-between with black when it comes to sheen. Either go super gloss/lacquer or chalk matte. It feels fresh and bold with either."

---
Nook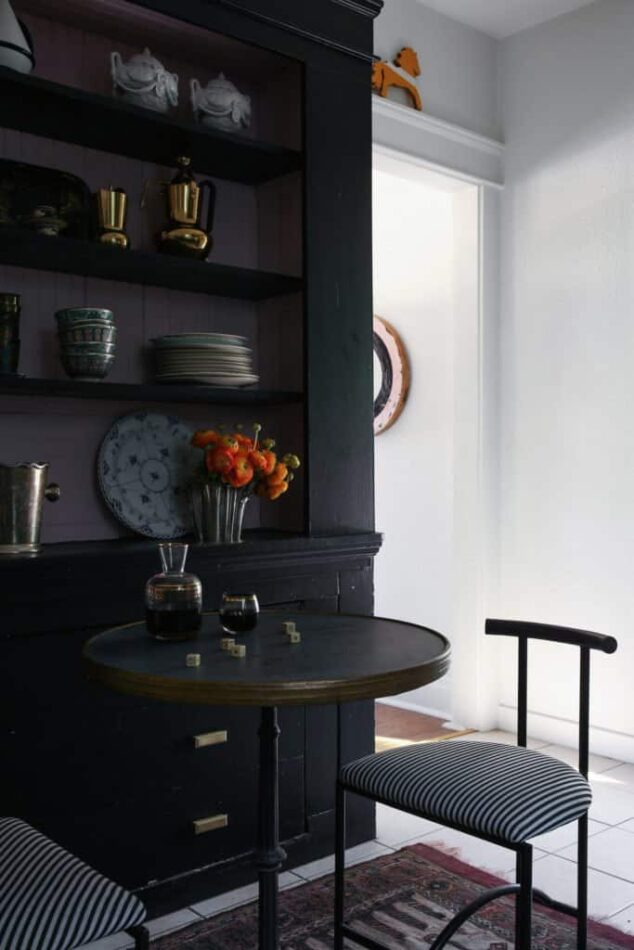 "This view is from my kitchen looking into my living room space," Studio Hus founder Tatum Kendrick says of her Los Angeles home. "The cabinet on the left was a built-in piece that I chose to paint black with a shell pink interior and brass pulls."
"I wanted to create a space that felt collected, eclectic and moody. The black paint for me was a timeless choice. Black is powerful and very fun to incorporate into interiors. It sharpens edges, helping to define and bring attention to certain elements — whether they are doorways, light fixtures or soft furnishings. I like to use it like a punctuation point at the end of a sentence."

---
Kitchen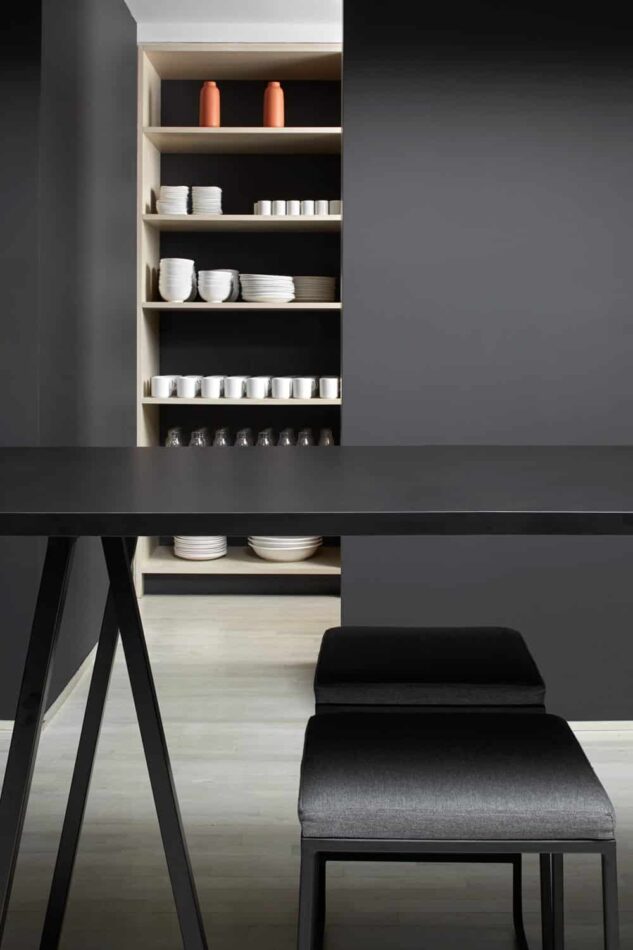 "Square Inc.'s New York office takes up three floors in a landmark building located in the Soho Cast Iron district of Manhattan," says Magdalena Keck. "The objective was to create a space that responds to the ethos and philosophy of the company where teamwork, innovation and the flow of ideas are encouraged."
"In the kitchen, the dark vertical surface is the back of a very large niche; the color provides a sense of even greater depth. In front of the recessed dark backdrop is a black table and dark stools, all tone on tone. This is the front part of the kitchen, a place to gather. The dark elements decisively mark this social heart of the entire space. The light slits in the dark surface create entrances to the back of the kitchen, which is lined with oak cabinetry and white dishes. When using black, add white and neutral; the ratios can vary depending on mood and needs. Play with light and texture, and the space will always feel elegant and peaceful."

---
Lounge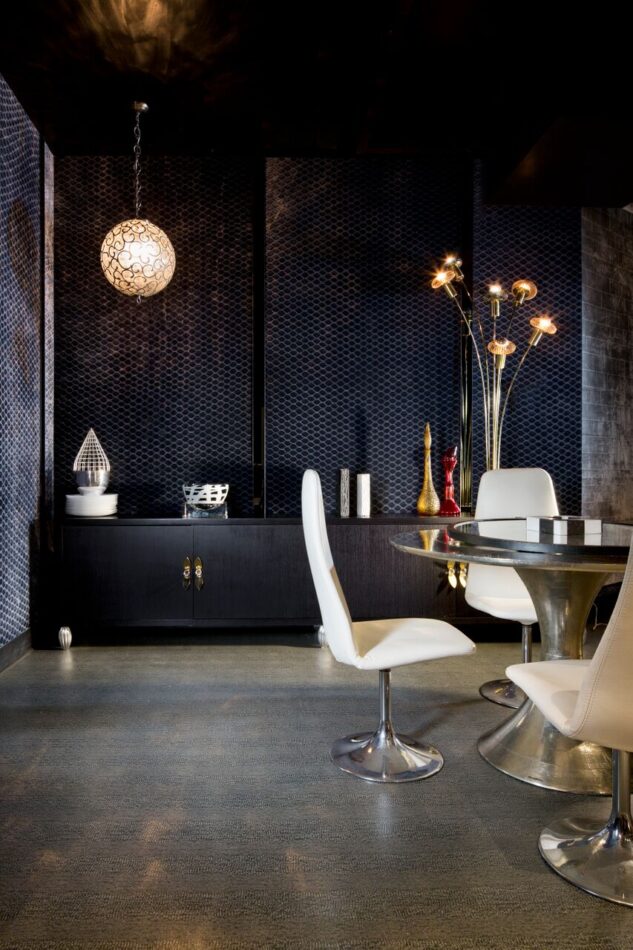 "This space is the back of a huge home theater for a royal family in Dallas, Texas," says Kari Whitman. "The table is mid-century modern and was featured in the furniture museum in Chicago, while the chairs are by Milo Baughman. Walls are covered in Donghia blue-black Pollack fabric with black mirror inlays, and I designed the ebony cabinet. I wanted a clean and modern yet cozy and eclectic look because this space is for hanging out and eating. People think black makes rooms smaller. I beg to differ. Black gives depth, pops colors and texturizes anything on top of it. I used recycled leather floors and a gunmetal ceiling so the room feels large and cozy."

---
Living Room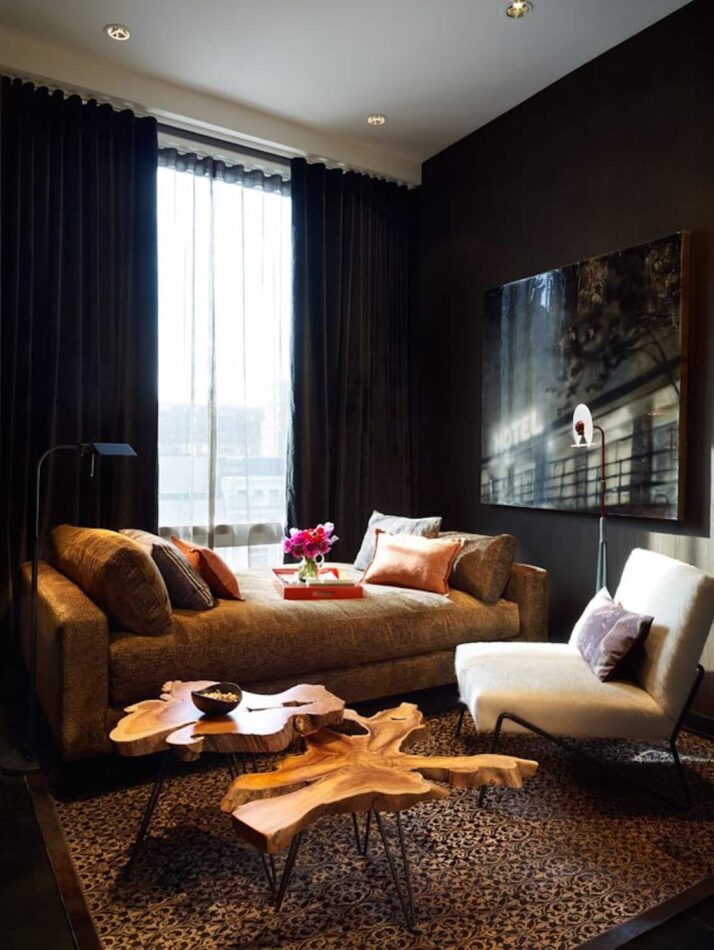 "This living room in New York has pleated black silk walls and ebonized wood floors. The curtains are charcoal mohair, and I made a custom daybed that doubles as a guest bed when needed," says Bradley Bayou. "I found a vintage lounge chair and upholstered it in white hair-on-hide for a bit of contrast. The pillows are early prototypes for my Bradley Bayou Home pillow collection."
"I wanted to make the room cozy and a place to escape. I was inspired by Morocco and opium dens. The room was designed to be a refuge from the city. Black is a great color to contrast against — it's a base. It also creates a sense of intimacy."

---
Family Room
"I created 'the Afterparty' as a design cocktail intended to pique the senses. You don't just look, but you touch and feel in this '70s-inspired homage to playful decadence and indulgence," Andrew Torrey says of the room he design for this year's Kips Bay Decorator Show House.
He adds: "Luxurious textures fill the room, making for a highly tactile environment. The hushed, private feel of this late-night sanctuary is replete with a wraparound bar, smoking terrace, deep sectional seating and fireplace. It's intended for the most discerning night owls. Dark gold-foil cork wall covering absorbs sound and creates a shimmering effect, while the gold-foiled ceiling adds glamour and visual height."
The painting in the background is Volatility VI by Charles Lutz, and the arty video on the television is BONDrian: License to Love, showing romance scenes from various James Bond movies in alternating primary colors à la Piet Mondrian. An erotic photo by Ellen von Unwerth (not shown) hangs nearby, as if to punctuate the sexy mood.
---
Cinema Room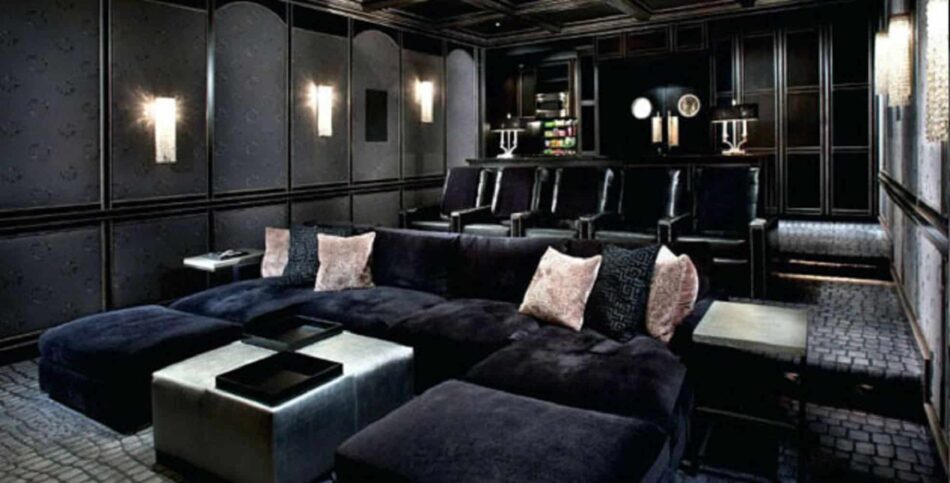 "Black is a color that has many depths and grades to it," says Louise Caplan, executive director of British firm Lexington W Holdings. "If you were to have a really bright room with lots of natural light and then apply a black emulsion paint to the walls, you could end up with a very stylish alternative to the boring dark gray we all want to wave goodbye to."

For this screening room inside a penthouse in London's Mayfair neighborhood, "the client wanted to neutralize the 'green-screen' coming from the TV, and one of the best ways to do this for a cinema room is to paint it noir black," Caplan adds. "Mix this with Ian Sanderson's Rostov velvet in 'Titanic' for a glamorous feel and a soft, thick-pile carpet for a touch of luxury."