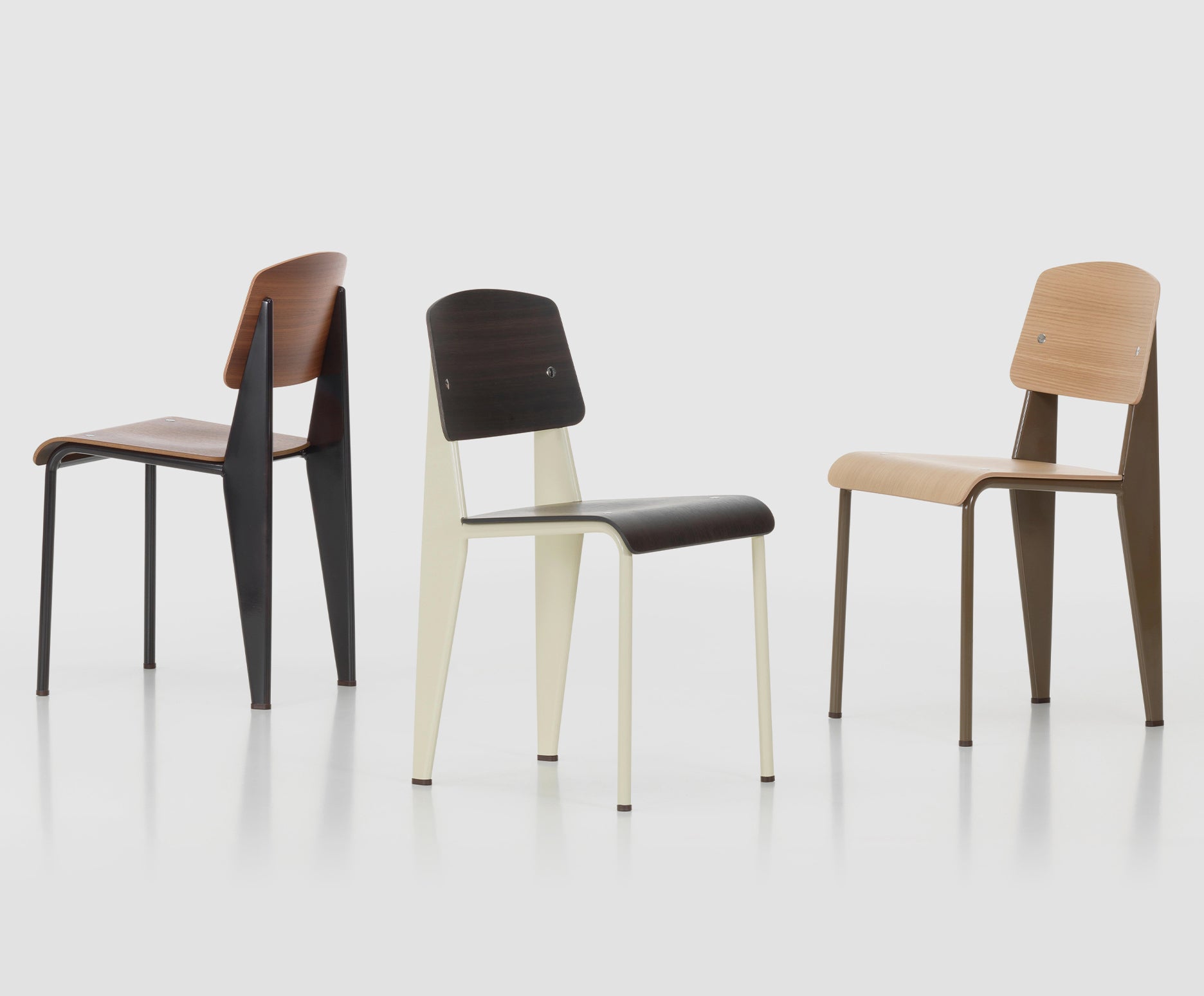 About the Design
Most people don't contemplate how a chair was engineered before they sit in it — they simply trust that it will support them. But the overtly utilitarian Standard chair confronts potential sitters with its design, demonstrating in a forthright manner the engineering that renders it possible for a chair to bear weight. For a traditional chair with four legs, such as the aptly titled Standard chair, it's the back two legs that carry the most stress. Its designer, Jean Prouvé (1901–84) demonstrates this concept through the piece's visually robust, fin-shaped rear legs and its slim, tubular steel front counterparts.
The largely self-taught French architect, born in Paris to visual artist Victor Prouvé and pianist Marie Duhamel, was surrounded by the arts from an early age: His parents' social circle in his adopted hometown of Nancy included furniture designer Louis Majorelle and glass artist Emile Gallé. The elder Prouvé cofounded an artist collective called École de Nancy ("the Nancy School"), a group that championed a connection between art and industry. The younger Prouvé was highly influenced by the aesthetics and ideals of the collective. He went on to study at the city's school of fine arts as a teenager, served as an apprentice to a blacksmith and then joined a metal workshop in Paris. In 1923, he opened his own workshop, where he focused on wrought-iron elements such as railings and lamps but also dabbled in furniture design. He continued to explore a merging of art, industry and society in his work, and during the interwar period and throughout World War II, Prouvé turned his attention to social projects made possible by mass production, designing bicycles, stoves and affordable prefabricated structures that served as army barracks, housing for refugees and even vacation homes.
It was during this period in 1934 that Prouvé designed the Standard chair for the University of Nancy, using tubular and sheet steel for the legs and wood for the seat and backrest. He more often thought of himself as an engineer rather than an architect or designer — a sentiment shared by Le Corbusier, a client of Prouvé's who regarded him as a constructeur, a "builder." Le Corbusier was just one renowned architect who Prouvé worked with over the course of his career; he also collaborated with furniture makers Charlotte Perriand and Pierre Jeanneret as well as artist Alexander Calder, resolving design problems with straightforward solutions. Today the Standard chair is produced by Vitra.
Jean Prouve Standard Chair