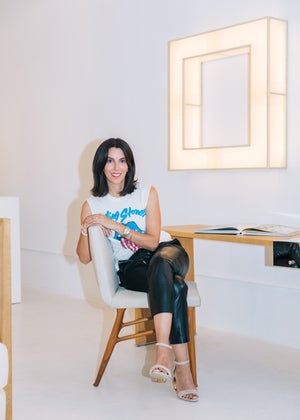 ;
Kimille Taylor believes that people's homes should be a unique reflection of who they are, not of the designer's personal taste. Her Riverside Drive apartment looks like her, not like anybody else. "I design for my clients' tastes and needs and wishes and loves, and it is a joy and privilege to be able to do so," Kimille says.
After earning a degree in art history, Kimille worked at Christie's and then apprenticed with an established New York City design firm. There she learned to integrate the business acumen she acquired at Christie's with her unique passion for beauty and aesthetics. "I started as a junior designer and left as the studio director," she says. "It was like getting my masters degree. I couldn't have asked for better teachers or for better opportunities to hone the skills I would need to launch my own design business." Which she did in September 2007.
Kimille takes great pleasure in designing elegant, comfortable homes for the real living needs of her clients. By mixing antique and modern furnishings, juxtaposing classic and whimsy, she creates interiors that are eclectic and luxurious with a sophisticated balance of color and texture. Whether it's a modern Manhattan high-rise, a rambling Hamptons beach house, or a magical Rocky Mountain retreat, she brings her energy and eye to every project.
Yet, ultimately, every project at Kimille Taylor Interior Design and Decoration is a team project. Kimille thrives on collaborating with her clients, on the give and take, the push and pull, because it brings out the best in her, and thus in the spaces she brings to life. In her words "I love what I do and that passion translates into homes my clients love."
Kimille's work has been featured in Elle Décor, Architectural Digest, Hamptons magazine, and Vogue.
Read More +
Coming Down The Mountain
Longtime Telluride homeowners find new connections—with friends, nature, community and each other—after downsizing from Mountain Village into the town's historical warehouse district
Read More
House Tour: Inside A Family Home That Proves Style And Practicality Can Co-Exist
For designer Kimille Taylor, decorating her own Manhattan apartment proved to be her greatest challenge yet.
Read More