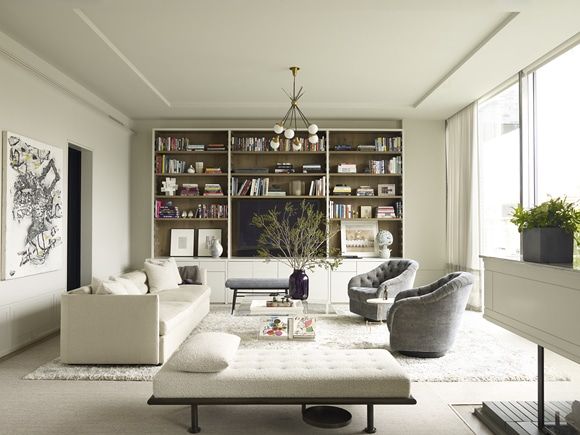 According to Shawn Henderson, the wrong shade of white "can feel more sterile than serene," so the designer carefully selected the soft parchment hue of this downtown Manhattan apartment. The tufted swivel chairs are by Ward Bennett (from Lobel Modern) and the sofa is a custom piece by Henderson.
Photo by William Waldron.
---
Outside of London, Marion Lichtig created a "light and airy" sitting room that incorporates a vellum-covered trunk from Guinevere Antiques, an antique Gustavian cupboard and a 19th-century reclining chair.
Photo by Simon Brown.
---
Cullman and Kravis created this Sagaponack, New York project for a client who sought a contemporary-feeling vacation home. The brass-and-rosewood coffee table is a 1970s piece by Philippe Hiquily, and the contemporary tables lamps are by Roberta Rida (sourced via Bernd Goeckler).
Photo by William Waldron.
---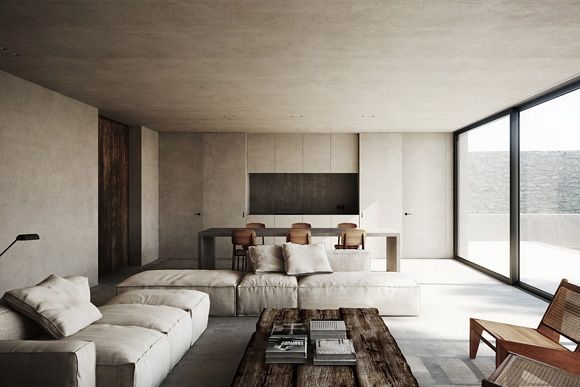 For a "linear, geometric and elegant" vacation home in Cap D'Antibes, France, architect Nicholas Schuybroek created spaces that integrate seamlessly into the lush natural surroundings. In the living room, he combined mid-century chairs by Jean Prouvé and Pierre Jeanneret with a custom-made sofa upholstered in Belgian linen.
Photo by Claessens & Deschamps.
---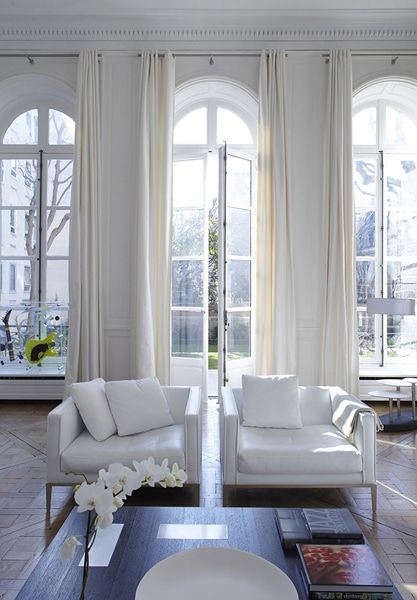 Bismut & Bismut chose an all-white palette for this former hôtel particulier in Paris to accentuate the property's incredible light and expansive gardens. The floor lamp in the rear of the photo is a custom design by the firm.
Photo by Francis Amiand.
---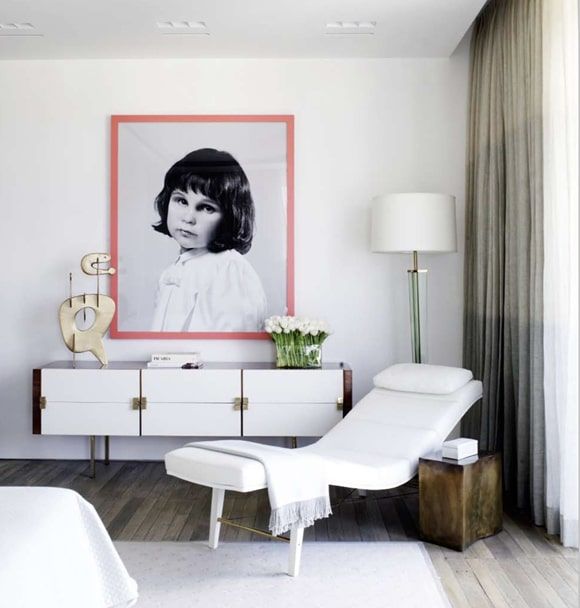 Vance Burke calls the Edward Wormley chaise lounge (sourced from dealer Downtown) he used in a Los Angeles home one of the designer's "most iconic pieces. The curvilinear shape changed how the world looked at chaises." The Isamu Noguchi foundation contacted the owners — well-known collectors — after seeing photos of the room; the rare Noguchi sculpture atop the white leather chest had not been seen in public for over 40 years. The 1950s bronze floor lamp is by Fontana Arte via Karl Kemp Antiques, and the 1960s bronze side table is by Philip and Kelvin Laverne via Bernd Goeckler.
Photo by Richard Powers.
---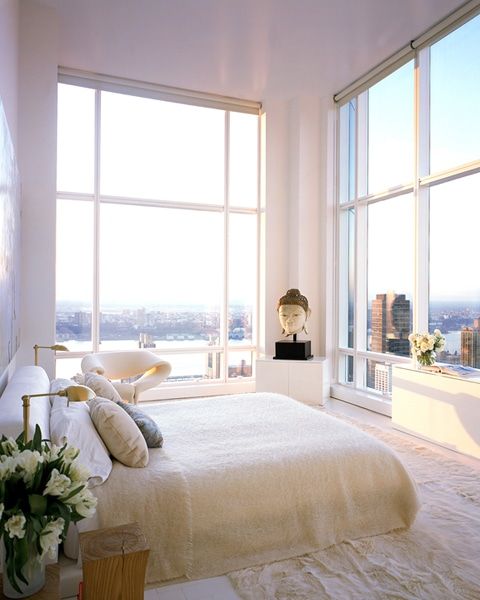 Kelly Behun cites the "forgiving" quality of an all-white room — "it's hard to focus on a speck of dust when your eyes are being flooded with so much light" — as one of its virtues. In this cloud-like New York City bedroom, the designer mixed a goatskin rug, a Pierre Paulin Ribbon chair and a 19th-century Buddha head sculpture.
Photo by Gentl & Hyers.
---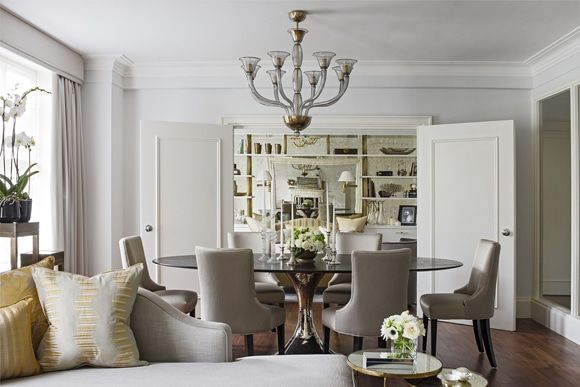 Shades of white, grey and mother-of-pearl commingle in this Mayfair family home by Ezralow Design. The clients sought to make their home as hospitable to entertaining as possible, so the firm created a number of bespoke pieces that are at once elegant and functional.
Photo by Edina van der Wyck.
---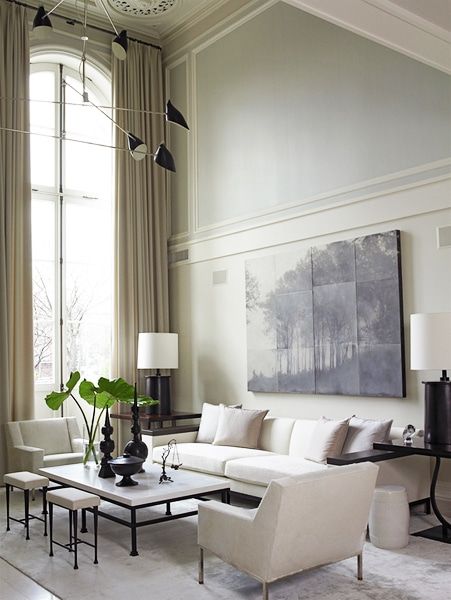 This New York City townhouse by Kathryn Scott purposefully channels classic Parisian interior design, a request from clients who formerly lived in France. Scott created custom plaster moldings and panel doors, and used a curated mix of pieces — including Christian Liaigre lamps and a pair of Joseph-André Motte armchairs — to thoughtfully reference French style.
Photo by Ellen McDermott.
---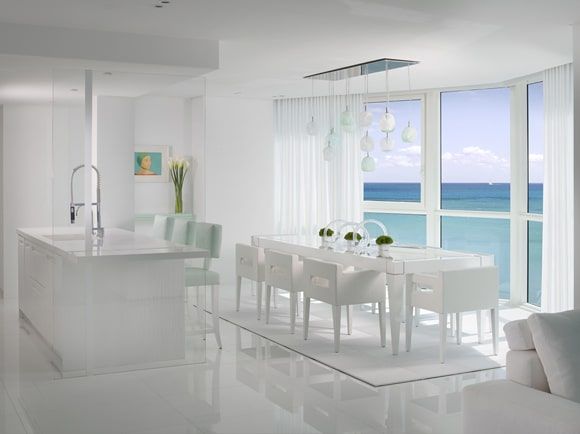 The all-white dining room that Jennifer Post created for this downtown Miami residence is designed to be a versatile counterpoint to the ever-changing colors of the sky and ocean views. The tatami area rug, lacquer table and leather-upholstered dining chairs are all contemporary pieces.
Photo by Jennifer Post Design and Ken Hayden.
---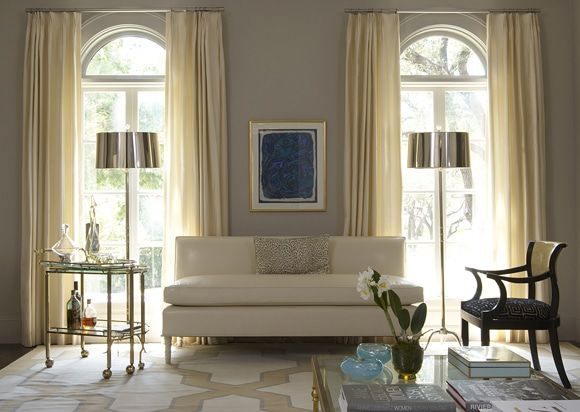 For a family home in Austin, Texas, Jan Showers used a palette of platinums, ivories and whites to match the French limestone exterior of the residence. The silver floor lamps are by Maison Jansen and the patterned rug is a design by Kelly Wearstler.
---
Cream-colored furnishings — including an antique recamier from Herringbone Home — allow for two vibrant artworks by Aaron Wexler to take center stage in this Greenwich, Connecticut living room by Suzanne Kasler.
Photo by Simon Upton.
---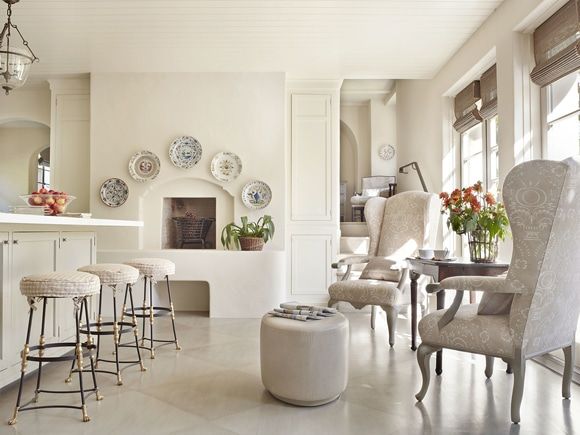 The light-filled kitchen of a Mediterranean-style residence by Suzanne Rheinstein in Bel Air, California accentuates the home's rich finishings, including reclaimed terra cotta flooring and matte limestone paint. A set of 18th-century plates from Bardith is mounted above the fireplace.
Photo by Pieter Estersohn.
---
This Paris bedroom by Thomas Pheasant includes sconces by Agostini, an Herve Van der Straeten lamp and a games table by the designer. The room's palette was inspired by the limestone buildings that line the city's streets.
Photo courtesy of Thomas Pheasant.
---
This tonal Greenwich, Connecticut foyer designed by Taylor Howes contains a bespoke mahogany center table, a vintage Peshawar rug and pairs of French urns and armchairs.
Photo by Tom Sullam.
---
For a pied-a-terre in the Knightsbridge neighborhood of London, Ashley Hicks placed a pair of enameled metal and lacquered wood nightstands of his own design on each side of a cream-colored bed. Hicks devised a steel frame to "float" a pair of antique Japanese screens overhead.
Photo by Ashley Hicks.