Kathryn Scott sees herself as an artist captivated by the creation of serene, harmonious living spaces as the sanctuary to rest, replenish and refocus on the things that matter most in our lives. Within our home walls, mundane tasks become pleasurable, allowing us to reduce stress, connect with our creative side, and feel happier. Furnishings and finishes are selected and curated according to personal need and their inherent beauty. Customized details with interesting materials are used to allow each room to express its potential. Kathryn creates daily objects for living, from furniture to porcelain, to incorporate into her environments.
The importance of our surroundings should not be underestimated; they shape our moods, thoughts and dreams. Kathryn lives with her husband, the renowned artist, Gu Wenda, and their daughter in Brooklyn Heights, New York.
Read More +
Read Less -
Featured Articles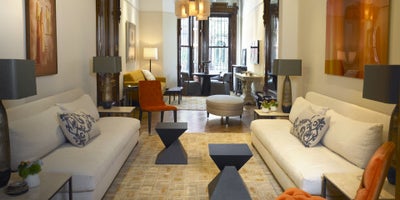 Her warm, spare and utterly stylish interiors in Brooklyn, the Hudson River Valley, Texas, China and beyond have made Kathryn Scott a quiet design star.
Read More