Nicolas Schuybroek began his career in Montreal, Canada working for INTEGRAL Jean Beaudoin and as project director for Vincent Van Duysen in Antwerp, handling various high-end architecture projects in Belgium and beyond. In August 2011, he started his own practice based in Brussels, Belgium. Nicolas Schuybroek has been named as one of the 100 best interior designers by French magazine Architectural Digest in the 2013 Collector Issue, as well as the 2016 Collectors Issue. His projects have been diverse in geography and nature. They include private homes, lofts and retail spaces.
Examples of his private projects include renovations and interior design of houses on the Cote d'Azur (France), Ibiza (Spain) and on the Belgian coast, as well as lofts and townhouses in Belgium and abroad. They have demonstrated a considered approach to understanding each individual need, both in terms of exterior and interior architecture. Currently, Nicolas Schuybroek is working on residential projects in Brussels, Antwerp and Paris and in partnership with with interior architect Marc Merckx on an office building in Belgium, a private house in Mexico City and a hotel in Chicago. As his practice has developed, Nicolas Schuybroek has been able to incorporate his technical knowledge and acute sense of detail. His works explore a sharp vision of space and materials, while retaining a feeling of warmth. Most people recognise Nicolas' hand through his rigorous and contextual approach: embracing the essence of built forms, from the roughest construction to the smallest interior details. Nicolas Schuybroek was born and raised in Brussels. Having been educated in English, French and Dutch-speaking schools, he is perfectly tri-lingual and is used to working in those three languages. His multicultural background and extensive travel inform and nourish his work with a broad and international perspective.
Read More +
Read Less -
Featured Articles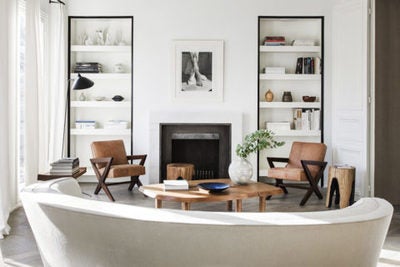 Nicolas Schuybroek Strives for Timeless Minimalism
Whether he's creating a hotel or a private home, the Belgian architect and interior designer imbues his perfectly pared-down spaces with warmth.
Read More