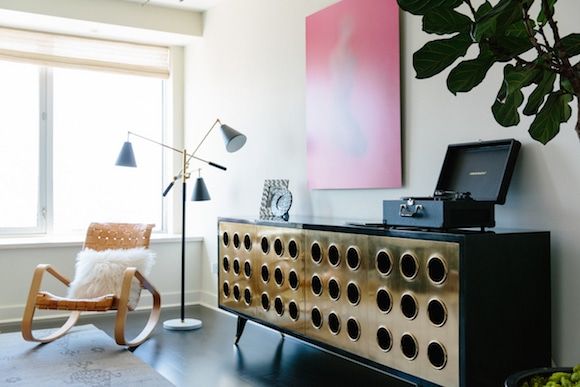 Catherine Kwong chose a sleek brass and lacquered-parchment credenza by Scala Luxury to fit this San Francisco apartment. "The design of this sideboard is reminiscent of work by French modernist Jean Prouvé. The brass font imbues the space with warmth and the round 'portholes' provide an arresting geometric element."
Photo by Bess Friday
---
"The brass accents in this room help to highlight the glamorous nature of the space," says Amy Lau, who designed this Chicago townhouse. "While the sun is setting, this room just glows with a warmth that comes from the brass backs of the Milo Baughman chairs" from Gustavo Olivieri Antiques. The room also includes a circa-1955 Italian teak, brass and marble three-light floor lamp from Van Den Akker Antiques and a brass gueridon with glass top by Osvaldo Borsani from Mark Frisman.
Photo by Kim Sargent
---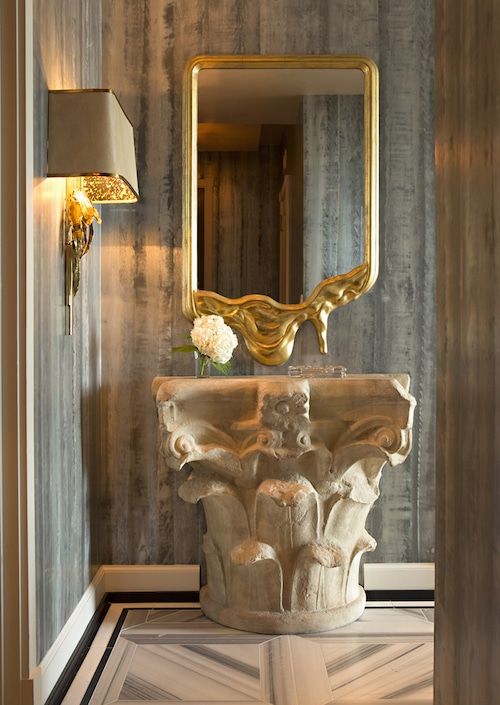 The opulent entryway of this Ritz-Carlton residence in Los Angeles by Woodson & Rummerfield's House of Design features a brass sconce adjacent to a Salvador Dalí–inspired gilded mirror and a columnar stone console.
Photo by Karyn Millet
---
A sculptural chaise longue with a brass base is a standout piece in the bedroom of this Dallas home designed by Emily Summers Studio 54.
Photo by Casey Dunn
---
Brass pendants by Alvar Aalto for Artek pop in this dark dining room that Studioilse designed for Herzog & de Meuron's VitraHaus in Germany. The furnishings include Eames shell chairs and wire chairs.
Photo by Felix Odell
---
In this East Hampton, New York, home by Michael Haverland Architect, the dining table comprises a glass top on a pair of polished brass ram's head sculptural bases by Alain Chervet from Milord Antiques. "Brass furniture and lighting warm the space and add a level of sophisticated glamour," Haverland says. "Brass takes a modern house away from a more typical minimal design vocabulary often composed of cold stainless steel or aluminum finishes."
Photo by Laurie Lambrecht
---
"The sectional was upholstered in a taupe mohair with a brass base because it reminded me of Studio 54," says Sasha Bikoff, who designed this Upper East Side living room. "To go along with that theme, I loved all of the brass pieces, which also tied into the gold leafed ceiling I designed." The sofa is by Milo Baughman, the ice cream print is by Donald Baechler and Bikoff designed the coffee table.
Photo by Patrick Cline
---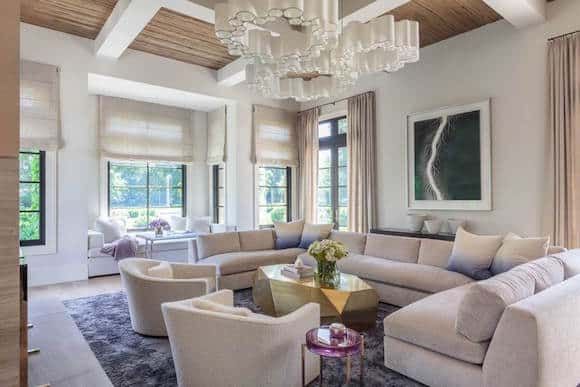 In the living room of this Atherton, California, home by Matthew Leverone, the gem-shaped brass coffee table stands out amid the neutral sofa and chairs. "We were looking for a dramatic coffee table to ground this lofty room and large sectional — a piece with personality, substance and heft," Leverone says. "This brush-polished brass custom Popova faceted table from Coup d'Etat fit the bill on every mark."
Photo by David Duncan Livingston
---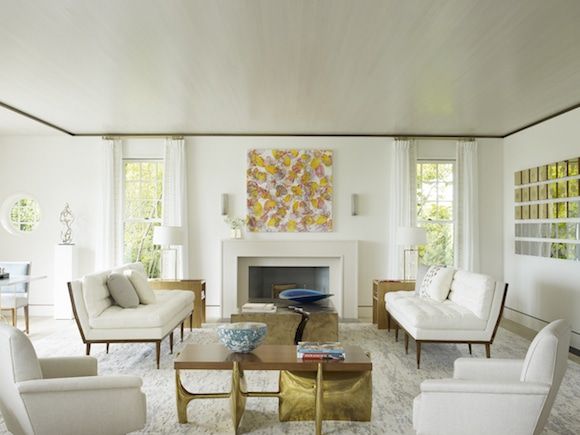 The living room of this Sagaponack, New York, house by Cullman & Kravis features a 1970s brass and rosewood coffee table by Philippe Hiquily and lamps by Roberta Rida from Bernd Goeckler Antiques.
Photo by William Waldron
---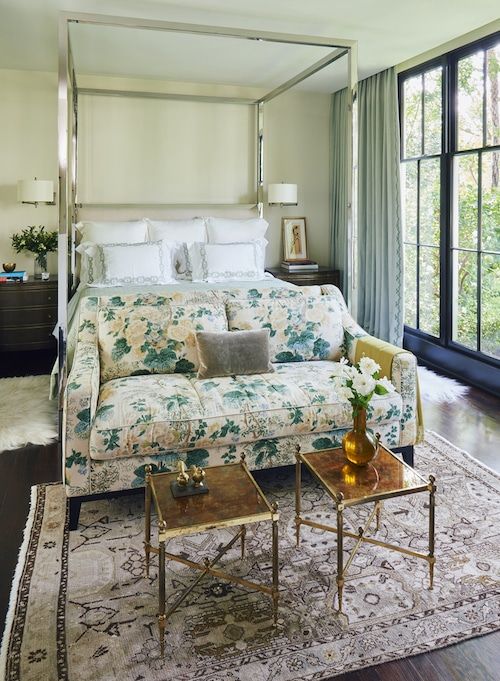 "Brass — especially brass that's been allowed to develop a natural patina — adds warmth and depth that can't be achieved with chrome or nickel," says Madeline Stuart, who designed this Los Angeles bedroom. "I love that we've mixed metals in this room. The brass, specifically the refined details of these tables, are a nice counterpoint to the super-modern style of the polished stainless-steel bed frame."
Photo by Dominique Vorillon
---
For a lake house in the Netherlands, Riviere Interiors commissioned this brass and steel lamp from the now-retired Jean Brown. "The inspiration was an old Mediterranean fisherman's lamp, which we saw in Marseilles over 20 years ago," says Robert Young of Riviere Interiors. "The fishermen had polished the old brass reflector to a high shine, and they would swing the lamp out over the sea on a long right-angle beam arm and burn it brightly to attract small fish!"
Photo by Elizabeth Zeschin
---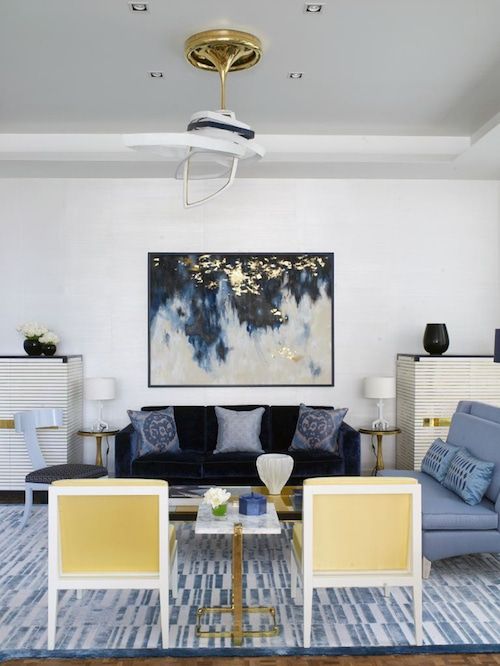 "I love lighting that is truly sculptural and equally effective when unlit," says Simon Rawlings, creative director at David Collins, adding that the pendant light in a Bangkok living room was inspired by a brooch. "Brass," Rawlings explains, "offered a very special contrast against the handworked plaster and glossed lacquer. We made the piece in Thailand, where the project is located, and it's become a very iconic part of this residence."
Photo by Richard Powers
---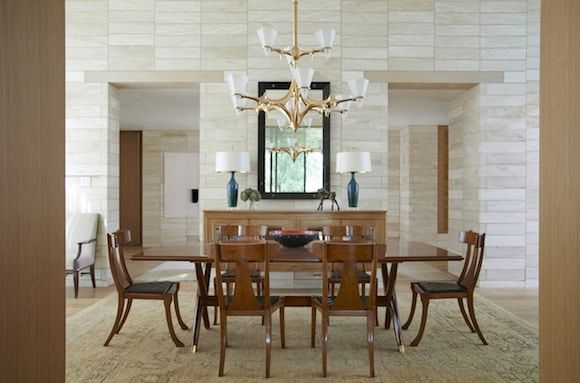 A brass chandelier hangs over the dining table in this Scottsdale, Arizona, house designed by Jan Showers & Associates. Less shiny elements in the space include stone walls, light oak floors and a Persian rug.
Photo by Jeff McNamara
---
The living room of designer Frank Roop's Boston home has a vintage hand-hammered brass side table next to the sofa.
Photo by Eric Roth
---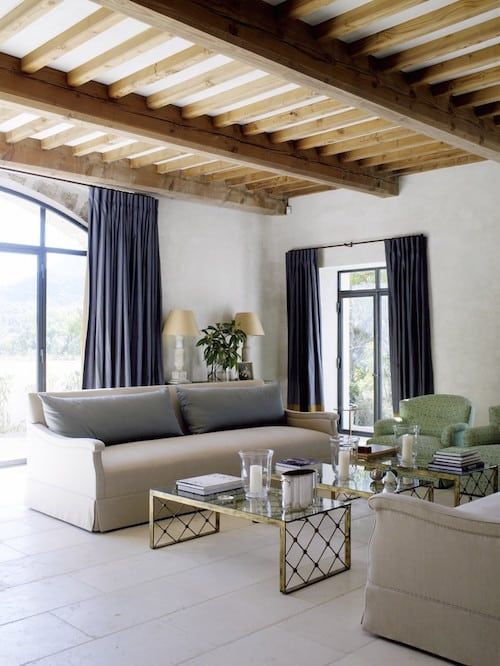 Samantha Todhunter designed this country home in France, which features a trio of glass-topped tables with brass bases.
Photo by Oliver Clarke
---