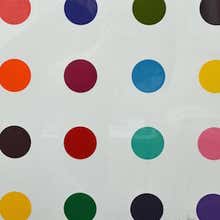 British, b. 1965
British artist Damien Hirst is widely considered the enfant terrible of contemporary art. He is the most prominent of the so-called Young British Artists, or YBAs, a group, largely composed of Hirst's classmates at Goldsmiths, in London, that began exhibiting together in warehouses and factories after 1988 and is known for the use of unconventional materials and "shock tactics."
In the 1990s, Hirst said, "I can't wait to get into a position to make really bad art and get away with it." And indeed, he is notorious for piquing critics and baffling the public with such pieces as his signature glass vitrines containing dead sheep or sharks in formaldehyde, and his diamond-encrusted skull, For the Love of God.
Working primarily in sculpture, Hirst takes after French modernist master Marcel Duchamp in his use of ready-made objects and materials, which he combines to ironic effect. He often creates in series, as with The Cure (Violet) and The Cure (Turquoise), both from 2014, which are among several pill paintings referencing Andy Warhol's embrace of mass production. Belonging to his ongoing series of "spot" paintings, begun in the 1980s, the 2005 piece Xylene Cyanol Dye Solution is striking for its machinelike, industrial uniformity and almost childlike simplicity, a seeming rebuke to the idea of the artist-as-genius.
In addition to making art, Hirst has launched stores that sell editioned works (Other Criteria), a restaurant (Pharmacy2) and even his own London museum (Newport Street Gallery).
Find Damien Hirst paintings, prints and other works on 1stDibs.
Applied Filters
160 results
Artists Similar to Damien Hirst
Questions About Damien Hirst Art
Large oils are worth many millions of dollars. The value would depend on the size, composition and importance of the piece