July 12, 2020It's difficult to know what will survive our times. However, my money is on Andy Warhol," declared Tom Armstrong, the Whitney Museum's renowned former director, in the foreword to a 1979 Warhol exhibition catalogue. More than 40 years later, we can all agree that Armstrong was on the right side of that bet. Although Warhol died three decades ago, he's one of the few artists easily identifiable in a crowd — both for his art-directed physical appearance and for his art.
From his Campbell's Soup Cans, Marilyns and Electric Chairs to the hundreds of films he made and the many society portraits he painted — not to mention the tales of decadence and debauchery that attached to his entourage at the Factory and Studio 54 — Warhol shaped the way we remember the 1960s and '70s. "There's a Warhol for everyone," says photography dealer and Warhol specialist James Hedges, of Hedges Projects. "He was so prolific and pervasive."
But as recognizable and influential as the artist was, and still is, it often feels like we don't know him at all. We know that he was born Andrew Warhola in Pittsburgh on August 6, 1928; we know that he was a successful adman and illustrator before remaking himself in the 1960s as a multifaceted art star and all-around man-about-town; and we know that he died of cardiac arrhythmia in Manhattan on February 22, 1987, shortly after gallbladder surgery. But that doesn't say much about who Warhol was.
His infamous nonchalance and faux-naïf facade gave the impression that there wasn't much else to know, while presumptions of shallowness and superficiality engulfed his persona, spawned early on by his success as a commercial illustrator and later by his go-to subject matter of consumer goods, celebrities, tabloid stories and so on. But that was all part of his genius. As he once claimed: "I don't know where the artificial stops and the real starts."
For Warhol, the blurry line between real and fake defined life in the age of mass media. He harnessed the photograph, the mass media's central tool, as the medium for his message, using the silkscreen process to transfer the images to canvas. It was his greatest and most radical achievement.
Using photos clipped from newspapers, magazines, publicity stills and advertisements and, eventually, his own, Warhol would have silkscreens fabricated and combine them with acrylic and graphite pencil, painting and drawing on a surface that he'd then print over, often repeating or mirroring an image. The grainy, smudgy black ink and his off-kilter alignment of the printed image replicated the effects of a cheap printing press, ushering in a bold new kind of realism, while the silkscreen process allowed Warhol to create hundreds of variations of the same subject.
Warhol was phenomenally prolific, and the archive of works he left behind, not to mention his own personal collection of art, photographs, antiques and the daily paper trail from his studio, squirreled away in his "time capsules," is beyond vast. Making sense of it all has been a herculean task, whose end product is the Andy Warhol Catalogue Raisonné — a massive trove of information, funded and overseen by the Andy Warhol Foundation and published by Phaidon in five user-friendly volumes, with a sixth in the works.
The tomes are the culmination of decades of research, including the examination of the 1,500-plus boxes of records and ephemera the artist set aside every day in his studio. Their significance is illustrated by their mention in the catalogue of the Whitney Museum's knockout retrospective last year, which was covered in Introspective and traveled to the Tate Modern in London shortly before the pandemic closed it: In it, curator Donna DeSalvo calls the scholarship that went into the Warhol catalogue raisonné "nothing short of heroic."
The volumes constitute a much-needed authoritative source on Warhol's output for curators, dealers, scholars and collectors. Equally important, however, is the catalogue's role in directing attention toward the art, not to mention in teasing out the facts from the slew of familiar Warhol legends out there, some generated by the artist himself.
"Andy Warhol is a cultural icon. As such, he has become so familiar to us and such a visible lightning rod of our times (good and bad), that his life story and the myths that circulate about his personality tend to dominate the literature about him, as if we needn't really trouble to look closely at his work: the prolific and brilliant body of paintings, sculptures and drawings that he produced during a career of four decades, before his life was cut short in 1987," says Neil Printz, editor of the Catalogue Raisonné. "By delving into Warhol's artistic process — his visual sources, his materials and techniques, including his use of color, the way painting by hand and silkscreen printing interact on canvas, as well as his photographic practice — the Catalogue Raisonné is framing an alternative narrative, one that is based in the studio, and shifting the discourse about him from the persona to the painter. It counters a nexus of received ideas about Warhol — for example, that he was a casual and disengaged practitioner of his art, or at best a purely conceptual artist."
Below we walk through 10 categories of Warhol's art, by no means an exhaustive list of his prolific output.
---
Early Drawings and Commercial Illustrations
Warhol arrived in New York from Pittsburgh in 1949 at the age of 20 with a portfolio of drawings he'd made while studying pictorial design at the Carnegie Technical Institute. He quickly landed a commission drawing shoes for a fashion spread in Glamour magazine. Demand for his fresh, quirky, stylish drawings grew, and he went on to draw illustrations and ads for Vogue, Tiffany & Co. and numerous other publications and brands.
A job drawing large ads for shoe company I. Miller that ran in the New York Times led to fantastic portfolios of footwear drawings. Chief among Warhol's creative endeavors in the 1950s were illustrated books made as promotional gifts for editors and friends. He drew elegant women, fresh-faced boys, angels, cats, butterflies, flowers and fashion, always in his distinctive line and often accompanied by text handwritten in a lyrical cursive font by his mother, Julia Warhola.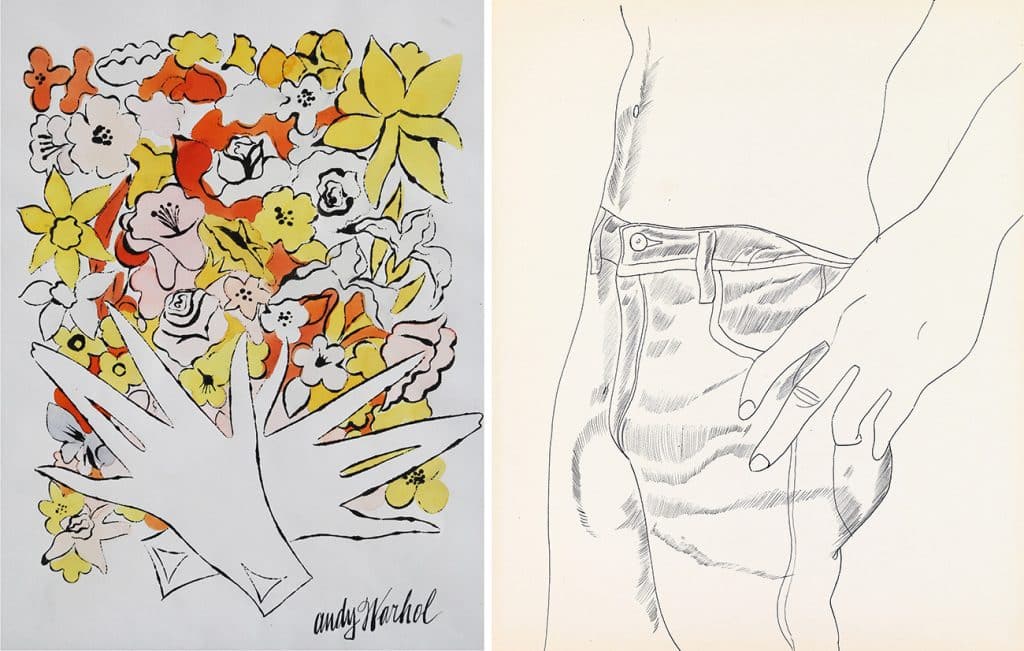 Successful commercially, Warhol longed for recognition as a fine artist. In 1952, the Hugo Gallery offered him his first exhibition, featuring a series of drawings based on the writings of Truman Capote, whose fame and homosexuality captivated Warhol. He had less luck finding a gallery willing to show his tender homoerotic drawings of male bodies and lovers, which foreshadow his photographs of the next decades.
What sets Warhol's drawings apart from those of other artists is not only their casual charm but also their trademark blotted lines, the result of early experiments in printing influenced by the work of artist Ben Shahn. The process involved drawing an image, tracing it with wet ink or watercolor and then pressing a sheet of paper against it to create a unique reproduction.
The slightly splotchy black line that results reads as if it were produced by the inexpensive ink of a newspaper — an effect Warhol embraced the following decade with his screen-prints on canvas.
---
Consumer Culture
When Warhol brought the image of a Campbell's soup can out of the supermarket and into the studio, in 1961, he secured his legacy as a radical contemporary artist. As the story goes, the artist had been painting comic book characters and was dismayed to learn that Roy Lichtenstein was doing the same.
Warhol was racking his brain for new subject matter when the interior decorator and aspiring gallerist Muriel Latow told him to paint "something that's recognizable to almost everybody. Something you see every day that everybody would recognize. Something like a can of Campbell's Soup."
Warhol took the advice literally and painted one canvas for each of Campbell's 32 varieties, using projection, tracing and stamping, along with the brush, to mimic the look and feel of mechanical production. The great Pop artist wasn't just blurring the lines between mass culture, consumerism and fine art; he described his soup cans as portraits, prompting the critic John Coplans to write: "His images can be read as a pun on people, how much alike they are, how all that changes is the name."
Warhol's cans caught the attention of dealer Irving Blum, who showed them at the legendary Ferus Gallery, in Los Angeles, in 1962 — Warhol's first solo exhibition of paintings. Blum bought the whole set, recognizing that they should be kept together, and in 1996 gave them to MoMA as a partial gift. A few variations on those hand-painted canvases surfaced on the market, but it's largely Warhol's editioned screenprints, made several years later, that come up for sale.
Shortly after Warhol painted the soup cans, he realized that he could more readily achieve the mass-produced aesthetic he was seeking with silkscreens, also called screen-prints, and he began experimenting with silkscreening on canvas. He used the technique to print paintings of Coke bottles and dollar bills (both in 1962), as well as his treasured Brillo box sculptures (1964).
But he was also aware that he could produce many more multiples working with a printer, which he did for many of his beloved images. "I don't think art should be only for the select few," he once said. "I think it should be for the mass of the American people." In 1968 and '69, he produced screen-printed editions of his soup cans on paper in two portfolios of 10 cans, each in an edition of 250.
"The really ironic thing about Warhol is that, when a silkscreen is on a piece of linen or canvas, it's a painting and it goes for millions of dollars, but when the same type of silkscreen is on a piece of paper, it's a print," says New York gallerist Susan Sheehan, who has been handling Warhol's prints for decades. "So you could argue that buying a Warhol print is really a great deal. It's just paper versus canvas."
Sheehan cautions that condition is extraordinarily important with those early Warhol prints, since they were produced at relatively low cost by commercial printers and often not kept in archival frames. "There are lots of prints out there," she says, "but to find an early one in really good condition is very rare."
Although Warhol abandoned his career as a commercial illustrator, his appreciation for the symbols of postwar consumerism never waned. He returned to the theme in 1985 when the dealer Ronald Feldman commissioned him to create the Ads Portfolio, a set of 10 commercial images — screen-printed on museum board in an edition of 190 — including ones for Apple's Macintosh, Paramount, the Volkswagen Beetle and Chanel No. 5. Warhol personalized them by making them look hand-drawn.
---
Marilyn, Liz, Jackie
Warhol was quick to jump on mass media's penchant for treating glamour and tragedy with equal weight. Marilyn Monroe's suicidal overdose in 1962 was ideal fodder, and he reproduced her visage dozens of times, first painting the canvas with splotches of pigment to denote her hair, eyeshadow and lips, then printing the black photographic silkscreen, taken from a 1953 publicity still, on the surface, either alone, doubled or repeated in a grid. Especially powerful are the images where the screenprint is inky, smeared or off-register, revealing the ugly underbelly of Monroe's surfacey glamour.
Warhol similarly appropriated images of Elizabeth Taylor (1963), who was battling severe pneumonia at the time and whose unhappy romantic relationships were the subject of intense public scrutiny; of Jackie Kennedy (1964), soon after President Kennedy was shot; and of Elvis (1963), as his career began to turn south.
Some of the most iconic paintings in American art history, most of these works reside, not surprisingly, in museum collections. On the rare occasion when one appears on the market, it fetches tens of millions of dollars. Later in the 1960s, Warhol also made screen-prints on paper of Marilyn, Liz and Jackie, in editions of 250 produced by Factory Additions, a company he founded to create and circulate prints. These images surface from time to time and, if in good condition, can fetch six figures.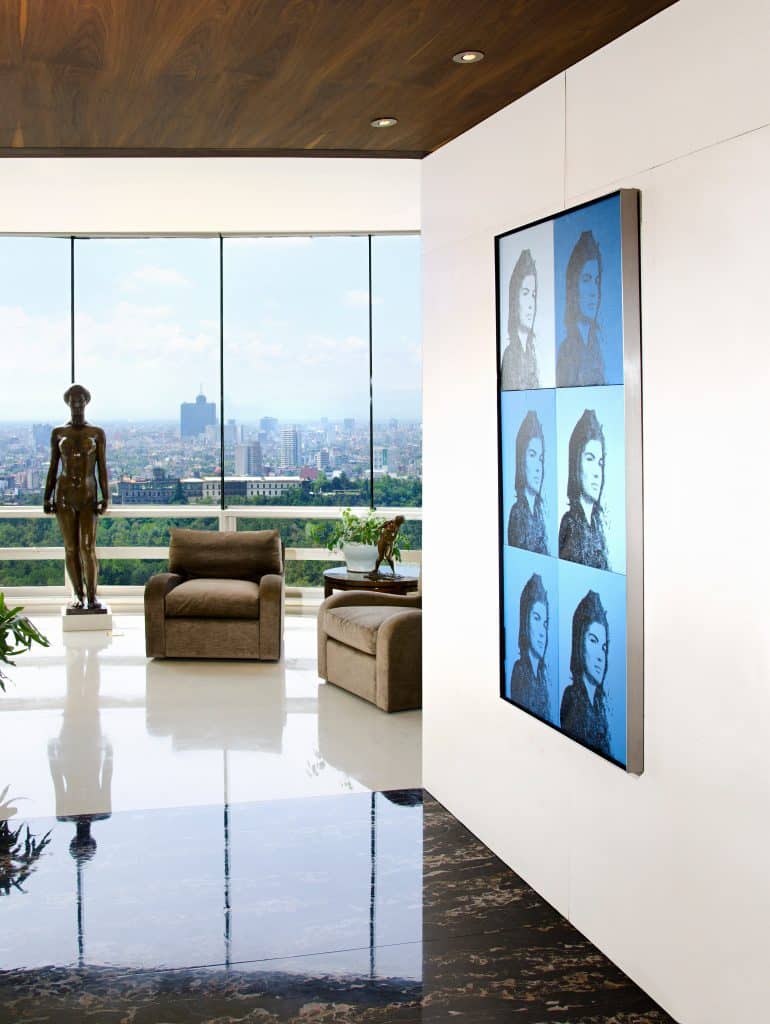 "If I owned a Warhol, I think I'd want one of the Marilyns. He did some great trial proofs that are really beautiful — a cross between a painting and printing," says Sheehan, referring to the unique prints Warhol produced while working out the characteristics of the editions, a process that entailed painting or altering a print after it came out of the press. "When we come across them, they sell for considerably more than the regular editioned proofs, because of the different color combinations and because of evidence of his hand."
---
Death and Disasters
From 1962 through '65, Warhol mined the news for images, appropriating press photos of grim happenings. The haunting paintings of his "Death and Disasters" series — electric chairs, car crashes, suicides, police brutality and botulism poisoning rendered in acid hues and arranged in grids — revealed a darker side of Warhol that was always there. Many collectors, dealers and curators had a hard time swallowing the pictures at the time, and he showed them only in Paris early on. But they rank among his most complex and perceptive images, and these days they can sell for tens of millions of dollars at auction.
The Electric Chair — the best known of the motifs — was based on a 1953 press photo of the chamber at Sing Sing prison, where Ethel and Julius Rosenberg, Americans citizens convicted of sharing nuclear secrets with the Soviets during World War II, were executed. The source of his Birmingham Race Riot (1964) paintings (and the 1965 screen-print on paper that followed) was a 1963 Life magazine photo from a story on police and dogs attacking civil rights demonstrators in Alabama. One of the paintings sold for $62.9 million at Christie's in 2014.
Uncannily relevant today, these works show a quiet political side of Warhol that bubbled up across his oeuvre but was often overshadowed by what some perceived as shock tactics, either the artist's own or the mass media's. However, as the late curator and critic Okwui Enwezor suggested in the Whitney Museum show's catalogue, "Warhol's interest was not necessarily focused only on the spectacle of death, and the media's sensationalist reports of it, but rather was engaged in an anguished reflection on his country's condition."
---
Flowers
Warhol's Flowers — possibly his most recognizable Pop imagery — may seem like a big jump toward more palatable, pleasing subject matter. But as many critics have suggested, they are far more than just pretty pictures. Flowers, after all, are the ultimate symbol of fleeting beauty — and there's more to it than that.
Legend has it that Warhol was searching for an idea for his first show with Leo Castelli, the career-making New York gallerist with whom he had long hoped to work, when Warhol's friend curator Henry Geldzahler suggested that he move on from morbid motifs. While flipping through an issue of Modern Photography, the pair came upon a story about Kodak's new color-processing system, illustrated with a series of hibiscus flowers in different hues.
After meticulously cropping and rearranging the blossoms into a square of four, Warhol transformed the resulting composition into a silkscreen, which he used to create hundreds of square paintings in different sizes, endlessly experimenting with color combinations. He hung them in floor to ceiling grids, like wallpaper, in his show at Castelli in 1964 and again at Ileana Sonnabend, in Paris, in 1965.
As Blake Gopnik points out in his epic new biography of the artist, Warhol's Flowers hit the scene "at exactly the moment when flower power was coming to a boutique near you," from Marimekko fabrics to fresh young fashion. (Warhol cheerfully compared them to "cheap awnings.") Even more important, Gopnik notes, the Flowers "cracked a high-art joke about the decorative urge that lay behind the oh-so-serious abstractions of the latest Op and Color Field painters, Warhol's latest crop of rivals."
Warhol produced an edition of offset lithographs in 1964 to sell at the front desk at Castelli's opening; in 1970, he made a set of 10 in an edition of 250 through his screen-printing business, Factory Additions. "Both versions are very desirable when we find them in good condition," says Petra Kwan, of print specialist Sims Reed Gallery.
In 1965, Warhol announced that he was retiring from painting to concentrate on filmmaking, a medium he'd already radically explored earlier in the decade. He spent the next few years making hundreds of films. Flowers would be the last major painting series he produced before he was shot in 1968 by Valerie Solanas.
---
Photographs
"It's critical to keep in mind that photography was the source material for everything Warhol did as an artist," says dealer Jim Hedges. "You don't get the rest of Warhol, whether it's painting or prints, without the camera."
Even as he appropriated many of the images from his early works from the media, Warhol was building an archive of his own shots. He dragged friends and patrons — Holly Solomon, Sandy Brant and Ethel Scull — down to the photo booths in seedy Time Square boutiques, and the strips of images that resulted set a course for Warhol's obsessive seriality. He also had a camera in his possession "from the late nineteen-fifties until his death," says Hedges. Warhol, who referred to his camera as his "date," was rarely seen without it.
He transformed some of those photos into silkscreens. At the same time, the massive archive of Polaroids and silver gelatin prints he left behind, serves as a fascinating record of his day-to-day life and the settings where the magic, or sheer banality, happened: Diana Vreeland's living room, dinners at Max's Kansas City, gatherings of celebrity guests and neighbors at his Montauk beach house. He also used the camera to photograph objects in the studio, like skulls and fruit, which he'd turn into still life paintings.
Warhol's impulse to document every acquaintance, friend and social occasion is considered a precursor to Instagram culture. But he also left behind thousands of Polaroids of headshots taken for his 1970s society and celebrity portrait commissions.
In 1977, Warhol received a 35mm camera from his Zurich dealer, Thomas Ammann. "It became his new out-in-the-world date. Between 1977 and '87, he'd photograph people, print off contact sheets and then circle in black those images that he'd want to print as eight-by-ten black-and-white silver gelatin. These show the artist at his most personal," says Hedges, who notes that Warhol's photographs can fetch anywhere from $12,000 to $125,000.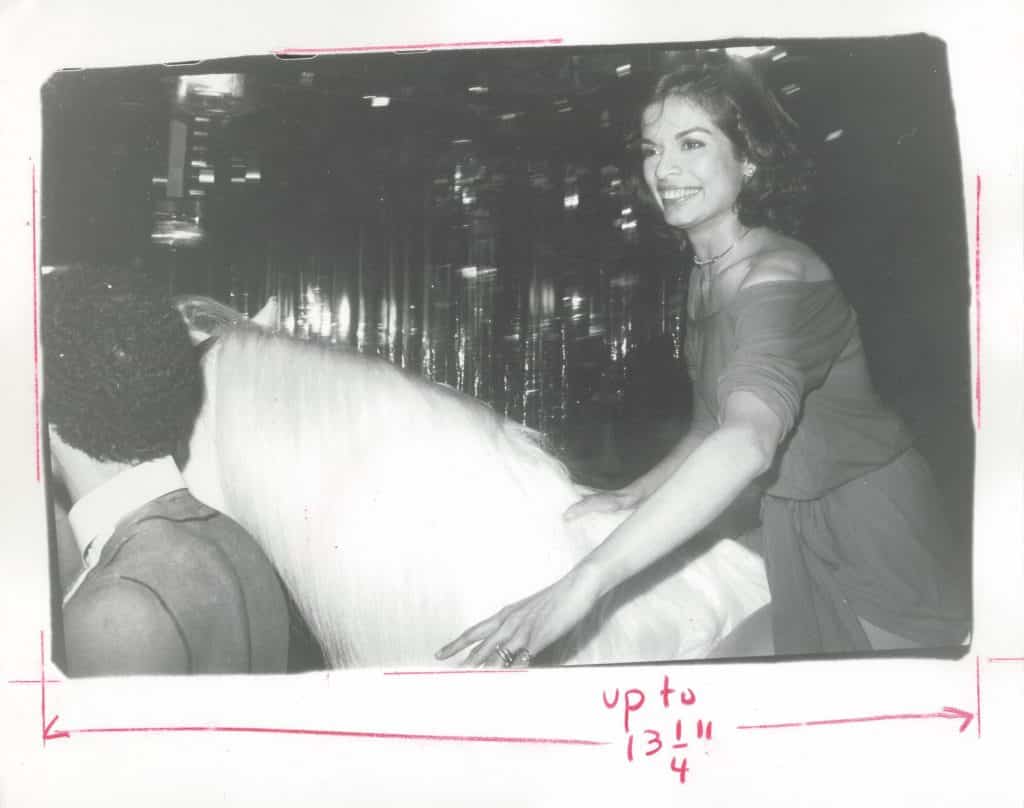 Warhol's final show, at New York's Robert Miller Gallery, just before his death, consisted of 90 stitched-together unique silver gelatin prints. "That was his coming-out party, to show the world that his photos were art and not just processes," says Hedges.
---
Chairman Mao
After an eight-year hiatus from painting, Warhol returned to the medium in 1972 with the celebrity subject to top them all: Mao Zedong. The story often told is that Warhol's Zurich dealer, Bruno Bischofberger, eager to pull the artist back into painting, suggested he tackle the most important figure of the 20th century.
Flipping through a Life magazine, Warhol saw Chairman Mao described as the most famous person in the world. President Nixon had just visited him in China — one of the most newsworthy stories of the period — and a photograph of Mao, the one Warhol would use, was plastered across the People's Republic, from the frontispiece of the Little Red Book to Tiananmen Square. The posterlike image was supremely adaptable into silkscreen, and Warhol made 199 paintings of Mao in different sizes, as well as 2,500 screen-prints.
In some versions, Mao appears to be wearing the kind of garish makeup seen on Marilyn or Liz, an alteration that seems ingeniously appropriate and ridiculous for a tyrant who demanded loyalty and was responsible for the disappearance of millions of Chinese citizens.
As he often did, Warhol combined stenciling, drawing, painting and printing to make the images, but here he slathered his canvases with a mess of "painterly" strokes before having Mao's face silkscreened on the surface. It was as though he were quoting Abstract Expressionism (his nemesis) to beautify the totalitarian propaganda and transform it into "art."
His screenprints retain some of those brushstrokes, mechanically reproduced. Creating Chairman Mao paintings to hang on the walls of the Western world's moneyed classes was certainly one of Warhol's most subversive moves.
---
Portrait Commissions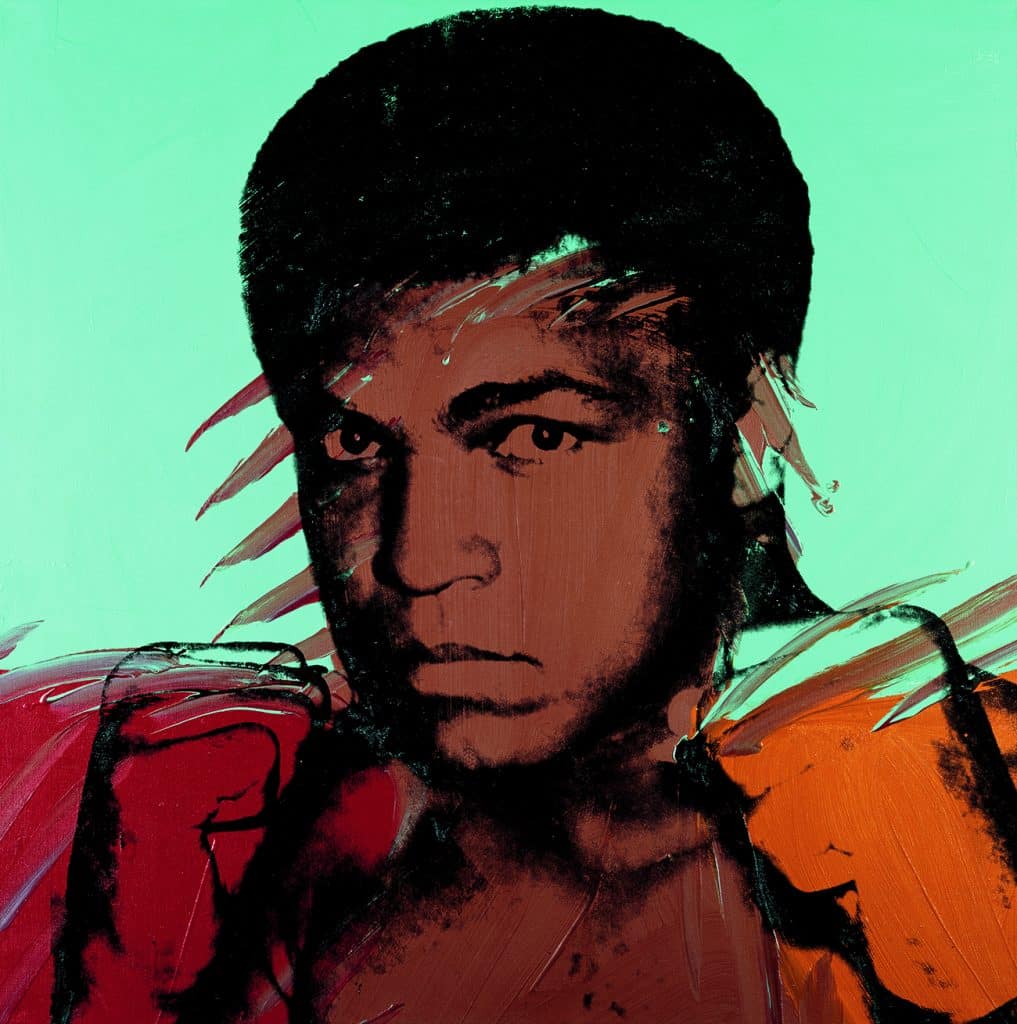 In the early 1970s, as his celebrity-infused magazine Interview was taking off, Warhol found himself rubbing elbows with American and European high society, thanks in part to his connection to Fred Hughes, an ambitious young Texan close to the art-collecting philanthropist Dominque de Menil. Hughes became Warhol's business manager and helped transform the Factory into a sleek operation with a lucrative string of portrait commissions from the patron class.
Warhol had a long history of basing portraits on found images, but for these new paintings, he took his own photographs. He would bring sitters into his now well-appointed studio or travel across the world to capture them with his Polaroid Big Shot camera. It was a clunky but portable device that suited his purpose perfectly: Used at close range, the lens flattened the image, while it's robust flash whited out facial imperfections. Warhol would build a composite image from multiple photos, produce it as a silkscreen, then print it over his painted canvases.
His patrons were a who's who of 1970s A-listers, including Yves Saint Laurent, Carolina Herrera, Diane von Furstenberg, David Hockney, Leo Castelli, Giovanni Agnelli, Dolly Parton, Liza Minelli and Mick Jagger.
One of Warhol's most notable commissions of the era came from sports enthusiast and collector Richard Weisman, who asked the artist to create portraits of 10 top sports stars. The resulting series, "Athletes"(1977–79), included Dorothy Hamill, Chris Evert and Kareem Abdul-Jabbar, among others. The project also yielded a set of screen-prints on paper of just Muhammed Ali, shown in 10 different poses.
A complete set of "Athletes" paintings sold for $15,014,000 at Christie's New York last November, while Muhammad Ali's painting sold for around $6.2 million in London this past February. Warhol knew nothing about athletics, but he did know about the commodification of stars and recognized the commercialization of sports underway through omnipresent television and product promotion.
"Ladies and Gentlemen," another commission, from the young Italian dealer Luciano Anselmino, took as its subject Black and Latinx trans women recruited from bars or the streets. Anselmino requested "impersonal, anonymous" pictures of drag queens, for which he contracted to pay the artist $1 million. Warhol ended up painting 268 canvases and producing a set of prints in an edition of 100, all based on 500 Polaroids he took of 14 different models.
The paintings cost thousands (and bring far more that that now). Each model, meanwhile, was paid $50. Their identities weren't revealed until the Warhol Foundation made them public in 2014. (Among the sitters was Marsha P. Johnson, sometimes called "Saint Marsha," a legendary trans and queer rights activist.)
The dubious ethics of the project were apparent to critics then and are even more evident now. As the artist Glen Ligon writes in the Whitney show catalogue: "Ladies and Gentlemen are portraits and not-portraits. They are portraits in that they are images of particular people. They are not-portraits in that the images of colored trans women are used as a chance to play-play, to use color without regard to resemblance or verisimilitude." But the project has also been understood as an homage, and maybe even an empathetic gesture.
---
Oxidation Paintings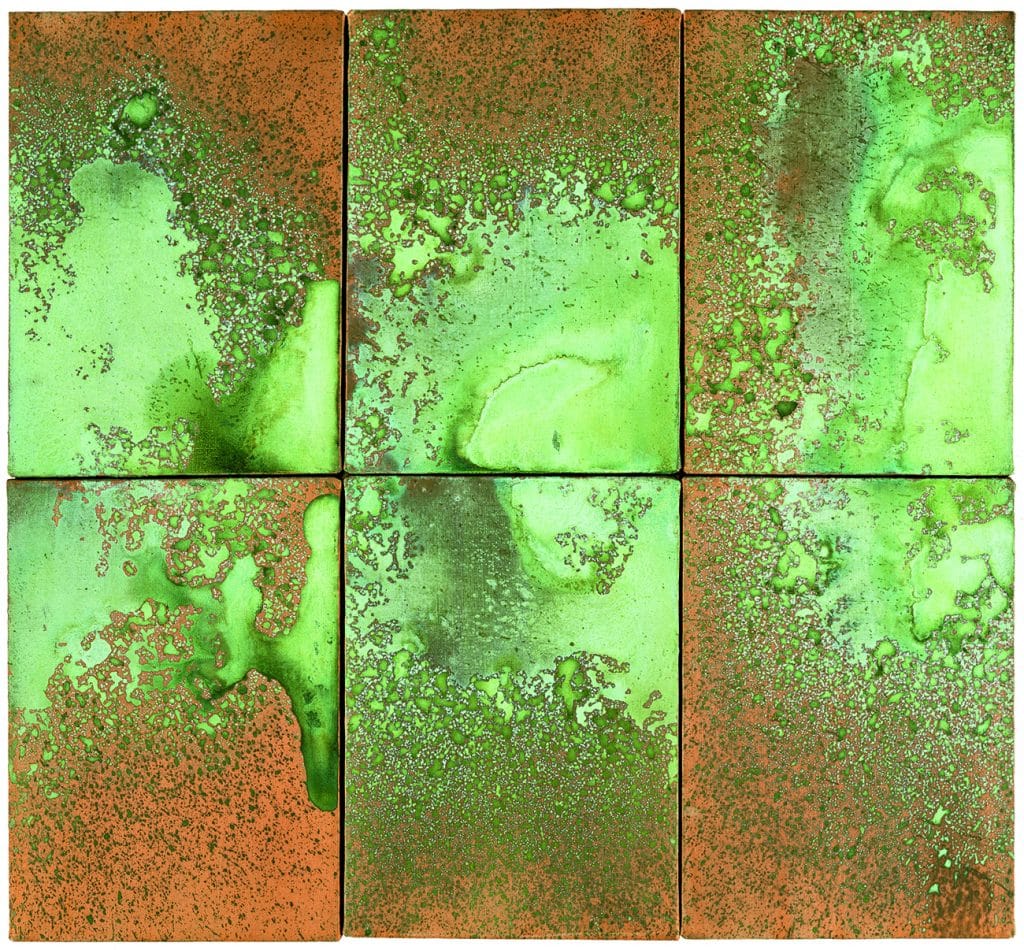 These 1977–78 abstractions, more affectionately known as "Piss Paintings," were a steep departure from Warhol's silkscreens, although no less subversive. The series takes its name from the process used: a stream of urine hits a canvas freshly painted with acrylic enriched with copper, and as the uric acid oxidizes the metal in the paint, patterns in green and black emerge on the shimmery surface.
Warhol did much of the "painting" with his longtime studio assistant, Ronnie Cutrone, but he also invited guests to take a shot, directing them to a canvas stretched out on the floor. The pattern produced was partially left to chance, but Warhol insisted that it required skill and was very selective about the canvases he kept in the series. They range from haunting, shadowy blotches to delicate splatters and drips.
His obvious inspiration — or the target of his subversive mockery — was Jackson Pollock, who had been lionized for his manly gestural abstraction (and was also known to have urinated in Peggy Guggenheim's fireplace, as well as on paintings for clients he didn't like).
The works were a world apart from his society portraits, which were not doing much for his reputation as an avant-garde innovator. Ingeniously critical of modernist art history, these abstractions — beautiful, repulsive, wonderfully simple and yet visually complex — made clear he was still at the top of his game.
---
Basquiat Collaboration
Warhol was already aware of Jean-Michel Basquiat when the two were formally introduced at a lunch arranged by Swiss dealer Bruno Bischofberger in 1982. Basquiat had been a regular at the Factory and idolized the older artist. The pair became close companions, out on the town and in the studio, with Warhol serving as a parental figure to the young Brooklyn-bred tagger turned art star and Basquiat rekindling Warhol's connection to the contemporary art scene buzzing in the East Village.
Bischofberger arranged a collaboration in 1983 among Warhol, Basquiat and the Italian painter Francesco Clemente in which they took turns working on a canvas that was passed from studio to studio. After that, Warhol and Basquiat peeled off on their own and created 16 canvases together in 1984 and '85, merging Warhol's silkscreened and painted logo-like text and symbols with Basquiat's spontaneous scrawlings of skulls, animals and other narrative forms.
The collaborations ended abruptly after an unflattering review of their show together scared off Basquiat. But today, those paintings are an important record of a juicy moment in New York's art history and a significant one in Warhol's, when he was reinvigorated with an urge to paint, which he continued to do, without Basquiat, up until his death, in 1987.