August 8, 2021The brief for the project, a five-bedroom house in London's fashionable Hampstead, could be summed up in one word: "Überluxe," says its designer, Tamzin Greenhill. "The client wanted something slick, minimal, clean."
Greenhill obliged, placing shiny cocktail tables by Ado Chale and Eric Schmitt around a low, angled sofa by Christophe Delcourt on one side of the living room and a pulsating suite of six bright-blue etchings by Anish Kapoor on the other side, above a soigné Sergio Rodrigues bench. All fine and good as far as the client was concerned. But when Greenhill proposed adding a Kaare Klint armchair still sporting its original leather, worn-in like a favorite bomber jacket, the client balked.
"She said it wasn't luxe enough. And I said, 'It's getting too luxe in here — time to get a little more real. We've got to go downtown now.' "
This may seem a surprising comment, coming from a British designer who is known for her command of upper-echelon British taste and made her name completing polished projects across the UK for assorted high-powered clients. Not to mention that she herself lives just across Hampstead Heath from the überluxe project, at an equally lofty address.
Raised in London, where she attended design school and opened her own interiors office in 2003, Greenhill moved to New York in 2008 with her Canadian-born husband, an investment banker. They lived in West Chelsea's London Terrace, and when she had a lobby sighting of fellow resident Debbie Harry — frontwoman of the decidedly downtown band Blondie — it would make her day.
"There were so many cool people in that building. I loved it," recalls Greenhill, who was just as smitten with the quirky mid-century furniture and vintage tabletop treasures she unearthed at the Chelsea flea market. She got a sidewalk education in modernism and developed what would become her signature aesthetic. "I miss New York so much," she says.
As influential as her time in Chelsea was an early stint, before design school, as a model, which allowed Greenhill to travel for almost a decade between apartments in London, Paris, New York and Tokyo.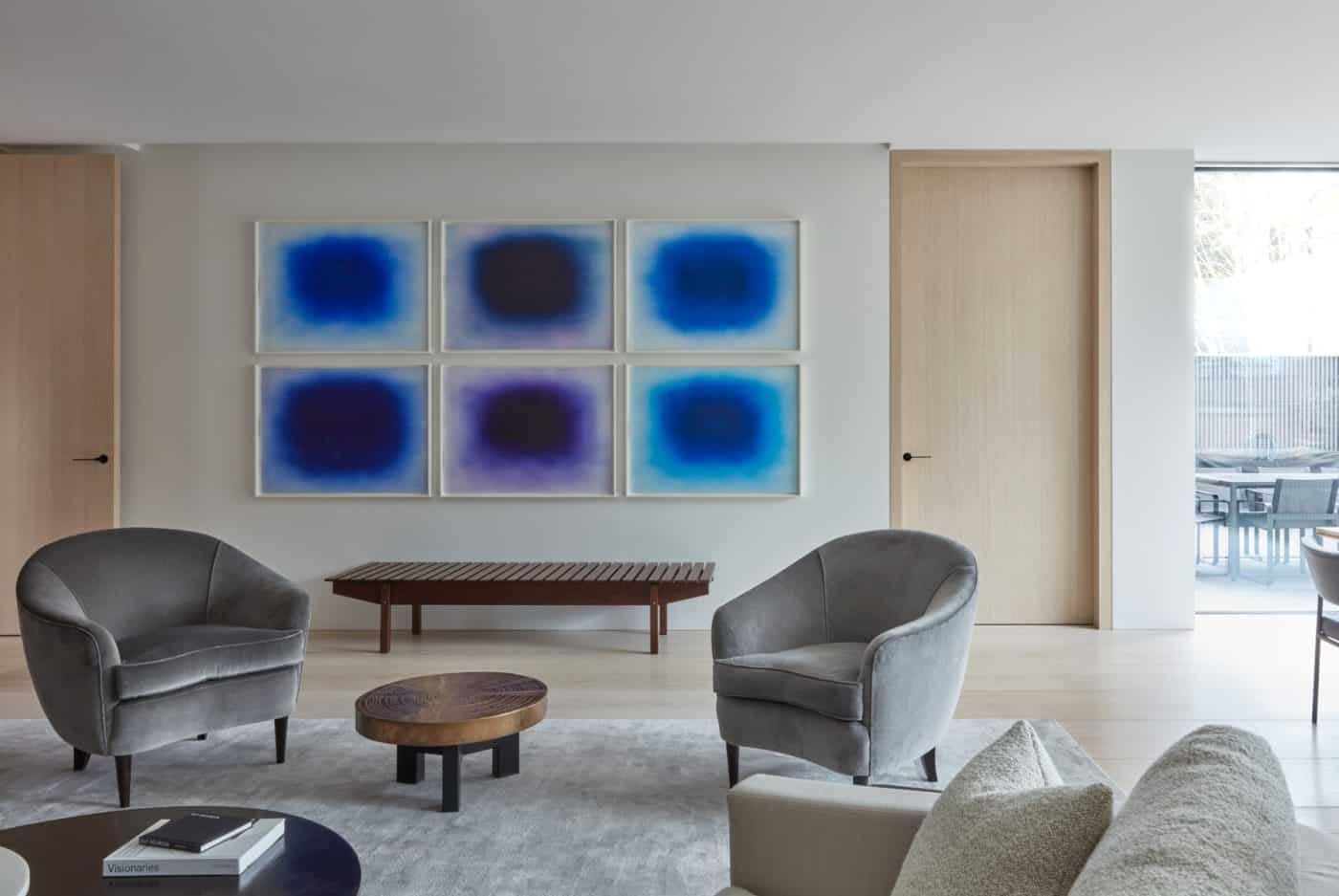 Her years shooting editorial spreads with photographers like Mario Testino and David Sims honed her aesthetic intuition and helped her develop a kind of knowing cool. One can see it in late-1990s Nick Knight photographs of her in sharp Helmut Lang suits — a look that is still very much her personal style. Her modeling-career travels also enabled her to build a mental library of visual images that would prove invaluable to her career as a designer — "especially because Instagram and Pinterest weren't around at the time," Greenhill says with an ironic smile. Even now, some of her favorite references are lodged in her personal proto-Instagram memory bank.
Greenhill admits that the design press has made it hard to put modeling behind her. ("Do people still talk about Kelly Wearstler being on the cover of Playboy? No they don't!") But a steady stream of projects for clients in finance and the arts has helped the sharp-witted — and, it must be said, still ravishing — designer turn the page.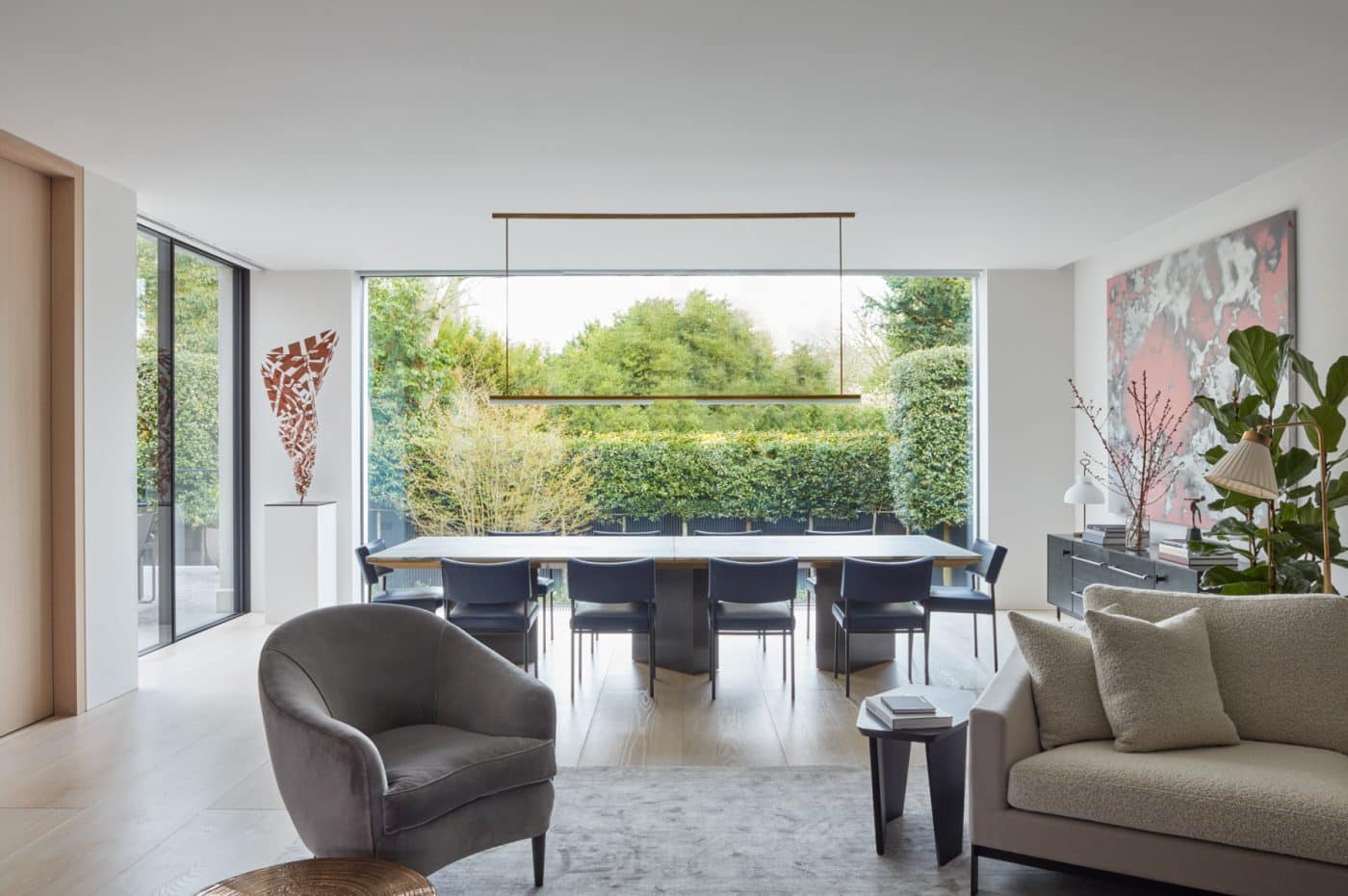 Back in Hampstead, she convinced her deep-pocketed client to give the redone living room a bit more tooth by mixing up materials — seal-gray mohair on a pair of Gio Ponti armchairs from Nilufar, plush wool on the sofa. (She lost the battle over the original leather on the Klint chair, however, which ended up reupholstered.) And she slipped in an important suite of Joseph-André Motte dining chairs, placing them around a bronze and marble table of her own design.
"The client didn't want to buy vintage furniture," says Greenhill. "But I told her, 'It doesn't have to look like Bubbe's apartment.' And in the end, she did buy a lot of vintage." Greenhill will often design a custom piece when the situation calls for it, though she usually has up her sleeve a vintage or contemporary alternative from one of her carefully cultivated sources. Among her 1stDibs favorites are Caira Mandaglio and Maison Gerard.
Greenhill's own London home — a six-bedroom Victorian-era house that she renovated from top to bottom — reflects a set of design principles she puts into practice across her projects, seen here in their purest form. Storage is everywhere; downlights are scarce — still, the house is noticeably brighter now that a design professional is in residence. There is no dining room, because Greenhill hates wasted space. Instead, she designed a multifunctional playroom with a Corian-topped table and oak-paneled storage walls, so her two young children could have an art-making area at their disposal.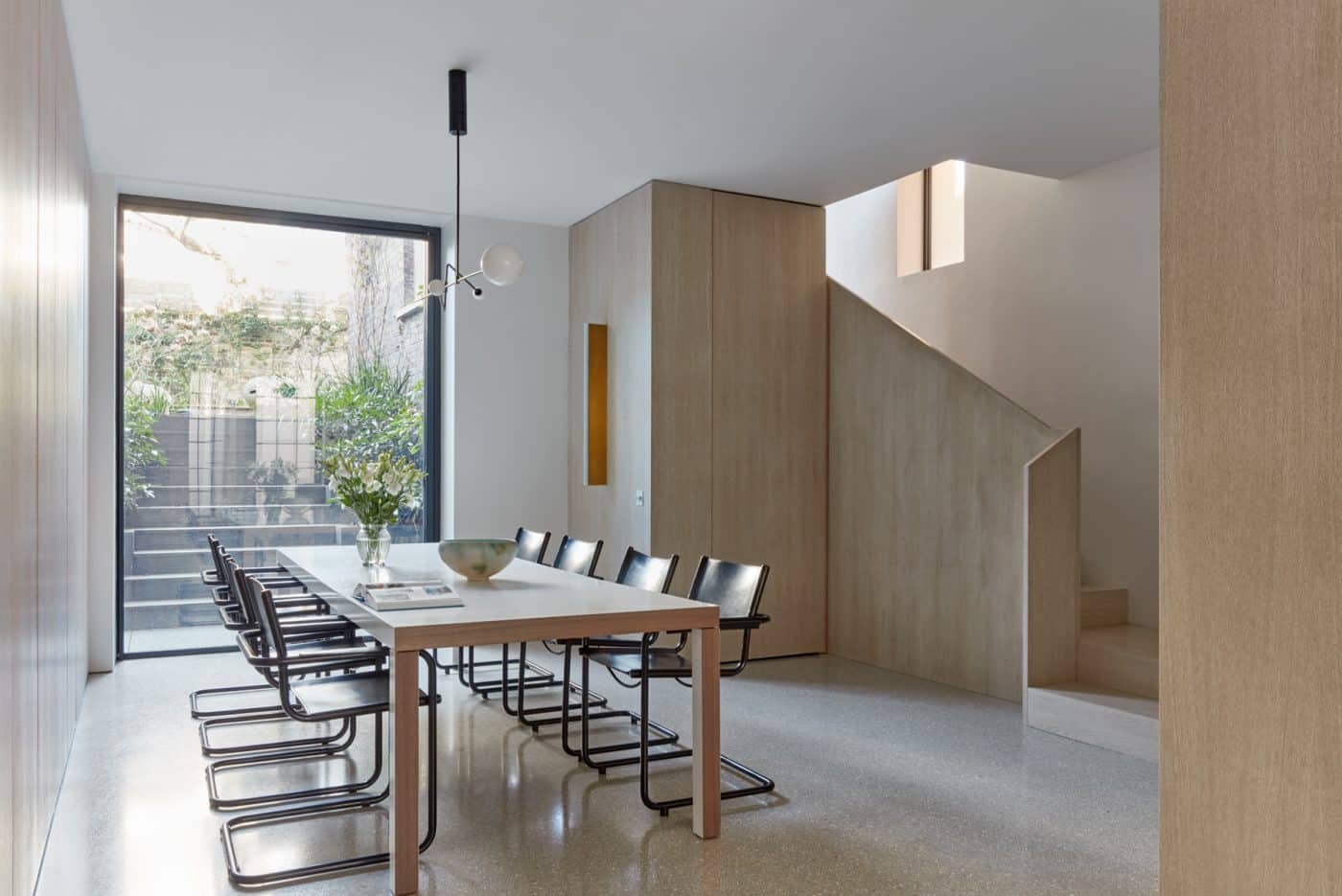 The living room was thus freed up to be adults-only, allowing her to uncrate the choice vintage pieces — many of them from 1stDibs — that she and her husband had begun collecting back in New York. These include a razor-edged table in steel and brass by French modernist Fernand Dresse, a pair of Martin Eisler and Carlo Hauner Costela lounge chairs, an Ico Parisi sideboard and a pair of Austrian mid-century stacking chairs by Roland Rainer, among other treasures.
To brighten the house and to highlight the family's adventurous collection of works by young artists, Greenhill painted most rooms a crisp white (Cameo Silk 4 by Dulux, her favorite shade, which she describes as "not too cold or gray"). Although all that white might read as stark in some settings, in the context of Greenhill's urbane, meticulously tailored mix of furnishings, it comes across as both lively and serene.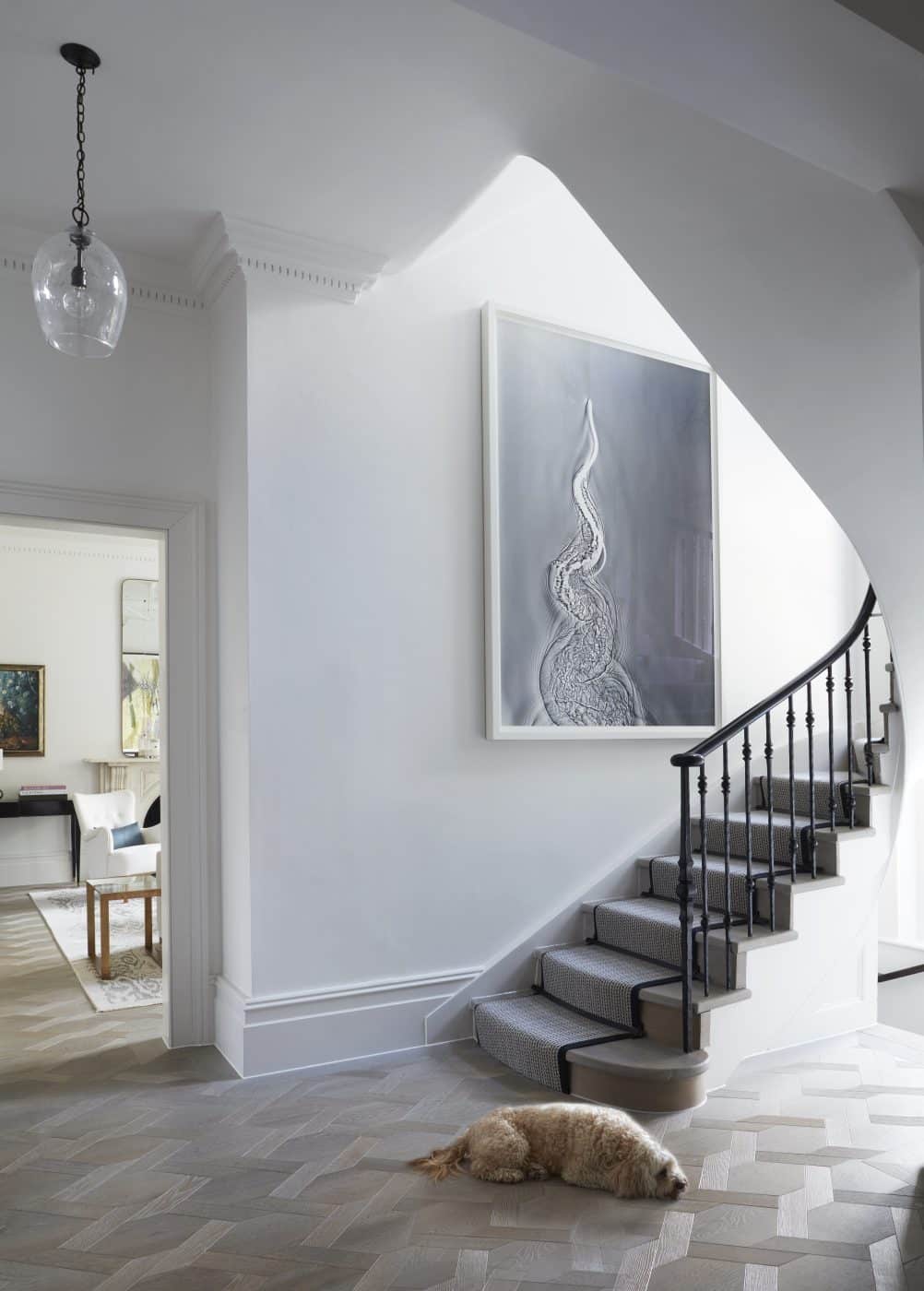 The spare style of the designer's own home, softened a few degrees, informs one of her most recent jobs, a Victorian-style mini-mansion in London's Holland Park that is distinguished by tall bay windows, lofty ceilings and intricate parquet floors. "It was very old and froufrou at the beginning. The floors were chocolate brown, with yellow walls and a paisley sofa — you wouldn't believe it," Greenhill says, almost shivering at the memory. But her clients "had a lot of great art, which was handy."
The homeowners asked Greenhill to create a serene setting in dialogue with a luxurious back garden. She picked up the garden's sinuous forms in the graceful lines of mid-century design pieces, one of her favorite collecting categories, including a curving sofa and vintage Swedish armchairs, a T.H. Robsjohn-Gibbings coffee table and an Osvaldo Borsani console from Caira Mandaglio, which branches out across the wall like the arm of a mighty oak.
In the dining room, elegantly curvaceous Vladimir Kagan dining chairs surround a circular BDDW table ("a rarity in London," Greenhill says proudly) in full view of a muscular Franco Albini suspension bookshelf.
The house's big surprise is a cozy home office, tucked behind the living room, with a bit of floral fabric in its upholstered seating but otherwise drenched in a smudgy, bottom-of-the-dye-vat blue.
Variations on that dusky color also appear on the walls of a TV room in the überluxe Hampstead house, and in Greenhill's own bedroom across the Heath.
Clubby, a bit mysterious and wholly unexpected, the inky hues seem like a cosseting response to a need none of her clients had as yet quite expressed to her. But it's been a winner all around. And the deep-blue Holland Park home office did very well on Instagram, Greenhill notes with a smile.
Tamzin Greenhill's Quick Picks