Surf and turf takes on a whole new meaning when examined through the lens of design. Interior designers have long been tasked with creating a relaxed, beachy aesthetic in the homes of clients who reside both near the ocean and further inland. Achieving a surf-inspired effect in your own home turf is as easy as using the right textures, color palette and objets. (Yes, surfboards play a starring role).
"It's all about thinking outside the box," says interior designer and author Nina Freudenberger, who moved from New York City to Venice, California, in 2012. She became so enamored with surfers' approaches to design that she recently published a book about it, called Surf Shack: Laid-Back Living by the Water.
Her fascination took her to 15 cities in four countries, where she initially planned to capture surfers' different modes of living. It was during her travels that she discovered very specific themes that surfers tended to follow the world over. "Surfers do things in their design that feel unusual, which was extremely appealing. It's refreshing to see people take chances," says Freudenberger.
Here are seven ways to infuse your home with mellow, surf-friendly vibes.
---
Take a Layered Approach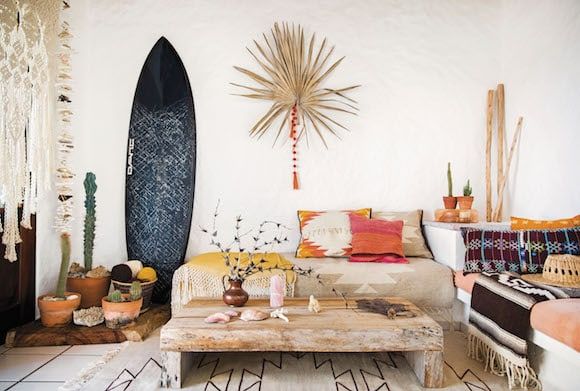 While researching her book, Freudenberger found that the homes' inhabitants tended to follow one universal dictate: "No fuss." In each place, the author says, "everything was flexible, such as the layout of the furniture. Nothing had a permanent place. It was all meant to have an organic adjustability."
A homeowner in Sayulita, Mexico, embraced this concept by repurposing vintage textiles and other used materials. Freudenberger points out the living room's "torn mud-cloth throw and faded kilim pillows. These things are given a new life. Items that are timeworn with small nicks and imperfections can totally be beautiful. It allows pieces to feel new again without being 'new.' "
Reprinted from Surf Shack. Photo by Brittany Ambridge
---
Think Sculpturally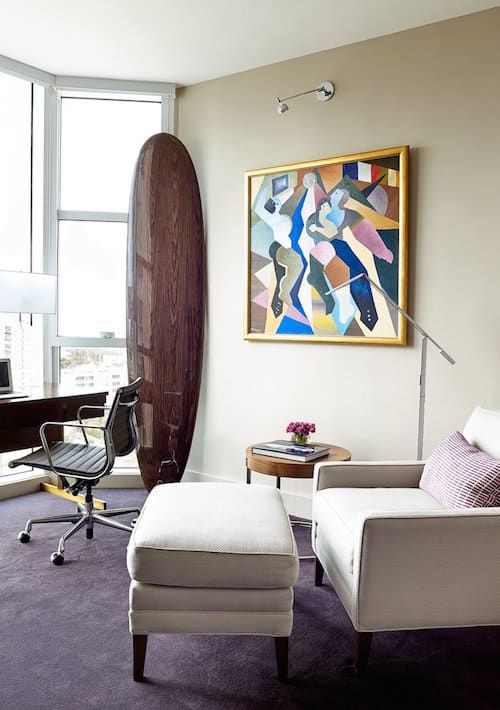 For a Manhattan couple's vacation condo in a Miami Beach high-rise, interior designer Todd Davis of Brown Davis Design looked for ways to inject a surf motif within a contemporary context. "The lacquered wood grain of the surfboard have a sculptural effect," says Davis. In this study, he selected furniture with clean lines to allow the views over Ocean Drive and the beach to remain front and center.
Photo by Morris Moreno
---
Let the Board Inspire Your Decor
Blackbarn is not only name of the East Hampton, New York, vacation home of Mark Zeff and his wife, Kristen, but it also served as the aesthetic launching pad for the couple's interior design firm. In the living room, Mark tucked a vintage surfboard in the corner of the space. "I think the surfboard is one of the most perfect human implements," he says. "It is designed to work with nature, and its subtle style is perfect." He also opted for black-tinted wood on the walls. "It's done by hand and has a patina."
Photo by Gianni Franchelluci
---
Repurpose Surfboards as Wall Art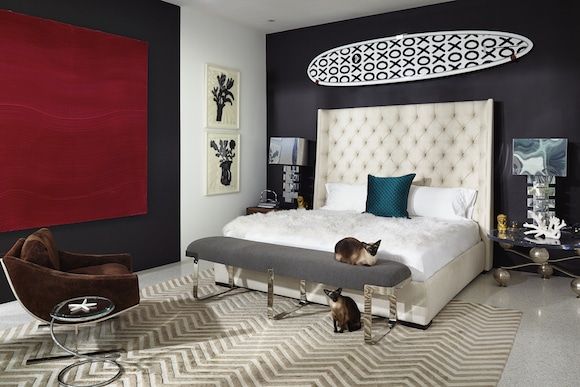 In the Miami Beach home of Robert Brown, a partner at Brown Davis Design, the surfboard hung above the bed, a souvenir found on a trip to Hawaii, serves a dual purpose. "The board is intended to provide a sense of place at the beach as well as a message of xoxo — love and kisses — in a bedroom setting," says Todd Davis. He sees each surfboard as a statement: "I encourage people to consider a surfboard as a wall hanging or piece of art with its own unique graphics and colors."
Photo by Morris Moreno
---
Opt for Natural Materials
"Stick with natural materials and fabrics as much as possible," advises Freudenberger. She found that surfers often "bring the outdoors indoors via plants, wood and stones," especially when it came to a young family's Topanga Canyon, California, residence. "They used a lot of linens and wood. There was almost no glass in the house other than the windows, which makes it feel very warm and inviting."
Reprinted from Surf Shack. Photo by Brittany Ambridge
---
Create an Artful Mix
Interior designer Richard Mishaan is an eclectic collector, favoring contemporary art as much as flea-market finds. His ability to coalesce a vibrant mix of styles for clients as far flung as Cartagena, London and Manhattan is achieved by following one design guideline: There are no rules.
In his own Sagaponack, New York, house, Mishaan placed vintage surfboards in a foyer alongside other bold pieces, such as a giant KAWS sculpture, each one holding its own as a work of art in its own right.
Photo courtesy of The Monacelli Press
---
Put the "Fun" in Functional
Practicality can go far in a beach bungalow, where each furnishing must serve a purpose. Freudenberger is currently at work on her own surf shack, a double-wide trailer in Malibu, where she is taking design cues from many of the homes she visited for the book.
"Nothing can be too precious. I'm designing for heavy use. It's refreshing to not get obsessed with the details," she says. She cites the use of a hammock next to a propped up surfboard in a Sayulita living room as particularly inspiring. "Get weird and do crazy things! Making sure your space has a level of functionality is critical in making a house feel like a home."
Reprinted from Surf Shack. Photo by Brittany Ambridge
---