As head of her own firm for more than 20 years, Boston-based, Harvard-trained architect turned interior designer Heather Wells has assembled a roster of high-flying, art-collecting clients in New England and beyond. These are people who know what they want. They just don't always know how to get it.
"Most of my clients are strong women with strong ideas," says Wells, who was raised outside Philadelphia by an antiquaire mother and a landscape architect father. "I'm mostly editing, prodding and testing them, helping them make things come to fruition. I'm not afraid to give my opinion and push buttons. If they can handle it, that's attractive to them."
This approach has earned Wells a spot on the just-announced 1stdibs 50, as well as the respect — not to mention the business — of people who sit on the boards of such significant Boston cultural institutions as the Museum of Fine Arts and the Institute of Contemporary Art, where Wells herself is on the advisory board.
They come to her not for one particular look — her work ranges from sleek contemporary to English-accented traditional to rustic country — but because she has no signature style. As Wells puts it, "I want clients to see themselves in their project. I want it to be squarely their home, the best it can be with their ideas. People are hiring me for my ability to work with and read them."
One such person is Karen Conway, an MIT-trained architect who collaborated with Wells on the design of her and her husband's contemporary art–filled duplex penthouse in Boston's Back Bay, as well as on the redo of their modern, shingle-style waterfront home on Martha's Vineyard.
"I like having someone to bounce ideas off of, a person I trust," says Conway, who met Wells through the interior designer's fellow Harvard alum Nick Winton, who collaborated with Conway on the architecture of the Vineyard home. "And I test back. I don't want to work with someone who isn't bringing much to the table. Heather's very good at adapting to your vibe."
In the case of the Back Bay home, Wells's architecture training helped as Conway reorganized her apartment atop a building whose construction had barely started. The resulting ring-shaped floor plan centers on a double-height atrium-cum-art-gallery with living spaces positioned around it. Conway arranged the largely open, north-facing public and entertaining spaces — a kitchen with custom glass-walled wine storage, a joint living and dining area and a library and media room — en enfilade, letting sun pour in through the nearly floor-to-ceiling windows and glass doors, plus skylights in the slanted ceiling above.
The finishes, carefully chosen by Conway and Wells, are impeccable: bronze hardware, 30-foot lengths of light-washed wide-plank old-growth white-oak floors, book-matched panels of walnut, large expanses of white shikkui plaster. The last are perfect for displaying the Conways' impressive art collection, which includes works by Larry Bell, Richard Diebenkorn, Jenny Holzer, Bridget Riley, Ed Ruscha, Sean Scully and more.
Wells's role was to help Conway find and place furnishings that would seamlessly complement the sensibility of the apartment's architecture. The goal was to combine the rational, modernist layout and continuous palette of exquisite materials with a considered mix of antique and contemporary pieces reflecting Conway's love of craft and texture.
Throughout, Wells selected finely crafted accessories that show the artisan's hand and relate to Conway's collection of mid-century-modern pottery and contemporary ceramics. She placed a Porta Romana lamp with a mouth-blown glass base on a living room side table, for example, and one by Hervé van der Straeten on the dining room's Holly Hunt sideboard. Offering a similar aesthetic are sculptural, faceted glass pendant lamps by Christian Wassmann, in the kitchen, and by David Wiseman, in the master bedroom, all from R & Company. The former are suspended above a sleek Corian-topped island, while the latter flank an abstract Günther Förg work mounted over the bed
"The key was having a twist," Wells says, citing one force driving the design of the apartment. "Karen knew that — she wanted things to be unexpected."
Meanwhile, on Martha's Vineyard …
At the Conways' island retreat, Wells wasn't decorating from scratch but updating the interior design of a home the family had been in for more than a decade. "I designed it for really young people and babies, and now our kids are young adults with significant others," says Conway, explaining the need for the refresh. "Rather than bedrooms with bunks and a bathroom with a shared trough sink, we need guest rooms with their own en suites."
Conway "wanted each bedroom to have its own personality and a cozy moment," notes Wells. She deployed a variety of flat-weave rugs, including a subtle gray-striped-ivory one in a bedroom with a large cushioned window seat — the perfect sleeping spot for future grandchildren. These elements pair with such artistically crafted pieces as a low, square ceramic stool by New Hampshire's Tariki Studio and a rush-seated 1950s Hans Wegner CH22 lounge chair.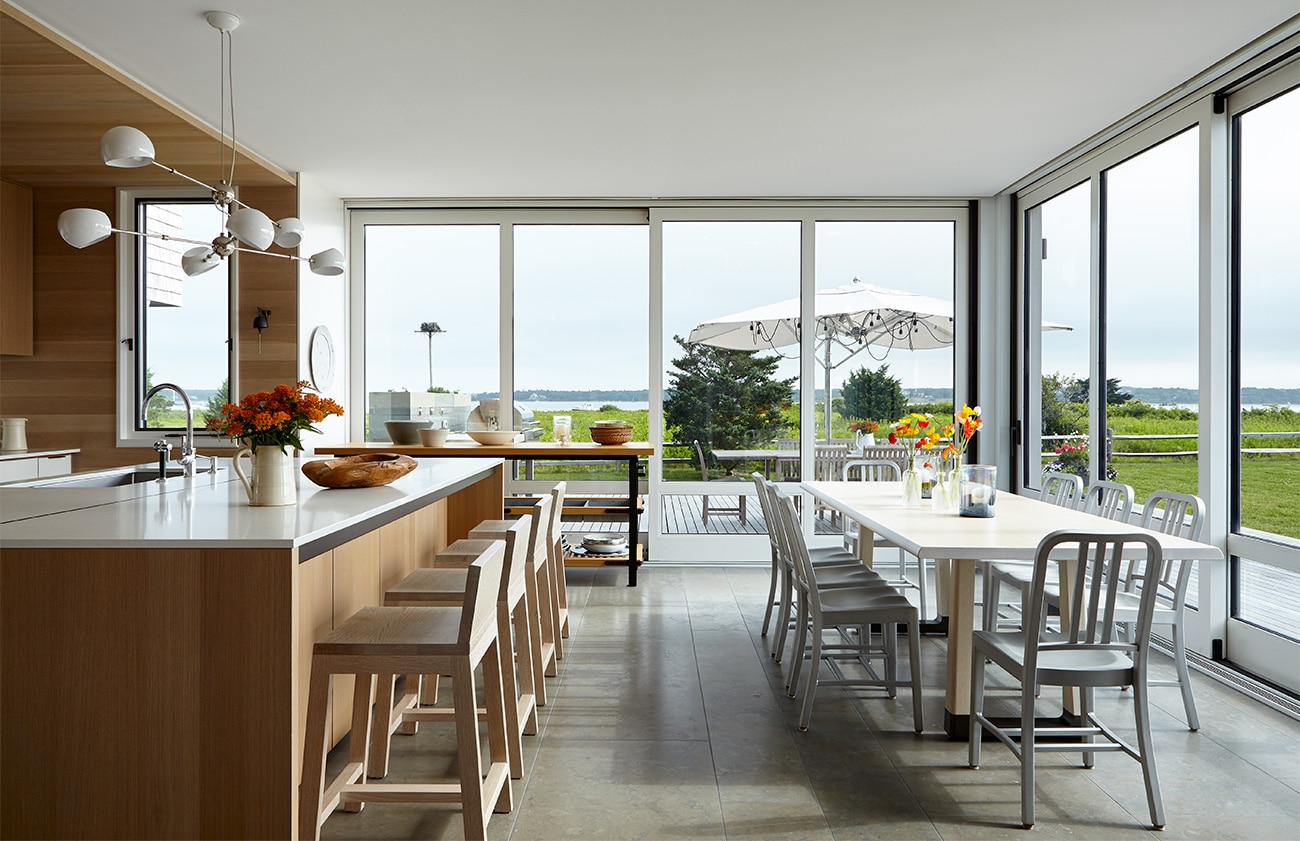 The home's large living room was originally designed with three distinct seating areas, but Wells encouraged Conway to unite them in one long space. She created two slim, cerused oak custom couches, which she positioned in the relatively narrow space lengthwise, facing each other. Next to them, she placed pairs of low Holly Hunt leather ottomans and Christian Liaigre Île de Ré armchairs with darkly stained slatted wood backs and black leather sling seats. The ottomans can serve to divide the space or bridge it, and guests sitting in the Liaigre pieces can be part of a larger conversation or have one of their own.
"Heather's very good at the use of space," Conway notes, pointing to the designer's work on both projects. Adds Wells, "Having a background in architecture and working in interior design, the things I understand go from big to small."
Big to small also applies to the scale of the projects Wells's studio takes on. She recently completed a contemporary mountain home in Montana and an expansive house in Sarasota, Florida — whose look she characterizes as "very traditional and sort of glamorous" — and is now creating the interiors of a large modern residence in St. Louis for clients with a broad collection of contemporary art. But back in Boston, she's working on several homes of more diminutive size, apartments whose styles she describes as ranging from neutral and very contemporary to eclectic and filled with different marbles and jewel tones. "I love to get into the heads of people and find out who they are design-wise, then help them cultivate and edit that," she says, explaining the attraction of such diverse commissions.
"What appeals to me most about interior design is the psychology of it, understanding how people live," Wells continues. "I find out who gets up in the middle of the night to use the bathroom, which kids comes into your room to sleep with you. Architects will ask some of those questions, but they won't get into the underwear drawer the way I will."
Bring It Home
Channel the look of these homes with items hand-picked by designer Heather Wells.