In a lively career spanning decades and disciplines — architecture, interiors, furniture and textiles, as well as art direction, for which he won an Emmy —Kerry Joyce has quietly established a reputation building period-inspired and modern houses from the ground up and decorating them with pieces from his own collections. Now, the low-key, high-style hyphenate with a keen eye for mixing antiques and vintage pieces has released his first monograph. The Intangible, from Pointed Leaf Press, offers a lavish look at his design process by showcasing eight of his residential projects, urban and rural, including a 2002 Bel Air home by the noted Mexican modern architect Ricardo Legorreta.
After spending his teenage years acting in community theater in his native Massachusetts, Joyce earned a BA in scenery and lighting design from the NYU School of the Arts (the book tantalizingly features one of his student project sketches, a Thai temple-inspired set for The King and I). After graduation and an assistant set designer gig on A Chorus Line, he recalls, "I went to Hollywood on a vacation and got a job by mistake and have been here ever since." Landing at CBS, he worked with Cher, Carol Burnett and Tony Orlando and Dawn during the heyday of TV variety shows. Joyce won his Emmy for a 1978 Ben Vereen special and also designed the set for David Letterman's first pilot.
In the 1980s, he opened Designer Resource, a showroom selling architectural pieces to use in restoring period houses or creating new ones. Early customers, such as actress Jami Gertz, tapped Joyce to design their homes, starting him on his next career. His residential furnishings, which originated as custom designs for interiors commissions, have been purchased by fashion designers Monique Lhuillier and Josie Natori and have won awards from several shelter magazines. Today, Joyce creates homes for a no-names-please client list of media moguls, investment bankers, music executives and real estate developers.
Equal parts detail-obsessed scholar and dry wit, the new author recently sat down with Introspective to hold forth on design matters and designs that matter.
Kerry Joyce's Interiors Are Both Sumptuous and Sophisticated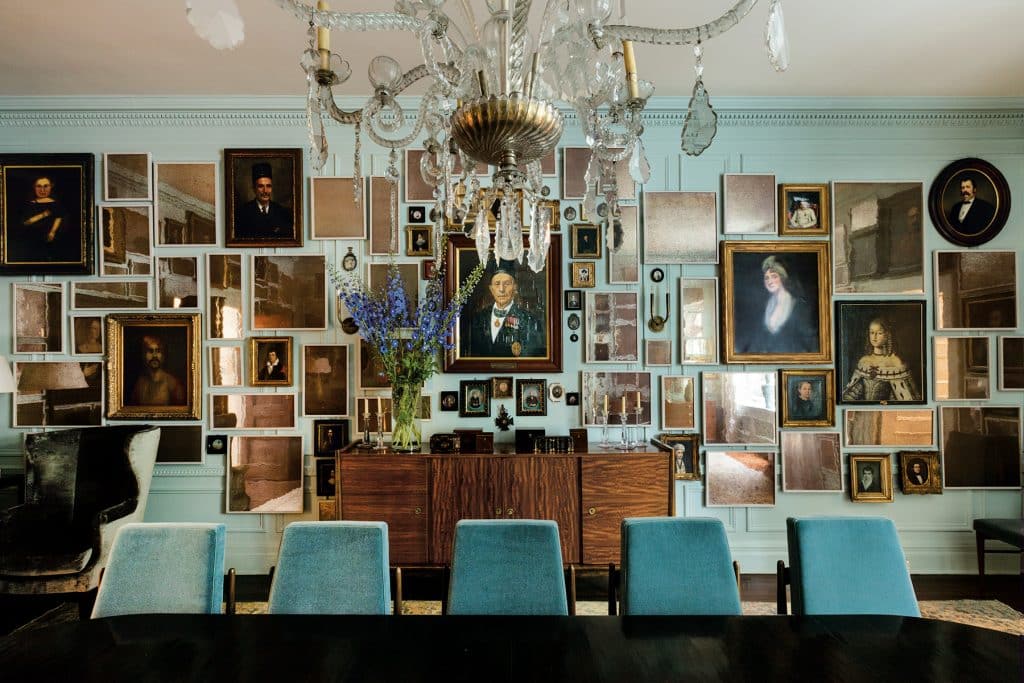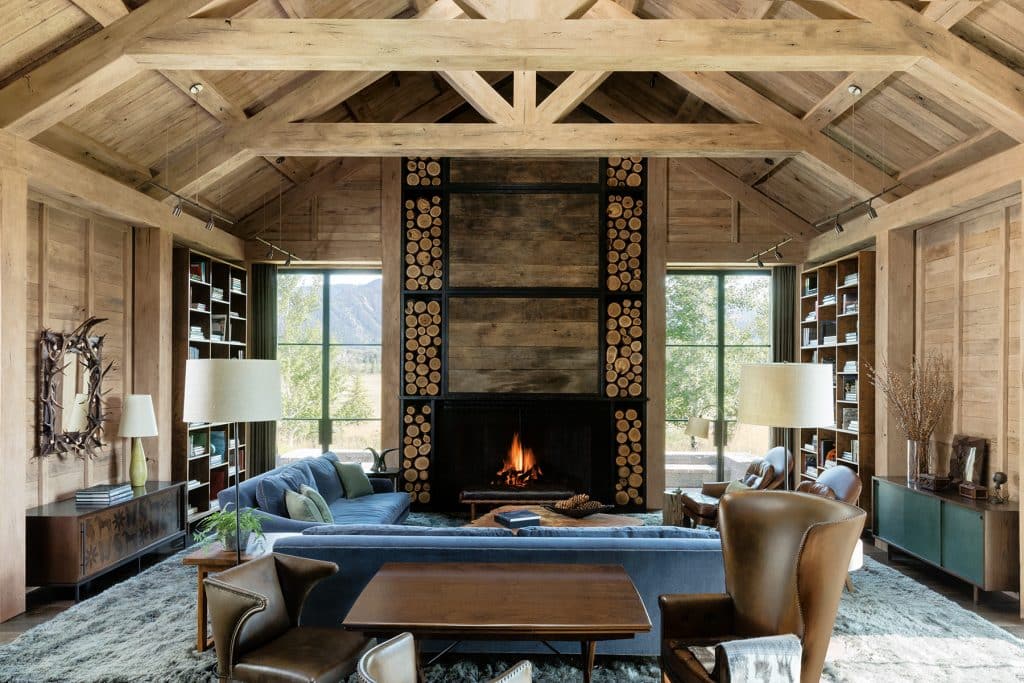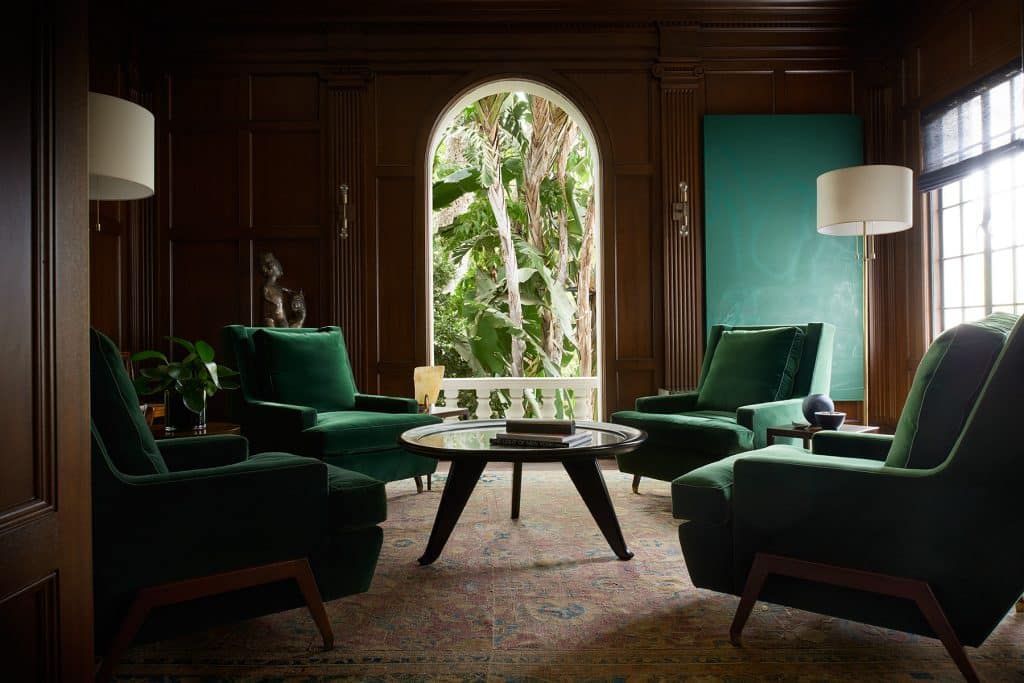 Many designers give their books titles like Inspiring Interiors or Ravishing Rooms. Why did you name yours The Intangible?
"The intangible" is what I aspire to create. I focus on pleasing architecture, composition, balance, beautiful light and honoring garden views. And if I've done my job right, if I've put all the elements together, there is a sense of tranquility that resonates. That's the "intangible" feeling. And that's more important to me than any particular style. It's the feeling of these homes, when you see them together, that tells you who I am.
How does being a self-taught architectural designer influence your interiors?
Architecture and interiors are two parts of the whole. People often think the houses I have designed from scratch are from the past, because of my authentic detailing. I do heavy historical research and then quietly reduce in order to create carefully refined versions of the past that still look real and correct but are sometimes completely new inventions. Even though I work in so many styles and in eras going back to the Georgian, I'm most naturally a modernist, with influences from the nineteen thirties, the Art Moderne period and late Bauhaus.
Which architects inspire you?
Andrea Palladio, Jean-Michel Frank, Joe D'Urso, Kalef Alaton and Shaker architecture. I share their love of reduction, of honoring the essence or purity of design and form without being boring.
Recently, you added fabric design to your résumé with a namesake collection that you are, impressively, distributing yourself, rather than licensing through a major manufacturer. Where do you find your inspiration?
I love quiet historical references in my work, and I am always looking for something refined and neoclassical that could be appealing to both traditional and modern minds. I have been known to take photos of period paintings in museums, zeroing in on the smallest details, which give me inspiration for a new pattern or an unusual colorway. I do love a nuanced color palette. I didn't invent grayed color, but I think I may have helped.
In your book, you talk about "perfectly imperfect" homes. Can you give some examples?
Two homes that I'm particularly enamored of are the Maison de Verre, in Paris, by Pierre Chareau and Bernard Bijvoet, and Luis Barragán's house in Mexico City, especially his airy living room. Each component is perfectly chosen or rendered, but the way they all come together has its own quiet chemistry that I couldn't perfect if I tried.
The "perfectly imperfect" is created not by big statements but with nuances that let you stop for a moment and absorb the environment. When I use brass plumbing fixtures, I always have one of my talented artisans age the metal to create a mellow reflection that gives the impression it has been polished lovingly over many years. All of the stone in the homes I do is honed to remove the shine and imbue it with the feeling of being carefully preserved. It looks of the past but is in pristine condition.
What role does furniture design play in creating a home?
A naked room should be satisfying without furniture and only be made better with it. In the furniture I design, whether traditional or modern, I always strive for a pleasing silhouette and a timeless quality. And I always add vintage furniture to my projects. I love the juxtaposition of old and new.
Who are the masters of home furnishings?
Carl Auböck, T.H. Robsjohn-Gibbings, Greta Magnusson-Grossman, Jean Prouvé, Hans Wegner, Børge Mogensen, Josef Frank — I especially love his fabrics — and Arne Jacobsen. Although I love these designers, most are not represented in the book, with the exception of Prouvé dining chairs in an Aspen home. In the high-rise New York apartment, I have modern shapes — armchairs in the style of Marco Zanuso — juxtaposed with sculptural elements that add handsome whimsy to the room. And in other homes, I have chairs by Ib Kofod-Larsen and Folke Ohlsson. I love almost anything Scandinavian, from the Gustavian period to the twenty-first century. The lack of sun during the endless northern winters affected all those designers and spurred the inventiveness of what they were making.
Did you grow up with mid-century modern furniture?
I was born and raised in Rockland, Massachusetts, a small town about eighteen miles south of Boston. It was full of fine New England architecture that quietly prepped me for my future life in design. I grew up in a post–World War II, one-story ranch house. We had Danish modern furniture prior to its being hip. My bedroom was simple, though I fondly remember my cowboy wallpaper.
I had this modernist streamlined bookcase where I recall making little stage sets or still lifes formed of Play-Doh and collected objects like a tiny carved bust of a woman with an Afro that my father brought back from Haiti. I've carried that with me to all my homes. And I have a plaque of my dad's name from his workplace and a set of china from my Irish grandmother. These are simple things, but as I talk about them, I am touched by a sense of melancholy.
You began your career designing for the stage in New York. Now, all these years later, is that evident in your work?
What I have learned is that most people want the same things — not stylistically, but emotionally and practically. A room is not complete until my clients are in it. You need to make space for what they will bring and what will make them happy.
Theatricality is not just about heightened drama or spectacle. To me, it's about imagining a whole world from the first view, as if it were the initial view of a stage set or the establishing shot in a movie, where everything is composed to feel perfect and at rest, awaiting the action.
Kerry Joyce's Quick Picks on 1stdibs
or support your local bookstore