August 20, 2023Michael Diaz-Griffith is the mastermind behind the best-written coffee-table book to come out in recent memory. And it has a heartening argument at its core.
In The New Antiquarians: At Home with Young Collectors (Monacelli), Diaz-Griffith deploys his considerable intelligence and wit to make the case that, as he writes in his introduction, "young collectors do indeed, despite fears to the contrary, exist" and there has been a "vibe shift" toward antiques, vintage pieces and collectibles in the under-40 set. (His own relatively young age is telegraphed by the use of "vibe shift.")
The book is "the culmination of a decade of working to popularize the pursuit of collecting among young people," says Diaz-Griffith, who is the director of the Design Leadership Network and is on the advisory council of the esteemed Winter Show art and design fair (where he once worked full-time).
For years, the junior crowd at the Winter Show was referred to as the "young and the checkless" by older art world wags, who deemed them mere lookie-loos. And now that they have started buying, they are probably using Apple Pay and other, hipper means of payment.
Anyone who doubts Diaz-Griffith's existential assertion will find proof of it in the book's sumptuous visuals. Brian W. Ferry beautifully photographed most of the images of the homes inhabited by 22 "New Antiquarians" and they are printed on a rich matte paper stock. The pages flatter items as different as the silver collection of Deal, England–based artist Pablo Bronstein and the trompe l'oeil furniture of Los Angeles designer Jared Frank.
"The idea of a pendulum is a cliché, but it does swing," Diaz-Griffith tells 1stDibs, referring to the cycles of collecting taste, as well as the impulse to acquire itself.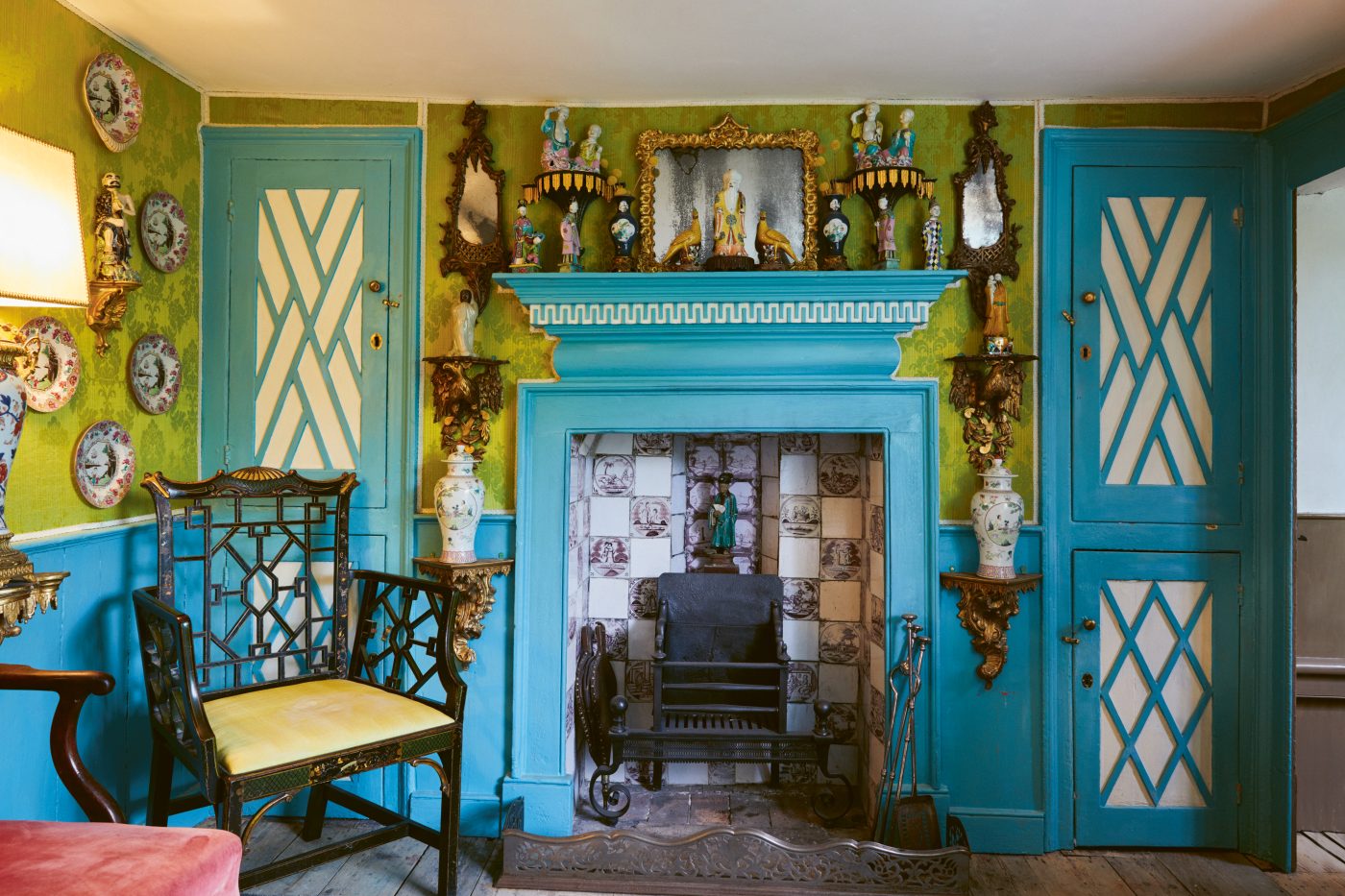 According to the author, the moment when the vogue for mid-century modern loosened its grip on collectors coincided with a social media "age of ultimate plurality" — meaning people could be introduced to almost anything online or have their nascent impulses validated.
The pandemic, when people were stuck at home and looking for virtual inspiration (and distraction), hastened the widening of the lens to include lovingly crafted objects of the past. "Younger people are primed to appreciate colors, patterns and complexity," Diaz-Griffith says.
These new collectors have their own approach to showing off collecting finds, one that is eclectic but not for eclecticism's sake. "Among a certain set of baby boomers, there's this idea that if you put an AbEx painting above an old sideboard, people will eat it up," says Diaz-Griffith. "That's not how younger people are doing it. The mixing is very unselfconscious and not rule bound."
Members of the youngest collecting subset have their own way of presenting their treasures. "People in their twenties are reverting back to neutral, cool backdrops for vintage finds," he says. "They're collecting old things but treating each object as an object and not as part of the scheme — there's more negative space."
The book is full of heavy hitters, including Emily Eerdmans, a noted dealer and Mario Buatta protégé; Kyle Marshall, who works with Bunny Williams on her furniture collections; architect Giancarlo Valle and his stylish wife, Jane Keltner de Valle; and designer Adam Charlap Hyman, of the New York and Los Angeles firm Charlap Hyman & Herrero. New Antiquarians shows off the Aesthetic Movement armchairs Charlap Hyman has in his Manhattan apartment, their elaborately carved splats playfully complementing a light fixture of his own design in the form of a shell.
"People are always looking for something that feels fresh to them," Charlap Hyman says. His theory is that like-minded collectors have taken on what is essentially an anti-modernist stance. "It's not about the function of the thing — it's the look," he explains.
A full-page photograph of Charlap Hyman's living room depicts one of the most striking juxtapositions in the book: a 17th-century Aubusson rug once owned by his grandmother hangs behind a 1970s modular sofa by Klaus Uredat and a surreal lamp in the form of an eyeball by the artist known as Nicola L.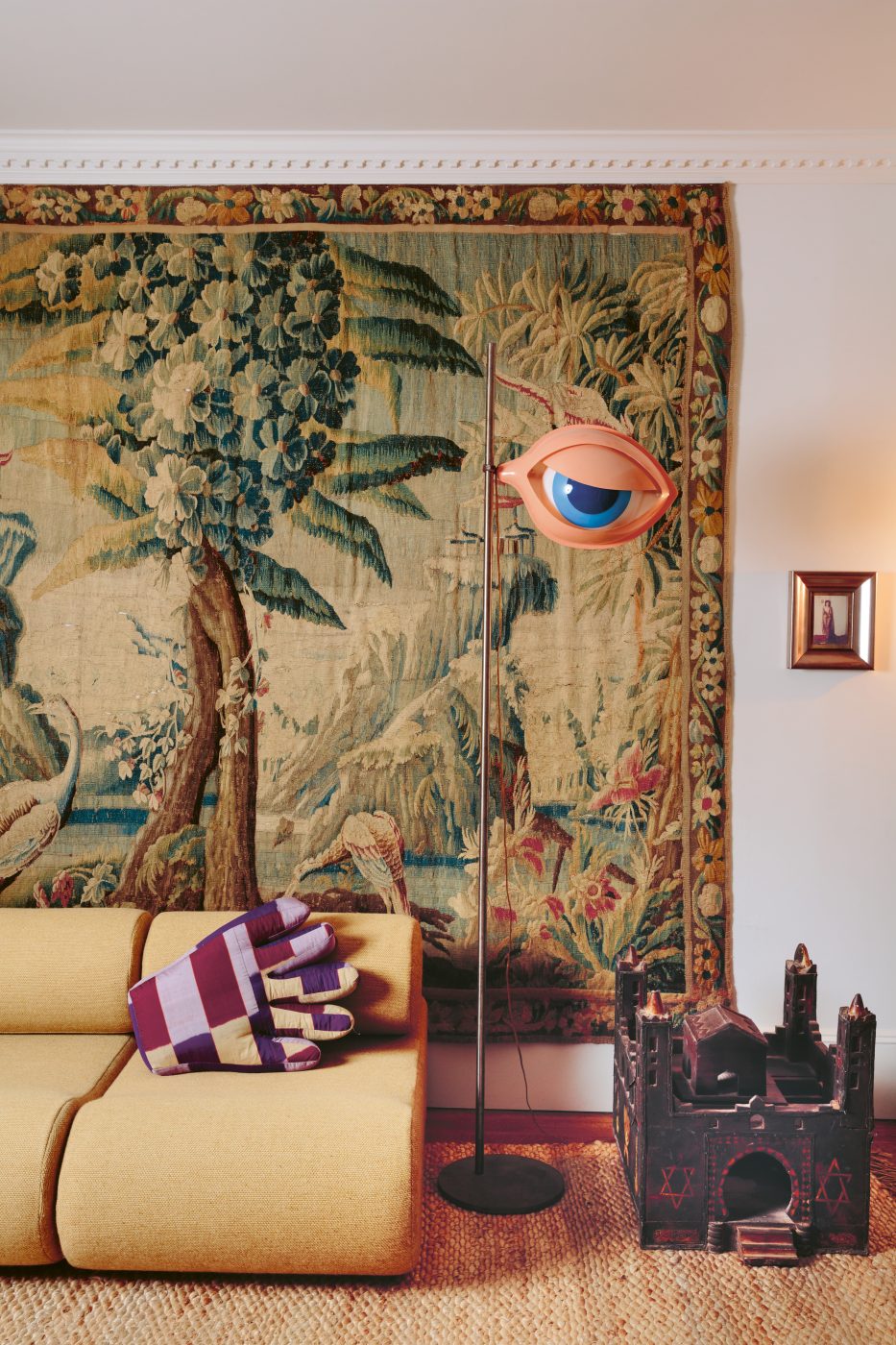 "The rug has depth and an abstract quality," says Charlap Hyman. "When you put anything in front of it, it lends that dimensionality. I love finding disparate elements that come together in surprising and compelling ways."
Camille Okhio, an Elle Decor editor who lives in Brooklyn, qualifies as a "time traveler," Diaz-Griffith writes, referring to the way she hangs old embroidered panels against a spare background as if they were portals to the past.
"When I buy something new, I want it to fill a hole emotionally or design-wise," says Okhio. "I want to be writing by candlelight, let's say, so I need the right candlestick."
"In this generation, we're collecting from a place of pure emotion," she continues. "Maybe some are just creating vignettes for Instagram, but the people in Michael's book have the education and have done the homework."
A piece of ancient Roman glass dating to AD 120 was an auction purchase by Okhio that still astounds her. "These pieces are sometimes ways to converse with people who lived two thousand years ago," she says. "I hold that piece in my hand and it transports my spirits. In a way, it's a form of escapism."
Collier Calandruccio, another Brooklyn resident, would certainly agree. He named his gallery Klismos after the ancient Greek chair.
As seen in the book's photo of his home, he takes his classicism straight — no contemporary painting thrown in to make his place seem relevant. He does mix eras and countries, however, as with the Italian giltwood sconces that emerge from behind a 16th-century Flemish tapestry.
Calandruccio has created a scheme that is elegant but also welcoming — and he feels that Diaz-Griffith is welcoming, too. "He managed to create a visual homily to this kind of collecting without the fire and brimstone," Calandruccio says. "Even the staunchest minimalist would be intrigued — it's not exclusionary. He wants to draw in new collectors."
In Calandruccio's view, "we've had our taste of disposable culture, and people are looking for that human connection, seeing the hand in things."