There are a lot of standards here, but very few rules," says interior designer Alexandra Champalimaud, settling into a chair in her 45-plus-person office in Manhattan's Financial District. As if to exemplify this, she is not wearing her characteristic uniform of snugly fitted leather pants and flowy feminine blouses, her hands are sans the usual rings, and her face is devoid of makeup.
Champalimaud, who relocated from Canada to New York in the early 1990s, explains that she was at a friend's daughter's wedding the night before and partied into the wee hours. "You know, when you get to a certain age and dance all night, you really wake up kind of wrecked."
Which is not to say that Champalimaud appears in the least bit "wrecked." She has standards, after all. But today, she is sporting a decidedly casual look: comfortably loose black cotton pants elaborately embroidered in a stylized orange floral pattern and a stretchy top.
Her down-to-earth manner is refreshing. For Champalimaud could be excused if she were a bit haughty. She is an unqualified legend in the hospitality industry, having designed some of the world's most famous hotels: the PIERRE and the WALDORF ASTORIA in New York, CHÂTEAU FRONTENAC in Quebec City and the FOUR SEASONS in Jakarta, to name just a few.
Champalimaud also takes on select residential design work and has several licensed product lines. At any one time, her office is juggling up to 50 large-scale projects for some of the globe's leading architects, each of which often requires two or three years to plan and design.
Her company, Champalimaud Design, collaborated with Richard Meier, for example, on No. 2 Opus Place, one of the tallest residential towers in midtown Atlanta.
Champalimaud also handled the reimagining of the hotel ON MONKEY ISLAND in the Thames River near the town of Bray; the restoration of the RAFFLES in Singapore; and the redesign of Troutbeck, a 442-acre former estate and inn in Amenia, New York.
In London, she completed the renovation of 11 historic Carriage House suites for the STAFFORD HOTEL. In New York City, her interiors can be seen at the legendary ALGONQUIN HOTEL near Times Square and the iconic CARLYLE on the Upper East Side.
Alexandra Champalimaud: From Humble Beginnings
The creative force behind such luxury properties as the HOTEL BEL-AIR in Los Angeles and BADRUTT'S PALACE ST. MORITZ in Switzerland comes from surprisingly rustic roots.
Champalimaud was raised amid cattle, horses and lemon groves in Cascais, the westernmost point of Portugal, about 20 miles outside Lisbon.
"I am a creative person, interested in everything about decorative arts and the history of furnishings," she says, explaining how she gravitated to her current field. "The development of culture from the Renaissance on is related to how people lived."
In 1971, at 19, she married into the aristocratic Portuguese Champalimaud banking family. She soon began designing her own acrylic furniture but had to put that enterprise on hold for a year while she decamped to Pemba, Mozambique, where her husband was completing his military service.
Back in Lisbon, while raising her first son, Lopo, she worked for an architect and designed her first hotel, the Vilalara. Shortly after, she was uprooted again, this time by the 1974 Carnation Revolution, which overthrew the country's dictatorship.
Although the coup was relatively bloodless, it was not a good time to be a member of the upper crust, so the family moved across the ocean to Montreal, where her husband took a position at another of the family's banking outposts.
The Making of Champalimaud Design
Her marriage had dissolved by the time she was 26. Single and with two sons (her second, Anthony, was born in 1978), she needed to work. She looked up design firms in the phone directory and began calling.
"I had five interviews and three offers," she says, "one of them from Mitchell Holland, a company that was the dernier cri and did high-end residential design for very wonderful old Canadian families." (The designer speaks four languages — Portuguese, French, English and Spanish — and often sprinkles her conversation with foreign phrases.)
In 1981, however, Champalimaud decided to go after bigger game and intentionally sought out hotel design. When asked why, she replies, "There is much more organization — a progression and a sense of order. That structure worked with my family life."
She started her own design studio, landing, among other early commissions, the offices of Prime Minister Pierre Trudeau.
Soon, she found herself revamping several Canadian hotels: Hotel Maritime, the Queen Elizabeth, Château Champlain and the venerable 19th-century Château Frontenac. Projects in India, Pakistan, South America and Europe followed.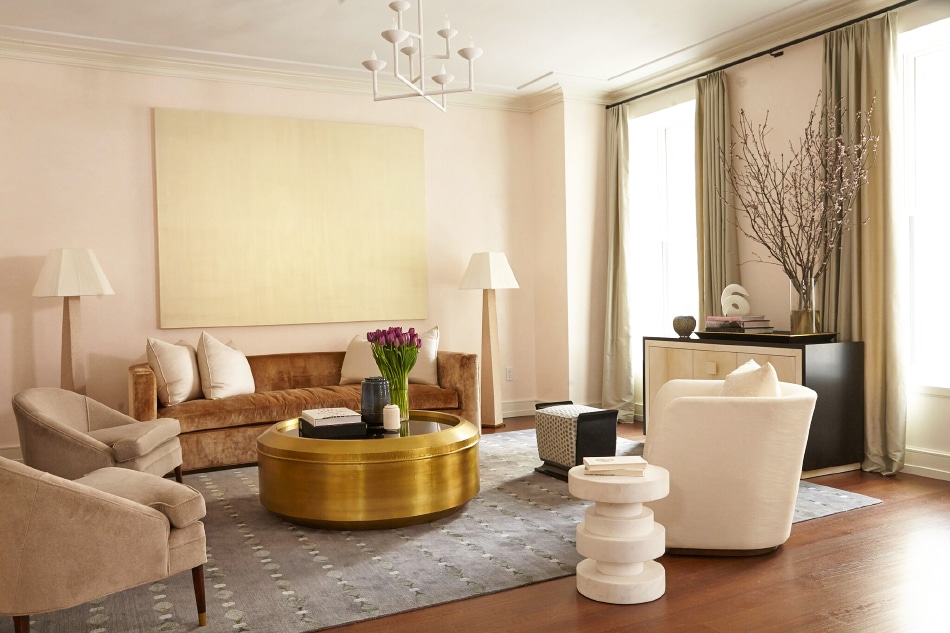 Truly Welcoming Luxury Hospitality Design
These days, her firm is known for interiors that "extract the essence of a place," she explains. "Even something created today has been made in the context of a certain year, time, place and way of life. I'm not going to do a stage set."
Rather, "I project it into something that's mine and contemporary," she continues. "Chic to me is less. COCO CHANEL used to say, 'Look in the mirror each morning, and take something off.' The power is in the soul of a place, not its adornment. It's like a person. You can perceive their presence."
Although the sense of luxury in a Champalimaud project is layered and palpable, it is never ostentatious. And she leads her own life relatively simply. Case in point: She connected with her present husband, investment banker Bruce Schnitzer, at a gathering where they discovered they had a no-frills, back-to-basics "Amazon connection."
Schnitzer had traveled to the South American rainforest with his then girlfriend, while Champalimaud had taken her boys — 12 and 17 at the time — by dugout canoe up the Rio Negro north of Manaus, in Brazil, "nowhere near a five-star hotel," she says. "I don't believe in that for kids."
Their weekend home, in the village of Litchfield, Connecticut, was built in the 18th century by Oliver Wolcott, one of the signers of the Declaration of Independence. It is unquestionably handsome, but its overall affect is low-key and comfortably worn. In the city, she says, "I live in a JEAN NOUVEL building, in a very stark apartment where there's space for me."
Her business continues to grow entirely through word of mouth — and her reputation for high standards. "Making a career, it's the only thing you have," she says. "My reputation is my most important carte de visite."
---
Alexandra Champalimaud's Quick Picks on 1stDibs