December 4, 2022Some interior designers are very much of the moment. They catch the zeitgeist, surf a trend but produce work that looks dated in the blink of an eye. There are others whose avowed goal is to create a timeless feel. The resulting projects often lack oomph. Then, there are those like Charlotte de Tonnac and Hugo Sauzay, of the Paris-based practice Festen, who artfully walk a fine line between the two approaches. The pair may be furiously fashionable, but there's nothing flash-in-the-pan about their aesthetic. Instead, they create thoughtful, beautifully elegant spaces that will certainly stand the test of time. "Hugo and Charlotte are hip, but their work also references the past," says Marie Kalt, former editor in chief of AD France. "It's reassuring without being boring, not exactly edgy but with a bit of punch."
The duo themselves claim to have no interest in being trendy and would run in the opposite direction if a client asked them for an "Instagrammable" decor. "We're more like landscape architects, because we think about our projects in the long term," says Sauzay. "We try to come up with projects that are coherent, educated and real." Their success is no doubt due in part to their desire to anchor their designs in the history and spirit of each project's location.
For the hotel Les Roches Rouges, a former tumbledown motel directly on the Mediterranean in Saint-Raphaël, they spent 10 days speaking with local inhabitants to capture the essence of the French Riviera. The design they came up with was inspired by EILEEN GRAY's iconic E-1027 house, in nearby Roquebrune, and integrated pink stone from a quarry just six miles away, as well as vintage furnishings by the likes of Charlotte Perriand, Willy Guhl and de Sede. For another hospitality project, the Hôtel Pigalle, in Paris, they referenced both an original mosaic in its brasserie (for the soft-hued palette) and the erotic photos famously taken by the legendary Italian designer Carlo Mollino.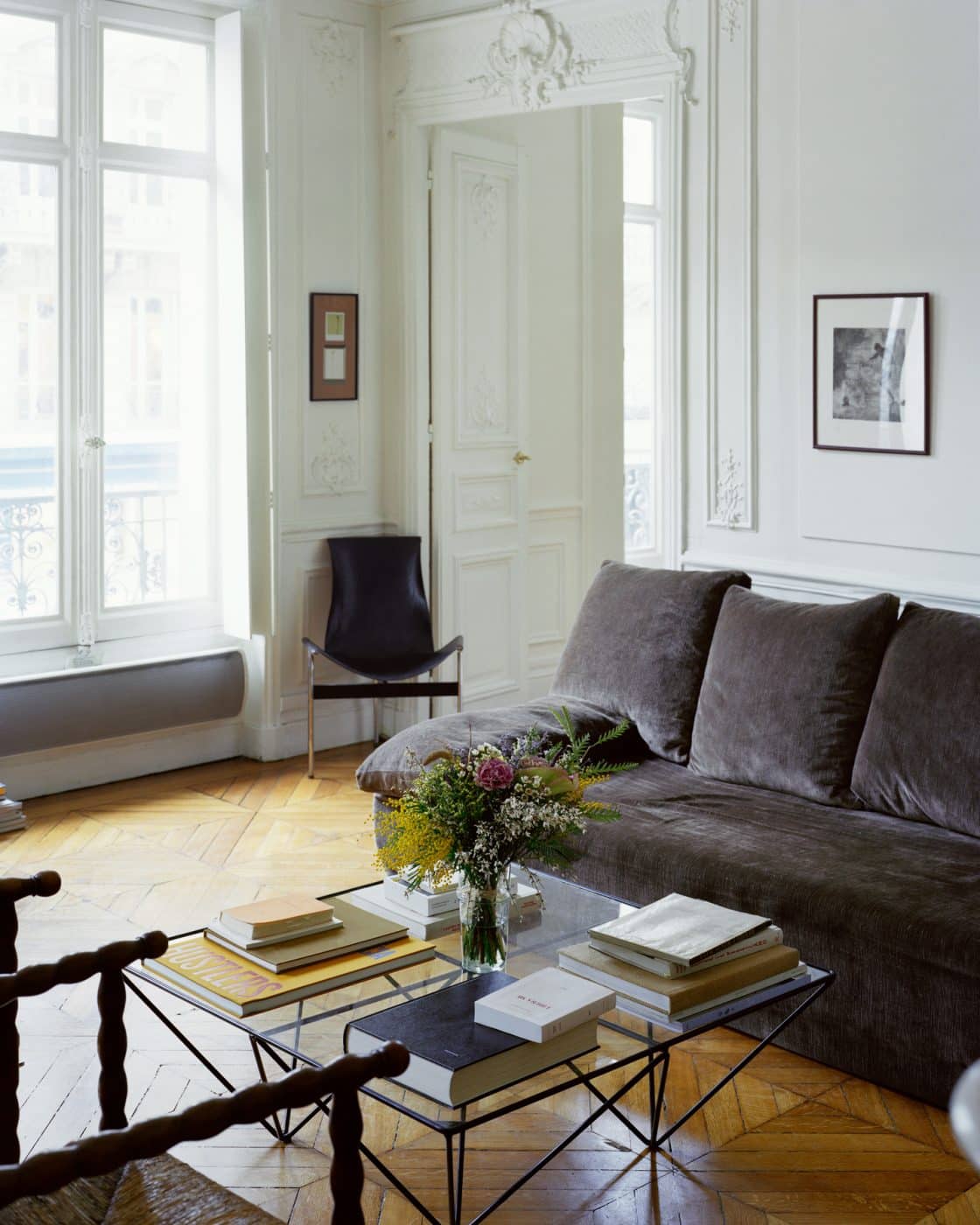 Both projects were commissioned by hotelier Valéry Grégo, who says he chose to work with the couple because of their personalities rather than a specific aesthetic. "They bring with them a freshness, a sense of pleasure, a way of not taking themselves too seriously and a desire to recount stories," he explains.
For Kalt, the pair more or less have it all — "beauty, charm and refinement." In person, they are wonderfully courteous and slightly self-effacing. They are also complementary: Sauzay is more outgoing, Tonnac more reserved.
"Hugo is really anchored in reality, has great technical knowledge and is very precise," notes Tonnac. "Charlotte is more curious and cultivated than me," Sauzay says in reply.
Almost every article about Festen mentions Sauzay's parallel career as a model. He was stopped on the street in Paris in his late teens and within weeks found himself on a shoot for Burberry with Kate Moss. "I didn't know who she was," he recalls. "I introduced myself and asked her name. Everyone burst out laughing."
He went on to work with photographers like David Sims and Steven Meisel, was chosen for a Calvin Klein campaign and participated in shows for Prada, Hermès and YSL. Today, he continues modeling on the side, accepting a couple of dozen jobs per year. Tonnac has modeled, too, with months-long stints in both Tokyo and Milan.
Partners both professionally and personally (they had their first child last fall), the couple met in their fifth year at one of Paris's most prestigious interior design schools, École Camondo. Even before graduating, they had obtained their first interior commission — a 2,700-square-foot classical Parisian apartment in the 7th arrondissement — referred by a friend who had met the owners in a bar. "I don't think they hired us for our aesthetic," says Sauzay. "They were simply looking for someone young and flexible to renovate the flat cheaply." Their intervention ended up being more architectural than decorative. The walls were white and the clients already had their own furniture.
Shortly after, in 2011, they founded their firm, choosing the name Festen partly because they are fans of Danish filmmaker Thomas Vinterberg's intense but masterful family drama of the same name. They also liked the word's more lighthearted connotation of celebration and festivity (it means "party" in Danish).
In a certain sense, the choice proved prophetic, because Tonnac and Sauzay, now both 36, have made their names largely with hospitality projects. One of the latest is the Château Voltaire hotel, which stretches over three separate buildings on Paris's Right Bank, with a design that fuses style and coziness. There are Viennese Secession notes in the black-and-white geometric patterns of the restaurant, a retro feel to the bar, with its glossy black ceiling and deliberately faded upholstery, and a more countrified ambience in the living room, thanks to French Medieval-style armchairs dating from the late 19th century, acquired from Obsolete in Los Angeles.
Tonnac and Sauzay have several other hotels in the pipeline, including ones in Palma de Majorca and Mexico City, and another in a former convent in Nice, but their work is not solely commercial. In-progress commissions include residences in London and New York and on Lanzarote, in the Canary Islands, and in the past, they have decorated vacation homes on Corsica and in Cap Ferret, on the western coast of France, as well as a number of Parisian apartments.
Their own former flat in the Haut-Marais district featured white walls and a number of original touches: a coatrack made from metal pipes and a bedhead repurposed from a 1950s leather gym mat. But otherwise, the furnishings were relatively sparse. "We need visual space for our minds," says Tonnac.
In many ways, it's difficult to point to a specific Festen style, since it tends to vary from one project to the next. What matters to the designers most is creating atmosphere. They do that by focusing on patina and natural materials, with a preference for oak, walnut and burl wood and a current obsession with marble in warm yellow or burgundy tones.
Japan is a significant influence, as witnessed by their installation for the 2019 AD Intérieurs showhouse in Paris — a hybrid space that was part living room, part bathroom. Referencing both Japanese and Roman bathing rituals, it brought together an exquisitely curated selection of furniture, including a contemporary pine chair designed by Giancarlo Valle, a Gerrit Rietveld armchair made from white-painted planks, a cocktail table by Jean Royère and a chair in turned wood and straw by Josef Zotti, who was a pupil of Josef Hoffmann at the Vienna School of Applied Arts. "For us, it was a sort of fantasy project, based on the notion of taking time for yourself," explains Tonnac. "There was something both theatrical and ceremonial to it."
The pair is pragmatic enough to realize that, however timeless their designs feel, they probably won't last forever. "It would be fabulous if they stay in place, but it's likely they'll end up being replaced," says Sauzay. "If so, then that's life. But if the designer who comes after us keeps even a little bit of what we put in place, now that would be really great."