Can a country-house hotel exude both echt-American and echt-European vibes at the same time?
To strike the perfect balance, it would have to have New World advantages in spades — being pleasurable right from check-in, with up-front friendliness — alongside the slow-burn, aristocratic charm of the Old World.
When I woke up on a wintry Saturday morning at Troutbeck, a 36-room property in Amenia, New York, I was momentarily suspended in an agreeable state of confusion between those two ideals.
Eye rub: Where was I? Wherever it was, it was cozy and chic and felt no need to telegraph its virtues. It was homey — if you happened to live in a very nicely appointed home.
Troutbeck — a dreamy little spot located in New York's bucolic Dutchess County (and a stone's throw from the border with Connecticut's rolling Litchfield County) — opened in its current form in 2017, under the aegis of proprietors Anthony and Charlotte Champalimaud.
If that last name sounds familiar, it's because Anthony's mother, Alexandra, founded the famed interiors firm Champalimaud, where he used to work. Needless to say, Mom and her team handled the design duties for the hotel, sourcing many items from 1stdibs.
"Troutbeck has enormous integrity," Anthony says of the estate, which has roots going back to 1765. "We're only the fourth owners. We just wanted to reanimate it and reestablish its spirit."
Centered on a gorgeous stone manor house with an outstanding restaurant, Troutbeck stretches over 45 acres that include a creek, a river (with real trout swimming in it) and charming little bridges, not to mention a pool, a tennis court and a movement/meditation studio. The guest rooms are split among the manor, a garden house and the more modern Century Lodge.
Anthony, who earned a master's degree in real estate development from Columbia and wrote his thesis on ski resorts, had "long been an aspiring hotelier" when he stumbled on the property, he says, adding, "Growing up at my mother's heels as she designed beautiful hotels certainly helped."
He was living nearby when he set about finding investors to make the purchase. Around the same time, he met Charlotte, who goes by Charlie, and their relationship developed along with the property; they're now expecting their second child. "I had just moved to the U.S. from Oslo, Norway, when we got Troutbeck under contract," says Charlie. "It feels European and close to home for me."
The thing that wowed them both was the history of the place, which was a lot more substantial than the usual "someone famous slept here."
Founded as the private estate of the Benton family, Troutbeck was a legitimate 19th-century literary hot spot, repeatedly hosting Mark Twain, Henry David Thoreau, Ralph Waldo Emerson and the naturalist John Burroughs. The Champalimauds have continued the tradition and upped the ante, holding poets' retreats and offering arts programming for guests; they also proudly show works by the artist Carroll Dunham. Dunham, who for years has had a house in nearby Cornwall, Connecticut, is a fan of the hotel and donated the pieces.
Then, under the next owners, the Spingarns, Troutbeck became something of a locus for the 20th-century civil rights movement.
Colonel Joel Spingarn, a cofounder of publisher Harcourt, Brace & Company, and his wife, Amy, built the manor house in 1919. There they entertained luminaries like Sinclair Lewis, Ernest Hemingway and their close friend Thurgood Marshall — and received multiple visits from President Theodore Roosevelt.
Troutbeck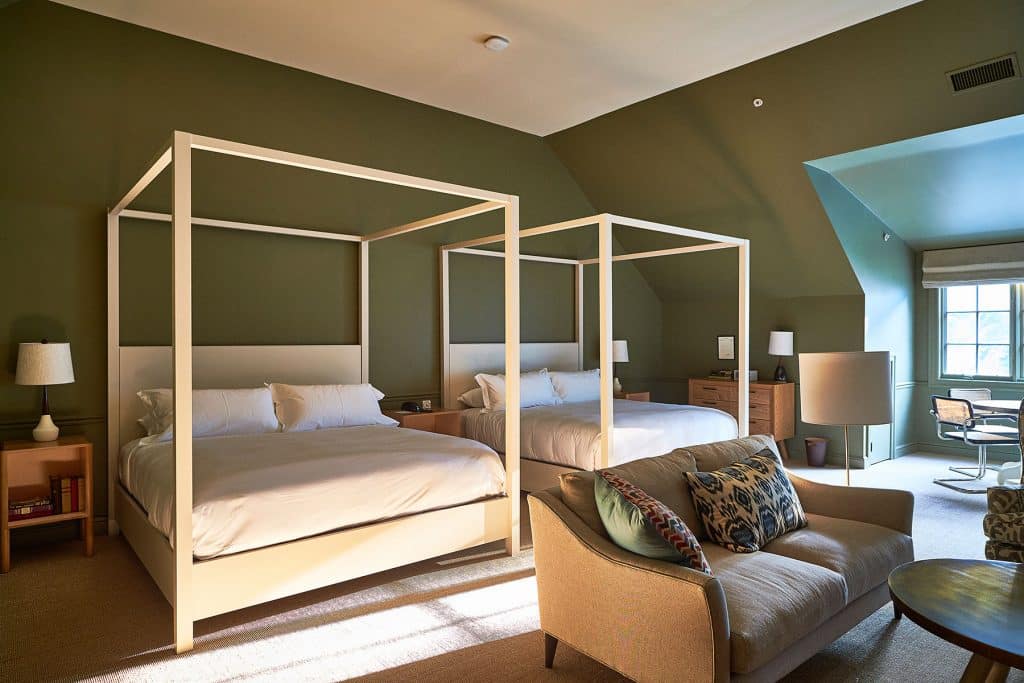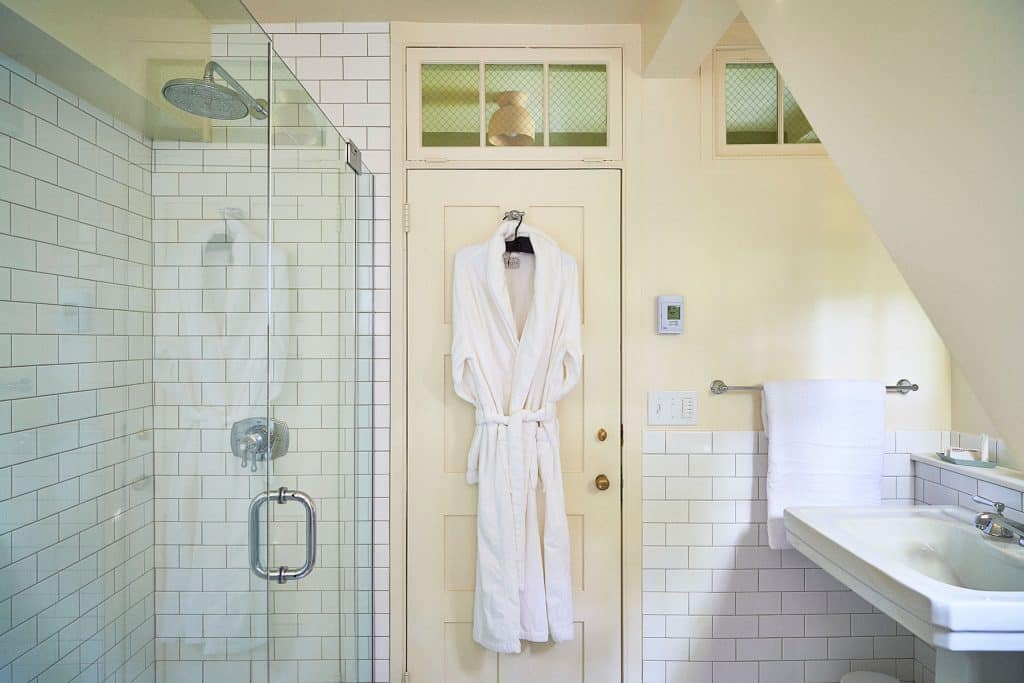 They were also very active in the NAACP, and so the property was host to two important meetings sponsored by the organization, known as the Amenia Conferences, in 1916 and 1933. The NAACP still gives a Spingarn Medal in their honor (it was given to Martin Luther King Jr., among others). "Amy was also a leader of the suffrage movement," Charlie notes, "working out of Poughkeepsie."
Some discreet memorabilia in the Troutbeck rooms refer to the property's activism glory days, but it's not overdone. "The trick is to honor that without trading off it," says Anthony.
Those items were just finishing touches. First, the Champalimauds had to overhaul the 42,000-square-foot property, which had fallen into disrepair after going through several iterations as a hotel. They did so in exactly one year. Talking in shorthand helped.
"It was very much a family affair," says Alexandra, who was happy to be hired by her son. "If he had any doubts, he was kind enough not to show them," she adds, laughing.
Anthony wanted a "simple and elegant scheme," he says. "We wanted to meet a luxury standard without ever saying the L-word."
One of the challenges was knitting together the many additions and renovations the buildings had seen over the years. Anthony and Charlie insisted on leaving the original moldings, door knobs and other details that could be preserved, while updating the public spaces to be disabled-accessible.
The Champalimauds decided to preserve the manor house's dark wood floors. And their color choices were darker than you might expect: a rich series of greens, rusts and blues. "In every room, we painted the whole envelope the same color," says Alexandra. "That helped it feel more modern."
When it came to furniture and lighting, the rule was "nothing busy or angular," she adds. The guest rooms were fairly large, but they had been crowded with multiple pieces, so the contents were pared back to a few chic items in leather, wicker and painted wood.
The public rooms are chock-a-block with 1stdibs pieces, especially those with retro-vintage vibes. In the library, across from a roaring fire, you'll find a pair of Italian Art Deco chairs upholstered in orange suede and an early McKay Streamline Moderne chair, as well as an Ib Kofod-Larson teak lounge chair in tweed. A lacquer-and-enamel teak coffee table with a reversible top completes the scene.
Sisal rugs — plus a couple of older floor coverings from Alexandra's personal collection — help make the whole hotel feel like "you're wearing corduroy," she says.
Indeed, the highest compliment is that the high-end clientele feels truly relaxed, in an atmosphere steeped in history but never weighed down by it. As Anthony reports, "People walk around in bare feet, and we love that."
Get the Look