July 16, 2023Perched atop a hill on the Umbria-Tuscany border, Hotel Castello Di Reschio is the stuff of fairy tales. Once a crumbling ruin, the 11th-century fortress, often found swathed in ethereal mist, has been skillfully reimagined by Count Benedikt Bolza as an extraordinary hotel that marries quiet luxury and classic design with a touch of theatrical flair.
The castle is just one of 50 properties peppered across the 3,700-acre estate, more than half of which have also been rescued from decline over the last 25 years. Brought gently into the 21st century by the Austro-Hungarian architect as vacation homes for discerning buyers, seven houses are available as vacation rentals via the Reschio team, who manage them on the owners' behalf.
All of the structures are filled with antiques, art and collectibles as well as pieces from the B.B. for Reschio collection designed by Bolza. Including seating, tables, desks, beds, garden furniture and more, the burgeoning collection (much of which can be found on 1stDibs) is crafted by skilled carpenters, blacksmiths and upholsterers at the Reschio estate workshop using only the finest materials sourced throughout Italy.
The story of how one of Italy's most enchanting hotels came into being is as intriguing as the property itself. Rewind to 1984, when Benedikt's father, Count Antonio Bolza, who was then living with his family in Munich, first came to Umbria and immediately fell in love. Charmed by the undulating landscape, he bought a simple vacation retreat. It wasn't until a decade later that the successful publisher sold his business and purchased the surrounding estate, which included the farmhouses and the castle.
"My father was a refugee who fled from Hungary after the Second World War," Bolza says. "He was desperate to finally settle down and to rebuild what was lost. That was his motive, his drive." Because his father bought the estate with everything he had, explains Bolza, who was studying architecture in London at the time, "we didn't have any money, which meant we had to think of a way to reconstruct and maintain it, hopefully for generations to come."
Not wishing to partner with investors, they decided to sell the houses one by one, then work closely with the new owners to restore them to the highest possible standard. "When I arrived in 1999, there was no one here other than my parents, and since then it's been a slow, organic project," Bolza says. "Each house is so individual, and we have to preserve what's there. But whatever solution we agree on, it's always a collaborative process."
Restoration of the castle, which Bolza and his wife, Donna Nencia Corsini, an artist from a noble Florentine family, had been living in, didn't happen until around 2010. "By that time, it was literally crumbling above our heads, and, in any case, it was too big for us, even though we had five children," Bolza says. (They moved into one of the farmhouses.) "But having experienced it for more than a decade, I understood how it could work as a hotel, and to have a viable future that's what it needed to be."
Opened to guests in spring 2021, the Castello di Reschio now has 36 beautiful guest rooms, a glazed palm court, three atmospheric bars and two restaurants. There are also peaceful gardens, full working stables, a mirrorlike elliptical pool, a subterranean bathhouse and a truly breathtaking spa.
Bolza's playful take on classic Italian glamour begins at the main entrance to the castle through the boot room, which serves both as the reception area and as a workspace for arranging the freshly picked flowers that are used in abundance throughout the hotel. "I wanted it to be really homely and welcoming," says Bolza. "The walls are colored plaster stained with natural pigment. It's all done by Nencia, who's an expert at painting frescoes, mixing pigments and specialist finishes." A huge stone fireplace reclaimed from the property's former olive mill is fitted with a large fire basket, which was designed by Bolza. Alongside the mantel hangs an antique portrait of a woman and two children.
This vaulted lobby leads to the Palm Court bar, a comfortable lounge gently illuminated with a collection of lamps, which, like all the lighting on the property, is designed by Bolza. A row of leather upholstered brass stools, also created for the castle, line up against the counter, while on the walls are hung more vintage oil paintings, part of a huge collection throughout the castle that Bolza and Corsini have been sourcing for years.
This intimate space leads into the light-filled Palm Court, which is brought to life with an abundance of greenery as well as custom peacock chairs crafted from bamboo and petite settees, which are scaled-down copies of an antique French piece. "The original is perfect, so I replicated it to fit around the columns," says Bolza. "It's a favorite and the most comfortable sofa you'll ever sit on."
Deeper into the castle are the serene guest rooms and suites. Each is unique, but all feature a wealth of antiques and bespoke marble-topped bars and many are home to the Campaign bed. "It gives volume to the room," says Bolza. "I originally designed it for one of the houses, and it was a real hit. Plus, it's so easy to move."
At 1,650 feet above sea level at the southern end of the estate, Cercoschene enjoys sweeping views across the entire domain. Plaster walls bring a softness to the impeccably restored farmhouse's entrance hall with its sandstone staircase, carved antique bench and decorative iron chandelier. "The stove was made to measure in northern Italy," says Bolza. "In winter, it keeps the space perfectly warm."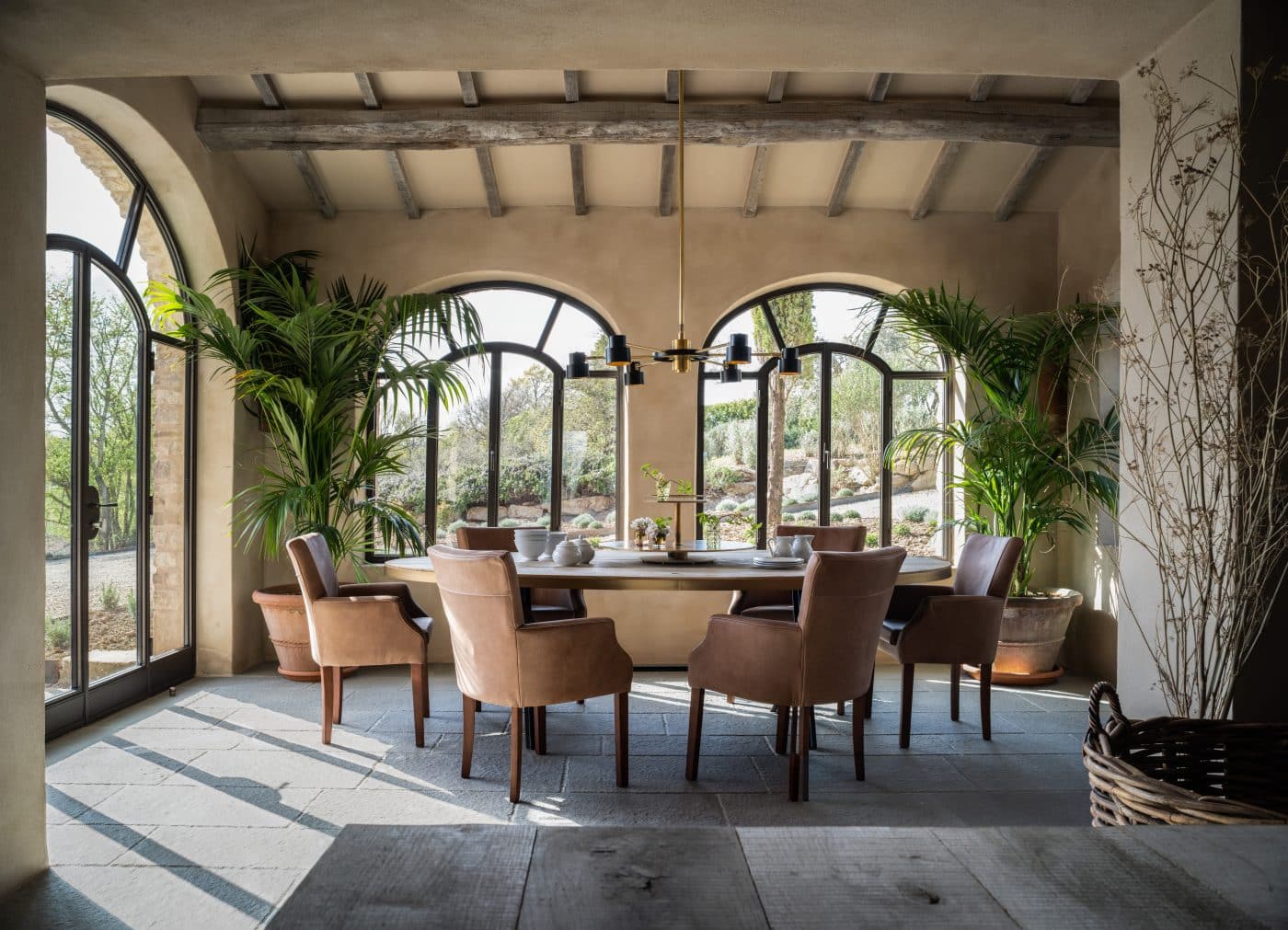 In contrast to the lofty hallway, the sitting room is a cozy space packed with luxurious materials and textures. Adding color and pattern is a generous antique Persian rug that belonged to the owner's grandmother. "It's huge and beautifully worn and perfect for this room," says Bolza.
The house was made for entertaining. The dining room features a series of grand, arched windows, which fill the space with natural light. In the middle of the expansive space is a huge oval dining table, perfect for communal breakfasts, leisurely lunches or jovial dinner parties. Crafted from reclaimed waxed-oak planks, the handsome piece is supported by a patinated brass ring on steel X-frame legs.
Upstairs, a large bedroom includes one of Bolza's newer designs. "The clients dreamed of having a very grand, baroque four-poster bed, which are difficult to find and tend to be tiny," says Bolza. "So, instead, I created the King's Bed, and we brought it into the Reschio collection." Lightweight, Italian linen curtains hang from the brass-plated rods, while thicker linen drapes dress the windows. The chaise was custom-made, and the wicker blanket chest and leather armchair are both antiques.
Deep inside the estate, Casa delle Suore is a private, 8,100-square-foot home that is thought to have once been a nunnery. "These clients gave me a lot of freedom," says Bolza. "They told me what they didn't like, then they stepped back and let me do the work."
In the living room, a soothing green palette reflects the verdant countryside that surrounds the property. Central to the scheme is a bronze- and brass-topped coffee table with an ebonized steel base. "Each table is individually hand-patinated by Reschio's artisans," explains Bolza. "No two are ever alike, as the finish will depend upon many factors, not least the weather." There's also an impressive, double-height kitchen featuring open shelving and a generous marble-topped island that is ideal for casual breakfasts.
Upstairs are four bedrooms and a peaceful study that centers around an oak, brass and leather writing desk. "It's quite a complex design. I love the strong, contrasting materials and how the boxy table and drawers seem to float on the tripod legs," says Bolza.
Outside, an ample terrace overlooks an infinity pool edged with quince trees and the hazy mountains beyond. The terrace is outfitted with galvanized-steel-framed sofas and chairs that are based on an iconic 18th-century design, which, Bolza says, "sits so well in any exterior space."
All of the B.B. for Reschio pieces that fit both the castle and the houses so perfectly have evolved over the years, as much from necessity as from desire. "It was an interesting process as, although I'm an architect, I wasn't trained to be an interior designer, a garden designer or a furniture designer," says Bolza, who admits that he "picked things up from the people we were working with. The huge advantage of being in Italy is that the craftspeople are brilliant and have been honing their skills for generations. You can't master this kind of thing at university, so it's been amazing to work with the artisans and to learn from the very best."