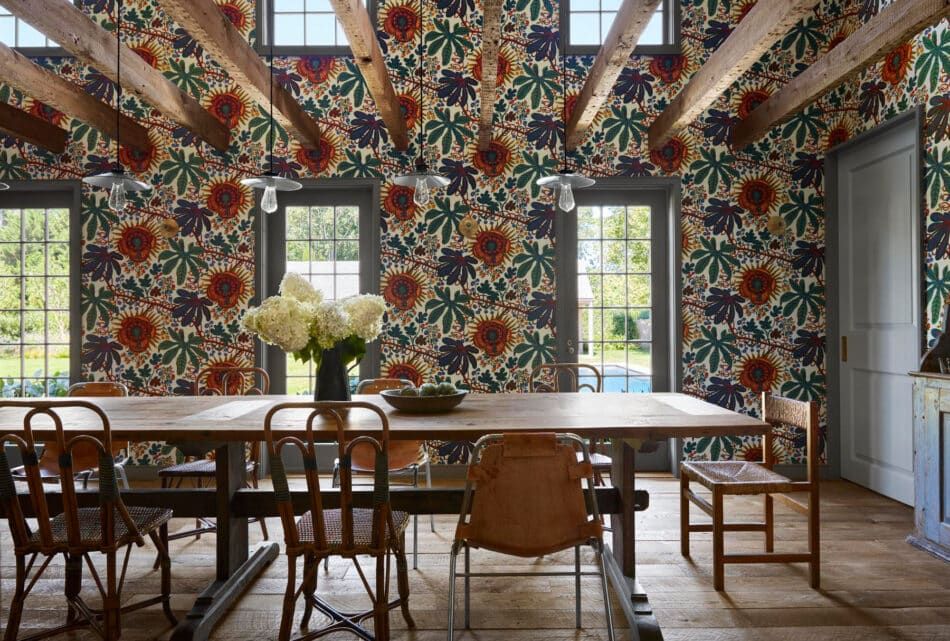 Right now, layered, homey interiors whose warmth and natural textures evoke the Arts and Crafts movement are having a moment, and botanical motifs by the likes of British designer William Morris and Austrian architect Josef Frank are front and center.
From a chic Utah powder room to a crisp, classic foyer in Washington, D.C., to a sanctuary-like bedroom in Sydney, the handiwork of Morris and Frank, as well as of those inspired by them, is everywhere and feels just right for this summer. Feast your eyes on a bevy of lovely rooms embracing the hand-crafted ethos Morris championed.
---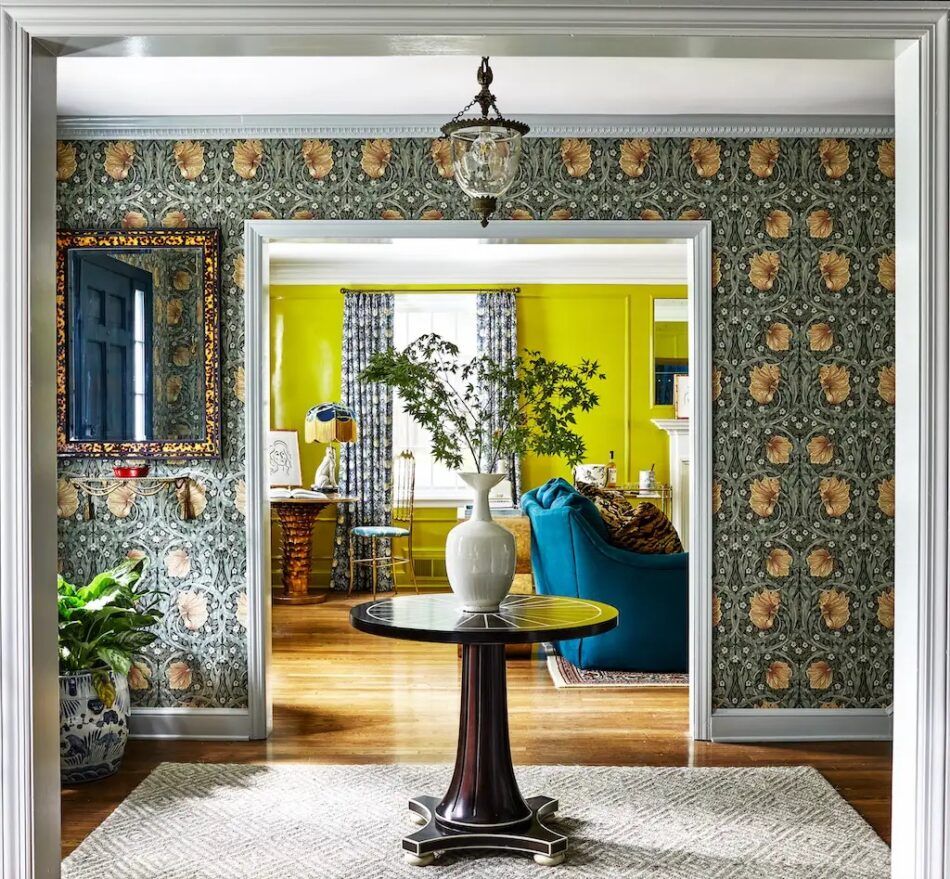 "The Pimpernel wallpaper by Morris & Co. was a must," says Zoe Feldman, referring to this foyer, which she designed to serve as an introduction to the clients, a hip young couple. Situated in a home in the upscale Spring Valley neighborhood of Washington, D.C., where Feldman herself is based, the space has been chicly updated with a glossy pedestal table, Iatesta vase and vintage ceramic planter.
It sits between a living room painted an eye-popping shade of chartreuse and a dining room clad in Farrow & Ball's Closet Stripe wallpaper. Describing the foyer's decor, Feldman says, "The bold scheme feels balanced and inviting," an effect enhanced by the leopard-print stair runner, whose splotches echo the faux-tortoiseshell mirror frame.
---
Seattle-based Heidi Caillier is known for crafting homey residential spaces using Morris & Co. wallpaper. So, when it came time to choose a pattern for her own dining room — in a century-old Tudor-style house in Tacoma — she went for a classic: Morris's Fruit in an arresting limestone and artichoke colorway. The charming pattern, first produced in 1864, features ripe pomegranates gently breaking apart while clinging to a seemingly endless series of vines.
"This is a heritage paper and works so well in the 1920s Tudor home. It feels appropriate to the age and style of this house and the existing architecture," says Caillier, adding that it pairs nicely with the ivory-paneled walls and muted sage cabinets in the kitchen beyond. "The pattern is a small repeat, and it almost reads as a neutral because of that." She painted the ceiling a different shade of sage and hung a mid-century French chandelier from it above a vintage farm table surrounded by black Windsor chairs from O&G Studio.
---
"This ski house is full of vegetal pattern and alpine inspiration," says Redmond Aldrich principal Chloe Warner. "And this Josef Frank wallpaper has a timeless sweetness that fits perfectly." The Tree of Life print in the powder room resonates with another Frank design Warner deployed in this Park City, Utah, home, on a hand-painted console in the entry, which also sports a sunflower-yellow Fromental mural.
"We love to create subtle reinforcements of such major aesthetic moves," the Oakland designer says. "It keeps any single pattern or color from feeling like it pops too much."
---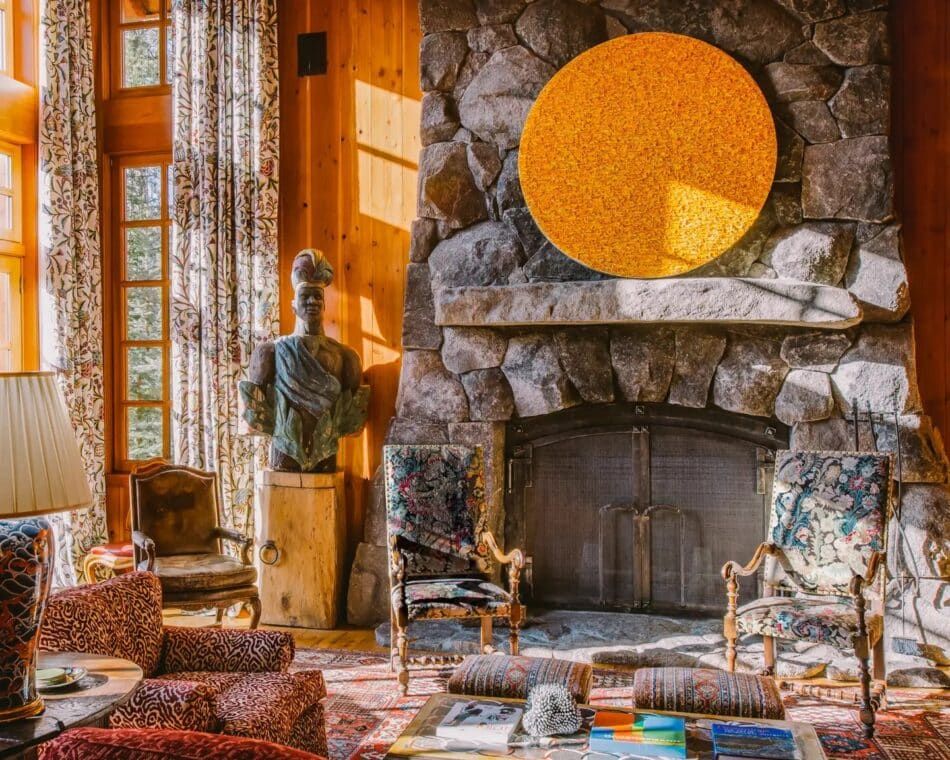 A 19th-century Persian rug and a pair of 18th-century French chairs with original needlepoint seat covers were the starting points for the design of this stately Squaw Valley, California, living room. "The scale of the room is quite large and tall," says New York designer Brian Murphy, "so I wanted to use a lot of pattern to make it cozier."
The curtains are by Lee Jofa, and the club chairs are covered in a fuzzy chenille. Murphy found the carpets in an antiques shop in San Francisco. What really made the room for him was the giant Italian chandelier from Lucca & Co. and an enormous early 19th-century French masthead from a West Indies tobacco ship.
---
Climate was at the forefront of designer Charlotte Barnes's mind when crafting this guest bedroom in Palmetto Bluff, an upscale community in South Carolina's Lowcountry. "It was important to us that we create something for a warm climate," she says, "but not tropical."
Barnes pulled that off exquisitely, marrying vintage finds — see the bamboo bed and suzani throw — with sky-blue Bunny Williams lamps and Scalamandre's Balinese Peacock wallpaper in Java. "I love a mix of things, materials, finishes, but not for all our rooms," says Barnes. The crisp Matouk bedding keeps things in check.
---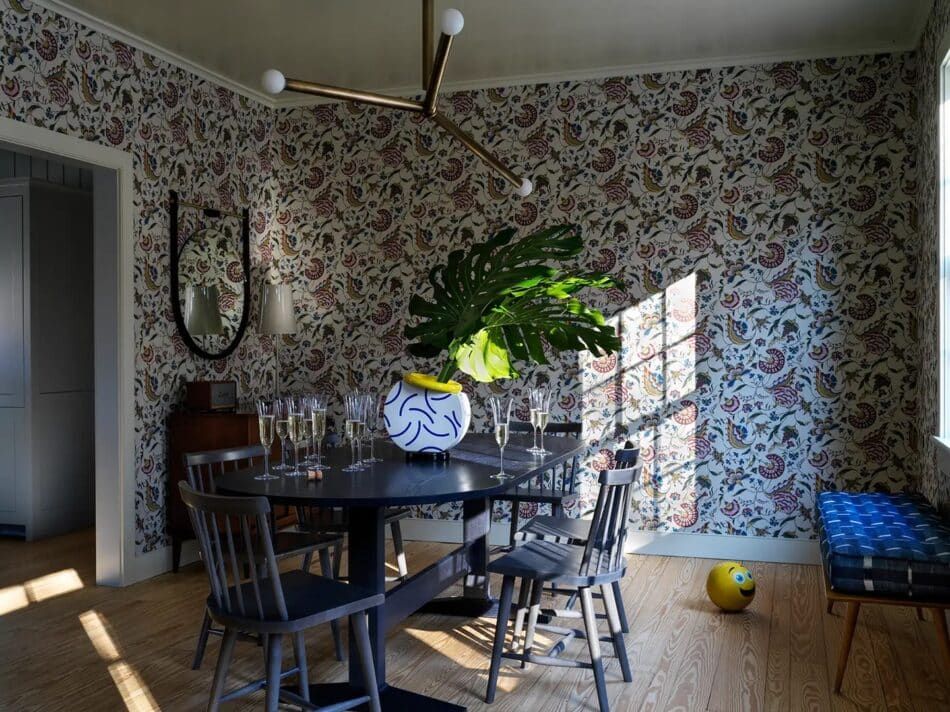 It took some convincing to get Instagram's director of fashion partnerships, Eva Chen, on board with Antoinette Poisson's Jaipur wallpaper, says Heide Hendricks, whose five-year-old firm, Hendricks Churchill (cofounded with architect Rafe Churchill), renovated Chen's Connecticut country home.
Inspired by 18th-century Indian imagery, the large-scale print felt too fussy for Chen, who rejected the pattern two times. "I explained the intimate size of the dining room could be perceived as a jewel box," says Hendricks, and eventually Chen saw her point. Now, the room, which features a brass Apparatus fixture plus inky dining chairs and a matching table by O&G Studio, is one of her favorites.
---
The client wanted a home with the "right mix of high and low," says Bill Brockschmidt, referring to the late author Julia Reed, whose Greenville, Mississippi, residence he designed. Accordingly, he aimed for a balance of "classical pretense with an abundance of comfort and unexpected contrasts." In the bedroom — which Brockschmidt, a founding partner of New York–based Brockschmidt & Coleman, describes as "a diminutive, vernacular Palladian folly" — he deployed a bouquet of cotton fabrics: Cowtan & Tout's Bailey Rose for the canopy; Pierre Frey's Le Manach for the curvy headboard, pillow and lampshades; and a Victorian quilt.
The result? A bedroom that looks like a garden, only better.
---
Melanie Turner chose a beguiling de Gournay wallpaper for the dining room of an Atlanta residence because she felt it was guaranteed to look "fresh" while still respecting the home's grandeur. "We started with the amethyst lamps and loved the juxtaposition of new versus old," she says.
From there, everything clicked. "The home's Regency-style architecture is offset by the client's youthful energy," says Turner, "which is a common thread throughout the home."
---
"I always treat powder rooms like little jewel boxes," says London-based designer Joyce Sitterly, referring to this space in a New York high-rise. Since her clients have young children, she chose Josef Frank's playful and durable Paradiset wallpaper.
"The clients wanted to keep it as low-maintenance as possible," says Sitterly. So, other than the essentials — the water fixtures and vanity — she allowed the wallpaper to "control the room," adds the designer, who also covered the ceiling. Check the mirror to see how it echoes the blue silk wall treatment in the nearby hallway.
---
This bedroom is one of several spaces in a Sydney apartment that Australian design duo Arent&Pyke reimagined as private sanctuaries. Here, they took their cue for the designed and decorated elements from the home's romantic Spanish Mission style, says firm director and design principal Sarah-Jane Pyke.
The key was to bring in warmth, which they deftly accomplished by placing a 19th-century Spanish leather screen by the window. Its golden sheen goes well with Arne Jacobsen's Paris chair, not to mention the bed draped in sumptuous jewel-toned linens.
---
The brief her young clients gave her for their San Francisco home didn't specify bringing the outdoors in. But Susan Work, who designs under the moniker Homework, did it anyway. In the dining room, she clad the bench in Black Edition fabric. This "punches up the fun factor," the designer says, while "complementing the calm surroundings," like the neutral window treatment.
Work filled the shelves with items useful for entertaining, including candles, stacks of vintage brass bowls, an espresso cup set and a splatter-glaze pitcher.
---
For a cozy, light-filled guest room in his own London flat in Bloomsbury, architect and interior designer Ben Pentreath chose a longtime favorite: Morris & Co.'s Willow Boughs. Traditional wood furniture, candles from his home-goods shop, Pentreath & Hall, a Wedgwood jasperware mug and a black lacquered mirror adorn the timeless space.
A Morris devotee since his teens, the designer recently worked with Morris & Co. to reimagine the firm's original wallpaper and fabric designs. "It is extraordinary to me that patterns developed in the mid to late 19th century still seem as fresh and relevant 150 years later," he told House & Garden. No wonder he almost always includes a Morris pattern in his interiors.