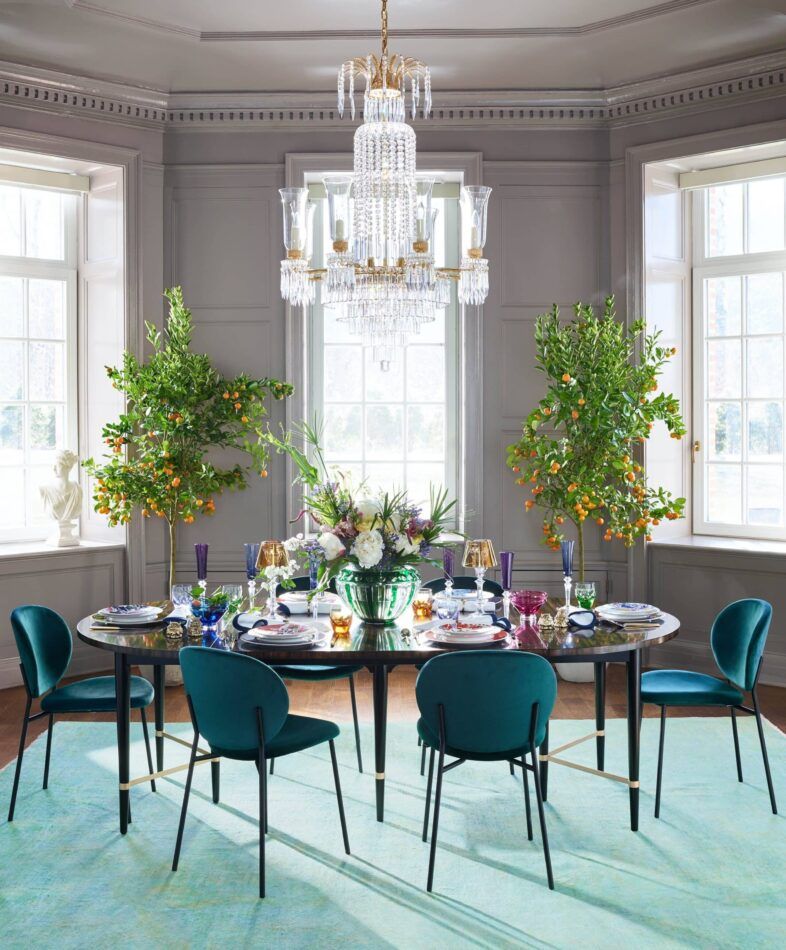 Among Bennett Leifer's many talents, his particular forte is color. Proof? This dining area in a restored Garrison, New York estate the he staged for Bloomingdale's Mix Masters campaign. "We wanted to bring the space to life with foliage, green tones and simple profiles," explains the New York–based designer. "The relatively small room has gorgeous garden views that inspired the interior selections."
Further enlivening the space are a vintage crystal chandelier, a Caracole table and Calligaris chairs, which together lend it an undeniable allure.
---
"The inspiration was completely taken from the location," say the Thorp principals who crafted this cool and beach-friendly Hamptons dining room. "Our aim was to create a coastal home in a contemporary style. We wanted to keep the schemes fresh throughout."
The palette of soft grays and blues offers the perfect backdrop for the standout piece: a bespoke polished-wood dining table commissioned from Rupert Bevan. The antique chairs are from James Graham Stewart.
---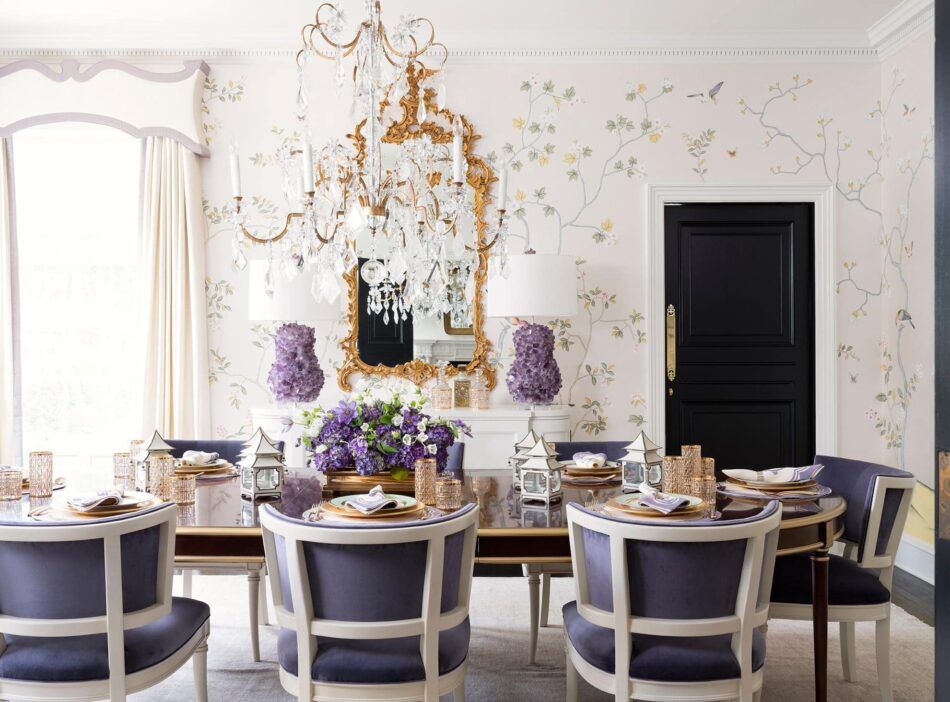 For the dining room in a 1930s home in Atlanta, Melanie Turner took a "fresh approach to a classical design." Lavender accents bring a feminine flair to the more traditional mid-century glassware, antique oushak rug and de Gournay silk wallpaper.
---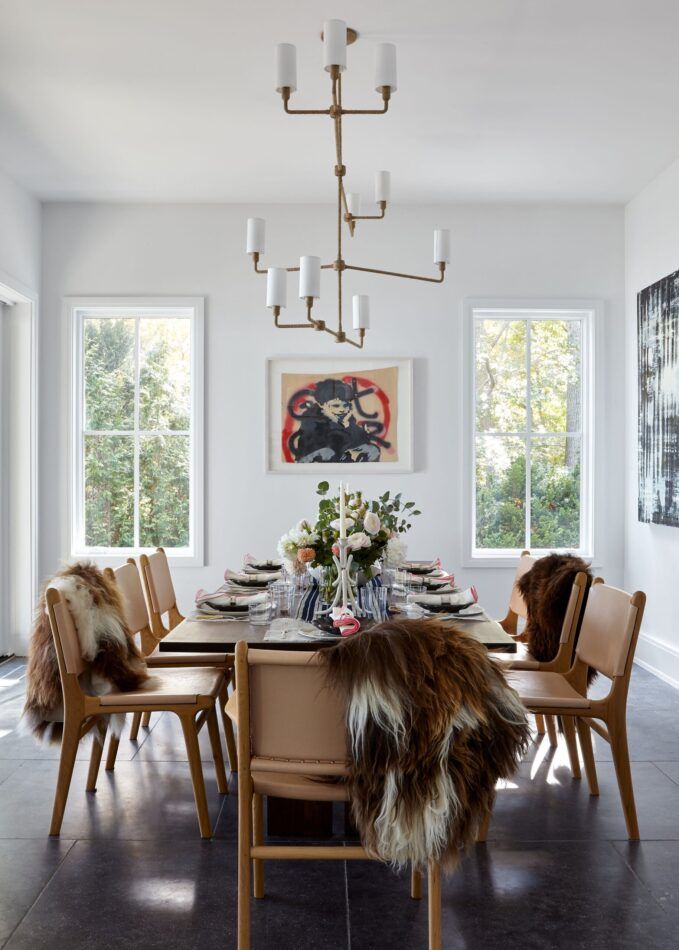 "The indoor and outdoor spaces of this gracious, relaxing compound are perfect for intimate and large-scale gatherings alike," says Pamela Katch, describing the home on Sag Harbor's waterfront her firm designed to accommodate three generations of one family. "Simple, contemporary furniture forms combine with an array of textural, natural materials to create an environment of ease, warmth and hospitality."
In the dining room, Katch set the stage for entertaining with china by Mud Australia and Roman and Williams Guild, which also designed the striped runner, and a candleholder by Dina No.
---
In crafting this dining room in a San Francisco residence, JKA Design's John K. Anderson aimed for a certain aesthetic tension. "It was to be modern within the classic envelope of the home, which we took in a Parisian direction during the renovation," says Anderson. He brought the decor up-to-date with an Alexander McQueen rug and Richard Learoyd painting.
---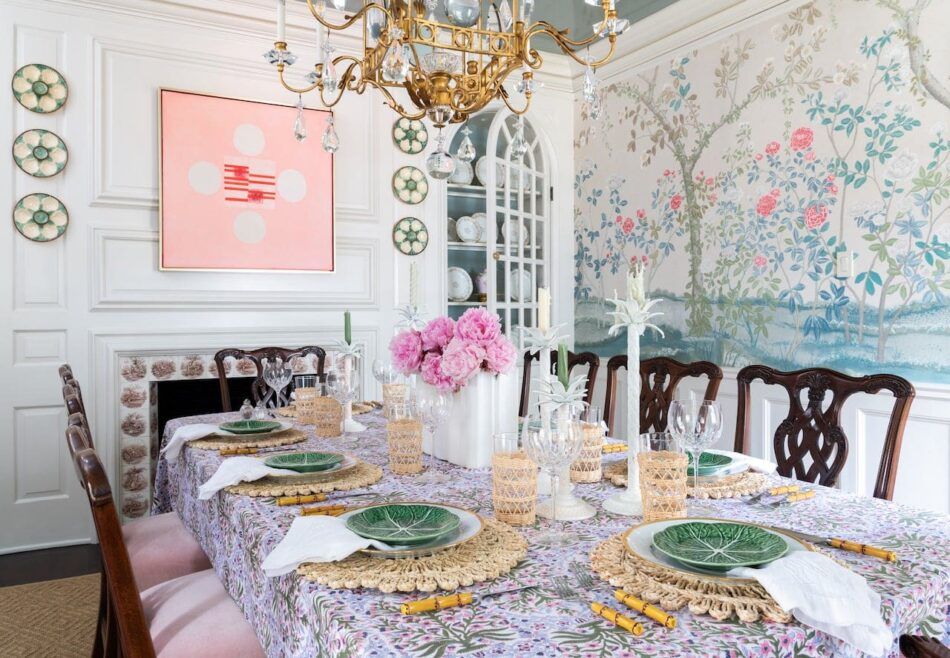 "Our inspiration was the client's love for cooking and entertaining," Kristen Nix says, referring to the dining area of a home in Austin's Pemberton Heights neighborhood. "This room was more in her territory, with the opportunity to be more feminine." Seizing the opportunity, she deployed a pastel palette, adorning the walls, for instance, with a Catherine Booker Jones painting and a Chinoiserie-inspired print from Miles Redd's collaboration with Schumacher.
Nix is particularly proud of the light fixture. "It's J. Randall Powers for Circa Lighting," she explains. "We were lucky to get the last one before it was discontinued." She also points to the antique chairs and table — laid with plates by Bordallo Pinheiro — which the homeowners purchased with the house. It was cool, Nix notes "to incorporate something that had been in the house for over 20 years."
---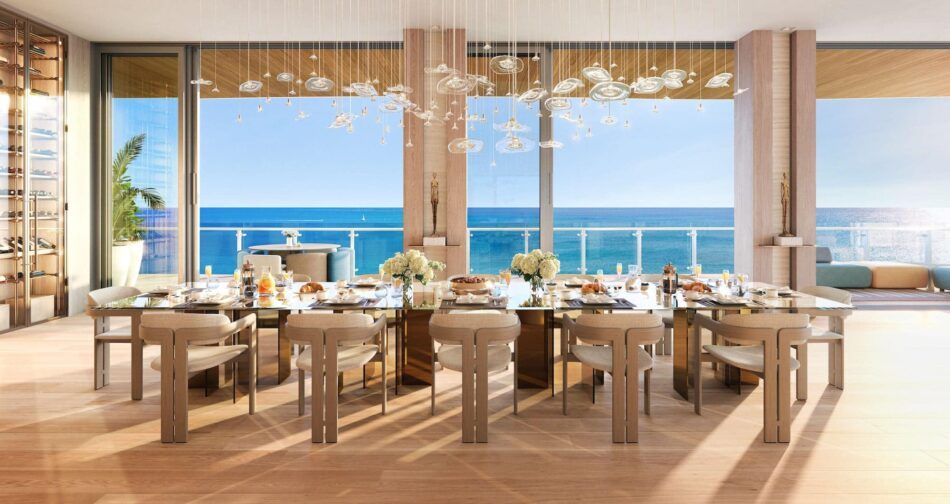 Like many designers, Sofia Joelsson takes cues from the surrounding landscape in crafting her interiors. And this dining room in a Miami Beach penthouse is no exception. "The Fosali glass light fixture was designed to resemble jellyfish in the water like an organic constellation," she says. "The sculptural Gallotti & Radice dining chairs are soft movements of the ocean making marks in the sand."
---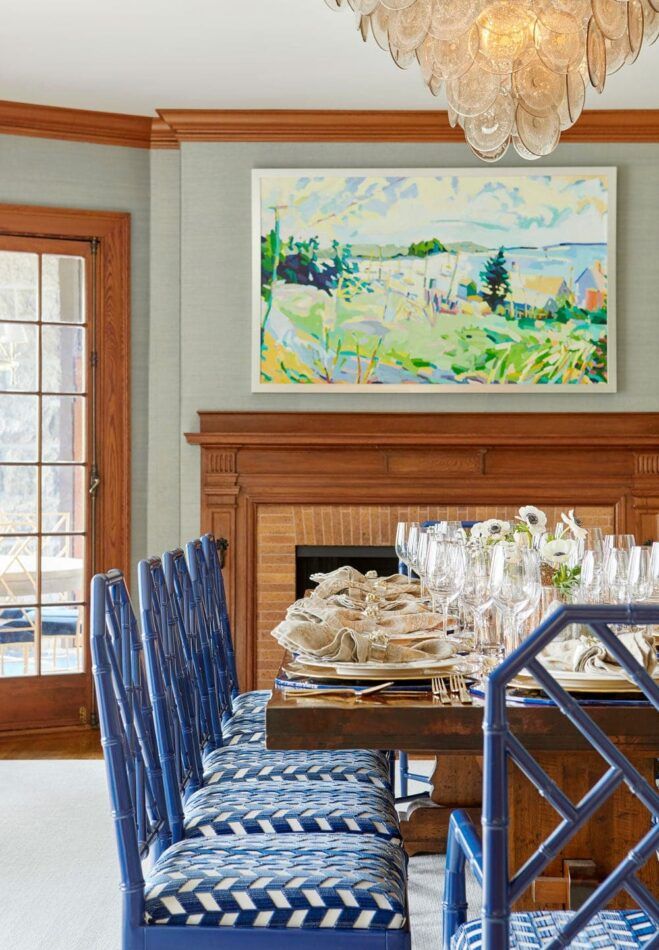 This stunning dining room may be in a historic Maine cottage, but in designing it, Kathryn Davis looked to Italy for inspiration. "The homeowners honeymooned in Venice and return there often," she explains. "In fact, they had the chandelier custom made at a glass factory in Murano on their first trip to Venice."
Most eye-catching element? It's a close race between the Bungalow 5 chairs and the landscape by well-known Cranberry Island artist Henry Isaacs.
---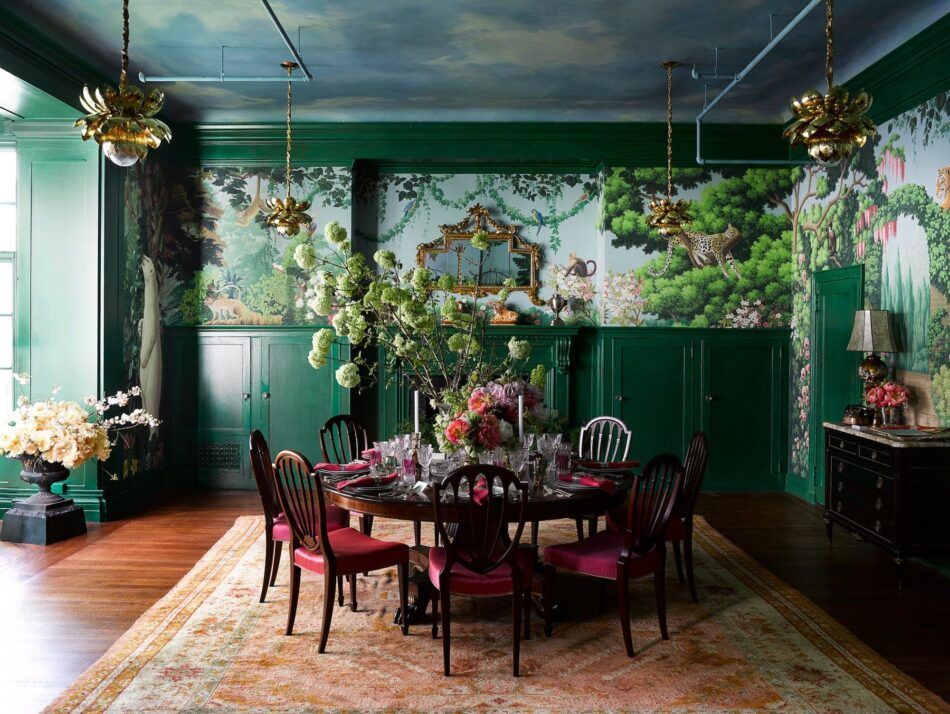 An Upper East Side woman who harbors escaped zoo animals in her stylish apartment. That's who Ken Fulk pictured in outfitting his designated space in the Kips Bay Showhouse, the second-floor dining room. With this fictional muse in mind, the ultra-maximalist arrayed the space in plush textures and mesmerizing patterns.
The plethora of colors all come together in the custom hand-painted silk de Gournay wallpaper, which serves as backdrop to a slew of antiques from Newel.
---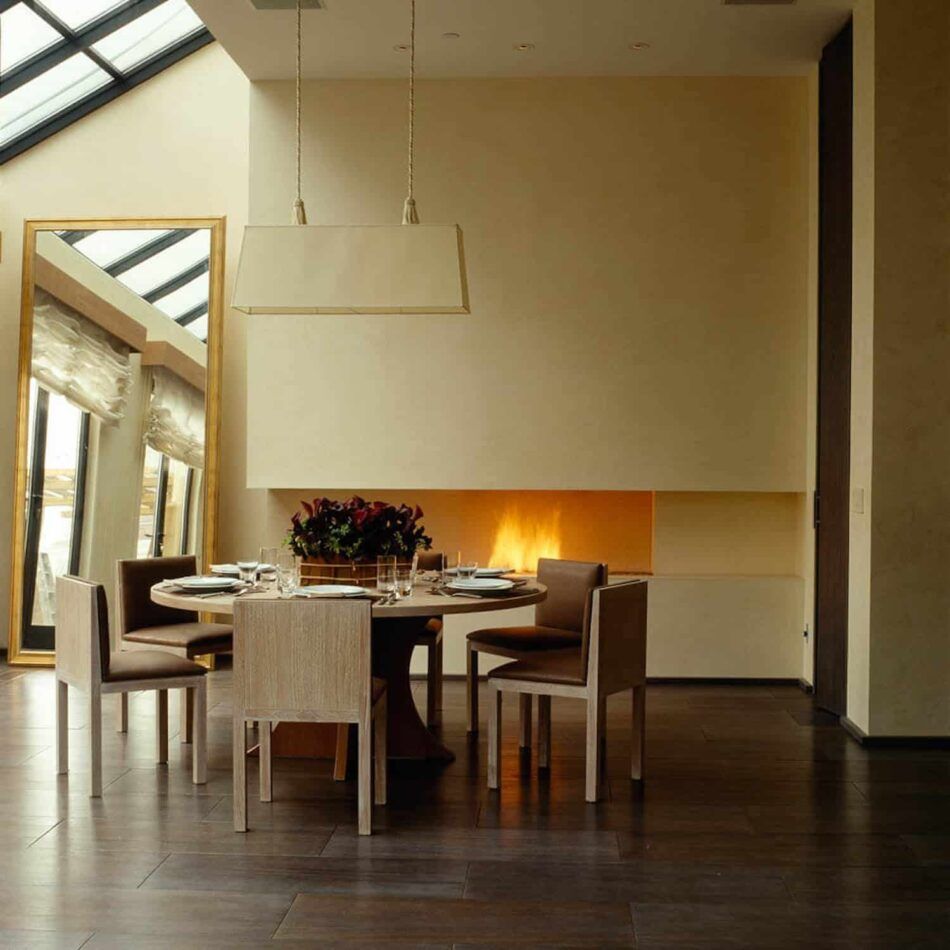 For the Tribeca home of Lord Justin Portman and his now ex-wife, Casa Q's Erin Quiros ordered every single element, including the windows and flooring, directly from Italy. "The couple was accustomed to spending many months on the island," of Sardenia, she explains, "and had grown very fond of the juxtaposition of its sleek and contemporary architecture and the warm inviting interiors."
To emulate this coveted vibe, she outfitted the massive dining area, with its blazing hearth, in both rich- and cool-toned woods and clean-lined pieces.
---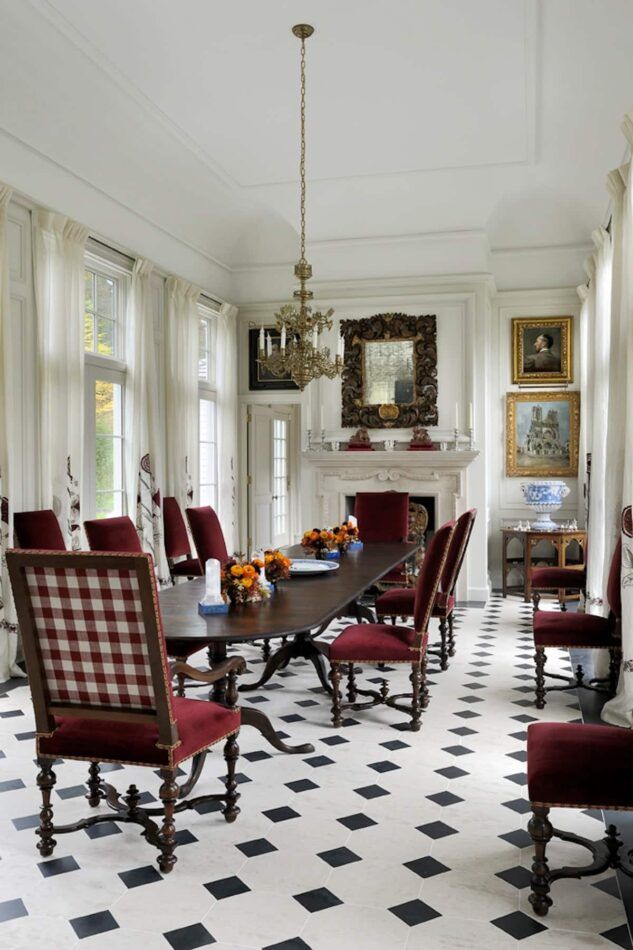 "I wanted something like an orangerie, with the double exposure," says Robert Couturier, describing this dining room in a Connecticut country home. Couturier hung the French doors with Lesage linen curtains custom embroidered in a Mughal motif, softening the natural light that floods in. The 17th-century chandelier is Dutch, and the chairs are Louis XIV.
---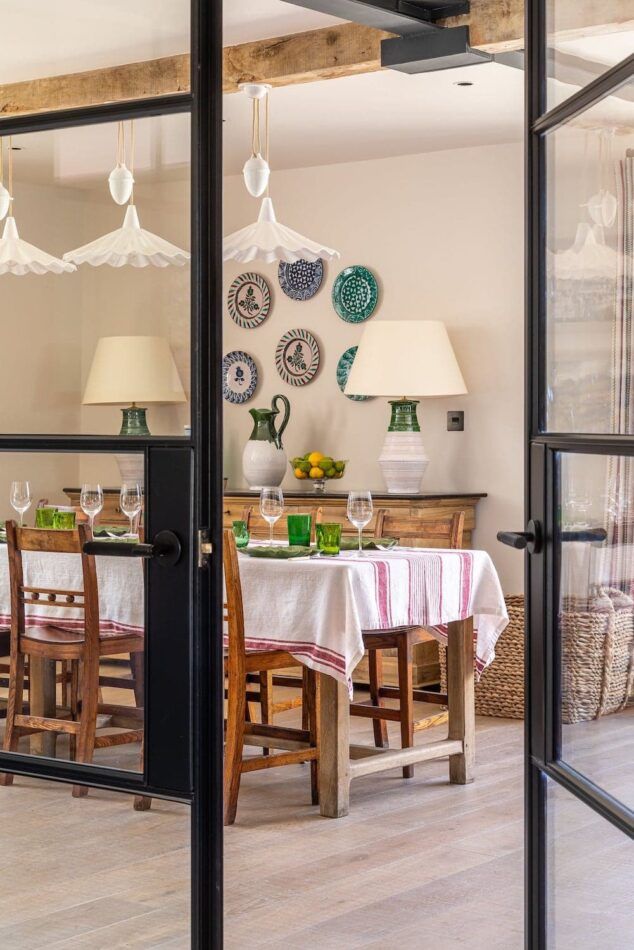 "Given that this was a converted cowshed, the interior had to speak to its organic roots," says Samantha Todhunter, explaining her design for this room in a repurposed barn in Dorset, England. "Nothing could be too precious or overdesigned. Our intention was to create an easy, relaxed, informal living-dining space for as many or as few people as needed."
To accommodate the upper limit, Todhunter opted for a large vintage farmhouse-style table and chairs from the Battersea Decorative Antiques & Textiles fair. And she surrounded these with colorful pieces. "Collections of plates are always lovely arranged on a wall as an alternative to artwork," she notes. "Puglian pottery or Solimene from Sorento is always wonderful."