October 10, 2021"It's the verboten red bedroom," says Alexa Hampton, referring to her second-floor space in the Kips Bay Decorator Show House Dallas. "The whole bordello connotation, that lustiness of red!"
In fact, many rooms in this Georgian estate, located in the city's prestigious Old Preston Hollow neighborhood, convey a lusty mood. Reds — from burgundy and cranberry to tomato and fuchsia — proliferate indoors and out.
Other trends include mural-size celestial and terrestrial maps and scenic wallpapers, period styles and traditional architectural details (the latter sometimes added where they were nonexistent) and an absence of technology — no televisions or computer workstations, likely due to our teleconferencing fatigue. These all impart a veneer of sobriety amid the steaminess. "You can be lusty, but within reason," Hampton believes.
This satellite of the grandaddy of showhouses in Manhattan (hopefully returning to the city in the spring of 2022 after a lengthy Covid interruption), is now in its second year and open to the public through October 24. It benefits the Kips Bay Boys & Girls Club of New York, as well as Dallas nonprofits Dwell with Dignity and the Crystal Charity Ball. Here, we drop in on a few of our favorite designers' lavishly appointed rooms in the best little showhouse in Texas.
---
FOYER
Bobbit & Company sets the amorous mood in the stately entry hall and second-floor landing. Here, gray-painted recessed paneling is inset with Zuber grisaille wallpaper panels depicting the Greek myth of Psyche, arch rival of Aphrodite, goddess of love and beauty. The space is chock-full of antique statuary — an 18th- or 19th-century terracotta maiden in a niche, a 19th-century marble head of another maiden, Italian marble relief plaques and early-19th-century Italian urns — along with Baguès sconces and an Art Deco bronze lantern. There's a touch of red here, too, in the Persian runners. The one contemporary note, and it's a doozy, is a hand-forged steel "tree" chandelier by local metalsmith Larry Whiteley that descends from the second-floor landing almost to the black- and white-marble checkerboard ground floor.
---
SALON
Lustiness manifests sans rouge in Michael Aiduss's salon, which he designed "as a very chic Paris apartment," he says. There is no denying the sexiness of the scrolled Federal-style banquette from Moxie Interiors fronting the fireplace, the Pierre Frey tiger-print armchairs, the 1980s Karl Springer lacquered pen shell coffee table from Lobel Modern or the gold-rimmed Lucite table near the French doors. Aiduss grounds the room with a stunning antique 12-panel Chinese lacquer screen featuring an incised gilt genre scene. The gold, ivory and black palette confers a timeless elegance to the decor, centered on an authentically French contemporary touch: an Hervé van der Straeten chandelier from Maison Gerard.
---
DINING ROOM
Corey Damen Jenkins goes Bonaparte maximalist with his dining room, which is tented à la Napoleonic campaigns in 500 yards of Zoffany and Sanderson fabrics. This is not to say the room feels period. Rather than focus the space on a single table, Jenkins created two using Cambria's white quartz surface, a modern notion to be sure, as are the geometric abstractions by Jason Trotter. Still, antique French touches abound: a 1920s Empire-style chandelier and Louis XVI chairs around the tables (the chair backs providing a "saucy moment" with their striped-sash design), all from Embree & Lake; plus plenty of Chinese export porcelain and an ornate Louis XVI console. Anchoring everything is — what else? — a parquet de Versailles floor installed by Jenkins.
---
DEN/STUDY
Ken Fulk is hardly known for restraint. His den and study, adjacent to the Aiduss salon, are reliably outré. Fulk enveloped the first in a gold de Gournay Art Deco–style scene of charging horses being chased across the sky by Hermes, a son of Zeus. In front of the central sunburst, a Second Empire signed Jacob-Desmalter fauteuil pulls up to an over-the-top winged Süe et Mare Deco desk from Moxie. Above hangs a bronze and bronze-doré Empire chandelier from Embree & Lake.
Fulk continues channeling his inner robber baron in the study, where cobalt velvet walls display a gold-embroidered map of the constellations as they appeared in the sky over Dallas on September 24, the opening night of the showhouse. A Lalique Dragon bar hugs one wall, while the venerable firm's Perles chandelier dangles over an Anglo-Indian specimen wood table in the center of the room. Opposite the bar, a pair of navy Fournier-style sheepskin chairs (from Moxie) beckon from the fireplace.
A small terrace beyond this space features a central fringed borne, a sort of round sofa, topped by an astrolabe and surrounded by classical sculptures representing the Four Seasons and Indian marble palace chairs, all from Pittet Architecturals.
---
POOL TERRACE
"We've been bringing the outside in for a while now," says Robin Henry. "I wanted to bring the inside out." Rather than the expected white, green or blue poolside palette, she decided on — you guessed it — red! "Geranium red looks very Dallas to me," says the New York–based Henry. Although manifesting mostly in the fabrics, the carmine color is more fully embodied in some Chinese-style trellis-backed chairs and a bench from Casamidy. The mix of styles and materials — wicker, metal, teak — runs counter to the tendency to match outdoor seating, aligning more closely with the eclecticism designers often apply to interior spaces. A loggia sports a Brendan Bass metal daybed with monogrammed terry-cloth hangings, red-and-white wicker lounge chairs and a bar supported on massive corbels from Avantgarden.
---
KITCHEN
Gil Melott, of Studio 6F, breaks from the home's general trends with his modern kitchen, which he dubbed "Honey, Tilda Swinton Is Coming for Dinner." True to that style icon, Melott kept silhouettes tailored and clean, starting with the kitchen island, inspired by ANGELO MANGIAROTTI's penchant for nestling table legs into corner pockets flush with the horizontal surface. His own bronze sconces also toe a minimalist line. But Swinton, Melott points out, "can also be a force of nature." So, he inserted organic shapes and raw textures: wood-fired ceramics from Vern + Vera and Jonathan Cross stoneware wall sculptures. Tying it all together is an antique red (there it is again) rug.
---
MORNING ROOM WITH BAR
Save for a red portrait by local photographer Alex Remington, Dennis Brackeen Design Group eschewed the house's crimson predilections in favor of a fresh yellow, blue and green palette more appropriate to this orangerie-like room facing the garden. The walls are covered with a sunny Palampore wallcovering and curtains from Jim Thompson. At the center is a green crystal Cactus table from Lalique surrounded by groovy custom dining chairs. Two 19th-century porcelain vases guard the central French doors. Overhead, MJ Atelier applied a medallion of writhing snakes to Schumacher's Palladio wallcovering.
---
FAMILY ROOM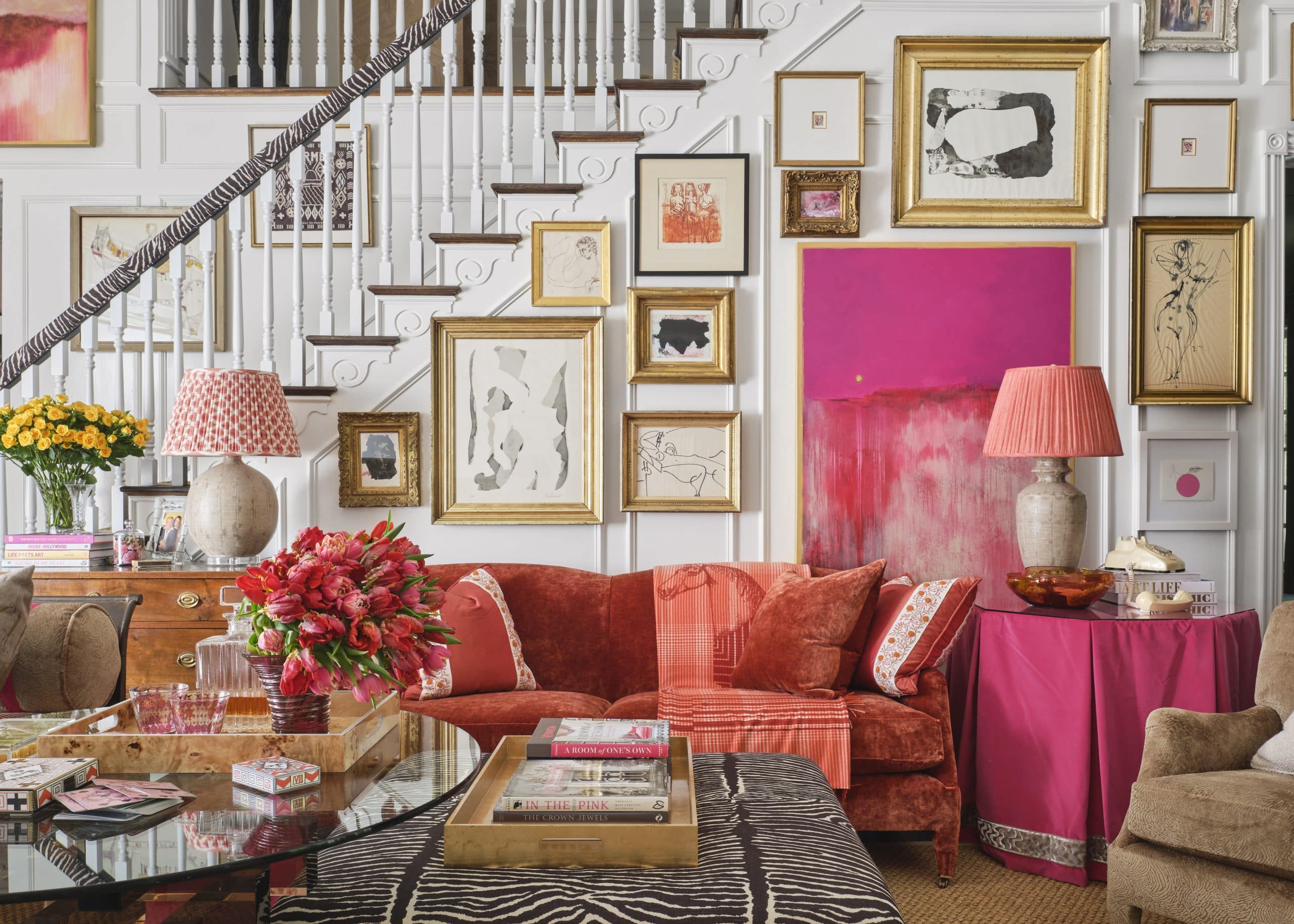 The father-daughter team of A. Lantz Design imagined a brightly contemporary, yet traditionally grounded family room devoid of technology. The double-height space is airy and open enough to accommodate a full spectrum of bright reds: tomato on the sofa, magenta for the curtains, pomegranate ikat on wing chairs. Red also infuses lampshades, pillows and trims. And several abstract paintings by Barry Lantz (the paternal half of the design duo) are rich in rouge tones as well. These works mix on a gallery wall with selections from his and daughter Amanda's private art collections. The first piece the pair bought was a zinc daybed from Tara Shaw, which grounds the space and embodies the relaxed quality it's meant to promote. The autumn gingko leaves cascading down the room's custom Kravet wallcovering add to the soothing sense of calm.
---
HER BEDROOM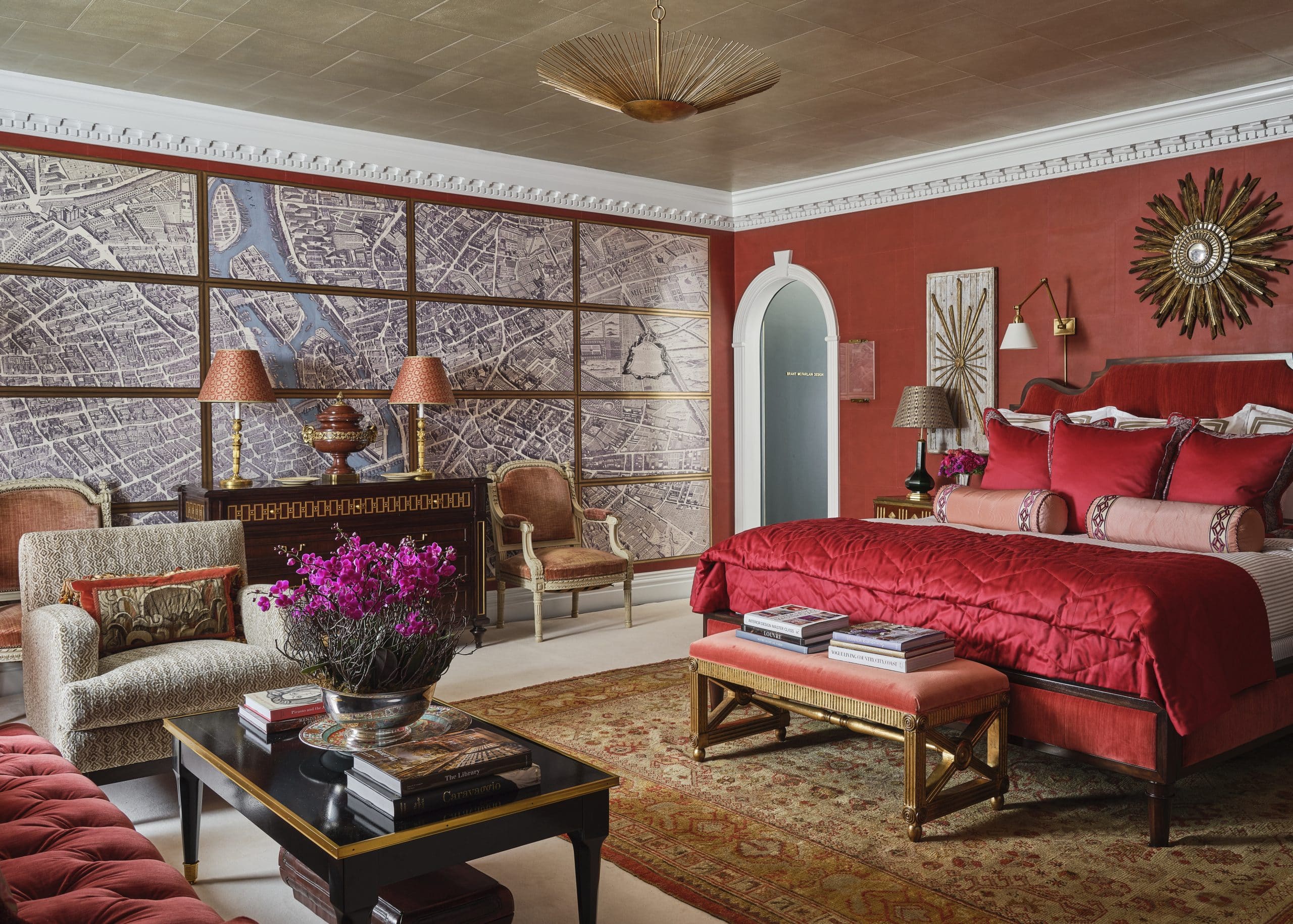 Upstairs in Mark Hampton LLC's "La Chambre de la Femme," Alexa Hampton created a soigné scarlet fantasy, punctuating the red walls with bright white cornices, doorway moldings and baseboards, as well as a white fireplace from her Chesney's collection and a bookcase. "There's something orderly about it, so the rest of the room can be blowsier and loose," she says. Ticking on the curtains and bedding made from her fabrics for Eastern Accents, as well as a gridded map of Paris from Gracie, modulate the heated hues. Many of the furniture pieces are Hampton's designs for Theodore Alexander. Others are peerlessly period: 19th-century painted French armchairs from Inessa Stewart's Antiques, Russian bedside commodes from Tomlin Antiques and a Charles X marble-topped mahogany side table from Legacy Antiques.
---
HER STUDY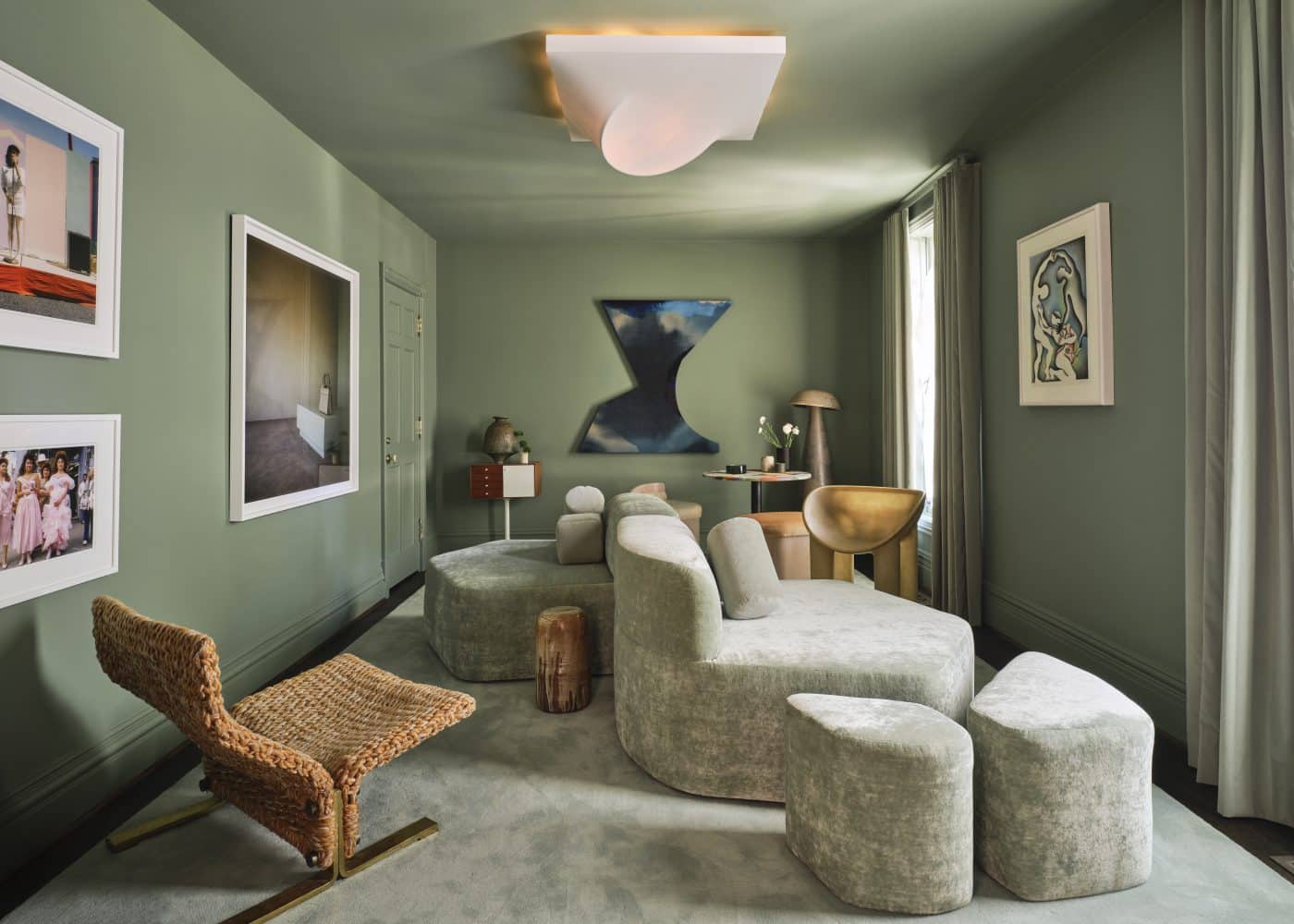 Michael Hilal's study is another departure — an extremely suave one — from the house's handful of themes. For one thing, he painted the entire room a restful yet deeply saturated celadon, making what little traditional architectural detail there was effectively disappear. For another, it is modernist to the core, composed entirely of mid-century to contemporary furniture and art: a Marzio Cecchi rope chair from Sputnik Modern; a George Nelson for Herman Miller jewelry chest from 20c Design; photography by Janet Delaney (EQUINOM Gallery) and Allison V. Smith (Barry Whistler Gallery); and paintings by Pamela Jordan (Romer Young Gallery) and Judy Chicago. But it is also an haute-couture environment, with most pieces designed by Hilal himself — notably a sofa and ottomans resembling large soft-edged boulders — or in collaboration with friends: Samantha McCurdy, Joe Skoby, Nicholas Bijan Pourfard and Vermont Metals' Matt Harding, among them. The space is an anomaly here, except for the fact, of course, that it's thoroughly voluptuous. 
---
BATHROOM
Nestled between these resolutely feminine chambers, the luxurious Brant McFarlain bathroom is their moody masculine counterpart. The designer countered the ornateness of the ceiling plaster with paneling painted an inky charcoal gray and trimmed in brass, providing further contrast with a 1970s frosted-glass and brass chandelier. In the center of the room is an industrial-chic blackened-steel and glass shower enclosure by La Fragua Metal Works and, in front of it, a minimalist oval tub. The space is entered via a short corridor created by a massive custom wood partition, at the terminus of which is a bespoke vanity with a 1930s French nickel makeup mirror.
---
GUEST BEDROOM
In a guest room, Martyn Lawrence Bullard softened passions with mellow pinks — a color seen everywhere in Jaipur, explains the designer, known for his love of historical Middle and Far Eastern styles. "I wanted to create a fantasy experience for a guest," says Bullard. "But this also works with the room's classical proportions and architecture." Conjuring instant romanticism, the lacquered pink ceiling is reflected in a rosy palm-bedecked scenic paper with faux crackle glaze overlay by Anabo Paris, a company Bullard will soon exclusively represent in the U.S. through his namesake atelier. Many furnishings are courtesy of Martyn Lawrence Bullard Atelier — Jodhpur twin beds, Devi footstools, ceiling-mounted light fixtures, a Mamounia area rug and Tangier and Souk side tables (the latter two lacquered raspberry, he says, "to give the room a lift"). Others, such as a mirror from Ceylon et Cie, were sourced elsewhere.
---
LAUNDRY ROOM
KATHLEEN WALSH's laundry room suggests that this space has transformed during the concentrated home time of the pandemic. "We had lots of requests from clients to bump up utilitarian spaces and make them comfortable to spend time in," says Walsh. One major way she elevated this most functional of environments is with luxurious surfaces and finishes: custom cabinetry, a floor employing three marbles (lilac, white Thassos and gray Cipollino), lush fabrics, a spring-like Fromental wallpaper, Fortuny curtains and furniture by FBC London. Even the pet bowls are luxe, from Christopher Spitzmiller.
---
BASEMENT WINE CELLAR/LOUNGE
After all the amorousness, you might be ready for a nightcap. Head down to Liz McPhail's space, a sumptuous lounge and wine cellar that connects to the thematic red from opposite sides of the spectrum — pink stone and deep purple millwork. Named "A Lounge of Her Own," after Virginia Woolf, it is feminine, but not overly so.
It features an L-shaped custom banquette with bullion fringe, in front of which are a Maison Baguès–style French table from Jean-Marc Fray and mid-century modern klismos chairs from Again & Again. On the wall behind, a pair of M. Naeve Loop sconces flank Malcolm Bucknell's The Muse and Dreams of Hieronymus Bosch, from Wally Workman Gallery. Opposite, by the entrance, is a pink-leather-upholstered wing chair from Jan Showers & Associates. The room's moodiness, of course, could also make it a great setting for initiating a new wave of seductions.