August 22, 2021When a young Chicago couple went house shopping in that city's booming Bucktown neighborhood, most of the places they liked had two things in common: They weren't for sale, and they were designed by architect Mark Peters, of Studio Dwell. So, when the pair eventually decided to build a house from the ground up, they knew which architect to call.
Over a two-year period, they bought a narrow plot of land and worked with Peters to create a four-story house with enough wall space for their collection of paintings and enough window space to bathe the rooms in light. But after a few months in the house with their old furniture, they were ready to bring in an interior designer to help them soften the building's hard edges and create interior vistas as compelling as the views outside.
Among the designers they spoke to was Gil Melott, who says he and the clients "found a relationship over the right glass of wine." What kind of wine? "It was a malbec, since that's typically what I bring," he says. He wishes he had met the clients earlier, so he could have made a few tiny tweaks to the house. But because they were living there, they had a very good sense of what they needed, Melott says appreciatively.
The clients — the husband is a lawyer, the wife an artist — told Melott a lot about their lives, including their love of Marfa, and of West Texas generally. With no children, they didn't need a lot of privacy internally, and they wanted big, open spaces for entertaining. They had already turned the house into a gallery, with paintings on the vertical surfaces and large ceramic pieces on the horizontal. Now, they needed comfortable furniture groupings, what Melott dubs "soft little moments of community."
In crafting those moments, he chose pieces that reflected "things I heard when the clients talked about their passions, including places they had traveled." In a similar way, he turned to his own childhood memories when designing some of the furniture that he used in the house. For example, the texture of his Uvalde coffee table, hand-carved of ash with an ebony stain, evokes the sensation he experienced as a boy in South Texas, dragging his hand along the bottom of the Frio River from a boat. Another piece, his Flotar sofa, with its geometric maple base, recalls walks along deserted railroad trestles.
Melott sees himself as a creative type who also knows how to get things done. Before becoming a designer, he spent 20 years running a restaurant company. "But I wasn't doing the things I wanted to do," he says. A heart attack made him realize he didn't have forever. At age 51, he left the business world for the world of design.
He started out doing a few restaurants for friends and, as he began getting residential work, hired a small team headed by lead designer Sean Cowan, who translates Melott's ideas into reality. As Melott describes their partnership, "When I say, 'We can do this,' he says, 'We can do this, but …'" At the same time, they opened Studio 6F, a store selling furniture and accessories, many of them designed by Melott, which will move from Logan Square to Bucktown this fall.
As for the recently finished house, architect Parker credits Melott with "selecting some great natural-wood pieces that played off the mahogany entry door and the stained-wood terrace steps, enhancing the visual flow between inside and out."
Says Melott, "If you meet the couple and then you see this house, you know it's theirs. There's no pretense. It's exactly who they are." Here, he leads a tour.
---
Living Room
Melott's goal was to create a comfortable seating area without interrupting the openness of the ground floor. He started with a Flotar sofa, part of his Gil Melott Bespoke collection, covered in a vintage velvet from Pollack. Behind it hangs Andrew Holmquist's Strong LQQks 34. Perpendicular to the sofa are two Alky lounge chairs by Giancarlo Piretti covered in a wool bouclé from Fishman's Fabrics. 
The limestone coffee tables were a collaboration between Melott and the Austin design studio Yucca Stuff. "We wanted something to contrast with the soft fabrics we were using," he explains. "These have the right amount of substance." On one of the tables is Steven Young Lee's Moon Jar with Spaceships, from Duane Reed Gallery.
Near the window, an English trestle table provides a flat surface without blocking the views. The stools are from Lumber Club Marfa, which teaches tween and teenage girls in the West Texas town to make furniture.
---
Dining Room and Kitchen
There are no walls enclosing the dining area. Instead, the thick legs of a customized Rough table from Collection Particulière mark the territory. (The surrounding chairs are by Simonini.) The Moby Dick chandelier, by Karman Design, also helps distinguish the dining area from the kitchen. The custom credenza below the Alexander Calder print was designed by Melott in the style of Marfa trailblazer Donald Judd.
The kitchen was designed by Peters. On the island is Kyungmin Park's ceramic work I Don't Know What You're Talking About from the Duane Reed Gallery.
---
Aerie
The third floor is one big room with 360-degree views of Chicago. "They can watch the sun rise and then set from the same room," Melott says of his clients. The vintage MEHRABAN RUG in the middle of the room is a nod to the wife, who, among other things, is a quilt maker.
Two custom sofas are covered in a Pollack linen. Melott designed them because, he says, "I couldn't find ones with the right proportions. They were either too small for a grown man to lie down on — or too big to go up the stairs." (They are now part of his Bespoke collection.) Between the sofas is Melott's Uvalde coffee table in wormy maple. (Also known as ambrosia maple, it is formed by ambrosia beetles boring through a tree and leaving a trail of fungus, which stains and discolors the surrounding wood.) 
At the other end of the aerie, beneath a tall, narrow window, a LAWSON FENNING GEORGE CHAIR by BRIAN PAQUETTE in a Pollack Checkmate fabric stands next to a Brazilian caviuna-wood storage unit from the 1960s, bought from from São Paulo dealer TEO on 1stDibs. Above it is Andrew Holmquist's Groundstroke. A Deco-style HALABALA LOUNGE CHAIR offers one more perch for taking in the views.
---
Main Bedroom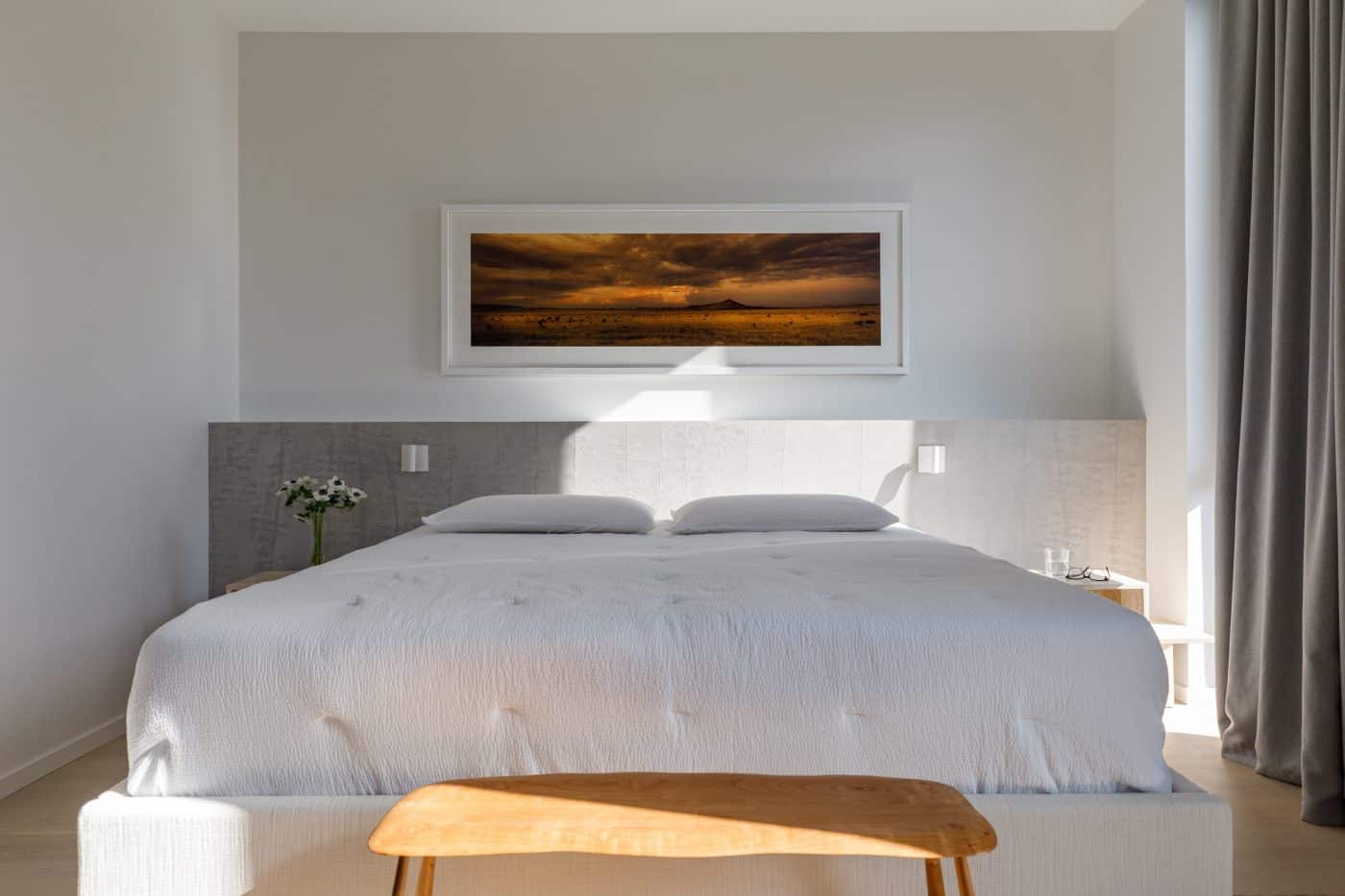 Keeping the bedroom simple, Melott designed a custom bed and hung a photo of West Texas over the headboard. The knee wall is covered in hand-painted wallpaper from Bozena Kapcia, of Studio BK. The night tables are from Nannie Inez. The wooden bench at the foot of the bed was another 1stDibs find.
---
Home Office
To create a work/home separation, the husband's office "needed to be a different mood," says Melott. He painted the walls a royal blue, in stark contrast to the white of almost every other room, then hung Jason Langer's Clown Bomb to increase the color quotient.
The daybed was bought from a big-box store and reupholstered in Pollack's Vivienne fabric to make it homey. The coffee table is a vintage Milo Baughman. The chrome floor lamp is from 1stDibs.
---
Basement Rec Room
The owners use the basement as another entertaining space, so "we made it vibrant with white epoxy floors," says Melott, who also designed the sectional sofa. The artworks were in the husband's family, as were the Eames lounge chair and round "tray" coffee tables. The latter were covered in lime-green leatherette that Melott replaced with circles of walnut veneer.
---
Basement Bathroom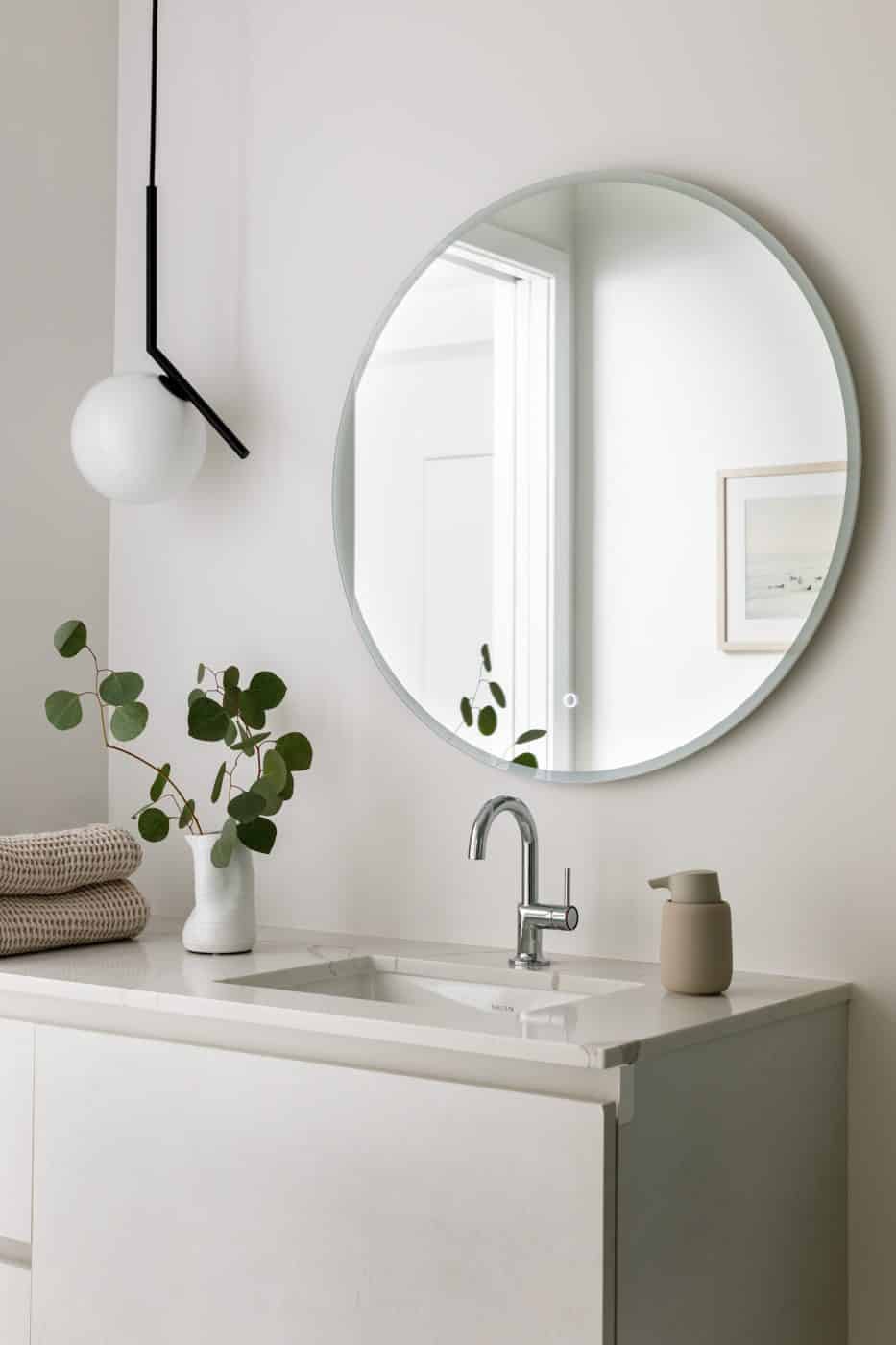 Working with Peters, the couple got as much light as possible into the lowest level. They made sure the mostly subterranean guest bedroom had windows, which also illuminate the bathroom when the door between the rooms is open.
A Flos fixture — an opalescent globe on an angular steel frame — contrasts with the teak surfaces of the sauna. "There are no bells and whistles," Melott says of that room. "It's just functional and pretty."