Beautiful houses have always obsessed Michael Aiduss. As a boy, he used to spend hours sketching floor plans and figuring out the layouts of buildings, and how he'd make them better. Such a monomania might have distressed some parents — go out and play some ball, son! — but Aiduss's mother and father encouraged him because they too were obsessed. "Every vacation was spent visiting a historic property somewhere in the U.S.," he recalls. "We really studied what was out there." The members of the Aiduss clan applied what they learned in the renovation of their own historic house, in Nutley, New Jersey, which they completed just as Aiduss finished high school. He then went off to study interior design at FIT, afterward joining the Soho studio of Thomas O'Brien, the renowned designer and home furnishings entrepreneur, where he worked for 14 years.
Today, Aiduss — who now has his own thriving interior design practice based in a former lacrosse-netting factory in Montclair, New Jersey, as well as a satellite office on the parlor floor of a historic townhouse in midtown Manhattan — considers those early family outings formative. "That was how I developed my point of view: by embedding myself in classicism and understanding, at least from an American perspective, the basis for architectural balance and order." If Aiduss sounds a bit like an academic, rest assured he's anything but stuffy. He's a boyish-looking, down-to-earth fellow who just gets serious when discussing how he grew from a design-consumed youth into a consummate design professional.
In many respects, Aiduss is a rare bird. Some interior designers are essentially decorators, individuals with a certain flair for making rooms inviting and personal through felicitous arrangements of furnishings and objects and choices of color, pattern and material. Others have a gift for rethinking layouts, rerouting mechanics, devising new moldings and the like. Aiduss excels at both. In addition, he has a knack for envisioning what will delight his clients about their homes both on the day they move in and as their years there unfold. That last bit requires some good instincts but even more research. Aiduss asks his clients to answer hundreds of highly detailed questions about their lives and routines. It may seem like prying minutiae, but, oh, the end result: homes exactingly tailored to their owners' dreams. "The client," Aiduss says, "should be in the design."
One of his firm's first projects was working on a newly constructed 39,000-square-foot stone pile in the "backcountry" of Greenwich, Connecticut. Called Westerleigh, the house was based on the work of late-19th- and early-20th-century British architect Sir Edwin Lutyens, with grounds inspired by a Gertrude Jekyll plan. "The owners, a sophisticated semiretired couple in their sixties with children and grandchildren, hadn't originally anticipated such a big house," says Aiduss, "but when you design one with proper hallways, you end up with something really big." Over a period of 10 years, the house became the couple's pet project, on which they acted as general contractors, skillfully overseeing the complex construction. But when it was time to finish the interior, they were exhausted. The number of decisions still to be made was overwhelming, especially as this pair were not just Anglophiles but true romantics who wanted a home with rooms as richly evocative as those of Manderley, the fictional mansion in Rebecca, the Daphne du Maurier novel turned Alfred Hitchcock film.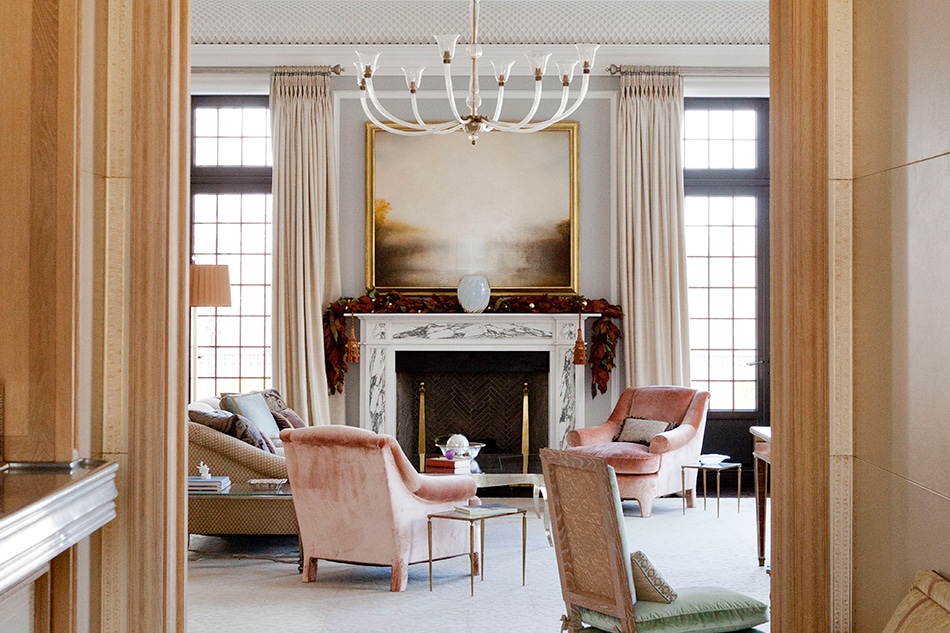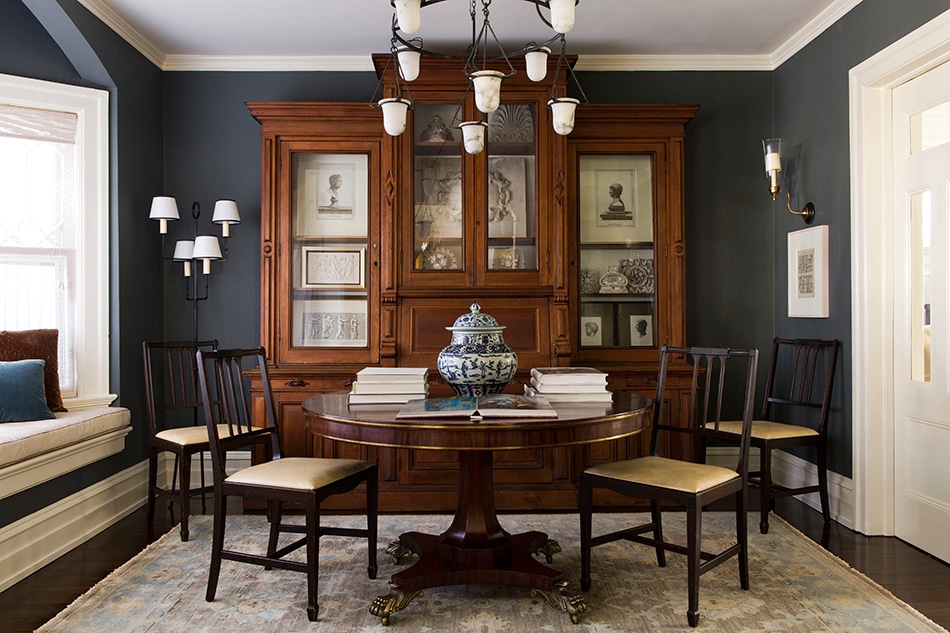 Enter Aiduss, who systematically plotted out all that needed to be done, from finishing the design of some of the rooms, to handling the remaining architectural detailing, to selecting wall surfaces, finishes and furniture. Six years later, Aiduss produced a house distinguished by its sumptuous style — hallways lined in hand-tooled leather with reversed palmette borders, draperies with embroidered pleats echoing the pattern of the ceiling's plasterwork, exquisite bespoke pieces like a Lutyens-inspired table upholstered in a Fortuny fabric made of Egyptian cotton — and utter comfort, with every furnishing and fixture artfully configured for both practicality and pleasure. The house feels incredibly personal and lived in, which for Aiduss is the highest compliment of all.
An air of timeless luxury has become something of an Aiduss signature. When a German-born painter came to him to help her salvage a 1980s Hamptons spec house, she pleaded, "Please don't give me an American-style house." On the exterior, Aiduss moved columns and reframed windows to transform the building into a "classic shingle-style house" — in other words a house that spoke the local patois of the East End of Long Island. But inside, he put the accent on old-world grandeur and glamour, fitting out the rooms with such refined details as generously proportioned double doors, gridded vestibules and distinctive lintels to raise the eye, along with charming surprises of vivid color. The client, who spends most of the year living in an apartment in a Florentine palazzo adorned with magnificent frescoes, couldn't be happier. Now, she has the kind of cosmopolitan summer retreat where she and her American-born college-age daughters can proudly entertain their super-sophisticated globe-trotting friends.
The project, though, that may best showcase the breadth of Aiduss's talent is the house he built from scratch and is currently decorating in Palm Beach. While the facade is inspired by an elegant David Adler design, Aiduss carefully conceived the interior layout to suit the needs and activities of his married clients and their two nearly grown children. "They gave me carte blanche," says Aiduss — who had earned the clients' trust by helping them with their Center Hall Colonial in Far Hills, New Jersey — "and that enabled me to lead them to discover something new." The house has a distinctly formal ambience, which is why, Aiduss explains, he chose not to put the central staircase by the front door. Instead, the stairs sit at the far end of a large reception hall that comprises both entry and dining areas. The hall seamlessly connects to adjacent public rooms in the home, making it perfect for entertaining.
If the house has a stately feel, it is hardly somber. Aiduss employs colors in shades from brilliant to muted to add spirit and whimsy throughout the house, beginning with the luscious cherry-colored front door. The living room, with imperial-yellow walls, is light and airy, possessing a distinctly Venetian feel, thanks to its matching silk draperies and pelmets, opulent silver-gilt petaled side tables, gilded sconces, Fortuny cotton pillows and upholstered cocktail table. In a nod to the stained-glass windows at Miami's fabled Vizcaya estate, Aiduss installed a stained-glass skylight in tones of amber, lilac, rose, pale blue and citrine in the kitchen and chose glass in pale yellow, blue, lilac and clear for the cabinets. But his tonal virtuosity may be most apparent in the master bedroom, where the walls and floors are faintly patterned with muted gray geometries, the bed has a tarnished silver-leaf finish and panels of pewter-colored python, and the room's sole chair is finished in a Monet-worthy palette of lilac, patinated celadon and gold.
What's next for this versatile designer? Beyond more homes, both near and far, look for a line of case goods next fall. Michael Aiduss appears to be poised to become a household name.
---
Michael Aiduss's Quick Picks on 1stdibs