October 16, 2022"France has completely stolen my heart," says Bronx-born 1stDibs 50 designer David Jimenez, who has called Paris home for seven years. He adores the beauty of the French capital, its vibrant cultural scene, the Île Saint-Louis — one of two islands at the city's heart, where he both lives and works. And then, there's the language. "When I started learning French, it was difficult for me to concentrate," he recounts. "I would get lost in the sing-song intonation of the teacher."
And so, his first monograph — the francophile volume Parisian by Design, about to be published by Rizzoli — is much more than a simple overview of the interiors he has created to date. Written by Diane Dorrans Saeks, it is an ode to his adoptive country and a guide to living à la française.
In it, we learn where Jimenez buys his cheese, his flowers, his mirabelles (small yellow plums produced in the Lorraine region, in the east of France). We find out what he serves for an impromptu seven p.m. get-together: "Champagne with gougères [cheese puffs], or French radishes with butter and sea salt and baguette slices, and white asparagus with a tangy lemon vinaigrette."
There are also sections on quintessentially French colors (a vivid green found in Paris's historic Nissim de Camondo museum, for instance); his favorite artisans (the decorative painters at the Atelier de Ricou, ceramist François Roger and the traditional fabric house Prelle, among many others); and how to set a table in true Gallic style.
Jimenez — who founded his interiors business a mere two years ago, after a career in visual merchandizing — has completed just handful of projects for clients, including a vacation home in California's Santa Rosa Mountains for a couple with twins. But he is now working on the decoration of a New York apartment on Fifth Avenue for film producer Andrew Lauren, son of Ralph, who discovered him on Instagram.
Jimenez is understandably circumspect about revealing too much about the commission. He says simply that it has a "very European sensibility." In the book's foreword, Lauren is much more forthcoming in his praise of the designer. "He is a human dreamcatcher with an ethos," he writes. "If [an object] touches you, acquire it. If it doesn't exist, create it. If it no longer exists, re-create it in a fresh, new way."
Because of the limited amount of work Jimenez has completed for others, the monograph focuses on the interiors he has created for himself. Four are in France: the two Parisian apartments he has inhabited since moving to the city, his office and a weekend retreat on the grounds of a 16th-century château in a village named Saintines, about an hour north of Paris.
There are also three of his previous, stateside residences, all decorated in a distinctly Gallic vein — two in Kansas City, Missouri, and the other located in a 1924 apartment building called The Bentley in San Francisco's Nob Hill district.
The last was an homage to one of his favorite designers of the past, Madeleine Castaing, and her love of animal-print carpets, emerald velvet and screens. It featured several Empire pieces, an Edward Wormley tufted sofa, a pair of Dorothy Draper España chests and a 1960s brass and glass Stilnovo chandelier.
Nothing particularly predestined Jimenez to be a fervent francophile. He was born into a Puerto Rican family in the Bronx. His mother was a seamstress; his father held management positions in different fields, from construction to jewelry design.
At the end of high school, Jimenez took a job as a sales assistant at a Gap store located at 59th Street and Lexington in Manhattan. He spent 11 years with the retailer, eventually becoming director of visual merchandising for some thousand outlets.
He went on to work in similar roles for Williams-Sonoma, Restoration Hardware and Pottery Barn. During a business trip for the last, he made his first visit to Paris. The result was very much love at first sight. "It made such a deep, deep, deep impact on me," he says.
Some 20 years later, he moved to the city to take a job overseeing the redevelopment of the historic paper and printing brand Draeger. Jimenez stayed with the firm for four years before setting up his interior design studio.
The way he explains it, the transition came naturally. Several of his own homes had previously appeared in shelter publications, including House Beautiful and Architectural Digest, as well as the San Francisco Chronicle. "I felt like I had a calling," he says. "Decoration has been a big passion since I was young."
His first apartment in Paris was located not far from the Arc de triomphe, on the avenue Marceau, and had all the architectural attributes that foreigners dreamily associate with the city: high ceilings, herringbone parquet flooring, marble fireplaces and paneled walls. "It was beyond my wildest expectations," Jimenez recalls. 
He anchored its sitting room with a Beni Ourain Moroccan rug and a sleek custom sectional sofa, adding a Louis XV leather chair and Maison Jansen cocktail table, among other pieces. In the dressing room were a French Empire–style semainier and a leopard-print rug.
His current abode — a 400-square-foot apartment on the Île Saint-Louis — exudes more charm than grandeur. But it has the advantage of being adjacent to his office in the same 17th-century building, which is on the site of a jeu de paume ("real" tennis) court frequented by Louis XIII.
Since he considers the two-room workspace an extension of his home — often using it to host dinners and cocktails — Jimenez decided to give it a domestic feel. The furnishings bring together a pair of Charles X–style lamps that once belonged to Castaing, a Napoleon III–period gilded mirror sculpted with the face of Empress Eugénie and an exquisitely shaped Montgolfier balloon-back chair.
The centerpiece, however, is neither French nor classical. It's a 1965 Knoll desk, unearthed at the AYN Gallery just down the street. He chose it for the ample space provided by its large marble top and practical metal drawers.
Jimenez's interiors have a number of constants. He tends to favor neutral paint tones offset by accent colors like emerald green, mustard yellow or cobalt blue that come by way of fabrics, ceramics or screens. He loves hanging lots of small artworks on walls, has a particular passion for charcoals and likes to create multiple seating areas in rooms.
And he is never afraid to mix fine French antiques with contemporary items. "If something feels right for a project, then my heart is open to it," he says. "I don't get bogged down in provenance. What I want is simply to surround myself and my clients with quality. That's the baseline every time."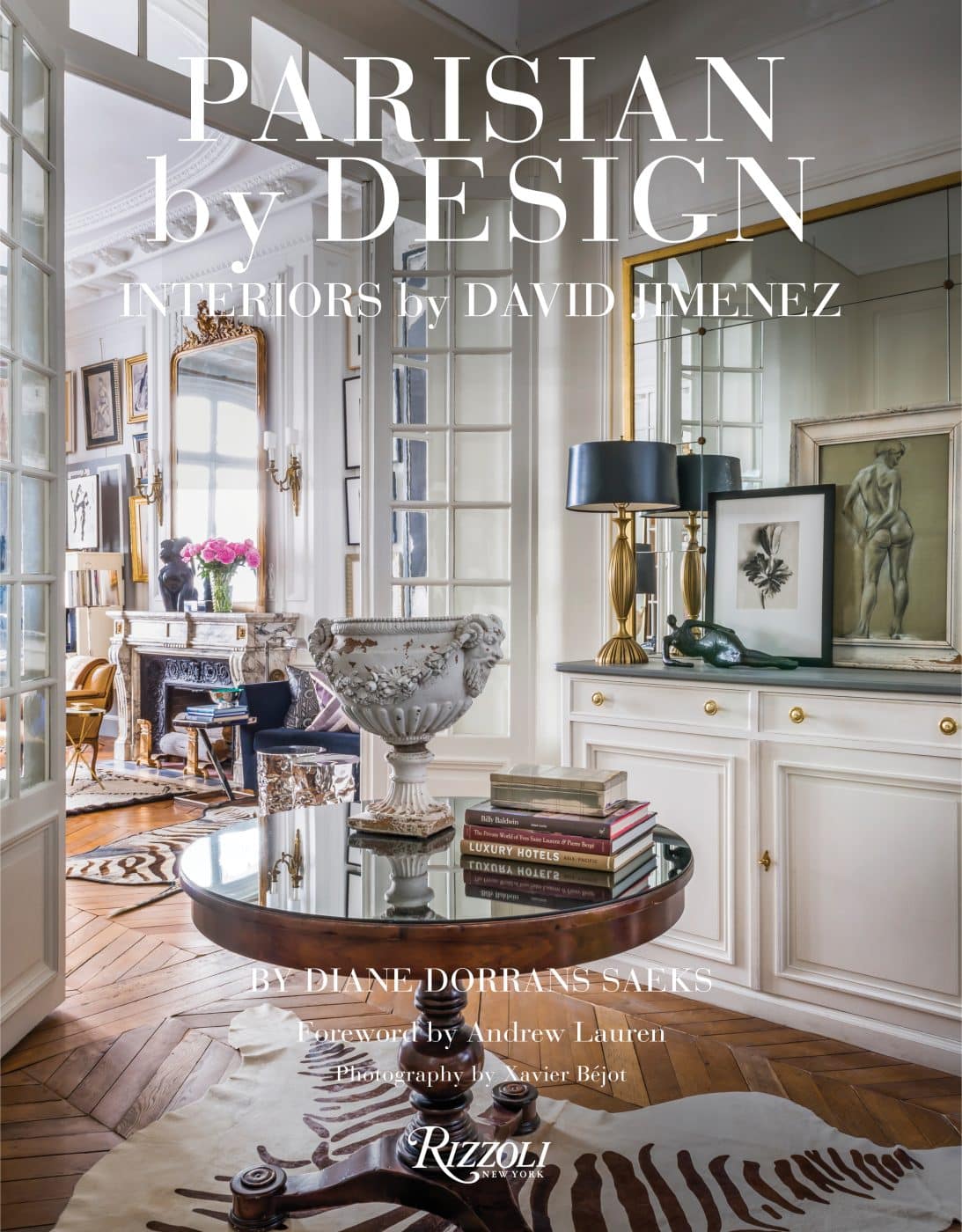 DAVID JIMENEZ'S QUICK PICKS