September 18, 2022It was an unusual brief: One house. Two families. Independent living spaces that were distinctive but could function together as a whole.
"The project was so interesting," says designer Sarah Ellison, founder of Frank & Faber, which masterminded the residence's interiors along with senior designer Katie Le Beron. "Initially, we sort of assumed the two families would have similar tastes, but they didn't! We had to find a way to make sure there was both continuity and individuality."
The house, in the leafy north London enclave of Hampstead Garden Suburb, is a home-away-from-home for the Shah brothers, Sarit and Sachit, and their families. It is a familiar location for the Nairobi-based siblings: Their parents bought the property more than three decades ago, and the family spent time there over the years, particularly when the children, then grandchildren, began going to school and university in the UK.
"As our families grew, it was getting a little tight for all of us," says Minal Raja Shah, Sarit's wife. "It seemed obvious we needed a new house rather than renovating — the layout was very much for one family."
The brothers discussed buying separate houses, says Ellison. But they felt attached to the area and decided it would be a more efficient use of space to share a larger house rather than build two new homes. Sarit and Minal approached Chris Snow, an architect who had collaborated on the design of their Nairobi home. Because Hampstead Garden Suburb is a conservation area, the external appearance of the house had to be preserved in most details, even as the footprint was increased and an entirely new layout created for the two families, incorporating spacious living areas, en-suite bedrooms and television, study and office areas for various family members.
"The exterior remains very similar, but the interior is completely different," says Ellison. "The old house was a bit dated and had lots of small rooms. Chris created a great layout that let the families have their independence but also be together when they want to be."
Snow divided the house down the center with sliding doors, which allow each family to have its own side but can be opened to merge the spaces. Although the configurations of the two brothers' domains differ in some respects, each family has its own spacious living room and open-plan kitchen and dining area on the ground floor, with an ensuite main bedroom and dressing room on the floor above. On the same level, a large guest suite, used by the brothers's parents, straddles both sides of the house. The children's bedrooms and bathrooms are upstairs, divided but accessible to each other when desired. The basement contains two TV rooms — one for each family — as well as some shared spaces, including a study for the kids and a laundry room.
After talking to several design companies while the house was being built, the Shahs chose Frank & Faber. "I felt that Sarah understood the aesthetic and practicality that would suit us as a family," says Minal. "I wanted a very different feel from our home in Kenya, which is quite zen, with a very calm palette. I wanted the London house to be more playful, have more color and reflect our travels as a family."
The aesthetic of her brother-in-law, Sachit, and his wife, Deepu, is a little different, however. "They are a bit more glamorous!" Minal says. "But we wanted the project to make sense and feel coherent. That was the challenge for the designers."
Ellison's solution was to provide continuity through flooring, wall color and curtains. "We used mixed stone and wood in different areas, marble in the bathrooms," she says, adding that the marbles were different for each family. "Sarit and Minal are a bit more reserved in their tastes. Sachit liked a very striking black marble with orange veining. But they worked together." And both families have antique Persian rugs in different spaces, which provide a hit of muted color.
All the walls are painted in Farrow & Ball's warm School House White. Ellison deployed curtains in almost the same color throughout. "Chris wasn't that keen, and the clients weren't used to that idea, but I knew it would soften everything," she explains.
Lighting, too, was kept consistent. "Each staircase has a feature pendant light by the American company Apparatus," Ellison says. "Although they are different designs, they are from the same family. And the rest of the lighting uses alabaster settings in different fittings. So, even though the designs vary quite a lot, there is a flow between the spaces."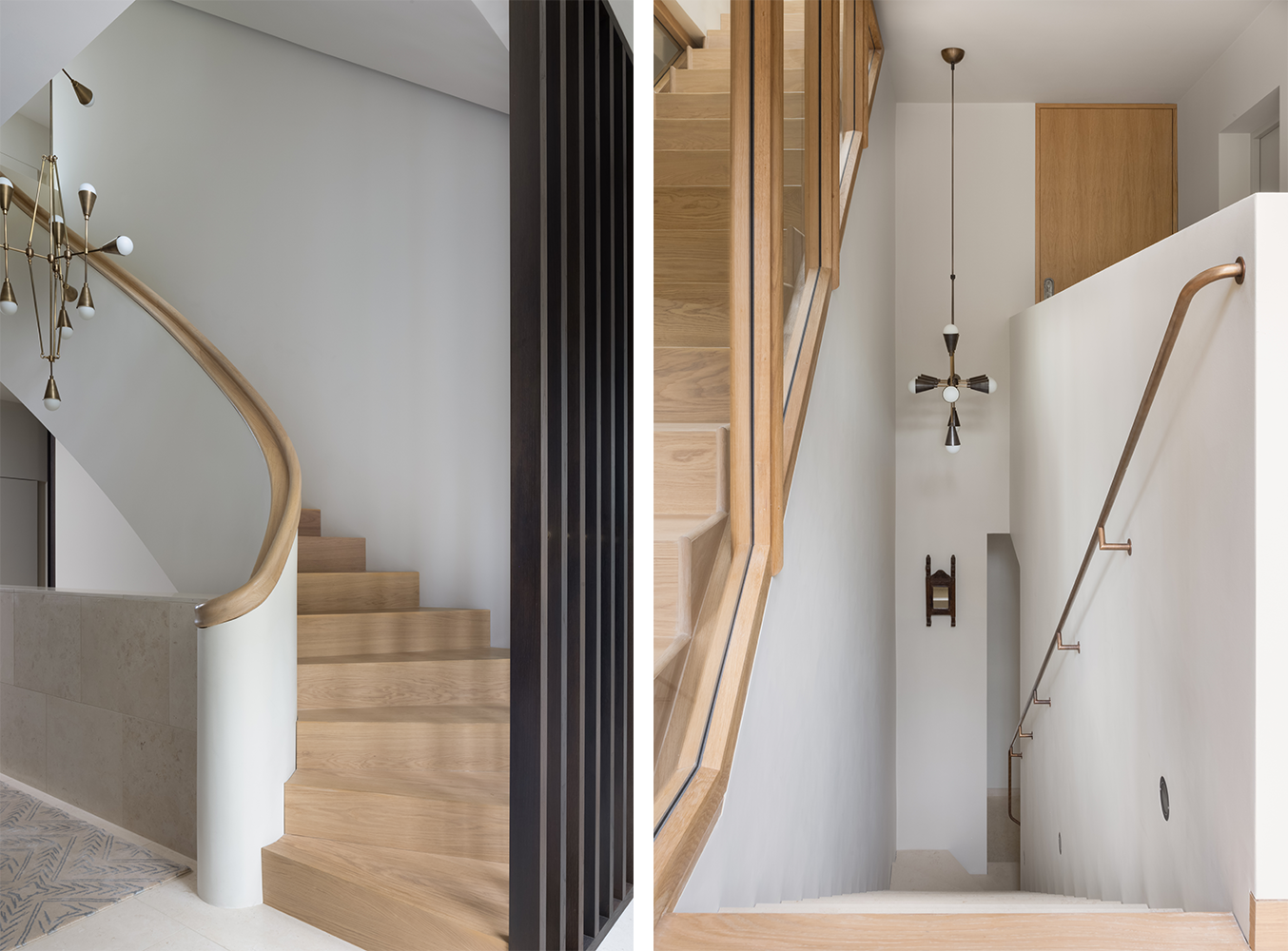 Once the palette was established, Ellison brought in a mix of contemporary and antique pieces, from high-end items sourced via 1stDibs to the occasional high-street purchase. "It wasn't about the label or the prestige," Ellison says. "It was about each piece having a story and fitting into the whole."
Both families are passionate about antique and vintage items, and among the 1stDibs finds was an an intricately hand-carved 19th-century Indian damchiya, or dowry chest. But they also discovered a dining table and a coffee table from cONTEMPORARY GERMAN FURNITURE MAKER Nathan Lindberg on the site. "We loved the design, because it's very simple and organic in feel and has a lot of character," Ellison says. "It was contemporary in style without being new looking, which is exactly what we were after."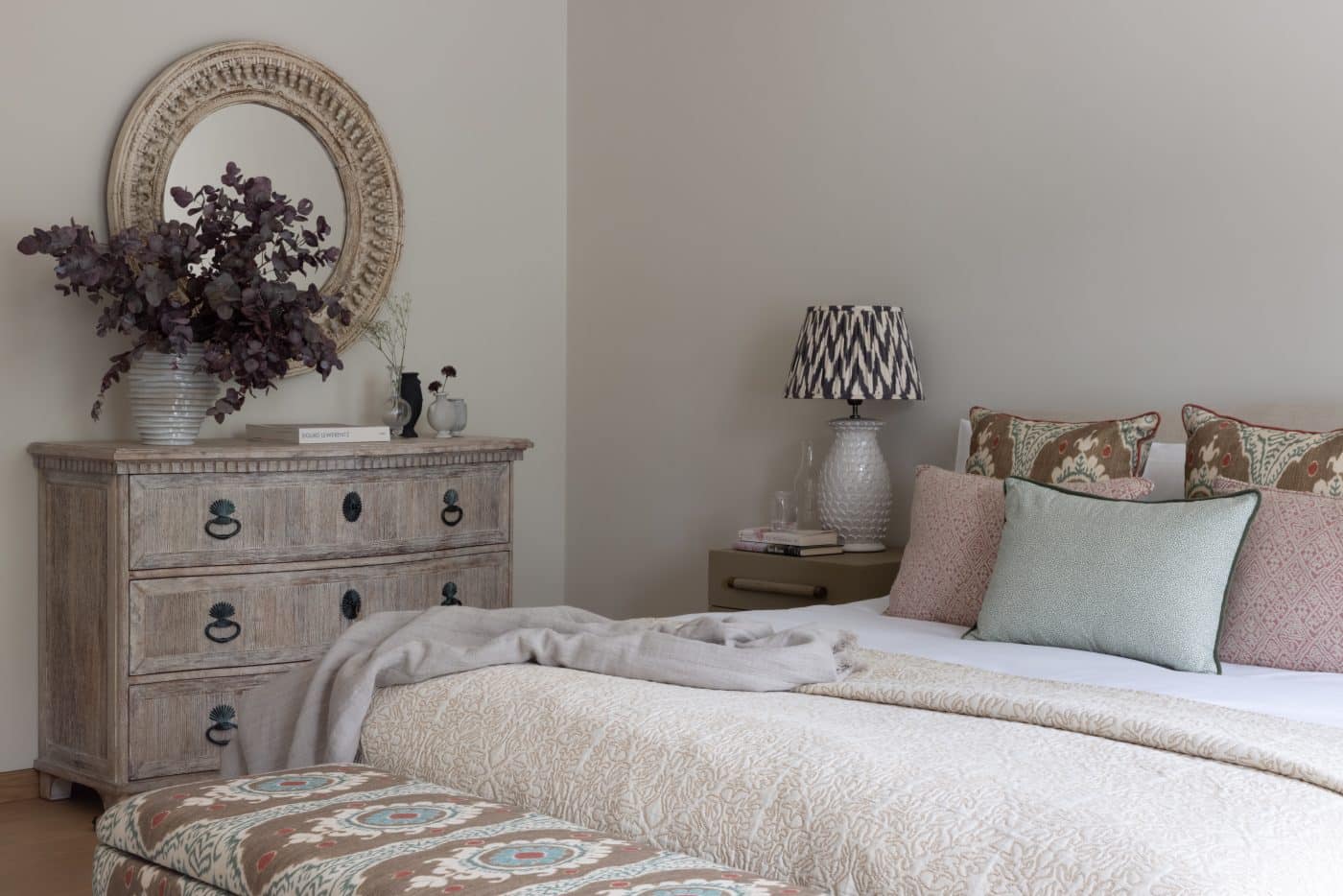 Furniture choices were as hands-on as possible, says Minal, adding that the design process took place during all the Covid restrictions on travel. "A lot had to be done through photographs," she recounts. "But we went to the Conran Shop and picked the couches for their comfort and canvas-y feel. We are Indian in our culture, African where we live, and also wanted a certain Englishness that would reflect the Hampstead home. I wanted a slightly eclectic feel without going too crazy, and Sarah did a great job of capturing that mix."
Ellison's task was slightly different on Sachit's side of the house. "Because he wanted a stronger palette, we shifted to bolder colors in his areas," she says. "But we kept continuity by using ikat and bold African prints that are present in more muted shades on Sarit and Minal's side."
There were a few challenges, notably on the basement floor. This had a very open-plan layout "that felt a bit cavernous" and needed more separation between the two families, Ellison explains. "We came up with the idea of using a curtain as a partition on a curved track, which separates the television area, and a bespoke piece of brass shelving, which keeps a study area private and is also aesthetically pleasing."
So how does it work in practice? "Incredibly well!" says Minal. "Chris and Sarah did a phenomenal job of giving us the spaces we need, with light and beautiful things that make us feel happy when we come in. We have our space and privacy, while still eating together at night if we are all there. And if one family is there but not the other, we keep an eye on any issues in the house. I feel very lucky that we got it right."