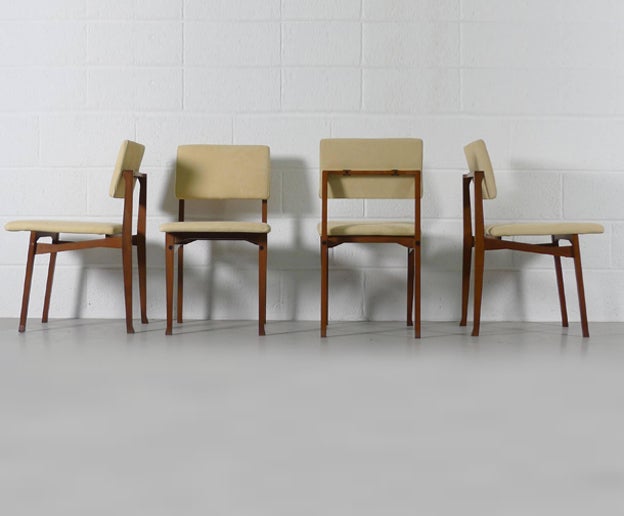 Iconic Designs
Luisa Chair
About the Design
After working for approximately 15 years through several prototypes of the design (one of which was manufactured by Knoll in the late 1940s), the Italian designer, architect and urban planner Franco Albini (1905–77) finished what is considered to be a masterpiece: the Luisa chair. The dignified armchair is upholstered in warm red fabric and named after Luisa Colombini, Albini's personal assistant and secretary of two decades. Lightweight and initially available in teak, mahogany and beech, the definitive version of the Luisa chair was put into production by Poggi in 1955.
The Luisa is often compared to the similarly minimal and sturdy Leggera chair conceived by like-minded rationalist architect and designer Giò Ponti, under whom Albini apprenticed after receiving his degree in architecture from the Polytechnic University of Milan in 1929.
Not unlike Ponti's work, Albini's designs often merged traditional Italian craftsmanship with the modernist flourishes that had occupied Italian rationalists. It was this blend of functionalism and style that earned Albini numerous awards, including several Compasso d'Oro prizes, a prestigious Italian award for excellence in industrial design. His first Compasso d'Oro was for the Luisa chair, which is part of the permanent collection at the Museum of Modern Art in New York and is still manufactured by Cassina.
Previously Available Items
More Franco Albini Designs