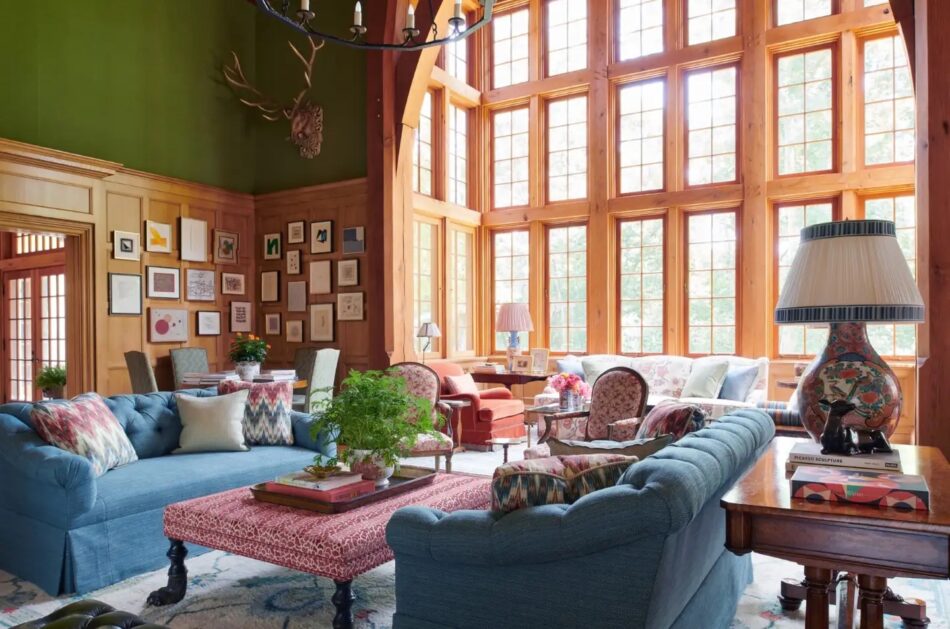 "A room tells you what it wants to be," Ann Wolf contends. This living room, in a 25-year-old house in the River Oaks neighborhood of Houston, wanted many things. The bay window, for instance, cried out for comfy seating so the clients could curl up with a book. "It has wonderful light," Wolf says.
On one side of the bay is a 1770s English Regency secretary where one can work or write letters. On the other, Wolf surrounded a mahogany center hall table of similar provenance with chairs to accommodate games or light repasts.
She outfitted the main seating area before the fireplace with plenty of "lightweight furniture — chairs, ottomans, stools — that you can move around to enlarge different seating zones." The family's children practice piano in another corner. Rugs and art delineate specific areas: a collection of Latin American works by the games table, three Helen Frankenthalers perpendicular to the secretary. "Art draws people to that part of the room," Wolf says.
---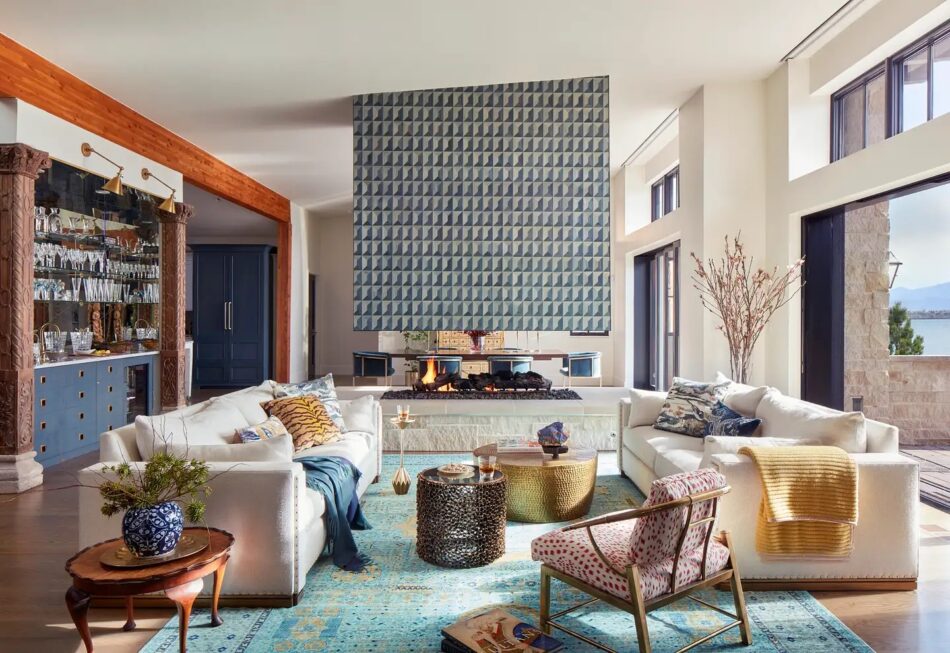 This lakeside property in a Denver suburb, says Andrea Schumacher, "was purchased for the family to enjoy the outdoor aspects of the lake — boating and spending time on the beach — just as much as they would enjoy being in their home." Access to the patio makes the space airier, as does the cantilevered fireplace — swathed in a wood-veneer wall covering by Phillip Jeffries — on the other side of which is a dining room accented with a Chinese medicine chest from the 1800s.
The clients requested that Schumacher not hide the bar in the kitchen "so that they could have another area to congregate in and entertain people." That would be this living room, which the homeowners "use every day for entertaining, watching movies, cozying up during the colder seasons and having family meals." The bar is framed by 19th-century teak columns found at Fair Trade Antiques on 1stDibs.
---
The L-shaped living room of a family home in London's Kensington district designed by Stewart Manger is multifunctional by virtue of its livability. "I like living rooms that are comfortable," says Manger, "as opposed to those you walk through or by, or that you only use for cocktail parties."
Lightweight chairs can be pulled into the seating area or turned toward the piano around the corner for the children's music lessons or a concert during an evening soirée. Yet the space doesn't trade practicality for elegance. Paintings on either side of the fireplace, by Günther Förg (left) and Leon Polk Smith (right), are crowned by Line Vautrin mirrors, and a work by Sigmar Polke hangs above the mantel. By the chair next to the hearth is an amber Reserve table by Parisian designer Hélène de Saint Lager, and in the foreground, a Claude Lalanne Gingko table.
---
Michael Del Piero designed the living room of a Belgian Tudor home in Winnetka, Illinois, to suit a young family's various needs. In front of the fireplace, topped with a Giacometti-like horse sculpture from Vern + Vera, two sofas face each other across a French live-edge coffee table. "There's a large dog and two children," Del Piero says, so the sofas are upholstered in easily washed linen. That, a television and the sisal rug make it relaxed enough "to be both family room and living room."
The wife often sits at the table by the window to enjoy a glass of wine with a girlfriend. Another table, across the room, is where the couple "hosts formal dinners or sets out appetizers during a cocktail party." It's also where the kids do homework and play games.
---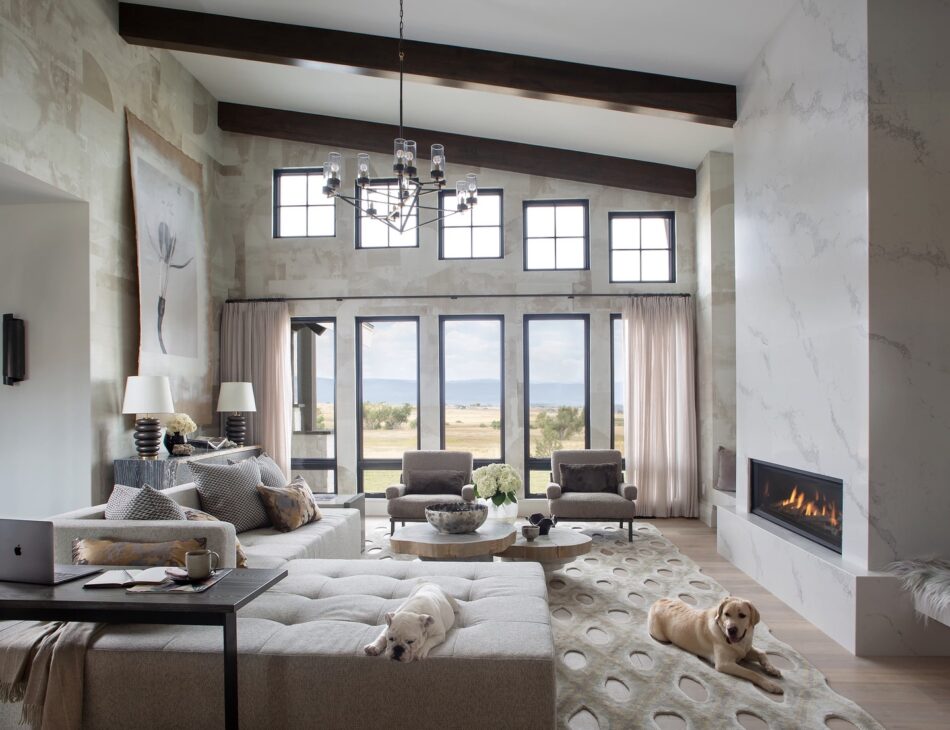 Lucinda Loya's living room for the 2020 House Beautiful Whole Home, in Denver, addressed the pandemic's remote-work requirements. "I have this same sectional at home," she says, "and I sit at a desk just like that to do work." The sofa's arm doubles a backrest to form a seat for the pull-up desk, and Ferrell Mittman constructed a side table at the sofa's opposite end containing a hydraulic lift for a pop-up desk.
"The architecture called for shelves beside the fireplace," Loya says, "but we used them as extra seating or dog beds." Two lounge chairs offer perches for relaxing after work hours. Art Forms in Mechanism XXIV by Linarejos Moreno adds a graphic punch.
---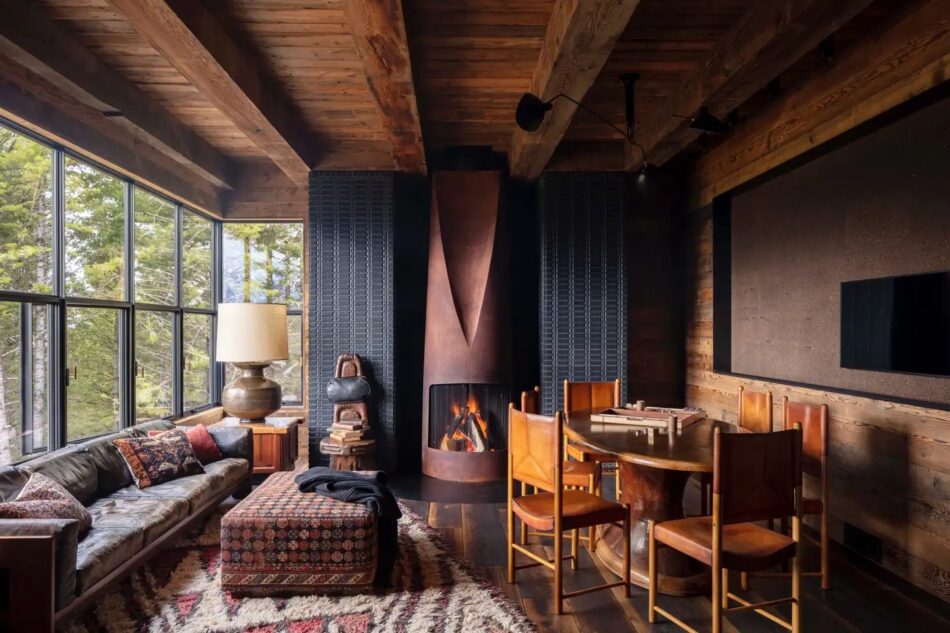 This Wyoming estate with views of the Tetons consists of four buildings, one of them a structure that operates as an occasional think tank for the homeowners' company. Designed by Kristan Cunningham and Scott Jarrell, of design firm Hammer and Spear, it is highly flexible. "Ten people could work in this casual setting," notes Cunningham. "They can have a meal but also have meetings to foster creativity." To aid in this, a television for conferencing and usually a flip chart occupy a gray cork niche.
For the husband, she says, "patina is everything." Hence, the 1970s Tobia Scarpa sofa — extra long for stretching out for a nap — and the leather chairs and burl table, both from Morentz, as well as the original Serge Mouille light fixture overhead. The ottoman and sofa pillows, all by Pat McGann, are covered in carpet remnants, complementing the vintage Beni Ourain rug.
---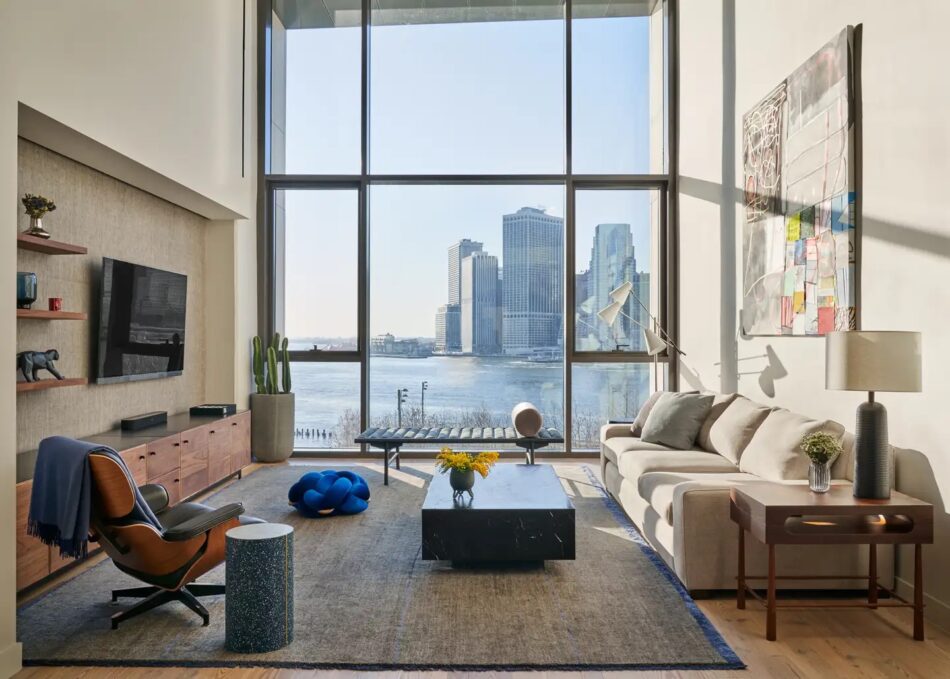 There's plenty of room to spread out in this Brooklyn Heights duplex outfitted by design firm Lewis Birks. But you can often find Anne Lewis Brewer's client in the living room, which faces New York Harbor. In addition to being a dramatic space for entertaining, it's organized to accommodate his work-from-home lifestyle. "He works all around this room — on the Eames Lounge, on the sofa, at the small table [not pictured], where he can also have a light meal," says Brewer.
Bookshelves along one wall afford access to a library of reference tomes. To consult them, the client can stretch out on the long, cushy sofa under an Arredoluce floor lamp or on the slender contemporary Danish daybed at the window. Next to the Eames lounge is a Slash Objects table for a cup of coffee or cocktail, and next to the sofa is a contemporary Brazilian side table.
---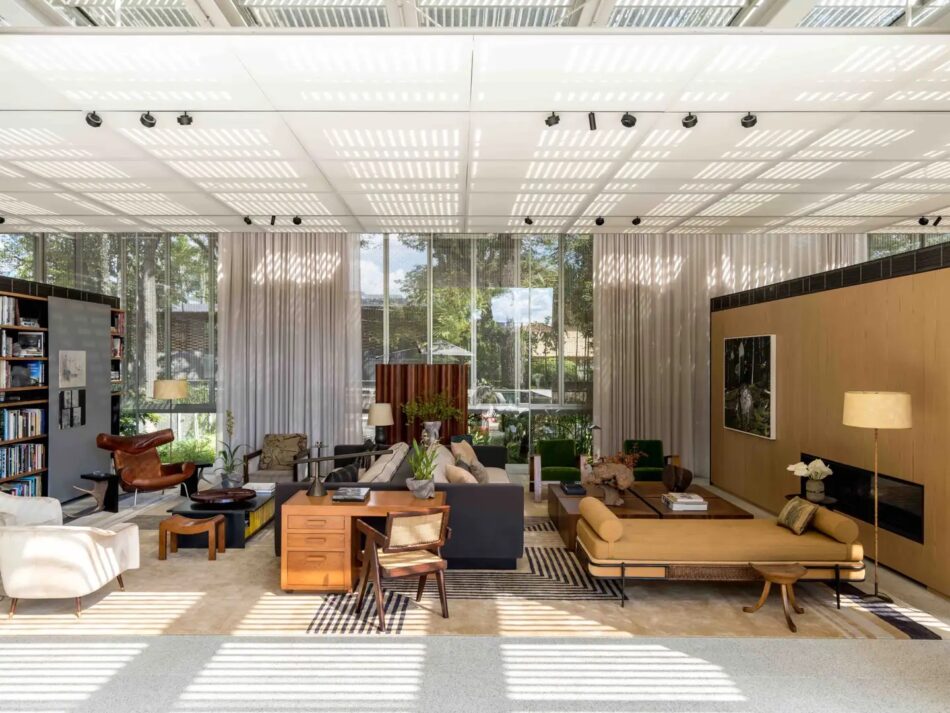 "We had enough scale to break the living room into two seating areas," says Andre Mellone, referring to this space in a modernist house in São Paulo's leafy Jardim Paulista neighborhood. The central feature is a custom two-sided sofa by Studio Mellone, at one end of which is a Frank Lloyd Wright desk for working, reading and writing. At the other end, a vintage molded plywood Eames screen hides a full bar for entertaining.
To the left is a small library with an Olson Kundig coffee table and Pierre Chareau stool, around which Mellone gathered seating by Joaquim Tenreiro (in white cowhide) and Hans Wegner (a leather Ox chair flanked by Rick Owens Stag T tables). To the right is a Mathieu Matégot daybed, for reading, lounging and snoozing; an Adolf Loos tripod stool; two Jean Royère armchairs; and a coffee table inspired by a Mies van der Rohe design. "The family is in here all the time," says Mellone. And for good reason!
---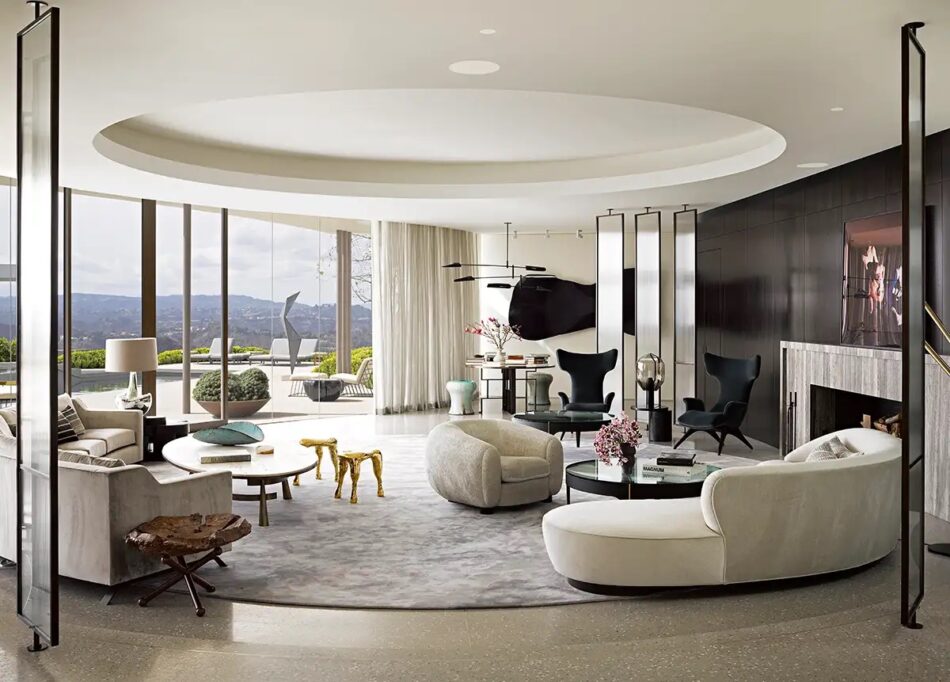 In a Hollywood Hills home in Trousdale Estates, Jamie Bush says, "we reduced the number of rooms to make every room functional, rather than have spaces you don't need." Case in point is this living room, which boasts three conversation areas — one defined by a pair of Vladimir Kagan Ondine chairs, another by Kagan's Serpentine sofa and the third by a custom sofa curving around a Blackman Cruz coffee table (with a Peter Lane ceramic "stump" table on a bronze base at one end).
There's plenty of portable furniture to pull in for extra seating, including Haas Brothers brass Hex stools and Hun-Chung Lee ceramic stools, which are usually posted at a Jean de Merry table at the rear, in what functions as a "casual library space by day," says Bush, "but is cleared for hors d'oeuvres when they have parties." Behind the glass screen is a bar concealed in the millwork.
---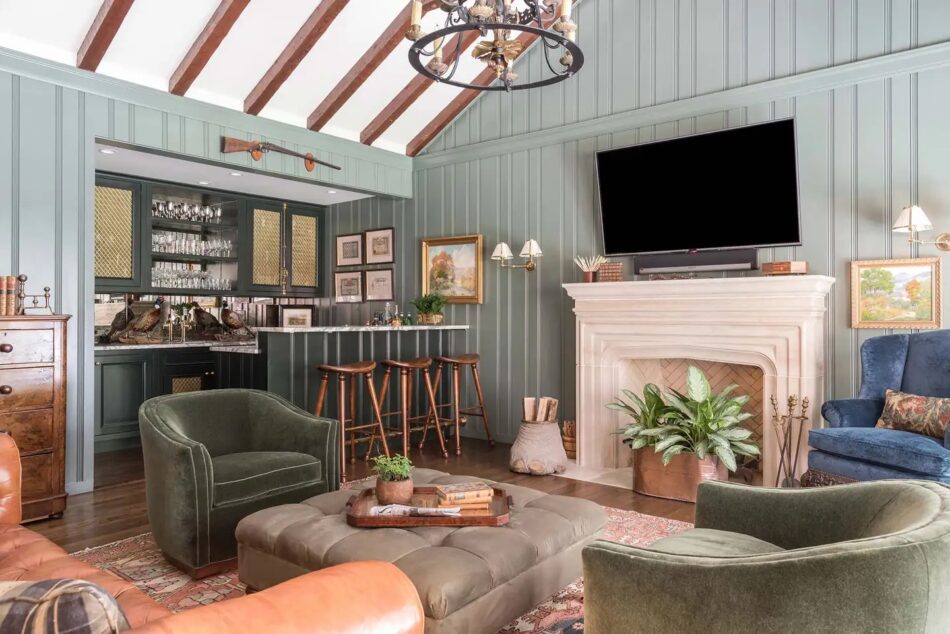 "It's a very Texas kind of room," Collected Design Studio founder Holly Rabinowitz says of this space, a "luxe lounge" that she created in an older home in the venerable San Antonio enclave of Olmos Park. Indeed, the combination of period details and casual modern living feels uniquely Texan, especially given the owner's great grandfather's gun mounted above the bar, the Texas limestone fireplace and the vintage Chesterfield sofa, which, notes Rabinowitz, "has just the right patina and warmth."
Mixed in are Milo Baughman swivel chairs reupholstered in lush green velvet and a contemporary ottoman coffee table. The bar and television expand the room's function. "It's a place for the family to gather and unwind at the end of the day and to host friends for cocktails," explains Rabinowitz. English pub stools with saddle seats belly up to the bar. Family heirlooms — including Texas landscapes by Peter Hohnstedt and a George I–style wing chair for reading — complete the comfortable space.
---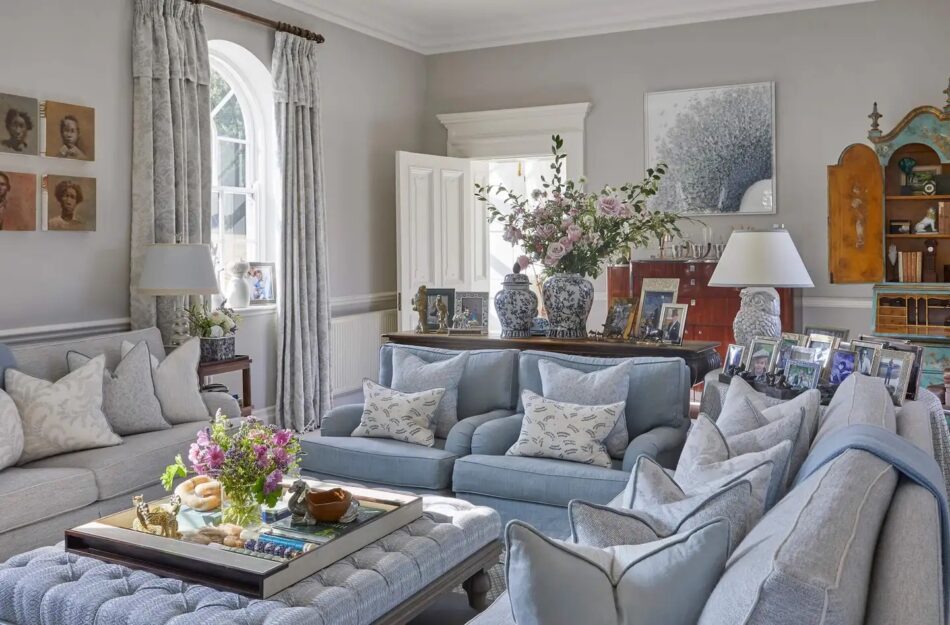 "This room is where I surround myself with many of the artifacts, paintings and curios from my extensive travels, which gives it a wonderfully eclectic vibe," says Katharine Pooley, describing the living room of her Georgian coach house in the English countryside. "The space is very much for relaxing, maybe in the evening in front of a roaring fire, or for chatting and pre-supper drinks with friends and family. It's also a lovely quiet spot to come and read, look out at the gardens or catch up on correspondence at my favorite piece, the periwinkle-blue secretary."
The latter, an 18th-century Venetian specimen, was an auction find. It keeps company with a Ralph Lauren Art Deco–style bar and Chinese export porcelain picked up during her years living in Hong Kong and Singapore, supplemented by examples from Guinevere Antiques.
---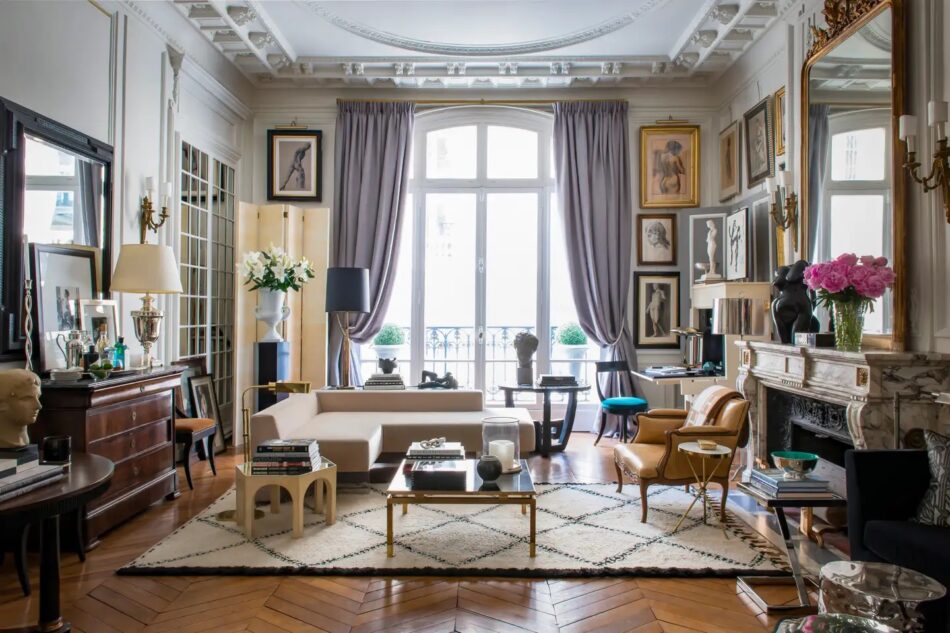 "I needed this room to function," interior designer David Jimenez says of the living room in a former apartment of his in Paris's 8th arrondisement. For inspiration, the native New Yorker looked to the French, who, he says, "live in beautifully designed spaces that are easily chic and confident."
In the absence of a dining room, Jimenez explains, the Maison Jansen coffee table, placed on a Beni Ourain rug and stacked with books, "served as a tiered surface for appetizers and different courses during cocktail parties and informal dinners." His own custom sectional and a leather Louis XV bergère provided seating. Later, guests would retire to a moody blue velvet sofa in one corner (not pictured) for digestifs from the bar atop the French commode.
---
Wendy Haworth Design Studio began in this living room in Haworth's former West Hollywood apartment. As ground zero for her business, it had to serve many functions, she notes. The Chinese wedding chest, for instance, stored wood and paint samples. More storage was provided by the Milo Baughman credenza at left.
"The table was both dining and work table, and the 1970s Karl Springer–like desk is still where I do video calls," Haworth says. From the Niels Otto Møller Model 71 chair at the desk, she could gaze at a favorite Pierre Célice painting. Haworth would host meetings, as well as company, in the central seating area, where a 1920s French mahogany chair chicly upholstered in faux alligator, a French-style cane-backed bergère and a sofa were gathered around a glass-topped Silas Seandel brutalist iron coffee table. The whole scene was illuminated from above by a Maison Lunel ceiling fixture from the 1960s.
---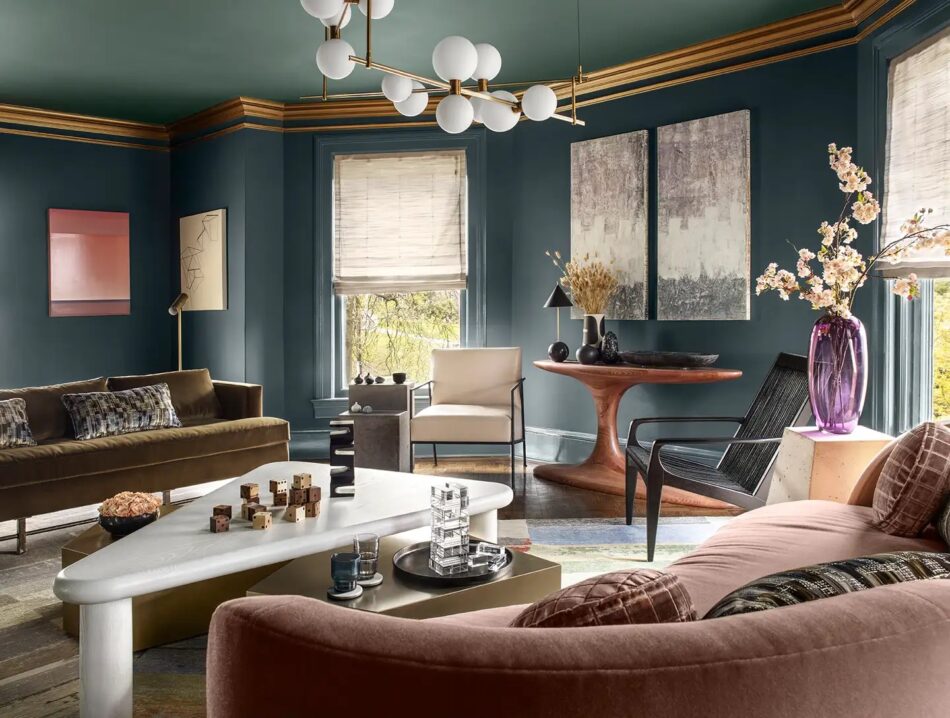 Tina Ramchandani's living room in the 2019 Valerie Fund Show House, in Plainfield, New Jersey, was meant "to be a family salon" for her hypothetical clients, she says. "It was a Victorian house, so I wanted to keep some of the formality of it." Thus, the gold-painted trim. "But no one really lives that formally anymore. So, I filled it with puzzles and things to eat to make it a place they could come into after dinner and talk and play family games, away from the TV."
Ramchandani deliberately mixed shapes, colors, textures and pieces with both high and low origins to convey that sense of casual gathering. Artisanal designs, such as Zimmerman Workshop's Elliptical console, partner with more traditional furniture, like the seating and coffee tables from Bradley.