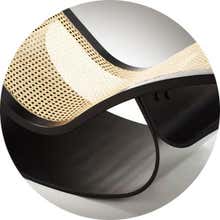 Brazilian Design
Commencing in the 1940s and '50s, a group of architects and designers transformed the local cultural landscape in Brazil, merging the modernist vernacular popular in Europe and the United States with the South American country's traditional techniques and indigenous materials.
Key mid-century influencers on Brazilian furniture design include natives Oscar Niemeyer, Sergio Rodrigues and José Zanine Caldas as well as such European immigrants as Joaquim Tenreiro, Jean Gillon and Jorge Zalszupin. These creators frequently collaborated; for instance, Niemeyer, an internationally acclaimed architect, commissioned many of them to furnish his residential and institutional buildings. The popularity of Brazilian mid-century furniture has made household names of these designers and other greats. Their particular brand of modernism is characterized by an émigré point of view (some were Lithuanian, German, Polish, Ukrainian, Portuguese, Italian), a preference for highly figured indigenous Brazilian woods, a reverence for nature as an inspiration and an atelier or small-production mentality.
Hallmarks of Brazilian mid-century design include smooth, sculptural forms and the use of native woods like rosewood, jacaranda and pequi. The work of designers today exhibits many of the same qualities, though with a marked interest in exploring new materials (witness the Campana Brothers' stuffed-animal chairs) and an emphasis on looking inward rather than to other countries for inspiration.
Find a collection of vintage Brazilian furniture on 1stDibs that includes chairs, sofas, tables and more.
Jack Lomacinsky side tables for sale on 1stDibs
The Jack Lomacinsky side tables are available for sale on 1stDibs. We have in-stock 0 vintage editions of these items, while there are also 0 modern editions to choose from. If you're looking for additional options, many customers also consider side tables by and . Prices for Jack Lomacinsky side tables can vary depending on size, time period and other attributes. On 1stDibs, the price for these items starts at $NaN and tops at $NaN, while pieces like these can sell for $NaN on average.