August 6, 2023Rodrigo Salem doesn't do things by half measures. A native of Lima, Peru, he spent two decades as a global tech executive for Microsoft and Facebook/Meta, living in Hong Kong, Mexico City and Rio de Janeiro for extended periods and traveling to more than 80 other countries for business and pleasure. 
One month into what he thought would be merely a sabbatical from his high-powered career, he tired of playing volleyball on the beaches of Rio and embarked on a new passion project: buying, restoring and selling Brazilian modernist furniture dating to the 1950s through the 1970s. "I'm focused not only on famous designers like Sergio Rodrigues and Joaquim Tenreiro," Salem says, "but also on the masterpieces of the less well-known."
Just over a year later, in April 2023, his new business, Found Collectibles, opened in New York, where Salem has been based since 2014. With the help of interior designer Mike Rupp, he's kitted out the 4,000-square-foot showroom in the Garment District with floor-to-ceiling furniture racks. Throughout the space are some 350 chairs, sofas and tables born of a brief moment in decorative arts history — constructed with techniques "half industrial, half artisanal" — and meticulously restored. Salem has amassed about 1,200 pieces in all, some located in a New Jersey warehouse that can be visited by appointment, some in Rio available for immediate air shipment.
Salem has set aside about a quarter of his loft square footage for a related venture, Found Spaces. "It's an incubator for young designers moving forward in their professional life," he explains, with six offices available for rent, a samples library, a photo studio and a conference room — furnished, naturally, with enticing pieces from Brazil's mid-20th-century furniture heyday.
"The pinnacle of Brazilian modernism was with Oscar Niemeyer," Salem says. Niemeyer was the visionary architect who, along with Lucio Costa and landscape architect Roberto Burle Marx, masterminded the early-1960s design and development of Brasilia, the new capital city built from scratch in the nation's interior. To furnish the new capital, "the government became the main patron of the furniture industry, asking designers to develop pieces specifically in accordance with a new aesthetic representing Brazil's modern identity," Salem says. "The idea was, Brazil is part of the modern world now and furniture was a symbol of the new mindset." 
It was a departure for Latin America, where "the elites traditionally followed colonial stereotypes of beauty: gilding, elaborate carving, heavy decor like European palaces had," says Salem. "But Brazil didn't. It embraced a modernist aesthetic."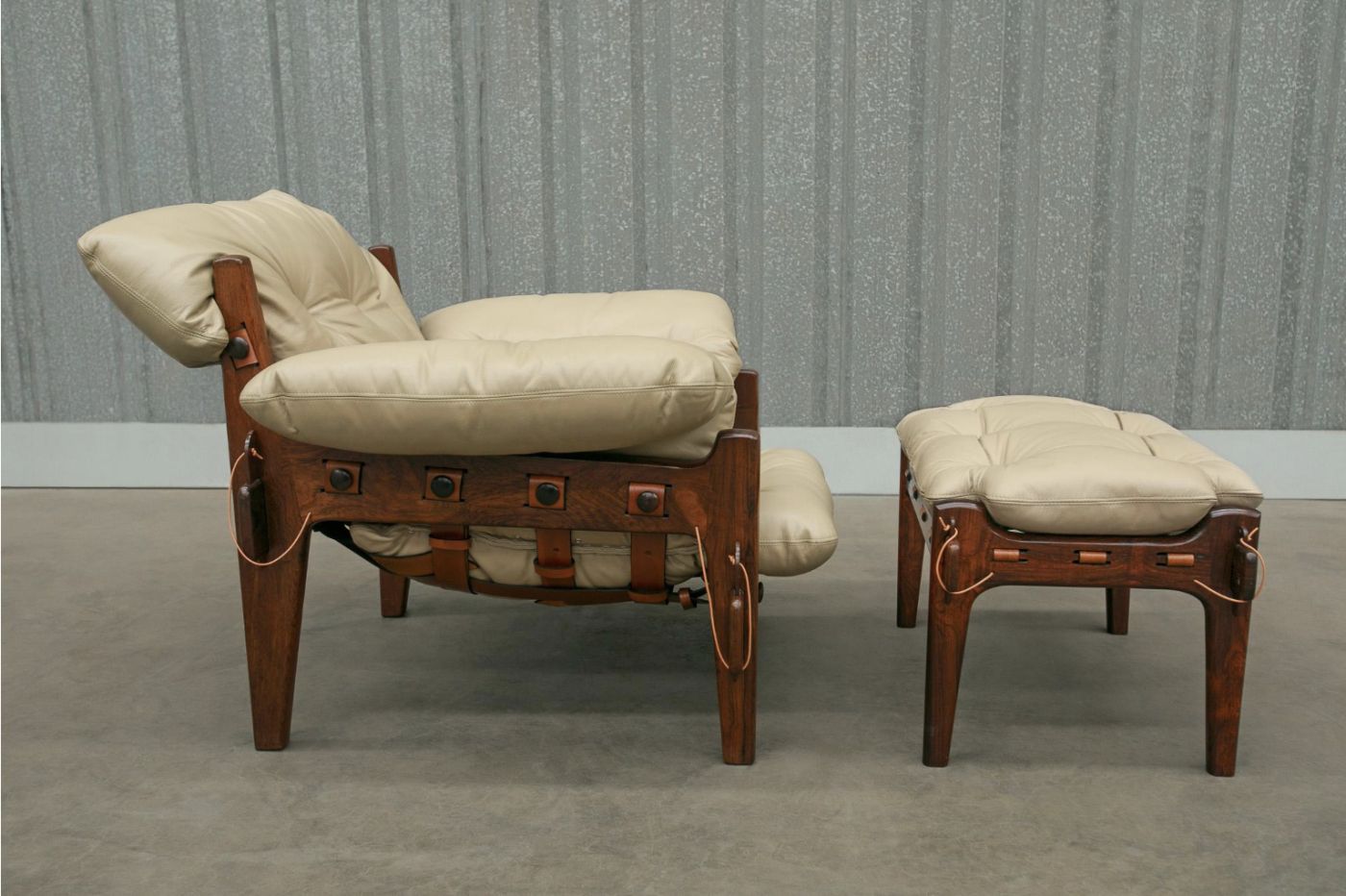 Brazil happened then to be a nexus of highly talented architects and designers. Some were homegrown, like Rodrigues, whose 1957 Mole armchair gained international renown for Brazilian modern design when it won first prize at the IV Concorso Internazionale del Mobile in Cantu, Italy, in 1961; José Zanine Caldas, an architectural model maker for Niemeyer who also created avant-garde furnishings; Geraldo de Barros, an office-furniture designer and a founder of Brazil's brutalist movement; and Niemeyer himself, who died in 2012 at the age of 105. Many others arrived in Brazil from Europe, fleeing World War II and its aftermath: Jorge Zalszupin from Poland, Jean Gillon from Romania, Carlo Hauner from Italy, Martin Eisler from Austria. Master woodworker Joaquim Tenreiro was Portuguese.
Buoyed by official support, Brazilian furniture workshops began to produce, in small numbers for a wealthy clientele, designs arising from Brazil's distinctive culture. "The Mole armchair by Sergio Rodrigues was named for its relaxed, comfortable appearance, reflecting the lifestyle of the Cariocas [people of Rio]," Salem says, noting that mole means "soft" in Portuguese. "The armrests of the Canoa sofa and armchair by Liceu de Artes resemble the canoes of the Amazon. Gillon's Jangada armchair was inspired by the fishing rafts used in the north of the country." 
More often than not, the luxurious furnishings of that time and place, with their gleaming wood, soft leathers and inviting shapes, share a sensuous, uniquely Brazilian quality that distinguishes them from the more rectilinear output of American and Scandinavian makers of the same era. A clue to its origins lies in a quote from Niemeyer's 2007 memoir, The Curves of Time: "I am not attracted to straight lines, hard and inflexible, created by man . . . [but] to free flowing, sensual curves . . . found in the mountains of my country, in the sinuousness of its rivers . . . and on the body of the beloved woman."
Salem scoured Brazil's largest cities — Rio de Janeiro, São Paulo and Brasilia — for vintage mid-century modern furnishings, finding them in varying states of preservation. "The next question was, how do I bring them back to their former glory?"
He "asked around" and was referred to a few skilled artisans who learned their trades decades ago working for the original makers. "My number-one upholstery guy worked for Sergio Rodrigues," Salem says. "He owns a small firm with eight or nine people in their mid-seventies and onwards who have incredible expertise in upholstering specifically Brazilian modernist pieces." They are now training younger apprentices.
The wood restorers likewise have long experience. "We dissect each piece to understand its anatomy," Salem says. "If we find something has been modified, we put it back to the way it was. It is truly restoration work. You don't want a vintage piece to look new. You want it to look old, beautiful and in excellent condition, with patina."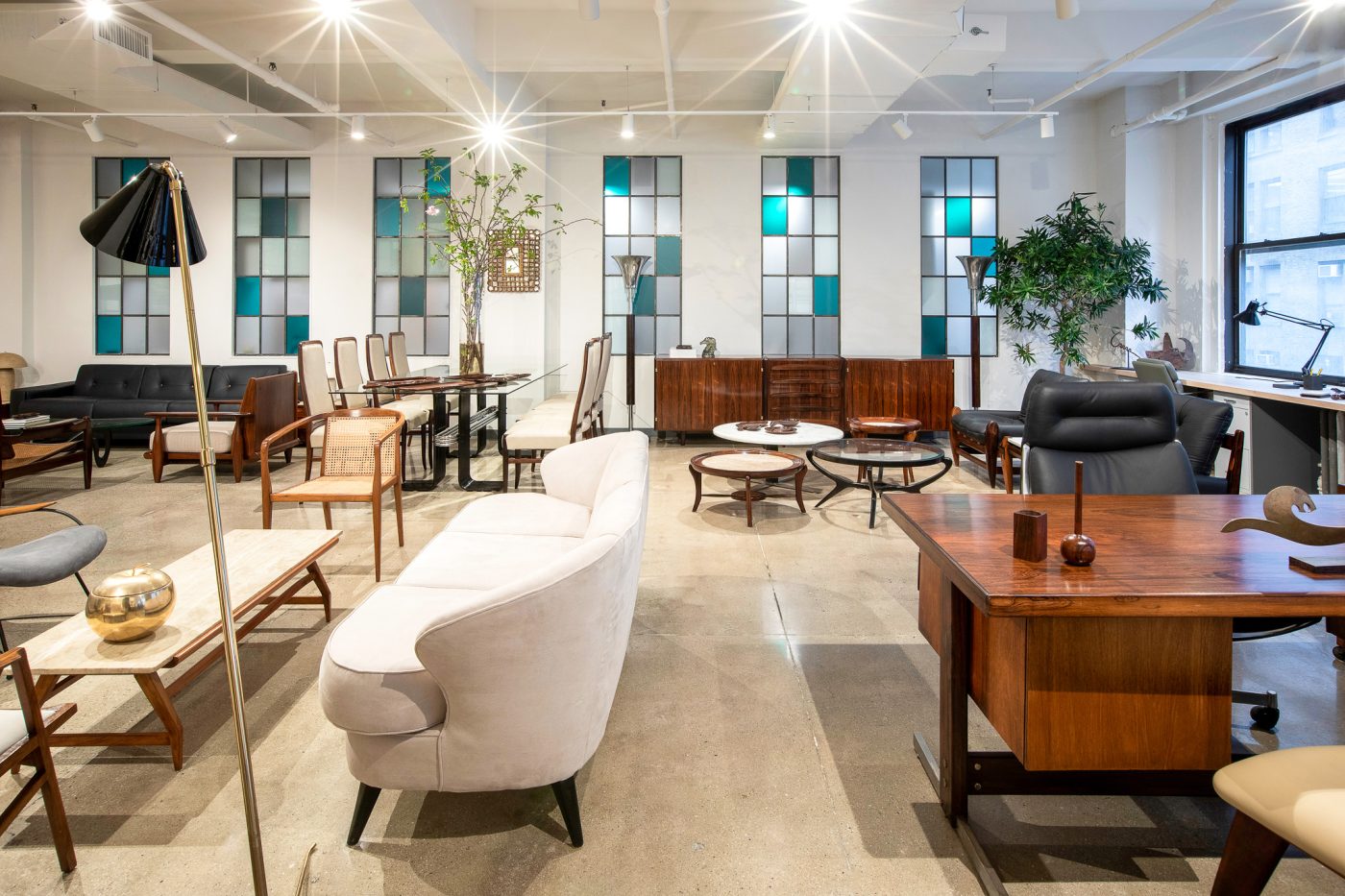 The golden age of Brazil's modernist furniture production was brief. "Everything came to a halt around 1980, when the government stopped subsidizing most industries except agriculture," Salem says. "The designers tried to continue with their legacy but couldn't. Making furniture in Asia was way cheaper." 
The vintage pieces he has acquired are part of a finite number. They were made in limited batches and could not be produced the same way today. "Many of the materials, like Brazilian rosewood, are unavailable. Brazilian rosewood was the number-one wood for everything. Now it's endangered — almost extinct." 
Salem is constantly adding to his inventory, but it can be slow going. "Sometimes, I buy a single piece and it takes six or eight months to make up a matching set," he says. "It can be like looking for a needle in a haystack." Despite the frustration, he persists. "When you pursue your passion, you're never bored."
Rodrigo Salem's Talking Points